LegalShield Reviews
Claimed This company has claimed this profile, is getting alerted on any new customer reviews entering this page, and may engage in dialogue with its customers to address their matters.

Companies cannot pay money or provide goods in order to remove or alter customer reviews.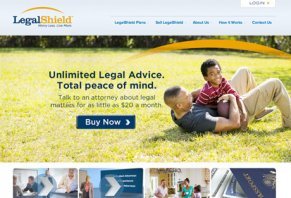 LegalShield is a company that has been using third party law firms to provide numerous prepaid legal services for more than 40 years, including demand letters, trial assistance, and more.
About LegalShield
Based out of Ada, OK, LegalShield claims to have been providing "affordable attorney access and legal services" to consumers across 49 U.S. states and four Canadian provinces for more than 40 years. All LegalShield services are provided on a prepaid basis, and are available for both individuals and small businesses.
LegalShield holds an A+ rating with the Better Business Bureau, despite having 142 closed complaints within the last three years—most of which centered around problems with the product/service. From a customer satisfaction standpoint, online customer reviews appear to be primarily negative, with the most common complaints citing poor customer service, complicated contact procedures, patronizing/unknowledgeable lawyers, and high hidden fees.
How LegalShield Works
According to this study on the LegalShield website, more than 57 million Americans have some kind of ongoing legal issue. And, according to this study, nearly 60% of businesses have faced "significant legal events" in the past two years. As a result, the primary goal of LegalShield is to help individuals and small businesses obtain prepaid legal services from a network of provider attorneys, all for one low, flat rate. Their plans include:
Personal Plans:
Consultation – Letters and phone calls, document review, and trial defense.
Document Preparation – Powers of Attorney, wills, loan documents, etc.
Auto – Traffic violations and accidents.
Family Matters – Name change assistance, divorce & adoption representation, and more.
IRS – Audit services.
Identity Theft Plans:
ID Plan – Covers both you and your spouse for single credit monitoring and restoration services, in addition to unlimited consultations.
ID Premium – Includes everything in the ID Plan, with the addition of triple credit monitoring, web watch, SS number skip trace, and more.
Small Business Plans:
Includes legal consultation regarding debt collection, contract review, trial defense services, landlord/tenant disputes, and much more.
Regardless of which plan you choose, or whether you're an individual or a business, LegalShield is supported by a team of hand-picked "Providers," which are legal firms hired by the company, who are paid in advance for their services, and are supposedly fully committed to solving your problems.
Based on information found on the company's website, using LegalShield's services entails a six-step process:
Sign up for a LegalShield account.
Review your membership packet, which will give you your legal provider's information.
Register yourself on the Member's website.
When an issue or questions arises, contact your provider law firm.
Explain your legal problem to the provider law firm, who will then assign a lawyer best suited to address your needs.
Finally, you'll receive a call from your lawyer within eight hours of your request.
Based on many of the complaints we read, it appears the majority of users found this process to be needlessly complex. For instance, if you happened to miss your lawyer's call within the 8-hour window, you'll have to re-contact the law firm, and wait another 8 hours to have your call returned.
LegalShield Pricing & Refund Policy
LegalShield's pre-paid plans are as follows:
Personal Plans: $19.95 per month
Identity Theft Plans:

ID Plan – $14.95 per month
ID Premium – $29.95 per month

Small Business Plans: These plans are completely customized based on your business's needs. As a result, pricing can vary.
For each plan, there are several different add-ons in a range of prices, so for full details, click here. Each month you'll be automatically charged according to your plan, which can be automatically deducted from your credit card or bank account. Regardless of which membership option or add-ons you choose though, keeping mind that you'll be assessed a $10 "enrollment fee" your first month.
Bottom Line: Is LegalShield a Scam?
So, with all this in mind, is LegalShield a scam? While the company appears to offer a legitimate range of products, there are a few things you should keep in mind prior to joining.
First—as with most things in life—you get what you pay for, and LegalShield is no different. Think of it this way: If you were required to hire a lawyer for a minor upcoming court case, it's completely feasible to expect to pay anywhere from $5K to $10K, depending on a wide range of factors. With this is mind, the quality of legal services you could reasonably expect to receive for just $20 per month is fairly low. And, many of the online customer complaints we read referenced this specific fact more than anything else. So, if you're expecting to receive personalized, responsive service from knowledgeable, highly rated firms for this amount, you may want to reconsider
Next, it appears that LegalShield has a relatively poor reputation for customer service. Most often, we read of difficulties encountered when trying to cancel plans, and service personnel who are more concerned about creating cumbersome processes than they are about solving problems.
Finally, when you consider that anything more than simple form-letter writing, a cursory review of your situation, or superficial advice (which may or may not be correct) will cost you much more than your standard monthly fee, using a LegalShield lawyer may be more expensive than hiring a lawyer direct. In fact, in one complaint we read, someone who claimed to have an immense amount of legal experience stated that you'll be paying about 30% more overall.
With all this in mind, unless you're looking for help with the most basic of legal services (which are often simple enough to handle yourself), you may want to think twice about joining LegalShield.
---
Hot potato?

By Lisset F.

,

Altamonte Springs, FL

,

Jun 25, 2020
Verified Reviewer

Overall Experience:

That's what they did to me last year as I wasn't as rich as STATE FARM. Now this year they canceled my membership (right before court) without warning, notice, nothing. I'm disabled and now they pull this because I ask the lawyer to do his job. They brake Bar Rules 4-1.14, 4-1.16 (1) causing adverse effects on myself, (2) because I asked Mr. Tomkins to comply with 4-1.2(a and c). My rights I feel where violated as he didn't obey by 4-1.4 (a)(2)(3)(4) and (b). Because I requested I was CANCELED and left stuck looking for representation.

Pros and Cons:

Monthly fee
Do NOT do what they claim
Don't give you reason for canceling
Transferred my case 2+ hours away as State Farm Ins. pockets where deeper
Started a lawsuit and left me wondering what happened
Not what they sold me to be at all
Don't follow State Rules ex. 4-1.4(a&b) (2-4)
Extremely bad with the disabled

Bottom Line: No, I would not recommend this to a friend

---

The ole' bait and switch

By Wesley B.

,

Longview, TX

,

Jun 17, 2020
Verified Reviewer

Overall Experience:

First, please don't miss understand, this plan does NOT provide a court-appointed attorney to appear with you. But is your attorney via remote.

For example - after purchasing a new Subaru it began having electrical problems. They worked on it a few times, after me calling and calling they finally said they would swap cars with me for a new one. Well, not true, tried to sell me one by the ole bait and switch, then they made fun of my anger.

I called LegalShield the next day and an attorney from Ross/Mathews called me then sent letters to Subaru and called I believe. Within 4 days Subaru was calling me apologizing, wanting to bring my new car to me. That is just one time. LegalShield LEVELS THE FIELD.

Pros and Cons:

Efficiency
Understandability
Business-focused
Explain benefits better

Bottom Line: Yes, I would recommend this to a friend

---

Advertisement

---

Very unprofessional sales person

By Kyle A.

,

Florida

,

Mar 28, 2020
Verified Reviewer

Overall Experience:

Emeshia is a very pushy/rude salesperson. Actually tried to threaten me by saying bad things happen to good people. Lol. This company and this person are a joke. If you're trying to avoid legal trouble I would start by avoiding this shady company.

Bottom Line: No, I would not recommend this to a friend

---

Stay away from LegalShield! It's a scam!

By Edilene W.

,

Virginia

,

Feb 11, 2020
Verified Reviewer

Overall Experience:

Well, you really get what you pay for and LegalShield is the worst law firm EVER! I don't know why I thought that these people would really take your case serious by charging you only $24 a month. To start, to get a hold on them is always a waiting game, they say that they will have a lawyer to represent you but when you finally need one they say that they will charge you by the hour but they will give you a discount. The attorney named Darlene was never sympathetic to what I am going through and totally shut me down when I told her that I didn't have the money at the moment to hire an attorney to represent me but I was looking for referrals so I could have a few options to choose from once I got the money to hire an attorney. She told me to call them back when I got the money because there's no point for her to give me their attorney's contacts if I couldn't afford them. I explained to her that I was the plan to pay for a consultation so I could have a couple of attorneys evaluating my case, she told me to Google it because she was not going to give me any referrals. Her rude words were: "You have no money, madam! Accept the judge decision!" I was very shocked to see that she had no compassion for what I was facing. I told her that when I came up with the money to hire an attorney it definitely wouldn't be from the LegalShield.

Stay away from this bunch of snakes who has no respect for people, all they care is about money, a company like that has no values and little by little they are going to lose all their customers. Stay away from LegalShield. It's definitely a scam! They should stop advertising that they will have an attorney to represent you because based on all these bad reviews (and they are a lot) they don't provide you an attorney, not even to deal with the most simple cases.

Bottom Line: No, I would not recommend this to a friend

---

Advertisement

---

Best legal protection

By Virginia M.

,

Plantation, FL

,

Jan 30, 2020
Verified Reviewer

Overall Experience:

Have had the service since 1985 and have NEVER been disappointed. Provider law firms...hand-selected...top-rated and get back to you within four hours. Don't let those who don't get what they want because sometimes the law isn't always on your side turn you away from this great service. Saved us thousands of dollars and never was in trouble!

Bottom Line: Yes, I would recommend this to a friend

---

Great company

By Sherry D.

,

California

,

Jan 20, 2020
Verified Reviewer

Overall Experience:

I have had squatter issues, easement issues, and writing a Will. All of these were resolved easily and effortlessly. They do all the paperwork, write the legal letters, and inform me of my rights. The attorney always calls me back the same day I call them. If I miss a call they call me again. I have never been held on hold. I find the company to be well worth the $34/month. I like that I get an attorney that specializes in whatever issue I am having.

LegalShield has saved me thousands of dollars in legal fees. The reason I highly recommend is the security they offer relieving a lot of stress during really hard times.

Bottom Line: Yes, I would recommend this to a friend

---

Service value

By Robert L.

,

Summerville, SC

,

Jan 16, 2020
Verified Reviewer

Overall Experience:

Joined 30 months ago when I felt I'd be wrongly ticketed for a traffic violation. Received great service! Joined realizing I'd seldom need their services but had peace of mind in knowing I could get a legal question answered when needed. For only the 2nd time since joining I called them on 12/03/19 with a tax deduction question. I was given an "intake number" and put through to Mr. Cayhill, Merritt Webb's tax attorney. I explained my question to him. He said he'd be back in touch with me within a "few days". Didn't hear back the entire month of December. Brushed it off as the holidays, not receiving contact from Mr. Cayhill I called him on 01/06/20 and again on 01/08/20 to question his delay...still no call back. I emailed Mr. Cayhill on 01/10/20 again questioning his delay in getting back to me. Received an email reply within approx 2 hours advising that he'd exhausted the allotted time for a single "intake number" and suggested that I take my question to a CPA...

REVIEW COMMENT: If you're going to constantly be calling with different issues/ "intake numbers", they may be for you BUT if your question may involve more than a little research...probably should go another way.

Bottom Line: No, I would not recommend this to a friend

---

Lien removal

By Lori M.

,

Kentucky

,

Jan 9, 2020
Verified Reviewer

Overall Experience:

Seemed like a total rip off to me. I had a small claims case regarding a dispute in the amount of $500. The courthouse gave me the phone number for LegalShield, telling me they could handle my case for me if I chose for $300. They promised me the moon, the sun, and the stars. What they ended up doing is writing a letter. The company at issue completely ignored the letter. They never informed me that they don't appear in court on your behalf. Why in the world would I hire a lawyer who is not going to go to court with me? It was such a basic premise it never occurred to me to ask the question. Now I know better after wasting $300.

Bottom Line: No, I would not recommend this to a friend

---

UNBELIEVABLE!

By Lorna S.

,

Philadelphia, PA

,

Dec 16, 2019
Verified Reviewer

Overall Experience:

First of all, I encountered multiple problems with the website. It kept telling me that I hadn't provided a payment method, even though they had already been paid the first month's service. When I called the customer service number, the woman I spoke with said that I was using the wrong website, and gave me a slightly different one to use. So, first hurdle.

Then, she emailed me my contract and other info. When I first spoke with a lawyer, she sounded very unsure of herself, and didn't have much to say about my landlord situation. She offered to write a letter, but said that she didn't think it would do any good. So why offer? I declined, but agreed to send her a copy of the lease and other supporting documents. Next, ensued a fiasco of misplaced documents, conflicting stories about the whereabouts of said documents, and truculent secretaries who preferred to argue than to find out what really happened to my documents.

The crowning touch happened when I spoke to a different lawyer (the first one having suddenly gone on vacation) who blatantly proceeded to tell me that I should just get myself evicted and the landlord couldn't come after me for the remaining rent! He obviously had not thoroughly reviewed the copy of the lease I had emailed, and was having a fine time sounding knowledgeable. After I hung up, I did some research and realized that had I followed his advice, I would have put a significant black mark on my credit and my credibility. I canceled today.

Bottom Line: No, I would not recommend this to a friend

---

Solid service for decades

By James K.

,

New Jersey

,

Dec 7, 2019
Verified Reviewer

Overall Experience:

I have had many good experiences with LegalShield. No, they don't do $10,000 worth of legal work on a complex case for your $19.95/month fee. But, they do give you a legal expert to call when you need some direction. And, they will write "lawyer letters" which are way more effective than you might think.

My most recent experience was with a dental procedure that turned out to be unnecessary and quite expensive. While we were trying to negotiate with the provider, they turned it over to collection! That's when we called LegalShield. One letter from the lawyer and the provider dropped the collection and excused the entire bill, which was better then we had originally demanded.

Through the years they have helped me with countless small items and a couple of big ones. It is a great comfort knowing I have this service available to me.

Bottom Line: Yes, I would recommend this to a friend

---

Deming, Parker, Hoffman (Legal Shield Law Firm)

By Sarah P.

,

Atlanta, GA

,

Dec 5, 2019
Verified Reviewer

Overall Experience:

From my experience, Deming, Parker, etc...is a law firm full of "lawyers" who do not show concern regarding the client's issue. My first issue was regarding a debt collection that was not mine and the debt collecting company was suing me. Mr. Woods contacted the plaintiff's lawyer (because I asked him to), to ask for some information and proof regarding the lawsuit (which I told him to ask for), but soon after that, he told me to settle. He did not look into any laws for me, he put no effort in my case at all. Only because of MY legal work was I able to beat the case and have the lawsuit dismissed. While Mr. Woods was telling me to settle, I was diligently researching Georgia Debt Collection laws, and found a loophole that would get my case dismissed. I emailed this law to Mr. Woods, he emailed it to the other attorney, and the next thing I know I received a letter saying the case was dismissed. The only purpose Mr. Woods served was to act as a liaison and communicate with the other attorney because I did not want to communicate with her. I had to ask him to do that too; he did not offer.

My next case was regarding a dependent of mine and I had an "attorney" named Kylie (not sure of the spelling). From the moment she called me about this case, she had an attitude and unconcern oozed from her tone of voice. She talked to me like I was stupid. I feel she would have acted like a jerk no matter what my issue was, but I feel she was even more rude to me because my dependent is incarcerated. She had an air of arrogance to her. At least Mr. Woods was nice. Kylie is rude and seemed to have no more knowledge regarding prisoner advocacy laws than a law student or a Google Scholar who graduated from the University of Looking Everything Up On Google (which actually helped me more than this law firm, so yay Google). She never offered to refer me to a lawyer who had knowledge of prisoner advocacy laws. I would ask her a question and she would say "well I'm not sure, I don't think you can do this", and then just sit in silence on the phone. That's after condescendingly asking me if I had already contacted the Ombudsman Office, which I did of course. Information about the Ombudsman Unit was the only slightly helpful information she provided in the useless email she sent me.

While my entire experience at Deming, Parker, and Whatever was EXTREMELY poor, Kylie is the reason why I am canceling my LegalShield membership and will be hiring a normal attorney who actually has education on Georgia laws.

LegalShield, I do not know what you pay this law firm in order to be a part of your network, but it is CLEARLY not enough to make them care about their clients, or at least pretend to care. Give Kylie some customer service training. Also, upon being assigned to this law firm you should let new LegalShield clients know that this law firm can only help with the most basic of issues, like getting a will, or receiving assistance with a mortgage contract or some other contract. Much of anything else is greatly outside the scope of what this firm is capable of. No need to send me an email stating your website notifies clients that if they need more assistance they would have to pay regular attorney fees with a 25% discount. This law firm should still be able to answer basic questions within our normal LegalShield plan. I did not even ask Kylie to look into anything for me, because I knew she wouldn't. I merely asked her to guide me to the right people or organization that had knowledge of prisoner advocacy laws, and she still refused to do that unless I paid for an attorney.

Bottom Line: No, I would not recommend this to a friend

---