Legion Supplements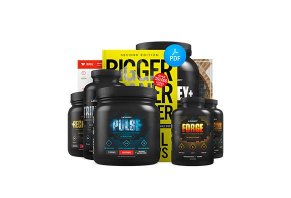 The Legion Pulse pre-workout supplement contains a clinically validated, seven-ingredient formulation the company claims will boost your results, both in and out of the gym.
Legion Supplements Review: Is It Legit or Just Hype?
Advertised as one of their most popular supplements, Legion Athletics' Pulse supplement uses a 100% natural blend of ingredients they say will increase energy levels without undesirable side effects like a racing heartbeat, upset stomach, nausea, or a post-workout crash.
You also won't find artificial sweeteners, flavoring, food dyes, or unnecessary fillers in its formula.
Furthermore, the Legion website indicates that each of Pulse's ingredients is backed by peer-reviewed research demonstrating additional benefits like improved mood, sharpened mental focus, boosted strength and endurance, bigger pumps, and reduced fatigue.
Together, they specifically advertise that, whether you're a man or a woman, it may "actually help you improve your physical performance" during both anaerobic and aerobic exercise. Just mix with 8–10 oz. of water before your workouts.
All Legion supplements are made in an NSF-certified and FDA-inspected facility in accordance with current Good Manufacturing Practice (cGMP) regulations. When it comes to Pulse, specifically, the company tells us they've sold more than one million bottles, and it's the number one ranked pre-workout supplement on LabDoor.com.
But, does this mean it's necessarily the best pre-workout supplement for you? This is the central question we'll help you focus on, starting with Pulse's formulation.
Legion Pulse Ingredients & Nutritional Information
The Legion Pulse pre-workout supplement is available with and without caffeine, and in Fruit Punch, Blue Raspberry, Watermelon, Green Apple, Grape, Pink Lemonade, and Cherry Limeade flavors.
Regardless of the flavor, per the supplement facts label posted on the Legion website, each two-scoop serving of Pulse contains the following nutrients and ingredients (caffeinated version shown below):
Calories 5
Total Carbohydrate 4 g
Sodium 144 mg
Potassium 277 mg
L-citrulline D-malate 2:1 8 g
CarnoSyn® Beta-alanine 4.8 g
Betaine anhydrous 2.5 g
L-ornithine HCL 2.2 g
Taurine 2 g
Caffeine anhydrous 350 mg
L-theanine 350 mg
Additional ingredients include Advantitol® erythritol, maltodextrin, natural flavors, silica, calcium silicate, Stevia leaf extract, Swerve® (erythritol, oligosaccharides, natural flavors), and red beet juice powder (for color).
While the HighYa team has written about thousands of dietary supplements over the years, we're not medical professionals. As such, when reporting whether or not an ingredient is effective for a specific claim, we rely on summaries of the cumulative clinical evidence provided by websites like the Natural Medicines Database, WebMD, and Examine.com.
What do they have to say about Legion's claims related to boosted mental focus, increased strength and endurance, reduced fatigue, and better physical performance?
As with most supplements, there are subtle—but important—details to discuss, so let's quickly break everything down:
L-citrulline
Together, these sites indicate that taking 2.5–5 grams of L-citrulline per day for seven days, or a single dose of 8 grams immediately before exercise, is possibly effective for improving performance during some types of exercise. Specifically, here's what WebMD says:
"L-citrulline may help some athletes work harder, lift weights longer, and go faster on an exercise bike. But L-citrulline does not seem to help people run longer on an aerobic treadmill test."
At 8 grams per serving, Legion Pulse contains the upper limit of these dosages.
CarnoSyn & Beta-alanine
CarnoSyn is a patented version of Beta-alanine that's manufactured by Natural Alternatives International, Inc. Their website lists a total of nine clinical studies they say support their claims that the ingredient can:
Elevate muscle carnosine levels
Increase the work capacity of muscle
Enhance the buffering capacity of muscle
Decrease acidosis
Increase muscle strength
Improve muscle endurance
Delay fatigue during workout
Enhance exercise training
Improve overall muscle performance
Zooming out and looking at Beta-alanine in general, sites like Examine.com and the Natural Medicines Database report that taking 2.4–6.4 grams per day (Legion Pulse contains 4.8 g) is possibly effective for modestly improving some measure of physical performance, as well as delaying muscle fatigue in older adults. However, WebMD emphasizes:
"Not all research shows positive effects with Beta-alanine on physical performance. Scientists are trying to determine why Beta-alanine might work better for some types of exercise than others."
Some scientists think that Beta-alanine might help to improve the amount of exercise done but not how well it is done. The conflicting results might be due to the small numbers of participants in the studies, the different types of exercise used in the studies, or the types of athletes studied.
Caffeine
These same sites report that taking 2–10 mg/kg of caffeine may help increase mental alertness, physical strength, endurance, and overall performance "during activities such as cycling, running, playing soccer, and golfing," WebMD notes. It could also help delay exhaustion.
Whether found in Legion Pulse of a cup of coffee, though, WebMD points out that caffeine doesn't seem to provide a performance boost during short-term, high-intensity exercises, such as sprinting and lifting.
Theanine
Finally, taking a 100 mg dose of theanine (Pulse contains 350mg per dose) before a test is possibly effective for reducing errors and improving task-related attention. It's also been combined with 30–100 mg of caffeine during clinical testing.
With these details in mind, Examine.com, WebMD, and the Natural Medicines Database indicate there's insufficient overall clinical evidence supporting Legion's advertising claims for Pulse's betaine, ornithine, and taurine.
Potential Side Effects Related to Legion Pulse's Ingredients
Returning to the overall clinical evidence reported by the earlier sites, rare side effects (no dosages or other specifics provided) related to Pulse's ingredients include stomach upset for L-citrulline and caffeine, especially if taken in large doses.
As anyone who's consumed too much caffeine can attest, it can also lead to insomnia, nervousness, restlessness, vomiting, and increased heart rate and respiration, especially for those who are sensitive to stimulants.
At 350 mg per serving, the caffeinated Pulse pre-workout formula contains about as much as three and a half cups of coffee. Keep this in mind based on your sensitivity.
Next, betaine can cause heartburn (again, no specifics provided), although we're told there isn't enough data to know if regular supplementation is safe.
Finally, while Pulse's ingredients are vegetarian-friendly, the Legion website emphasizes they're not vegan-friendly since two of the amino acids it contains are derived from animal sources.
How Much Does Legion Pulse Cost & Where Can You Buy?
If purchased from Legion Athletics, a 0.96 lb (21-serving) canister will cost you $40, which works out to about $1.90 per serving. All U.S. orders ship free, while all orders outside the U.S. over $99 come with free shipping.
We also found it sold through a variety of popular online retailers like Bodybuilding.com, Amazon, and GNC for about the same prices ($36 to $45).
All direct orders come with a three-month, "it's on us" money-back guarantee. If you're dissatisfied, simply reach out to the company, they'll refund your money. You won't even have to ship your bottle back to them. Keep in mind this only applies to first-time purchases of a product.
You can reach a Legion representative by calling 855-645-5305 or sending a message via the Support page on their website.
Legion Pulse vs. Other Pre-Workout Supplements
Legion freely admits in one video on their website that you can buy a pre-workout supplement for a little less money than Pulse. However, they also emphasize that you get what you pay for when it comes to dietary supplements.
With this in mind, there are perhaps hundreds of powdered pre-workout supplements competing with Pulse, many of which contain several—or all—of the same ingredients, just in different concentrations.
Here's an overlook of how some of the highest-rated options on Amazon compare:
| | | |
| --- | --- | --- |
| Brand | Price / Per Serving | Ingredients |
| Legion Pulse | $40 / $1.90 | L-citrulline D-Malate 2:1 8 g, CarnoSyn® Beta-alanine 4.8 g, Betaine Anhydrous 2.5 g, L-Ornithine HCL 2.2 g, Taurine 2 g, Caffeine Anhydrous 350 mg, L-theanine 350 mg |
| Jacked Factory NITROSURGE | $24 / $0.80 | L-citrulline 3 g, Beta-alanine 1.6 g, Betaine 1.25 g, Caffeine 180 mg, L-theanine 90 mg, Theobromine 50 mg, AstraGain 25 mg, Hordenine 25 mg |
| Old School Labs Vintage Blast | $38 / $1.90 | L-citrulline 5000 mg, Beta-alanine 1000 mg, L-arginine 1000 mg, L-carnitine 150 mg, D-aspartic Acid 2000 mg, N-acetyl-L-tyrosine 250 mg, Caffeine 100 mg, vitamins, and minerals |
| Altius Pre-Workout Fuel | $35 / $1.75 | L-citrulline 8000 mg, Beta-alanine 3200 mg, Creatine 3000 mg, Betaine 2500 mg, Caffeine 325 mg, Alpha-GPC 150 mg, BioPerine 5 mg |
| Organic Muscle Powder | $40 / $2 | 3 proprietary blends of fruit and vegetable-sourced ingredients |
| MuscleTech Vapor X5 | $19 / $0.63 | Creatine 1.5 g, Betaine 1.25 g, CarnoSyn 1.6 g, Taurine 500 mg, Arginine 750 mg, Hawthorn 200 mg, Caffeine 190 mg, Choline 100 mg, L-theanine 62.5 mg, Galangal 25 mg, Yohimbe 20 mg |
From a price-per-dose perspective, Pulse is surpassed only by Organic Muscle in the table above, which contains a meaningfully different formula. Pulse is also priced the same as NITROSURGE, which shares a similar formulation.
However, based on our past research and interviews with professionals, we've learned that higher price isn't necessarily indicative of better-quality ingredients, or that the ingredients found in a dietary supplement are more effective.
With this said, we can see that while some competitors above contain similar formulations as Pulse, the supplement in question also includes more of each ingredient. And based on what's reported on sites like Examine.com and WebMD, its concentrations match (or exceed) those found in supporting clinical studies, as advertised by Legion.
What does all of this mean when it comes to Pulse? Let's wrap everything up next.
Our Final Thoughts About the Legion Pulse Pre-Workout Supplement
The bottom line is organizations like the National Institutes of Health and American Academy of Family Physicians advise that, unless you're deficient in an ingredient they contain, otherwise healthy individuals don't need to take a multivitamin or dietary supplement.
Legion only advises you to take Pulse before workouts, not to supplement your diet in any way, although we think this point's worth emphasizing.
Furthermore, based on what we learned from sites like the Natural Medicines Database, WebMD, and Examine.com, the overall evidence indicates that the clinically-substantiated dosages of CarnoSyn Beta-alanine, L-citrulline, caffeine, and theanine found in Pulse could deliver on some of Legion's advertising claims.
Specifically, those related improving some types of exercise performance, enhancing training and physical strength, and improving mental alertness and task-related attention.
The Pulse supplement also comes with mostly positive online customer feedback on the Legion website, as well as third-party online retailers like Bodybuilding.com, Amazon, and GNC. And if you don't experience the same, Legion stands behind all direct purchases with a 90-day satisfaction guarantee, and you won't even have to ship the canister back to them.
Just keep in mind that you should always consult your healthcare professional before taking any new dietary supplement, who can discern if it will help you achieve your goals and deliver value for the money, while also helping to prevent potential side effects and medication interactions.