LEGOLAND California VIP Experience Review
Summary
LEGOLAND promises a solid foundation of fun for families. How does general admission compare to a VIP Experience? We braved the Ultimate package to find out.
About LEGOLAND California VIP Experience
Is your LEGO-loving family ready for a vacation? If the answer is yes, then there's a good chance you've considered making a trip to visit the LEGOLAND theme park.
And, since you're already going all that way, you might've even considered one of LEGOLAND's VIP packages to enhance your experience.
"But," I can already hear you asking, "is the VIP experience worth the extra cost? After all, theme parks are supposed to be magically immersive by themselves."
Lucky for you, we just got back from San Diego's LEGOLAND and have a hot-off-the-press review!
Our building block-happy family sprung for the Ultimate Overnight VIP Experience for one day, then followed it with two additional days as regular guests to find out how the two experiences compared.
Some Basic Info on LEGOLAND to Get You Started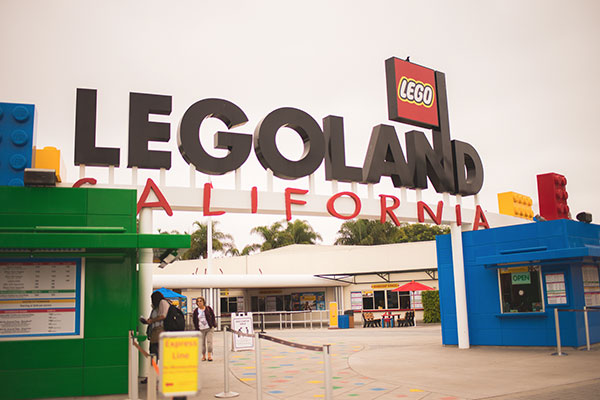 Main entrance to LEGOLAND California Resort​
LEGOLAND California Resort promises a unique hands-on theme park that's everything a LEGO-lover could dream of. Geared towards families with children age 2–12, LEGOLAND boasts more than 60 rides, shows and attractions, and interactive experiences.
The Resort also offers overnight accommodations at the LEGOLAND Hotel. Additional entertainment can also be found at the SEA LIFE Aquarium and the world's first LEGOLAND Water Park.
We'll share detailed information regarding pricing and hours in a bit. But first….
Our First Impression: What It's Like to Arrive at LEGOLAND as a VIP
To arrive at LEGOLAND, we first had to fly into San Diego's Airport (SAN). The airport is fairly small and easy to navigate. The resort itself is about 28 miles away, so we decided to take a Lyft.
Doing so allowed us to avoid the hassle of renting a car, and the trip only took about 40 minutes.
At first glance from the road, LEGOLAND Hotel doesn't look like much to write home about. It's three stories tall and brightly colored in keeping with the brand's signature.
Then, as your vehicle pulls around to the hotel's entrance, you're able to spot a castle turret, complete with human-sized LEGO figures standing guard.
To our delight, we saw that atop the turret rests a beautiful green dragon made completely of LEGO bricks! The magic, it seemed, was about to begin.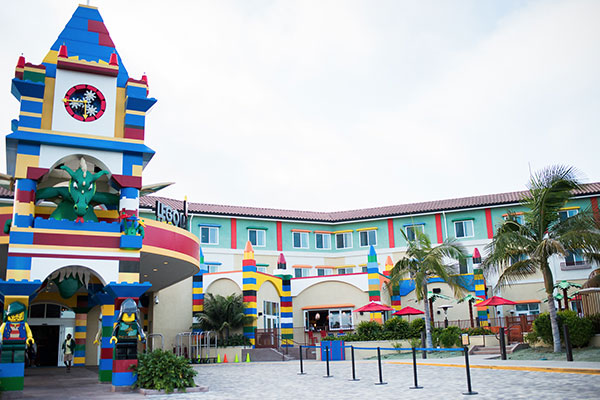 LEGOLAND Hotel entrance
Directly inside the hotel's front doors is a brilliantly colored foyer, complete with life-size (and larger!) statues—all made from LEGO bricks.
While guests of all ages will be amazed, the hotel's aim to delight children is made evident by a large, sandbox-like play area brimming with LEGO bricks smack in the middle of the foyer.
Truth be told, to an adult's discerning eye, those bricks looked a little worse for wear. However, that's to be expected considering they're a free-for-all.
Plus, many of the hotel's pint-sized guests have likely been cooped up in planes or cars for hours, and the play area allows them to hop right into the area to start building.
While the bricks meant for play might've been lightly worn, the walls of the main reception area were dazzling with thousands of minifigures, flowers, and flourishes—all made with LEGO bricks. Everywhere you look is a visual feast all designed to delight LEGO lovers!
Checking Into LEGOLAND Hotel as a VIP
The perks of our Ultimate Overnight VIP Experience started at check-in, where we were allowed bypass the front desk and go straight to the concierge. Here, we were warmly welcomed and given our keys, itinerary, and folder with helpful information.
The concierge proceeded to walk us to our room, and on the way shared an overview of what to expect from our VIP Experience as well as entertainment options at the hotel.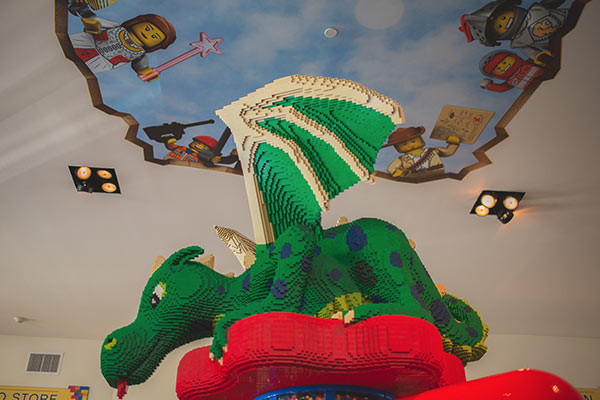 Lego model inside the LEGOLAND hotel
One thing to note: A bellhop's service wasn't offered up front. We'd packed light, so didn't need assistance, but remembered that this had been listed as a "perk" with the package. If you have heavier bags, let the concierge know right away, as it's quite a walk through the lobby.
Exploring the LEGOLAND Hotel
When hopping in the hotel's elevators to head to our room, we didn't expect any surprises. But, just as the doors close, dance music comes on, a disco ball begins to spin, and, if you're with a fun crowd, a mini-dance party begins!
In case anyone needs to be encouraged, the entire elevator is decorated with wallpaper designed with dancing LEGO characters.
Our room was on the second floor, which is resplendent with pirate decor from floor to ceiling! It's a totally immersive theme experience that's made complete by a talking, kid-size pirate models that greet guests as they pass by.
LEGOLAND Hotel Rooms: Themed vs. Fully-Themed
Because the hotel's bright colors and kid-friendly decor might overwhelm guests with more conservative taste, you're allowed to choose between "themed" and "fully-themed" rooms. What's the distinction?
While all 250 of the hotel's rooms are decorated with LEGO-themed art and furniture, fully-themed rooms offer extra LEGO-themed furnishings and LEGO models in the room that offer an all-in, completely immersive experience that's kind of like sleeping in a LEGO funhouse.
What It's Like In a LEGOLAND Hotel Fully-Themed Suite
We fearlessly went for the fully-themed room and, because we were booked on the pirate floor, were tickled to see pirate-themed wallpaper and furniture complimented by LEGO models of pirate treasures, bugs, spiders, and parrots on the walls, shelves, and even ceiling!
Red and white wall hangings overlapped with curtains, decals of spooled rope adored the floor—literally, everywhere you look, there are new interesting details.
Keeping with the pirate theme, bathrooms are decorated to the hilt, as well. There are even special, screen-printed shower curtains featuring a LEGO mermaid.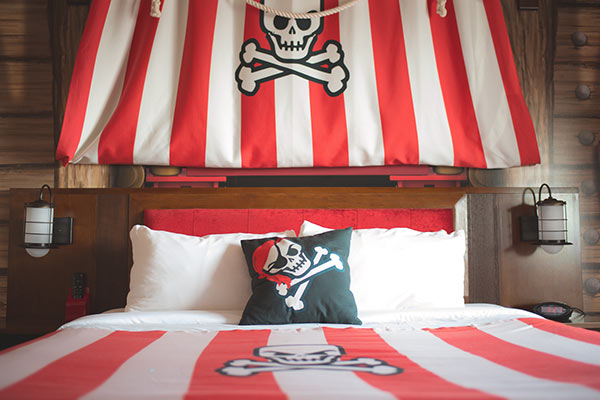 Fully-Themed Suite
What's in the room? In our suite, the main area featured a desk with the chair, dresser, fridge, safe, TV, and another accent chair.
Kids sleep in a nook-like space that's fitted with bunk beds, with the option of a pull-out bed to sleep a max of three. For parents, there's a queen-sized bed that was, thankfully, more comfortable than sleeping on LEGOs and comfortably slept two.
Extra Perks to Staying in a LEGOLAND Suite
Here are some not-so-basic things to note about staying at the LEGOLAND Hotel:
The hotel is super kid-friendly. For example, in the bathroom, there's a regular toilet seat and a kids-size seat. The showerhead is attached to a hose, which parents of small children know is much more convenient. And, unlike many hotels, the sliding door between the main room and bathroom doesn't lock to avoid any safety mishaps.
It's super, duper clean! The LEGOLAND Hotel was built in 2013. While it doesn't look new, that's to be expected considering how every aspect of its decor encourages play. However, we did find every area to be exceptionally clean. There weren't any funky smells, stains, or surprise boogers when you touched the underside of surfaces.
Each fully-themed room has a treasure chest! If you select a "fully-themed" room for your stay, you'll find extra surprises in a themed a treasure chest. Even better, to open the chest they have to first complete a treasure hunt by answering four fun questions about the hotel's play areas.
Once unlocked, they'll find two small bags of LEGO Mixels. We stayed for three nights, and each day the treasure chest was locked, and new Mixels appeared. (The combination to the lock stayed the same, so we just used the existing treasure hunt paper for the lock combination. But, you could throw the paper out to encourage more hunting.)
Pro tip: Three Mixels from the same series allow you to make a Mega Mixel. With that in mind, if you stay multiple nights and happen to get the same Mixel twice in a row, just bring the duplicate down to the front desk and they'll let you swap it out for another in the series.
You get complimentary beverages. Our suite came stocked with two bottles of water, two kids juices, and a Keurig selection of Peet's hot cocoa and coffee—all of which gets restocked every day. Should you run out early, just pay $5, and the items will be restocked as many times as needed.
The balconies don't offer much privacy. Our suite had an attached terrace. However, it was so close to our neighbors that, were you both out there at the same time, there was no avoiding feeling like you're in the same space. Not a deal breaker, but something to know if you're considering kicking back at the outdoor table to enjoy a glass of wine.
A few final things to note: The WiFi in our room was excellent, and we had no problem streaming Netflix. If you'd rather spend your time breaking a sweat than sitting back, the hotel also offers a 24-hour fitness center.
Entertainment Options: What's Fun at LEGOLAND Hotel?
The LEGOLAND Hotel is like a mini-theme park in itself, with plenty of activities and entertainment options. Though, unlike LEGOLAND itself, which offers fun for kids up to age 12, we found that most of the activities at the hotel were aimed at entertaining smaller children aged 3-5.
Note: Keep in mind that, while some entertainment options are always available, they're also seasonal and subject to change.
Character Meet & Greet: Head to the Castle Play area to meet roaming princesses, pirates, or adventurers!
Hero Training: One of the hotel's heroes will guide pint-sized guests through rigorous training to become a LEGOLAND Hero. My 7-year-old wasn't particularly interested in the Hero Training.
However, we walked past the activity several times and saw that it was led by two adults in great costumes, and looked fun for smaller children.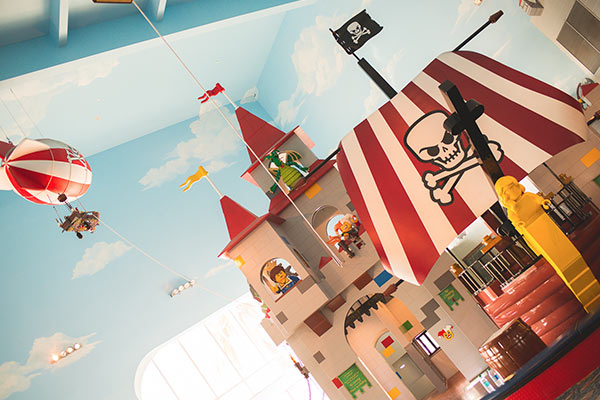 Castle Play area​
Jester's Jam Dance Party: The LEGOLAND Hotel throws a kid-friendly dance party that's complete with a disco ball. There were usually characters in costume to dance alongside as well.
LEGO Model Building Competition: Is your child an expert builder? Head to the Castle Play area (the sandbox-like space with plenty of LEGOs) and build something in line with the month's theme.
The competition requires registration. Contestants will be judged in age groups (0-5, 6-8, 9+) so everyone has a chance.
Again, this activity seemed most popular with younger kids and we thought it was more fun to stay in LEGOLAND.
However, if you have a small child who's tuckered from walking and needed to head back early, this competition could be the ticket to an enjoyable evening.
Adventure Story Time: Bedtime story/ improv show that's geared towards younger kids, and is run by the same characters who perform Hero Training. Looked engaging for the right age group.
Swim-In Movie: LEGOLAND Hotel puts on a swim-in movie at the pool. This was fun, especially on warmer nights. (It does get a bit chilly once the sun goes down.) Know that you won't be seeing any blockbusters—instead, they rotate through three different LEGO movies. Also, for safety reasons, the deep end of the pool is closed during this time.
Even if you don't make it for one of the above-scheduled activities, there are two play areas that are open throughout the day:
The Castle Play area is a beautiful, indoor castle with plenty of LEGO bricks for play. Again, this is geared mostly towards younger children—our 7-year-old lost interest after a short time.

The pool is a nice, open area that's large enough that you don't feel crowded when multiple families are present. There are plenty of chairs and, towels are provided. The pool also features a clearly delineated line between the deep and shallow ends, which are also separated by a rope, so kids that can't swim don't accidentally go too far.
Where to Eat in the LEGOLAND Hotel?
The hotel has two restaurants and a mini-lounge on the first floor. Here's a quick comparison:
| | Skyline Café | Bricks Family Restaurant | Mini's Lounge |
| --- | --- | --- | --- |
| Type of food | Good food, decent menu, but nothing fancy. Burgers, sandwiches, and flatbreads. | Both breakfast and dinner had a great selection and tasty food. | Bar and espresso drinks. |
| Prices | Regular burger-joint prices. | Buffet-style meals at Bricks were included in the cost our stay. | Comparable to most restaurants. (e.g., $7 for a beer) |
| Service | Good service. (Much better than Bricks, though they're two different styles restaurants.) | Very average. (Visiting for a birthday? We saw some tables receive a cake.) | Good service. |
| Seating | Indoors. Has a patio seating area with views of the pool. | Indoors. Note that kids have their own section with tons of kid's favorite choices. This area is also lower height-wise, so kids can get the food themselves. | Small seating area with chairs and tables. Lives up to its name – "Mini." |
| Extra Info | The restaurant has a gigantic, beautiful, LEGO City skyline model with buildings that had incredible detail, like lights turning on in various rooms. | Gorgeous human-size LEGO models of cooks and chefs decorate the space. | Right next to the main Castle Play area where most of the hotel entertainment happens. Lots of kids running around. |
Our Character Escort and VIP Dinner at Bricks Family Restaurant
As part of the VIP Experience, dinner at Bricks Family Restaurant is included. Our reservation was at 7 pm.
We got a call at around 6:55 pm checking to see if we are ready. At 7 pm we got our character escort knocked on the door—a funny looking guy in a jester costume. His name was Jingles because he… you guessed it… made lots of jingle sound as he walked.
Jingles was energetic and lots of fun. He engaged our son, asking lots of questions and sharing some cool trivia and info about LEGOLAND. After coming in and chatting for a few minutes, he gave our son a LEGO mini-figure for trading and some tips on how to do so.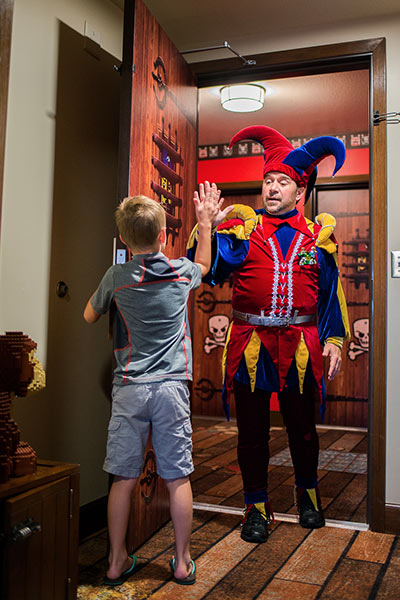 Character escort
After about 5 minutes, he escorted us to our reserved table at the restaurant. While our son was really pleased with Jingles, the character escort did leave him disappointed by promising to come back in 15 minutes to check in, which didn't happen. Meaning that, after Jingles' initial departure, we were pretty much left to ourselves to have a regular dinner.
Bricks was a fairly busy restaurant buzzing with families. Everything was clean, but the service was average. For example, we didn't have enough silverware and had to go find additional sets ourselves.
Our impression in a nutshell:
The seating is very open, there's not a sense of privacy.
The room is noisy but no more than any other kid-friendly restaurant.
There's a great selection of food, including kid-friendly favorites and sweets.
What's LEGOLAND Bedtime Storytelling Like?
After eating dinner, we hung out a bit more around the main Castle Play area before heading off to our room for the 8:30 pm In-room Bedtime Storytelling that's part of the VIP Experience.
When we got back to our room, there was a heaping platter of cookies, brownies, strawberries, plus some wine for my wife and I. While portions were very generous, the hotel seems to lack silverware at every turn—there was none brought alongside our spread.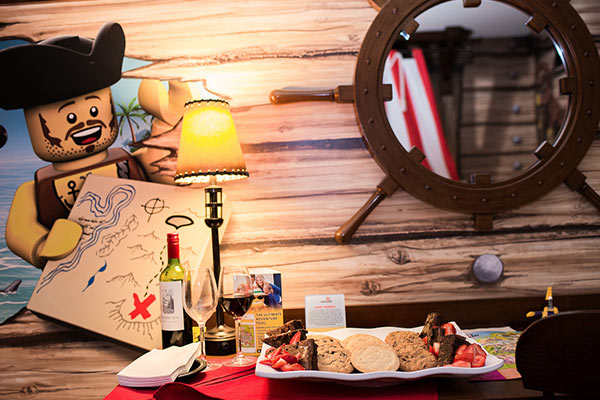 Turndown service​
Note that we'd been asked ahead of time what adult beverages we preferred, and had ordered red and white wine. The spread, albeit bountiful, was missing the white. However, when we called down, they corrected the mistake immediately and also brought us some silverware to boot.
At a few minutes past our scheduled time, Jingles showed up once more, this time with a similarly dressed friend—Jinx.
Jingles and Jinx brought four kids milk boxes and an additional mini-figure for trading before starting an improv show of the 3 Little Pigs.
They let my son pick three LEGO characters with three items instead of the pigs, and we got to get involved as well. This is all in the privacy of our room, so son got to feel really involved. From beginning to end, it lasted about 20-25 minutes and was super fun!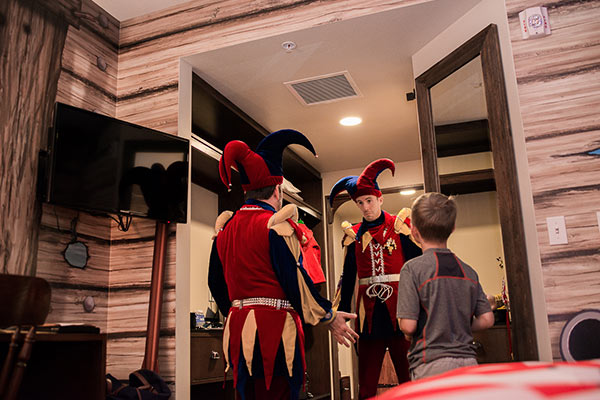 Bedtime storytelling
The hotel has "quiet time" from 10 pm to 7 am, so everyone was about ready to start settling down and tuck in for the evening—which we were ready for since the next morning the real VIP Experience was set to begin.
Starting Our Day As LEGOLAND VIP Guests
At 7:15 am, we got a knock on our door. (Just a heads up, there wasn't a warning phone call this time, so be prepared!)
A friendly young lady in a jester costume greeted us at the door and handed us two pirate swords made out of balloons. Armed with our swords, we walked straight to the restaurant where the character escort checked us in with the hostess of Bricks.
This time, we had private sitting in the VIP designated area in the Skyline Café. This entails grabbing your food at Bricks, then heading over to the other restaurant.
While that might sound odd, it did give us a chance to appreciate the private seating—Bricks is even crazier in the morning! However, the Skyline Café was quiet and calm since there was just one other family doing the VIP Experience.
As a bonus, the VIP seating area features a table with coffee, tea, bottled juices, and water. The coffee, in particular, was levels above the brew offered at the buffet.
In just the first hour of the day, our VIP Experience offered the following perks:
Not having to wait in line to be seated. (Which as we found out during the next two days of our regular stay was quite long—about 15 mins to get seated.)
Separate VIP sitting area.
Table with drinks—including much better coffee than in the buffet.
A character escort from room to the restaurant.
After our breakfast, we went to the lobby to meet our personal VIP host escort at 8:30 am. The itinerary was prepared by the host and based on our selections and choices of the different VIP Behind-The-Scene options that we made during booking.
Our host was waiting for us by the concierge desk. He was very friendly, welcomed us, gave us our VIP passes, and gave my son three more mini-figures for trading.
Side note: There are two options for Behind the Scenes experiences at the LEGOLAND Resort. However, you can only choose one. Additionally, you choose one of three options for the SEALIFE Aquarium. (We'll share more about these options in a bit.) We chose the Wake Up the Fish at SEA LIFE Aquarium and VIP Model Build at the Resort.
What It's Like to Wake Up the Fish at SEA LIFE Aquarium
Wake Up the Fish at SEA LIFE Aquarium is basically a personal tour of the Aquarium before it opens up. It's easy an easy stroll out to arrive out the back exit of the hotel, and overall, was a really nice way to start the day.
The aquarium itself isn't huge, but it's certainly impressive. There's plenty of sea life to look at, and tanks decorated with LEGO models in the water—there's even a submarine!
Our host was knowledgeable, providing interesting facts and was skilled at talking to our son. Surprisingly, there was never a point that it felt awkward or we wished that we were left alone.
Touring the aquarium at a leisurely pace took about 40 minutes—like I mentioned, it's not particularly large. However, after visiting again during opening hours, I can't tell you how nice it was to have the place to ourselves. Once the gates open, SEALIFE can get quite busy!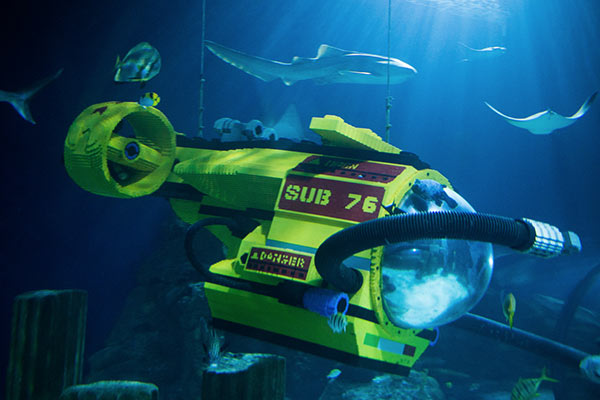 A submarine model at SEA LIFE Aquarium​
Side note: For some reason, my wife and I mistakenly thought that we'd be the ones feeding fish. Not doing so didn't detract from the experience, but it's worth clarifying just in case you're under the same impression.
So in summary, the differences between a regular aquarium visit and VIP Experience are:
Get inside quickly without a line. (Although the following day the line was not that long—only about 5 mins.)
Hear fun facts from the host. (Although there are plenty of staff to ask questions on a regular visit.)
Tour the entire aquarium by yourself. I'd say this is the biggest perk since it's such a stunning place and touring it in near-silence felt really special.
What It's Like as a LEGOLAND VIP
Ready to get to it? We were! Right out of the Aquarium, we went through the main LEGOLAND entrance. We got in no time, completely skipping the line just as promised.
Our host recommended that we start off with a few rides that were close to the entrance. Since we were there an hour before opening, not all the rides had started up yet (and a few were closed for maintenance).
We took a few spins on the rides closest to the entrance but learned that priority access limits you to riding a ride twice in a row. You can come back to them at a later time but are forced to switch it up.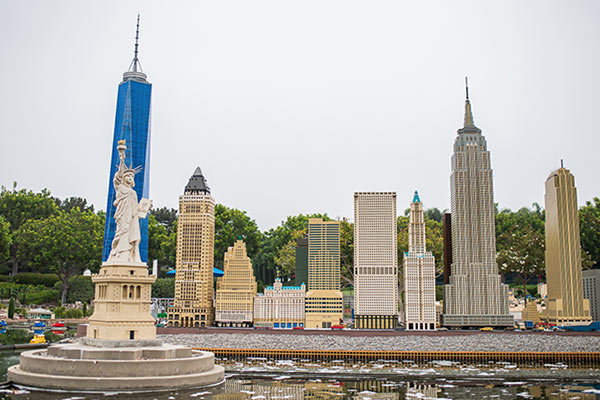 Miniland USA – New York
Rides help you work up quite an appetite—even when you're not waiting in line! As part of the VIP Experience, all snacks and refreshments are included. There is literally no limit on it and plenty of food stands around that offer delicious food options.
How does it work? Anytime we wanted something, all we had to do was tell our host, and he would get it for us. For lunch, we opted for the Pizza Pasta Buffet (normally $19 per adult regular), simply because it was the closest to us. However, guests can choose any restaurant they want for lunch as part of their VIP Experience.
After grabbing a quick bite, we started going to as many rides as we could. Having priority access is definitely nice, and especially as the resort keeps getting busier throughout the day. As an added bonus, we usually got seated in the first row of every ride.
The LEGOLAND Behind-the-Scenes VIP Experience
At 1 pm we had our second behind-the-scenes experience (the first being at SEA LIFE). This time, we were off to enjoy a VIP Model Build with the Master Builder at the Model Shop. (Say that three times fast!)
The Master Builder is an elite LEGOLAND staff member who's gone through a competition just to get hired. Once accepted, he or she works on the team that maintains (and sometimes builds) all the beautiful LEGO models on the resort.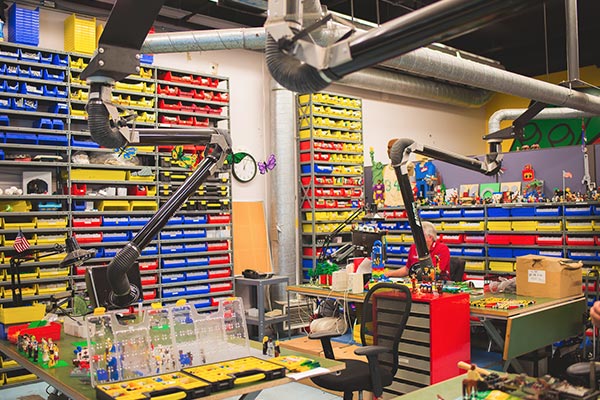 Model Shop tour​
Our Master Builder gave us pretty cool tour of the Model Shop, which is a dream come true for any LEGO enthusiast. Think of it like Santa's workshop, but made entirely of LEGOs—there are shelves and shelves of neatly organized LEGO bricks of all different colors and sizes.
Once in the workshop, the Master Builder guided us through building a mini-version of ourselves out of LEGO bricks! This tour and build were one of the highlights of the day. Not only was it a truly "behind-the-scenes" experience, but we learned tons of facts and trivia, plus were treated to so many different cool things to see.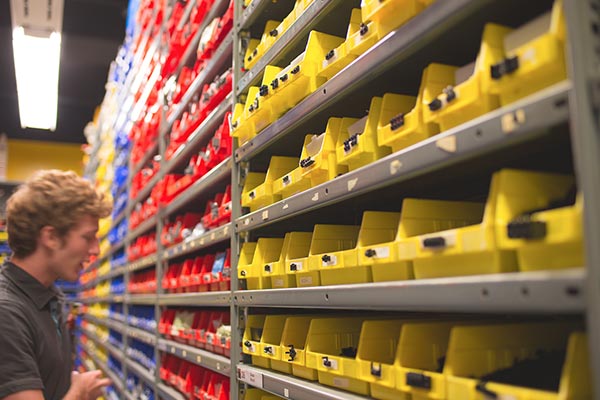 Model Shop tour​
For example, we learned that:
On average, the Model Shop houses between 3 and 3.5 million bricks.
Each of these bricks is ordered from a secret model shop in the Czech Republic, where they're stored after being manufactured in Denmark.
The per-piece prices can vary based on factors like size, color, and production date.
The trans blue color used to build the Burj Khalifa Tower is exclusive to LEGOLAND California and LEGOLAND Dubai.
If they need to make repairs on older models, the Shop also carries a decent amount of retired colors.
After the experience had wrapped up, we continued exploring. Having arrived at around 9:15 in the morning, we were able to get through the entire park by around 4 pm and even had time to revisit some of our favorite rides before heading out.
We got hungry again around 5 pm (the last time we'd eaten was at the pizza buffet around noon) and wanted to eat one more time. However, were a little disappointed that the cafes around where we were already closed despite it being about an hour until the park closed.
Our host explained that sometimes they close the food stands early when the park is less busy. So, if you're starving, don't put off eating until the last possible minute.
We finished the LEGOLAND visit by getting a souvenir photo package. (You can choose between a book or a LEGO brick wall—this was about a $20-$30 value.) Also, note that there were plenty of pictures taken throughout the day—the park keeps has photographers stationed on rides, and our VIP host would pop by after we hopped off to scan the photo receipts.
Getting back to the hotel was a breeze—it's located right outside the main entrance of LEGOLAND.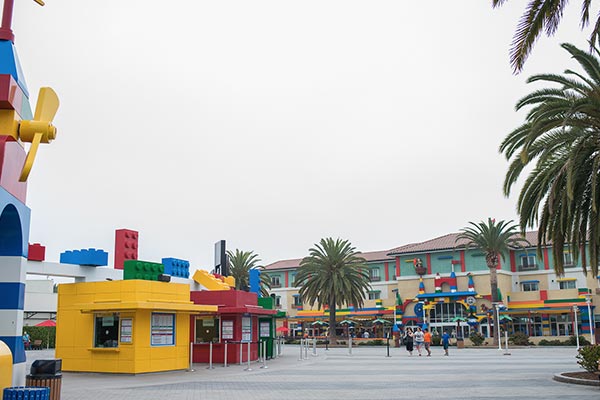 The hotel is located right outside the main entrance of LEGOLAND.​
When we arrived, our host had a gift of two Star Wars LEGO sets waiting for our son! The sets were valued at $30 and $50 each, which was a nice perk of having paid for a VIP Experience. Extra impressive was that he'd made a note of our son's love of Star Wars from the evening before.
Isn't It Weird to Have a Stranger Hang Around You All Day?
My wife and I were a little apprehensive about having host accompany us everywhere throughout the day. I mean, who wants a stranger following you around during a family experience?
The reality was that our personal host went above and beyond. He was friendly, knowledgeable, and attentive, but also perceptive as to when we would like a little space.
And, it turns out, it's really nice to be able to ask questions as you go along! Not just about the park, but we were never lost without ever having to look at a single map.
Since VIP guests do get quite a bit of special treatment, we asked if it ever gets too crowded and were told that the park tries to limit it to five VIP families per day. This way, there isn't an issue with different groups causing extreme hold ups in line or limiting each other's activities.
How Much Is LEGOLAND General Admission?
A single day pass to LEGOLAND costs $84 for children age 2-12, while adults pay $90. Children under two get in for free. Prices go up from there if you want to purchase entry for additional parks or extra days:
LEGOLAND + SEA LIFE: Admission for children 2-12 is $92. Adults (13+) will pay $98. Second-day free included in ticket price.
LEGOLAND + WATER PARK: Admission for children 2-12 is $95. Adults (13+) will pay $101. Second-day free included in ticket price.
LEGOLAND + SEA LIFE + WATER PARK: Admission for children 2-12 is $98. Adults (13+) will pay $104. Second-day free included in ticket price.
LEGOLAND also offers seasonal specials on admission prices. For example, at the time of writing, their BRICK-OR-TREAT package offers $35 admission for children ages 2-12 on Saturdays through the month of October. Check LEGOLAND's website for updated admission pricing information.
How Much Are LEGOLAND VIP Experiences?
For guests who are interested in enhancing their theme park trip, LEGOLAND offers several different VIP packages to choose from. While the details of each vary, all include:
One-day admission to LEGOLAND California
A VIP Host to escort you around the Park, help plan your day and share LEGOLAND facts and secrets
Priority access to rides, shows, and attractions
Exclusive tour of the Model Shop and guided building activity with one of our Master Builders
All food and beverage all day long (with the exception of alcoholic beverages)
Minifigure for trading
LEGO gift sets for the children
Valet parking at the LEGOLAND Hotel
Digital Photo Package
As mentioned, our family selected the Ultimate Overnight VIP Experience. However, here's a brief outline of each of the VIP packages to compare:
1. Model Build + Reptile Encounter VIP Experience ($495 per person)
This package offers all of the above VIP Treatment at LEGOLAND, plus a Behind the Scenes Reptile Encounter at SEA LIFE Aquarium. This includes a one-on-one interactive session with an educator who will teach you all about the reptiles who live there.
2. Model Build + Wake Up the Fish VIP Experience ($495 per person)
This package offers all of the above VIP Treatment at LEGOLAND, plus a private tour of SEA LIFE Aquarium led by a VIP Host before the park is open to the public. (Note that you must arrive at least 30 minutes before the park opens.)
3. Model Build + Shark Feed VIP Experience ($495 per person)
This package offers all of the above VIP Treatment at LEGOLAND, plus you'll get an exclusive peek at the sharks from above their 200,000 gallon Ocean Tank as the aquarists feed them their lunch. (Tuesday, Thursday, and Saturday only.)
Note that each of the above three VIP packages gets you access to both LEGOLAND and SEA LIFE Aquarium for $495. However, you can add admission to LEGOLAND WATER PARK for an additional $100.
4. The Ultimate Overnight VIP Experience ($600 per person, plus the cost of your room)
This package includes all the benefits listed up top, along with:
Overnight stay in a suite at LEGOLAND Hotel
VIP Hotel check-in
Dinner at Bricks Family Restaurant
Turndown service with bedtime storytelling
Character escort to breakfast
Valet parking
Luggage bellhop collection to vehicle
Additionally, it's promised that your rooms will be booked at the lowest available rate.
5. Buddy VIP Experience ($295 per person)
This discounted package does not include the many VIP benefits associated with staying at the hotel that are listed above. However, it does include:
One-day admission to LEGOLAND California
VIP Host to escort you around the Park, help plan your day and share LEGOLAND facts and secrets
Priority access to rides, shows, and attractions
Minifigure for trading
Lunch at Pizza & Pasta Buffet
What's the Difference Between Visiting LEGOLAND as a Regular Guest and a VIP Experience in a Nutshell?
The most notable perks are:
No waiting in lines for rides.
Behind the scenes experiences that you can only get through VIP, which was unanimously our favorite memory.
Fun facts and info from your host throughout the day. You basically have your own personal tour guide.
All food and refreshment, photo package, etc. are included.
As you can see, VIP Experiences cost a pretty penny more than general admission. At the end of the day (literally), there's no way to eat and drink enough free food and refreshments to make up the cost.
With that—and the extra cost—in mind, here's my opinion on who will get the greatest value from a LEGOLAND VIP Experience:
Who Is the LEGOLAND Ultimate Overnight VIP Experience Built For?
In my opinion, the real value of the VIP experience is the personalized tour of LEGOLAND, the unforgettable memories created by the behind-the-scenes experience, and priority access to rides.
After our experience, it's my view that the VIP Experience is best for groups with kids ages five and older. Since a good chunk of the value is in getting to traverse the park hassle-free, you won't have to worry about little ones becoming too tired to enjoy the whole day. Additionally, older kids will be able to get the most out of all the fun trivia offered by your host.
Another reason to go all in and pay for a VIP Experience is if you only have one day at LEGOLAND and want to experience the whole park without interruption. The amount of time you save getting to skip lines will definitely help your group enjoy other experiences.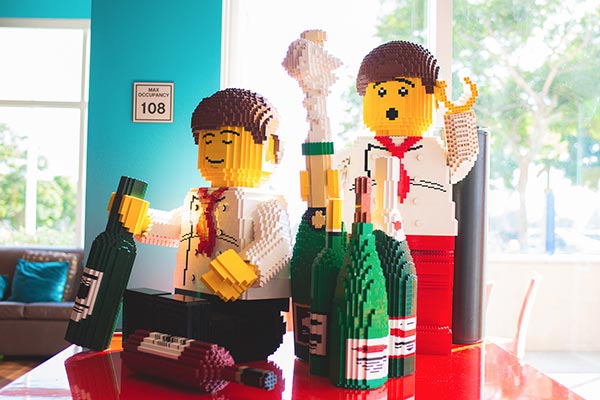 Lego model at the Mini's Lounge​
Along those lines, I personally wouldn't suggest paying for a VIP Experience if you primarily have smaller children, ages two to four. They will ultimately direct your pace, and you won't really get the full value of being able to see everything with ease.
Additionally, if you have a larger group, it's difficult to justify the LEGOLAND VIP Experience since purchasing it for each member can easily double your expense.
Finally, if your primary reason for getting a VIP Experience is to have access to rides and attractions, this can be really useful during the weekends or peak seasons. However, during slower mid-week days or the offseason, this likely doesn't offer the same value.
Pro-Tips to Enhance Your VIP Experience
While much of the VIP Experience is handled for you, there were a few things I recommend:
Request your favorite floor at the hotel. As we mentioned, we stayed on the hotel's second floor which was pirate themed. Other options include the medieval-themed Kingdom rooms, Adventure-theme rooms, and the slightly more frilly-looking LEGO Friends.
Ask as many questions as you can. The LEGO website doesn't give too many details, and when booking, we felt like the representative could have done a better job answering questions so that we knew how to get the most out of our experience ahead of time.
Keep it a surprise! Even after arriving, our 7-year-old son had no clue of all the perks of the VIP experience. This meant that, from the first story telling time to the behind-the-scenes experience with a Master Builder, there were cool new surprises around every turn. Even better, his delight at every new experience doubled our fun and made the entire trip more memorable.
How Does the Cost of a VIP Experience Compare?
The cost of a LEGOLAND VIP Experience is steep, but it does offer multiple opportunities to save throughout the day, including items such as food and souvenirs that can really add up. Here's an estimated cost comparison:
| | General Guest | VIP Experience |
| --- | --- | --- |
| Admission (per person) | $95 (approx.) | $600 |
| Breakfast (per person) | $15 | $0 (included) |
| Pizza Lunch (per person) | $20 | $0 (included) |
| Refreshments (per person) | $15 | $0 (included) |
| Dinner (per person) | $25 | $0 (included) |
| Souvenirs | $80 | $0 (included) |
| Photos | $25 | $0 (included) |
| Behind the Scenes | N/A | $0 (included) |
| Total Cost (per person) | $275 | $600 |
Assuming that you paid for a relatively similar day, the difference between general admission and a VIP Experience is $325 per person (not counting the hotel cost).
Essentially, that's $325 per person for two Behind-The-Scenes experiences, priority on rides, and a personal tour guide.
Now that we've quantified the difference in cost, that might still leave you asking...
Bottom Line: Was the LEGOLAND Ultimate Overnight VIP Experience Worth It?
Overall, my wife and I really enjoyed our VIP Experience with our son! It was fun for us as adults, plus we felt like it made our family's visit to LEGOLAND richer and helped us create unique memories that we'll get enjoyment from for years.
Our only complaint? The two Behind the Scenes experiences were easily our favorite part of being a VIP and we wished we weren't forced to choose.
For example, you're made to choose from one of three aquarium experiences, and from one of two LEGOLAND experiences.
With that in mind, my wife and I both felt that, when you directly compared the VIP cost for three people to the amount of time spent in Behind-The-Scenes experiences, it came out a bit steep. (The larger your group, the steeper it would get).
In our opinion, the whole VIP package would have felt really "worth it" had we gotten to do all of them.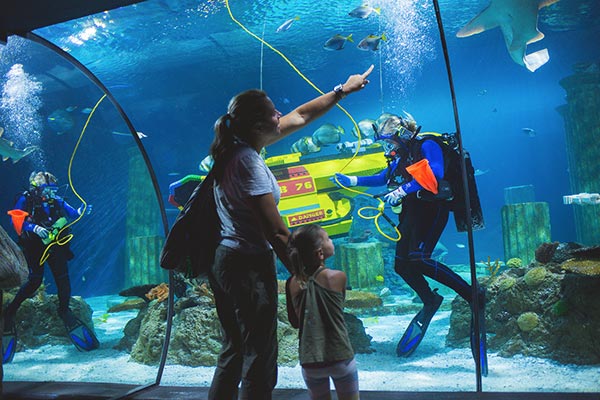 Shark Feed at SEA LIFE​
Along those lines, our experience staying at the LEGOLAND Hotel offered plenty of delightful surprises. However, a good deal of it had to do with the incredible attention to detail and kid-friendly decor.
Since the cost of staying in the hotel isn't included with a VIP Experience (only that you're guaranteed booking at the lowest possible rate), some of these benefits could be similarly experienced by hotel guests willing to splurge on room service.
Bottom line? The LEGOLAND Ultimate Overnight VIP Experience was certainly a treat for our entire family! However, we don't feel like the cost can be justified in every situation.
From our experience, it's my opinion that a LEGOLAND VIP Experience is worth the cost only if you can say "yes" to all (or most) of the following:
You have only one day and want to get the most out of your visit to LEGOLAND.

You have a small group of four or less.

You are with children ages five and older.

You want to ride as many rides as possible and are going during the busy summer months, holidays, or a weekend.
In my opinion, it's difficult to justify the cost of a LEGOLAND VIP Experience if:
You have multiple days to visit the park, giving you plenty of time to revisit your favorite rides and attractions.

Are with a large group. The cost-per-person of a VIP Experience is a minimum of $495 per guest (or $295 for the same-day Buddy VIP)—the cost of paying for a group of four or more could easily be repurposed to splurge on all the food, photos, and souvenirs possible and still come nowhere close to the VIP cost.

Are with children under 4-years-old. Part of the benefit of being a VIP is getting to dash around the park without waiting in lines, which would quickly tire out toddlers. Also, young children won't likely get as much out of the fun facts and trivia shared by your VIP Host.
Again, our knowledgeable host and Behind-the-Scenes experiences are what left us with the best impression. If you can afford to do so, splurging will lead to an experience you won't forget—but then again, neither will your wallet.
Customer Reviews