LegXercise Reviews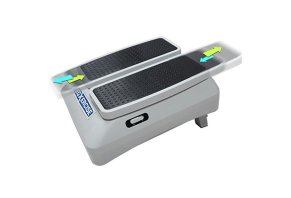 Delivering gentle, low impact front-to-back movements, LegXercise is an electronic device that claims to boost circulation, while relieving feet and leg aches and pains.
About LegXercise
LegXercise is a passive exercise device that uses a patented technique to mimic the natural activity of walking, thereby stimulating the body's muscles.
This way, the manufacturer claims it can help elderly or disabled individuals reduce muscle and joint stiffness, address achy legs and feet, and even help with overall health and wellness, without impact on joints.
Furthermore, no assembly is required: Take LegXercise out of the box, plug it in, and select your speed. Its quiet, two-speed motor will cause the electronic footplates to glide forward and backward, which will comfortably exercise your legs while sitting, resting, and watching TV.
Together, LegXercise's proposed concept certainly seems attractive, making it easy to see why the manufacturer claims more than 1.3 million of the devices have been sold worldwide. But, might you expect real-world results for the money?
Let's start by discussing price.
How Much Does LegXercise Cost?
The manufacturer offers two different options when purchasing LegXercise:
Three payments of $53.33 plus $15.99 S&H (total of $175.98)
Single payment of $159.99 plus free S&H
With your order, you'll also receive a free pair of compression socks. You'll also have 60 days to return the device if you're not satisfied, less S&H charges.
Finally, LegXercise comes with a 1-year warranty against assembly and manufacturing faults. In order to request one, customer support can be reached at 386-742-6550.
With price out of the way, let's discuss the underlying problem LegXercise promises to address.
What's Wrong With Physical Inactivity?
Have you ever heard the phrase, "If you don't use it, you'll lose it?" This is certainly the case when referencing muscles, as they will gradually lose tone and grow weaker over time without regular engagement. And if the situation continues long enough, it could lead to pain and even mobility concerns.
But these aren't the only ones. The Johns Hopkins Health Library indicates that extended physically inactive periods can also lead to potentially dangerous side effects like high blood pressure, type 2 diabetes, coronary heart disease, anxiety, depression, and increased risk of certain cancers.
Despite these concerns, the Centers for Disease Control indicate that between 27.5 and 35.3 percent of adults over the age of 50 don't get any physical activity, outside of going to work.
But, whether your inactivity is caused by lack of time, willpower, or physical limitations, will LegXercise's leg and feet movements provide a solution, all while you're lounging in a seated position? To fully explore this question, we'll need to unpack a couple more important concepts.
Passive Muscle Movement vs. Activation: Which Might LegXercise Provide?
Without going into unnecessary detail, a complex activity like walking involves close coordination between many muscles, and not just in the legs. It also involves the brain and nerve cells that 'tell' the muscles to contract and relax in the first place, which then pull on skeletal muscles to create locomotion. Collectively, this process can be referred to as muscle activation.
On the other hand, passive leg exercises don't activate muscles directly through the individual's nervous system. Instead, with the help of someone like a physical therapist or personal trainer, research scientist Kris Heeter tells us they:
"… stimulate your leg muscles and increase your circulation. Your whole body benefits from an increase in circulation, as more oxygen reaches your vital organs and tissues, more nutrients reach your cells, and an increased flow of antibodies and white blood cells throughout your body helps you fight infection. Not only are the motor neurons within your leg muscles stimulated through passive movements, but also the neurons associated with your spinal cord and the motor areas of your brain."
What Do We Know About LegXercise's Company & Competition?
Searching online for terms like "passive walking machine" and "seated walking machine" didn't return a whole lot of relevant options at the time of our research.
However, while there were some minor design differences between the two, LegXercise seemed to be functionally identical to the $200 Easy Comforts Seated Walking & Lower Leg Exerciser. We didn't encounter online customer feedback for either of these devices.
From a company perspective, LegXercise is manufactured by Intellibrands, LLC based out of Doral, FL. They held an A+ Better Business Bureau rating and one closed complaint as of 7/3/17, which referenced difficulty obtaining a refund, although it appeared to be related to the wrong company.
Let's bring together everything we've discussed so you can come to a more empowered conclusion about LegXercise.
What's Our Bottom Line About LegXercise?
As we learned from the Johns Hopkins Health Library and the Centers for Disease Control earlier, a big percentage of adults over 50 don't get anywhere near enough physical activity, which can lead to a variety of health consequences—some more severe than others.
We also learned that, when performed regularly, passive muscle movement (i.e. stretching) can help increase circulation, which can provide a cascade of potential benefits like reduced soreness and pain, as well as increased mobility.
From these perspectives, in our opinion, it seems like LegXercise might have the potential to help inactive individuals find some relief and move them closer to living a more active life.
However, only your doctor will be able to discern if the limited front and back movements and overall range of motion provided by the device will deliver meaningful results based on your specific diagnosis.
If you decide to give LegXercise a try, the company stands behind it with a 60-day refund policy, which should be more than enough time to figure out if it's a solid solution. Just keep in mind that you'll lose your initial S&H charges (if you chose the three-payment option), plus whatever it will cost to ship back to the manufacturer.
Before you click away, talk about your experience with LegXercise below in your very own review.
Can't get in touch with anyone for my refund

By Penny H.

,

Evans, GA

,

Oct 15, 2019
Verified Reviewer

I bought my LegXerciser a little over a month ago and used it everyday religiously. I kept a record of how my legs were feeling and how it was affecting me. Nothing changed. All I want is my refund. The phone number that is listed does not work. Every time I call it it has a half a ring and then hangs up. If I don't get satisfaction I'm going to the Better Business Bureau. The LegXerciser may work for other people but just didn't help me.

I just want a refund on my, zero risk money back guarantee. If I receive a refund, I will post another review.

I am not sharing my order number or shipping information. I'm keeping it private unless needed for proof.

Bottom Line: No, I would not recommend this to a friend

---

Mr. Nj

By Earl J.

,

New Jersey

,

Sep 12, 2019
Verified Reviewer

I really love this machine. I have MS and I have limited mobility, the back and forward motion stimulates my legs. After about 10 to 15 minutes a day, I can feel the difference in my legs, and it gives me a lot more flexibility when moving around during my day. I strongly recommend it for limited-mobility people. Love it.

Bottom Line: Yes, I would recommend this to a friend

---

Advertisement

---