Lemonade Insurance
Claimed This company has claimed this profile, is getting alerted on any new customer reviews entering this page, and may engage in dialogue with its customers to address their matters.

Companies cannot pay money or provide goods in order to remove or alter customer reviews.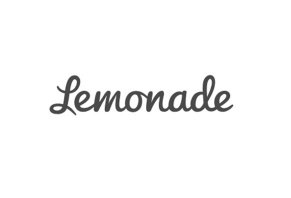 Lemonade Insurance has helped renters and homeowners obtain fast, affordable online insurance since 2015, while also giving back to charitable causes.
Lemonade Insurance Reviews - Ideal For Homeowners and Renters?
Lemonade Insurance uses a combination of technology, transparency, and simplicity to provide their homeowners and renters policyholders a fast, affordable, and hassle-free experience.
They take a flat fee for their services, pay claims quickly, and treat "the premiums you pay as if it's your money," so the website advertises they're transforming and reversing "the very business model of insurance."
As a certified B-Corp and a Public Benefit Corporation, Lemonade also maintains social impact at the core of their business model and gave more than $160K to charities in 2018.
There are a lot of fully licensed insurance carriers in the marketplace that can help you protect the stuff you love. And like Lemonade, many also advertise hassle-free service and claims, instant policies, competitive premiums, and social or charitable aspects.
Is there anything about a Lemonade renters or homeowners policy, though, that might deliver better value for your money? Who could they work best for, who might want to stay away?
Combining our research and experience with insight from third-party professionals, we'll help answer all of your core questions. Let's start by taking a closer look at Lemonade's process.
How Does Lemonade Insurance Work?
Lemonade offers renters, condo, co-op, and homeowners insurance policies in 21 states, with an additional 25—and parts of Europe—"coming soon," according to their website. They offer landlord policies in some of these states as well.
The company is fully reinsured, holds an A-Exceptional Financial Stability Rating from Demotech Inc., and takes a flat fee for each policy they issue. Together, they say this means there's no incentive to bloat your premium or sell you additional coverage.
As a certified B-Corp, they donate up to 40% of their unclaimed money per year to non-profit organizations.
There's another meaningful difference when it comes to Lemonade insurance—after asking just a few questions, their Maya artificial intelligence chatbot helps you set up your policy, including choosing limits, increasing coverage for certain classes of personal property, and even filing and settling claims.
In fact, Lemonade advertises this technology allows them to pay 25% of claims in just three seconds.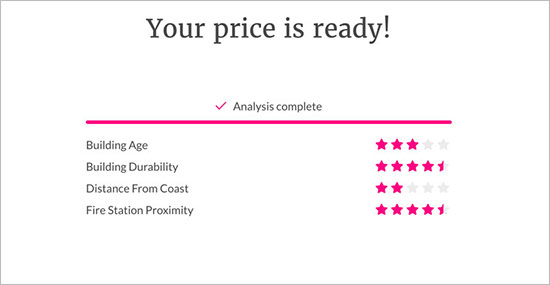 Lemonade's Maya AI chatbot asks you a few simple questions, provides a rate, and allows you to make a payment and bind coverage immediately. Credit: Lemonade Inc.
Then, after choosing your deductible and reading through a coverage summary written in everyday language, you can click the "Activate Your Insurance" button to make a payment and start your policy.
If you're already insured, Lemonade will notify your current provider and/or lender to advise of the change, as well as handle your escrow payments.
Following issuance, you can adjust coverage via the app or website, or cancel your policy.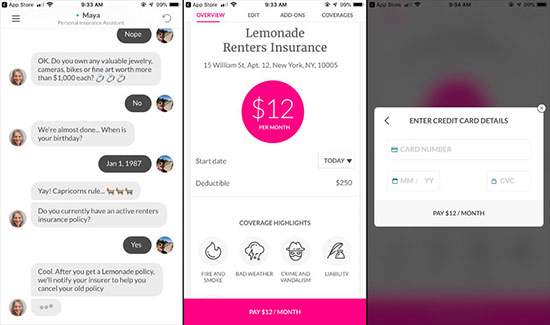 The Lemonade Insurance iOS and Android apps work exactly like the website, just on a smaller screen. Credit: Lemonade Inc.
What are Lemonade Policyholders Saying in Their Reviews?
Here on HighYa, more than 190 readers have given Lemonade Insurance an average rating of 4.5 stars. Most policyholders seem pleased with the company's claims process and excellent customer support.
On the other hand, relatively few complaints often referenced frustrating claim handling, denied coverage, and technical issues.
Between iTunes and Google Play, the Lemonade app has more than 15,900 user reviews and a combined average rating of about 4.8 stars.
Many reported that the app is user-friendly and makes filing a claim a breeze, while some experienced problems using the app, or didn't appreciate that coverage wasn't available in their area. The company responded to each complaint directly.
How Much Does Lemonade Insurance Cost?
Lemonade advertises that their renters insurance policies start at $5 per month, while their homeowners begin at $25/mo. We received a $12 monthly rate for our dummy quote in NYC ($40K personal property, $100K liability, $12K loss of use, $1K med pay, $250 deductible).
The website explains you might pay more or less, since "premiums are calculated individually" and are "based on a number of different factors including your credit history, recent claims, and information about your property including its age, size, and construction quality."
As soon as you make your payment using a debit or credit card, Lemonade will instantly email you your final policy.
If you cancel, you'll receive a pro-rated refund for the remaining period for which you've paid.
What You Should Know Before Buying Homeowners and Renters Insurance Online
I spent more than a decade in the personal lines insurance industry, much of this time as a high-value property underwriter.
From this experience, I learned that most home and renters policyholders have little-to-no idea what the coverages on their policy provide, as well as whether or not their current levels are sufficient.
As a result, my biggest recommendations before signing on the dotted line are related to making sure you have enough coverage.
Start by taking stock of your personal property and adding up its total value. The Lemonade blog has an excellent article that outlines how to do this.
If you own a home, make sure that you have enough dwelling coverage to rebuild if it's a total loss, which you can do using an online replacement cost calculator.
Pro tip: Your home's market value and its replacement cost can be very different, so don't think they'll necessarily match.
And whether you own or rent, I'd recommend against skimping on liability coverage, which comes with very little cost difference between minimum ($100K) and maximum ($500K+) limits. But, this could make a big difference if the unthinkable happens.
One of the biggest upsides of shopping online is that you can receive multiple quotes in a short amount of time, which gives you an important advantage, according to Sa El, Co-Founder of Simply Insurance.
"You should apply to more than one company," he says, "because every company has its own underwriting guidelines and could come back with a different price than they quoted you. This also allows you to choose the policy with the best price and coverage."
Lemonade Insurance vs. Competing Online Insurance Carriers
These days, just about every personal lines company has a website (and very likely an app) where you can obtain quotes, make changes, access policy documents, pay your premium, file claims, and so forth.
However, there aren't any that use technology in quite the same way as Lemonade, although here's how some of their top competitors compare:
| | |
| --- | --- |
| Company | Notes |
| Lemonade Insurance | Issues their own renters and homeowners policies in 21 states. AI chatbot Maya can provide quotes, bind coverage, and even file claims. Live humans available if you need. Company gives unused profits back to charity each year. |
| Kin Insurance | Offers flood, homeowners, hurricane, umbrella, landlord, and mobile home insurance through third-party partners. Available in AL, GA, FL, TX. Must consent to entering personal details, having a soft pull performed on your credit, and being contacted. |
| Jetty | Renters insurance only (policies issued through State National Insurance Company). Offers reduced deposits and co-signing services. Partners w/third-party companies for product and service discounts. |
| Gabi | Also uses an AI chatbot, but is a broker (works for you) vs. a carrier or an agent (works for the insurance company). Reviews your coverage and recommends third-party partners based on what it learns. Offers auto, home, renters, umbrella, and life insurance policies. |
| Trov | Extended personal property coverage for items typically not covered fully under homeowners or renters. Coverage extends anywhere in the world. |
The bottom line is that when it comes to purchasing personal lines insurance, there isn't a single "perfect" combination of factors that will meet everyone's needs.
With this said, if you're looking to obtain competitively-priced homeowners or renters insurance in a completely AI online environment, and from a company that issues their own policies, Lemonade is currently the only game in town.
Still, Sa El of Simply Insurance points out that when you purchase insurance online, it's up to you to "self-educate how your coverage works," since there's no agent involved.
Along these same lines, agent Jenny Saint Preux from HSN Insurance Services recommends watching "YouTube videos on different coverage options that the company offers, so that you may understand them more clearly."
"You still won't capture the underwriting, automatic coverage changes, and coverage application piece," she admits. "However, you'll be much more informed."
On the other hand, if this doesn't appeal to you, you're not internet savvy, have lots of questions, or are otherwise uncomfortable with the process, "reaching out to an agent instead of purchasing online might work best for you," El says.
Should You Start a Lemonade Insurance Policy?
Shai Wininger and Daniel Schreiber founded New York-based Lemonade to fix a broken industry, while also emphasizing that insurance can work as a social good.
And with their overwhelmingly positive online policyholder feedback, unique and easy-to-use AI chatbot, ultra-low prices, and mission to make a positive social impact, it seems like they're well on their way. As such, they look like a no-brainer if you're in the market for a renters or homeowners policy and live in one of the 21 states where they provide coverage.
Are you considering switching your homeowners or renters policy over to Lemonade? If so, just remember they don't offer auto coverage—and that one of the most significant discounts provided by most insurance carriers is for having both home and auto with them.
As a result, you might notice a steep increase in your current auto premium.
---
This company is actively collecting reviews from its customers. All reviews submitted are subject to moderation and approval to ensure they meet our

Review Guidelines

.

Great claim experience

By Robi K.

,

Phoenix, AZ

,

Feb 3, 2020
Verified Reviewer

Overall Experience:

You know, it literally took 5 minutes to buy, but the real reason why I love them is the claims process. I, unfortunately, had a kitchen fire and there is soot and smoke damage everywhere. I have been dealing with Ashley and she has been totally wonderful. They paid out my 1st portion of the claim in literally 2 hours!

Bottom Line: Yes, I would recommend this to a friend

---

Scammer insurance - they never pay claims

By Jide A.

,

Chicago, IL

,

Sep 12, 2019
Verified Reviewer

Overall Experience:

Lemonade Insurance are scammers. My items went missing on a flight as a result of damage in the course of the flight. They lied on their website and their policy that my property is covered anywhere but told me after I filed a claim that the insurance doesn't cover damages or losses while a person or organization is paid for moving property. Their response is a scam and fraudulent and doesn't apply in my case as I do not pay for cargo or haulage in this instance but my items only got missing while traveling. My lawyer also advised me that this is not what that policy claims and they want to avoid payment and will be filing damages and compensation for losses suffered against Lemonade shortly.

They never got back to me after asking me for several documents and making phone calls to verify my claim. It took me to send an email after over a week of submitting documents before they came back with their false response. If they really wouldn't cover my claim, why not be upfront and why ask me for my personal travel documents.

Never use Lemonade as they are all scammers and will do everything possible not to pay claims. They are INSURANCE SCAMMERS! FRAUDSTERS! INSURANCE LIARS!

Bottom Line: No, I would not recommend this to a friend

---

Advertisement

---

Feel scammed out of my property replacement amount.

By Cindy G.

,

Texas

,

Aug 16, 2019
Verified Reviewer

Overall Experience:

I have never had such a horrible experience dealing with any type of insurance or company EVER.

On June 18th of this year, unfortunately, there was a burglary in which my purse, wallet, and my rings were stolen by shattering the back window of my car and pulling my purse from under the seat at a local swimming park.

We were paying $30 a month for insurance that covered our personal property and what we believed to be an additional $5000 toward my wedding ring set. A month after I started my policy an email was sent that ended up in my spam folder; I never knew it existed until this incident occurred and I was told I no longer had separate coverage for my rings because I never sent them pictures of the rings or an appraisal (both of which I have and would have gladly sent in had I been asked). She told me that they did reach out to me to notify me. Well, I began frantically looking for proof that I paid for ring coverage and also wanting to look to see if I missed this email from them that she said existed asking for the documents. I found the ring coverage proof in my regular email by searching their company name. I didn't find the email she was talking about, so I proceeded to search my spam folder and my deleted folder. And ridiculously, I began to cry as I saw one single email AFTER they canceled the coverage in the spam folder, of course, saying that they were canceling this extra coverage as a courtesy for us to save us money ($2.34 per month)...and because the documents they asked (or claimed they asked for were never received). I never knew this email message existed because I had no reason to think my policy would be changed. The monthly payments auto-drafted out of our bank account monthly, therefore this $2.34 per month difference in our premium went unnoticed. So, in a nutshell, my most precious possessions were deleted off of our insurance policy without us being reached out to BEFORE CHANGING OUR POLICY as a common courtesy. Not a second email, a text, a phone call...all methods of communication they VERY QUICKLY USE if your payment is coming up, late, etc. Such a small task it would have been on their part to make sure we knew that there were documents that we NEEDED TO PROVIDE TO THEM to continue having coverage on my rings and that they never received them. (This would have made an enormous amount of difference in the outcome of this situation!) Instead, they just assumed we no longer wanted the rings covered and deleted them. Then sent a spam email after the fact. That is such sorry customer service I don't have words for it.

That whole approximately $17.50 they so graciously "saved us", LOWERED the coverage of my rings from $5000 to $1500, which is only about a third of the total value of the rings. I may never again be able to replace them. Over a stupid miscommunication; a freaking picture and the rings documents from when we bought them. I've never been treated so poorly or had such poor communication from any type of insurance I have ever dealt with whether it be medical, auto, renters, homeowners, etc. I strongly recommend that if you're planning on using this company to do your own research and think about exploring other companies that are tried and true. I feel like we were scammed out of what was owed to us in a loophole they somehow found that benefited them and saved them at least $3000. I am reporting them to the Better Business Bureau and anybody else I can think of because I feel like these practices were unprofessional, immoral, and downright despicable and I feel like the vague, intermittent, terrible communication problems were intentional and that they knew what they were doing was not morally correct, but did it anyway.

Also, these people are very weird when it comes to phone calls. I have an exchange of about 55 emails back-and-forth from my "agent" who was named "Amy". By the way Amy had no last name and no original email address. I then spoke to an "Allie" who could not seem to locate any details of my claim. I did speak to another male via email whose name also started with an "Alex", who was also robotic-like in replies. And in the course of these nearly 60 something emails back and forth to Amy, there were so many things that could have been resolved with one single phone call. She was my claims adjuster and I never heard her voice. I don't even know if she is a real person or not. She tried first to say we had canceled our policy, then retracted that statement, proceeded to tell me I had already filed a claim for losing my wedding ring in December, later changing that statement was well after a supposed recorded statement from me was unable to be found. She basically refused to pick up the phone and call me even though I asked several times.

She did try to make me feel like we did something wrong when out of the blue she claimed we'd already claimed this ring in a case that had no claim number, no emails I could locate, and no memory or proof of it. She insisted I should not act like I doubted the existence of my recorded statement claiming to have had my diamond stolen.

She decided our case needed to be further investigated for fraud! Seriously, I was so close to cursing her out, but couldn't very well do so via email and didn't want to stoop that low. So she insisted on sending an investigator out to take separate statements for me and my husband to make sure we were telling the truth about these rings being stolen. There was a police report and a detective had been out, and my car had been fingerprinted. I could not believe I was being basically called a liar. The fact that they doubted this was a valid case was appalling. It was humiliating to be treated like that. Involving an investigator dragged out this claim a total of 43 days, not the fast, fair, friendly, and whatever else service THEY CLAIM to provide. So yep, finally I was told our claim was approved and they settled my case for a third of the value of my stolen items. I signed no release agreeing, I just got an email saying it was being deposited to my bank. The amount was sad and broke my heart. I'll never be able to replace my rings! MY HUSBAND AND I HAVE BEEN TOGETHER 23 years. It took us until our 15th anniversary for him to be able to surprise me with my beautiful set we couldn't afford when we originally got married. I'm just so hurt angry, and truly feel scammed.

If you read until the end of this long story, it's sincerely appreciated because the more people that know the tactics the company Lemonade is using to avoid paying out claims properly and fairly, the less people that will be screwed as we were. Also, if you do use them, be careful not to get caught up in one of their many "loopholes" used to avoid paying out claims and making it very difficult for customers to communicate with them during the entire process. You do not get to call them. You have to wait until they reach out to you. If you do try calling you get a Google voicemail. Every email that came from anyone came from the same email address that was literally help@lemonade.com I feel deep down that they are not doing proper business an hope they get investigated and exposed someday. If anybody else has experienced anything similar, then send me a message and let's talk about it because I truly feel like I was robbed twice; once when everything was stolen, and again when Lemonade did not do the right thing and did not pay me enough to get half of my belongings back. Again, if you read this entire paragraph, thank you for doing so AND PLEASE SHARE THIS because I just want to get the message out there and save others the stress, sadness, humiliation, and severe anxiety that they provoke. Thank you.

Bottom Line: No, I would not recommend this to a friend

---

Worst insurance service

By Jo R.

,

Maryland

,

Mar 31, 2019
Verified Reviewer

Overall Experience:

Since they drop us two months ago and promised they'll send my refund check within two to three weeks, I can't get hold to anyone, and they don't even know when they're gonna mail the check. They are holding my money so I can't get other insurance and do not even contact us about what's is going on. Since they don't have an office or live customer service, it's like playing ping pong and no resolution. I remembered when I was looking for insurance and they were so glad to have me and took the money right away but when refunding, it takes longer. That's my money, and this time of year everything is tight. All I need is my refund so I will be able to get new insurance.

Bottom Line: No, I would not recommend this to a friend

---

Advertisement

---

Replaced my bike, same day!

By Devon F.

,

Los Angeles, CA

,

Jan 4, 2019
Verified Reviewer

Overall Experience:

I recently fell into financial hardship and decided to pick up Postmates as a second income. I don't have a car anymore, but in Los Angeles, we can deliver on bikes. So I used my bike that I saved up to get for years. Although I was hesitant, I still decided to use it out of necessity. On my third day doing Postmates, my bike was stolen within minutes from a pole that thieves unknowingly, to common people, are able to detach the top and take off very quickly. I knew I had Lemonade, but I was EXTREMELY stressed on how long it would take as I needed it replaced immediately. Lemonade approved my claim and I luckily found a bike shop nearby that had a comparable bike. I was shocked and awed that they deposited the money within minutes and I was right back to getting deliveries the same day. How grateful and glad I signed up with Lemonade is insurmountable.

Bottom Line: Yes, I would recommend this to a friend

---

Lemonade is awesome

By Jarrell W.

,

Corona, CA

,

Dec 22, 2018
Verified Reviewer

Overall Experience:

Lemonade is pretty awesome - they were fast with the response and getting my claim taken care of. They were also really easy to work with, and it was really nice not having to speak to speak someone on the phone. Overall I had a great experience with Lemonade.

Bottom Line: Yes, I would recommend this to a friend

---

Claim

By Carri W.

,

North Richland Hills, TX

,

Dec 22, 2018
Verified Reviewer

Overall Experience:

Jen was phenomenal! Everyone I dealt with from filing to completion was great! Quick and always with positive vibes in a difficult time.

Thank you, Jen, for your kindness and patience and understanding!

Bottom Line: Yes, I would recommend this to a friend

---

Woolsey fires

By Adria S.

,

Calabasas, CA

,

Dec 21, 2018
Verified Reviewer

Overall Experience:

This was my first time ever having to deal with an insurance company. I heard horror stories from everyone over the years about other insurance companies, however, during this horrible time, Reese from Lemonade made everything so simple and helped every step of the way. I am so thankful I chose Lemonade as my insurance here. We are finally trying to get our life back in order thanks to him!

Bottom Line: Yes, I would recommend this to a friend

---

When life gives you lemons...

By Nate S.

,

Tarzana, CA

,

Dec 20, 2018
Verified Reviewer

Overall Experience:

My backpack was stolen and I lost a lot. Luckily I had Lemonade, which gave me enough to replace the items in a matter of days. Cheap, quick, and painless security at your fingertips. I would definitely recommend them to anyone with things. Period.

Bottom Line: Yes, I would recommend this to a friend

---

Quick and easy process

By Greg K.

,

Holland, OH

,

Dec 18, 2018
Verified Reviewer

Overall Experience:

When things go wrong in life, usually it's a pain to try to recover from it. So, when I had something go wrong today, I remembered I had switched from a traditional insurance company and had Lemonade. The process was quick and simple to file a claim on my issue. I was even paid shortly after approval so I could get on with my day and replace what I had lost.

Bottom Line: Yes, I would recommend this to a friend

---

Disappointed

By James S.

,

Las Vegas, NV

,

Dec 17, 2018
Verified Reviewer

Overall Experience:

We are the downstairs unit, our upstairs neighbors had a water leak in their bathroom and over time it was leaking, we were packing for a vacation and I noticed in the wardrobe the carpet was wet. Upon investigating I noticed the clothes hanging up were also saturated, and upon pulling them out, they were also moldy. Walls were also saturated. I filed claim and it was declined by Lawrence, followed up with him and he just quoted rules and regulations.

Eventually, he said that they might cover the hotel stay during construction. A month later when construction was due to start, I forwarded Lawrence the builder's quote with construction dates but never heard back from him. I needed to speak with a supervisor to get someone to action the hotel stay.

Out of the blue, I get an email from Lawrence saying congratulations your claim has been approved and we should be getting our claim paid into our account in a few days.

This turned out to be wrong, and we are not getting anything, the payment was intended to cover our hotel stay. This was deceiving, and we are still left with several thousand dollars of damages due to this water damage.

Bottom Line: No, I would not recommend this to a friend

---