Lenda Reviews
Claimed This company has claimed this profile, is getting alerted on any new customer reviews entering this page, and may engage in dialogue with its customers to address their matters.

Companies cannot pay money or provide goods in order to remove or alter customer reviews.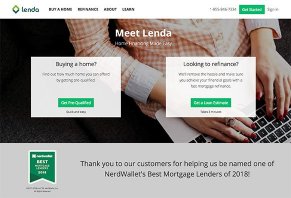 Lenda's online-only lending model claims to deliver accurate, competitive mortgage rates in seconds; an easy, transparent approval and closing process; and zero hassle.
About Lenda
Even just a couple years ago, if you were looking to refinance your mortgage, you almost certainly would have had to go through a traditional bank—and experience all the paperwork, fees, long wait times, and less-than-stellar customer service that often accompany it.
Today, however, this is quickly becoming a thing of the past. In fact, with direct lenders like Lenda, they claim that you can now get a home loan quickly and conveniently—and score low rates and fees—completely online.
This way, Lenda promises to help you avoid wasting time shopping around, to provide complete transparency and accurate rates, and to prioritize customer convenience. And because this process reduces costs, not to mention time, Lenda then passes these savings on to you.
Applying For a Lenda Home Loan Works Over Four Steps:
Get your custom quote – According to the company, "we ask the right questions and quote accurate fees up front," which means that you'll get the right quote based on your situation in seconds. Simply input your estimated home value, current mortgage amount, and approximate credit score.
Submit your application – Lenda claims you'll be able to refinance completely online from the comfort of your home.
Verify & document – Instead of dealing with reams of paper and trips back and forth to the bank, you'll be able to verify credit scores, upload documents, and access the real-time status of your loan online through your secure portal.
Close your loan – Lenda claims to underwrite, appraise, and close their loan three times faster than the industry average.
Taken together, this is why Lenda's brand of home loans is considered "self-serve," and why the company claims to be the "easiest way to finance your home online."
Just because Lenda's easy, though, does this mean they're right for you? Do they offer competitive rates? Are there any important factors you should be aware of? We'll start off taking a look at Lenda's nitty-gritty details.
What Are Lenda's Rates, Fees, & Eligibility Criteria?
Currently, Lenda only offers four different refinance products at the following rates:
10 year fixed: 2.5%-2.875%
15 year fixed: 2.625%-3%
20 year fixed: 3.375%-3.75%
30 year fixed: 3.25%-3.625%
Note: These rates were based on assumptions of a $300,000 current mortgage balance with a home value of $500,000, in zip code 91501 and a credit score of 700-719. Rates can also change daily depending on a number of factors outside of your control.
How to Obtain a Lenda Quote
To get your initial rate, you'll only need to spend a couple of minutes inputting information like your current mortgage balance, estimated home value, zip code, and estimated credit score. Then, after clicking on the See My Rates button, you'll be able to select your interest rate on a sliding scale and immediately watch how it impacts your loan terms.
Note: In order to view your rates, you'll have to create an account by entering your email address and choosing a password.
If you click on the Show Loan & Fee Details button, you'll also be able to see how much you'll need to pay out of pocket, estimated closing costs, and monthly payment details.
The more information you add to your Lenda quote, the more accurate it'll be, which is visually represented by a colored "Quote Strength" bar in the lower left-hand portion of the screen. To add more, click on the Show Advanced Options button underneath.
Ready to move forward? A Lenda Home Loan Advisor will contact you and verify that you're ready to lock in your rate, which will remain good for up to 30 days.
What Fees Does Lenda Charge?
Lenda doesn't charge a fee to pull your credit during the application process, nor any origination fees or broker commissions. However, they do generally charge:
Closing/Escrow Fee
Lender's Title Policy
Recording Service Fee
Appraisal Fee
Taxes & Government Fees
Lenda may also charge other fees, depending on the circumstances surrounding the property (such as pest inspections, surveys, HOA certifications, and more).
Are You Eligible for a Lenda Home Loan?
Like most lenders (more about this in a second), Lenda only tells us a little about their eligibility guidelines and underwriting criteria.
You can't have had a foreclosure within seven years or bankruptcy within four years, and you must have a 620 or higher credit score. You'll also need to be located in either CA, OR, WA, CO, PA, IL, AZ, MI, or TX (they will be opening three more states in Q1 of 2018)).
Regarding their products, Lenda can't provide sub-prime loans, adjustable rate loans, or home equity lines of credit, or provide loans on manufactured homes, mobile homes, or for commercial properties. You can, however, get a loan for an investment property.
Are Lenda's Clients Happy with Their Refinance Experience?
Lenda was originally launched in October 2013 by Jason van den Brand and Elijah Murray, who were looking to automate much of the mortgage process.
In other words, instead of employing dozens (or perhaps hundreds) of people who basically just pass paperwork between one another, they wanted to build software that could do it more accurately and in much less time. Then, by cutting out much of the middlemen, they could pass meaningful savings on to their customers.
Since launching, the company seems to have built a mostly positive online reputation from clients and professionals alike.
For example, here on HighYa, nine customers had given the company an average rating of four stars, with common compliments citing ease of doing business and great customer support. What few complaints there were related to less-than-stellar experiences, although a representative responded in each instance. We found similar ratings and customer feedback across third-party sites like Bankrate and Zillow.
From a professional perspective, NerdWallet's Deborah Kerns liked that Lenda is speedy (primarily due to their automation), doesn't charge upfront origination or broker fees, and provides 24/7 access to your loan's progress. However, she felt they're limited by the fact that their services are currently available in only five states (with seven more in the pipeline for this year).
As a company, Lenda held an A+ rating with the Better Business Bureau, based on one customer review and two closed complaints, as of 1/30/18. No additional details were available.
Are There Other Alternative Mortgage Lenders Like Lenda?
It's only a matter of time until the Internet and modern computing technology impact every imaginable business space, and right now seems to be the time for the lending industry. Not just for other mortgage lenders like Quicken Loans (the originator), Rocket Mortgage, and SoFi; but also for businesses (FundBox and BlueVine) and those with student loans (Earnest and CommonBond).
Specifically regarding mortgages, the key thing to remember here is that each of these online-only companies claims to offer many of the same benefits: easy access to accurate, competitive rates; low-to-no fees, fast approvals, and exceptional customer service. So, these things alone might not meaningfully distinguish Lenda from the competition.
Let's carry this thought over to the next section as we wrap things up.
Is Lenda a Solid Option for Financing Your Mortgage?
Given Lenda's closely matched competition, the main advantages offered by these online-only lenders is time on the front end; namely, obtaining accurate rates. This way, you don't have to submit your personal information to some company that sells it to the highest bidder, and you don't have to spend time getting individual quotes from every lender out there.
Just keep in mind that once you decide to proceed with Lenda (or most of the competition, for that matter) after obtaining your initial quote, the full application can take about 45 minutes to complete, and it will take you 25 days (or more) to close due to government regulations. But as we learned from Nerdwallet earlier, Lenda's closing times still seem to be meaningfully shorter than the industry average.
Another factor to consider is that most of the competition keeps their customer service in-house in order to maintain high quality. However, after your loan is complete, Lenda no longer services your loan: "When your loan funds, we tell you who to make payments to and how to make them. We have vetted the quality of each servicer we work with." No additional insight is provided.
With these caveats in mind, Lenda's been in business for several years, seems to come with a mostly positive online reputation among customers and professionals alike, and offers a streamlined, no-commitment application process, as well as competitive rates. As such, you might not have much more to lose than a few minutes of your time by giving them a try.
Read next: First-Time Homebuyer Tips: Expert Advice to Avoid Costly Mistakes
Do not use this company! Believe all the bad reviews, they are true!

By Gianna E.

,

Glendale, AZ

,

Jun 21, 2019
Verified Reviewer

Lenda draws you in with immediate customer service and makes big promises for a quick closing but actions speak louder than words. The incompetence of this company is so extensive and just when you think things can't get worse, they do. Lost documents, unanswered calls, and emails, misfiled documents that delay closing, the process took almost 4 months. The person handling closing had no idea what they were doing. They even admit their own mistakes but do nothing to improve the process and it ends up costing you, the customer, more time and money. The Vice President of Operations had to get involved but the mistakes kept happening, which should be concerning for a company but apparently not Lenda. She even signed her emails "Cheers!" That tells me this is not a serious company, apparently more concerned with a good time than actually taking care of the customer. Do yourself a favor and listen to the bad reviews.

Bottom Line: No, I would not recommend this to a friend

---

1 out 1 people found this review helpful

An unfortunate experience

By Hannah L.

,

Raleigh, NC

,

Apr 7, 2019
Verified Reviewer

The initial conversation I had with Linda was on March 11, 2019. Somehow, between all of the conversations and forms that were filled out, it was missed that this is not my primary residence. The result being that the interest rate I was originally quoted by Christy Ouyang was no longer valid. Even though I found it hard to believe that information got missed, I realize that people make mistakes. No big deal.

In moving forward, the rate was locked on March 21st. I signed all the necessary paperwork on the 22nd. But then, surprise, March 28th I receive notification that I needed to have over $15k in reserves. Again, it was missed that the property is a rental property. This was my first refi, I wasn't aware of needing "reserves."

This information was relayed to me on the day the appraisal was scheduled. Unfortunately, I fell ill and was unable to even think about the status of the refi until early this week. I secured the reserve funds and made a deposit today. Within 20 minutes of when Christy Ouyang sent an email asking for an update and how I might like to proceed, I receive an email from someone else saying that my loan application had been withdrawn (no warning or timeline that this would be the end result).

I tried calling several times but was unable to reach my loan advisor nor will she respond to email. I also tried unsuccessfully to reach customer service. It's neither here nor there now as I've found another lender, but it seems that this gal didn't could have used a little more training and perhaps the process would have been easier.

Bottom Line: No, I would not recommend this to a friend

---

Advertisement

---

1 out 1 people found this review helpful

Hot mess

By Jill C.

,

Portland, OR

,

Aug 18, 2018
Verified Reviewer

This company is a dumpster fire. Initially, we were really impressed with our agent. She was responsive and even reached out proactively to our realtor and the title company. As we moved along thru the process, things started to slip. There seems to be a major disconnect between the agents and underwriting. We had to explain several times that we were relocating to Portland from the Bay Area. Even after we provided work letters stating that we had been approved for remote work, underwriting could not get it straight that we were relocating. Then, after providing redundant information and having them miss documentation we'd upload or tell us our packets were complete, they'd discover something amiss. This dragged on forever. When we finally signed, my name was butchered on the deed, so that added to the mayhem.

Fast forward and we identified a second home to purchase as a rental. Although the initial experience wasn't great, I wanted to utilize the return client discount and got my initial pre-approval letter with little trouble. However, we had to up our bid and needed an updated letter asap. My loan officer flat out ignored my calls, emails, etc. for a solid week. Finally, I asked for a transfer as she wasn't responsive. The guy they gave me wasn't licensed in Oregon (great job). He told me he'd get me to someone to help me. No one has responded, and it's now been three weeks. Enough time to kill the deal. If you value professionalism and your sanity, I urge you to avoid Lenda at all costs.

Bottom Line: No, I would not recommend this to a friend

Aug 20, 2018

Hi Jill, we are so sorry you are disappointed with your experience. We're taking your feedback very seriously and greatly value your time. We strive to provide an excellent experience and have escalated your review. If you have additional feedback or wish to discuss your loans, please get in touch with your home loan advisor or support@lenda.com.

---

1 out 3 people found this review helpful

Just stay away from Lenda

By Brian K.

,

California

,

Jun 7, 2018
Verified Reviewer

My experience with Lenda was a horrible one. We decided to try and use Lenda as it was sold to us as a quick and easy way to handle all paperwork online and get an answer. Well, I quickly learned that having that personal touch matters as they sent the paperwork through quickly without any sort of email exchange clarifying details about our income, etc. The home loan consultant used only got back to us right at the end of closing time, and I had to pry for updates. He provided no updates on his own without being prompted.

Then the application was flat out denied without ever going over everything with us that could have avoided the denial. Next time we will sit down with someone and go over everything in person. Zero personal feel at all. Communication was poor at best. If I could give zero stars I would. I will not recommend them to anyon, ever.

Bottom Line: No, I would not recommend this to a friend

Jun 7, 2018

Hi Brian. We are so sorry to hear you had a negative experience. We are sorry for any lack of communication, as it is truly unacceptable for any customer to feel as though we're not providing a personalized experience. We're taking your feedback very seriously and reviewing your situation in order to improve our business processes. Thank you for your feedback.

---

Advertisement

---

2 out 2 people found this review helpful

Lenda's customer service is always there.

One of the few lenders that give you options and is always a phone call away. They will walk you through everything. You get service from educated people, who know what they are doing. Not a used car salesman.

Lenda will give you multiple options on the rate and buy down. Also, they give you a little education on the benefits! Since I bought my house as an investment, Lenda gave me a loan that is thousands less over the three years I expect to be in this home. I was given interest rate options at different buy-downs.

I work lots of hours, night shifts and value my time. Lenda worked with my schedule, on my terms and provide truthful cost analysis.

I knew what I wanted, and Lenda was open and willing to give me the loan with the lowest cost over three years.

Bottom Line: Yes, I would recommend this to a friend

---

1 out 1 people found this review helpful

Refinance process

The application process is very simple, and the loan officers are nice, helpful, and very easy to deal with.

Despite the fact that we did not end up choosing Lenda, I would recommend them for their great and helpful staff, and their competitive rates and terms.

Bottom Line: Yes, I would recommend this to a friend

Jan 14, 2018

Thanks so much for the kind words Ross! We're glad you had a very positive experience.

---

Lenda is waste of time.

Lenda made me jump through hoops to provide them with all kinds of information and proof. I drop everything to provide them with all the requested information. They make me pay for an appraisal. I have a paid off property, another with at least 45% equity, I run a million dollar company, all my credit cards are paid off, and all my cars are paid off. I got over $100k in the bank liquid cash in my personal account. Another $100k liquid cash in my business account. And you make a decision the that I have exclusive obligations to income and my application is declined because I co-signed for my employee on a lease so she and her three kids can have a roof over their heads. I don't need a refi from you guys, I decline you.

Bottom Line: No, I would not recommend this to a friend

Jan 4, 2018

Hi Tanvir,

We apologize that you were not satisfied with your experience. We really appreciate your feedback and strive to help each customer through the process as best as possible. Please let us know if there is anything else we can do to assist you.

---

Horrible experience

Arizona

,

Oct 30, 2017
Verified Reviewer

Lenda is a horrible mortgage broker. I found the experience to be frustrating and maddening. They kept asking for the same information over and over. They changed the mind from day to day. I had to prove identity several ways. I had to prove my income several different ways. I had to prove my employment status several different ways. At the end of a two-month process, we are still in limbo.

Bottom Line: No, I would not recommend this to a friend

Jan 4, 2018

Thank you so much for the feedback. We are so sorry that you are not satisfied with your experience. We will continue to be in touch regarding your personal circumstance but please reach out to us if you have additional questions. We appreciate your understanding.

---

1 out 1 people found this review helpful

Super smooth refi!

Sam Arabian helped us refinance with Lenda. The process was super smooth and happened so fast! Sam helped make the process pretty effortless for us. Lenda has a great digital system for sharing paperwork. There's no avoiding paperwork with refinances, but seriously this is about as easy as it gets. We got a competitive rate and now we're saving a ton of money every month. Sam/Lenda was super transparent with us throughout the process. Thanks!

Bottom Line: Yes, I would recommend this to a friend

---

2 out 2 people found this review helpful

Experience with Lenda

By LoruKambu

,

Seattle WA

,

Aug 2, 2017
Verified Reviewer

Having done a Quicken refi 16 years ago, so I thought I would give Lenda a go. I spent the time to fill out the form and speak with the broker I was assigned to. She spoke very fast, and I had the impression she was quite young and experienced. After I clearly told her our situation, mentioning we were currently working abroad but of course file US tax returns, she said she could do the refi.

Later I get an email saying "of course you work for a US company," which of course we do not. She had never asked us, so instead, I spent all the time to fill out forms and discuss the refi with her on numerous occasions by phone and email. We do file a US tax return, so I have been able to get other brokers to lock-in rates to offer us a refi. In the process of choosing and signing docs, but was super disappointed in Lenda as I prefer to streamline the process and work online. Furthermore, I had had great experience years ago with Quicken.

Bottom Line: No, I would not recommend this to a friend

---

1 out 1 people found this review helpful

My refinancing

I must say I had a great experience using Lenda for my home refinancing. Even after I overlooked a mistake for months, they helped and assisted me the whole way through with outstanding service. They were always a phone call away if I needed them.

Thank you Lenda!

Bottom Line: Yes, I would recommend this to a friend

---