LendingHome Reviews
Claimed This company has claimed this profile, is getting alerted on any new customer reviews entering this page, and may engage in dialogue with its customers to address their matters.

Companies cannot pay money or provide goods in order to remove or alter customer reviews.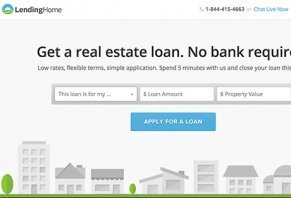 LendingHome is an alternative lender that claims to provide a short 5-minute application process and to be able to close business loans in as little as a week.
About LendingHome
LendingHome claims to make real estate lending as simple, transparent, and accessible as possible for borrowers and investors alike. In fact, LendingHome claims that borrowers may be able to close their business or commercial loans in just one week, after spending only 5 minutes on their application.
On top of this, LendingHome claims that their state-of-the-art credit engine provides borrowers with low rates, flexible terms, a simple application process, and quick approval for loan amounts ranging between $50K to $999,999. In addition, LendingHome claims to provide investors with "attractive returns, monthly cash flow, lower investment minimums, and the opportunity for increased diversification."
But does all this mean that LendingHome really is the "most advanced real estate lending platform in the world?" We'll answer that in a moment, but first, let's take a look at LendingHome's application process:
How to Apply for a LendingHome Loan
On the LendingHome home page, you'll first need to choose the type of property the loan is for (e.g. primary residence, secondary home, non-owner occupied), your requested loan amount, and your property's value.
After your application is complete, it will be submitted to LendingHome's screening process, which will taken into consideration factors such as "assessments of property value, equity coverage, borrower real estate experience, additional guarantees, credit history, and more."
If you're approved, you'll be presented with a summary of pre-qualified terms. It's interesting to point out that, although they promote the fact they're not a "traditional bank," LendingHome claims to approach the underwriting process "much like a traditional lender." Because of this, you may not experience much of an advantage from this standpoint as a borrower (we'll come back to this in a moment).
Important Note: According to the LendingHome FAQ, their loans are considered short-term investments with stated maturities of between 6 and 12 months, and are only available for business or commercial projects. While this can include single family rentals, LendingHome does not provide loans for owner-occupied properties.
Throughout the process, you'll be able to watch your loan as it goes through LendingHome's process flow, including information requests, in addition to completing your borrower checklist, uploading documents directly, chatting with your Relationship Manager, and more.
What Types of Loan Products Does LendingHome Offer?
According to LendingHome's FAQ, they currently only offer "purchase and refinance business and commercial purpose loans with interest-only payments for 6 or 12 month terms, with a balloon payment at maturity. Eligible properties include 1-4 unit residential dwellings, including townhomes, as well as properties that are being rehabbed and "flipped."
This means that if you're a borrower for a business or commercial project, you need to be prepared to fully repay your loan within one year. However, if you're an individual looking for a loan on an owner-occupied property (e.g. primary or secondary home), then you'll need to look elsewhere.
In addition, your project will need to be located in Arizona, California, Colorado, Georgia, Michigan, Nevada, North Carolina, Tennessee, Texas, or Washington, and the maximum loan-to-value ratio you'll receive is 80%.
How Does LendingHome Make Loans?
LendingHome claims that the vast majority of their capital comes from investors such as "private equity firms, hedge funds, banks, asset managers, family offices, and more." Essentially, LendingHome lends money directly to borrowers, and then wholesales their loans to the secondary market.
The second method that LendingHome uses to make its loans is through private, accredited investors who purchase "Platform Notes" (e.g. payment dependent promissory notes), which can amount to all or part of a loan. Note: According to LendingHome, these platform notes are not secured, are not reviewed by the SEC or state regulators, and are considered highly risky. In fact, these notes aren't even investments in real estate, but are instead "akin to participations in mortgage loans."
Are Borrowers or Investors Talking About LendingHome?
Interestingly, although LendingHome has been in business since 2013, there weren't any online customer reviews available at the time of our research (we'll talk more about this in the final section).
However, the company, which is based out of San Francisco, CA, holds an A- rating with the Better Business Bureau, based on just 1 closed complaint (as of 2/9/15).
LendingHome Rates & Fees
For borrowers: A LendingHome loan will cost you $199 for an application fee, as well as an origination fee of up to 2.5% of the principal amount. Other fees and charges may be assessed depending on your loan approval. Thankfully, there are no penalties for paying off your loan in advance.
For investors: You will need to fill out an application to be classified as an "accredited investor," which means you'll need to meet certain minimum annual income or net worth threshold. Also, keep in mind that $10,000 is the minimum required capital to invest in a LendingHome product, but participation in individual notes can be as low as $100. According to the company, investors can generally expect yields ranging from 8.0-17.75%.
Whether you're a borrower or an investor, you can contact customer service at 844-415-4663 for additional information about LendingHome's rates and fees.
Who Will Benefit Most from Using LendingHome?
Chopping to the point: Overall, it seems that LendingHome is ideally suited to 2 markets:
Borrowers involved with small-to-moderate sized business/commercial real estate projects who are in need of short-term loans, and who have a track record of success.
Investors looking to earn money by providing short-term loans to borrowers.
Because business borrowers are often looking for a quick infusion of cash, and investors are generally looking for unique investment options with higher-than-average returns, it appears that LendingHome may be a good way to bring the two togethe. However, since neither of these market segments tend to write many online reviews, it's difficult to gauge overall satisfaction levels.
With this said, we found cumbersome that you're required to sign up for a LendingHome account just to find out which options/loan types they offer, so they may not be quite as transparent as they advertise.
Regarding my loan

By Marchelly J.

,

New York, NY

,

Mar 24, 2020
Verified Reviewer

My full experience with LendingHome was very easy. The team I worked with made the experience less difficult and less stressful. This process can be very overwhelming but with LendingHome the team made it very easy and informative. Thanks again, I recommend LendingHome to my fellow investors.

Bottom Line: Yes, I would recommend this to a friend

---

Great service

By Mohammed K.

,

Philadelphia, PA

,

Mar 16, 2020
Verified Reviewer

Process was as expected. Previous title has some issue, that's why title search took additional time at the settlement company. Interest rate and points were a little bit high. But, finally I was able to close the deal.

Bottom Line: Yes, I would recommend this to a friend

---

Advertisement

---

Really came through in a pinch

By Gennyfer C.

,

Tennessee

,

Dec 3, 2019
Verified Reviewer

We had a property under contract set to close and 2 days before closing our lender backed out of the deal, what a mess! We were definitely in a pinch, we had to beg the seller for an extension to keep from losing the earnest money, not to mention the money we had spent on appraisals, etc., and the seller would only give us 2 weeks. I discovered and reached out to LendingHome the evening that we were originally supposed to close. They not only approved the loan...they were able to close by the deadline 2 weeks later and without any additional upfront out of pocket expense to us. PLUS, their loan was cheaper than the already good deal I thought I was getting from the original lender that backed out, 2.75% cheaper. No money upfront, no application fees, no appraisal fees, absolutely no money until closing. I will definitely be making LendingHome my go-to lender for all of my fix and flip deals.

Bottom Line: Yes, I would recommend this to a friend

---

Great experience!

By Liz R.

,

Annapolis, MD

,

Oct 12, 2019
Verified Reviewer

The process was easy. The support on answering my questions was thorough and my deadline for Closing was met. All in all, it was a good experience and I would recommend LendingHome to my colleagues.

Thank you LendingHome!

Bottom Line: Yes, I would recommend this to a friend

---

Advertisement

---

Smooth and professional

By Brian S.

,

North Carolina

,

Sep 9, 2019
Verified Reviewer

This was my first project with LendingHome. I could not be more pleased with the efficiency, professionalism, and overall experience. The entire staff was very helpful and encouraging. Every step was handled as promised and on time. Will definitely be a repeat customer with LendingHome.

Bottom Line: Yes, I would recommend this to a friend

---

Quick loan approval

By Steve H.

,

Florida

,

Sep 4, 2019
Verified Reviewer

Great company! Better yet, great team member. I consider LendingHome part of my must-have business partners. We have closed quickly and without issues on may deals. Really appreciated the professional approach to dealing with sellers and bank REO deals. Highly recommend LendingHome to any serious investor that just wants to turn quick profits. Thanks LendingHome for empowering my real estate potential.

Bottom Line: Yes, I would recommend this to a friend

---

Inconsistent, account managers lack of company procedures

By Jeffrey J.

,

Florida

,

Mar 15, 2019
Verified Reviewer

The first deal I did with these guys my closing cost changed by $8,700 the day of closing, which I found out when I got to the closing. My second deal they gave me a hard time because I then qualified for their 90% acquisition, 100% rehab program. So to avoid giving that program, my account manager Robbie said their lending practice had changed and in order to get the 90/100 it was based off 75% of the ARV. That was implemented between 10/17- 7/18. Because of that, my closing cost went from $18,500 to $38k.

Instead of walking away, I moved forward and pulled monies from my personal account to do the deal because we were doing a deal for a first time homeowner couple who had been renting the property for 15 years and were ready to buy the house but the property wasn't FHA ready and I gave the husband "MY WORD."

We bought, rehabbed, and sold back to them in 120 days. Time to do next deal, our scores were a little low (because we paid our Lender on time and not our personal bills), but my account manager Robbie (who was my 4th in two years with these guys) stated " NO PROBLEM," just add another qualified Guarantor to the corporation and continue flipping. Cool. I found the next deal, put down $5,000 in seller's escrow, added family member to corp, paid a $350 application fee to Lending Home (after triple checking with Lending Home regarding Guarantor seasoning). Needless to say, uninformed Robbie once again comes back after the fact to tell me that Guarantor has to be on Corporate docs for at least six months. As you know we forfeited our $5k, and Robbie never offered to refund our $350 app fee.

When doing business with these guys you are not building a repor, nor relationship, and every deal done with them you are treated like a new client, what is told to you at one stage of proceeding to close "WILL CHANGE" by the time you're ready to close. Why is it that companies that operate with such a manner thrive? Go elsewhere to do your deal - Lima One Capital (Cory Blaine), or LYNX Capital (Dan Swain). Personal and professional. They may not be the largest, but they are the best!

Bottom Line: No, I would not recommend this to a friend

---

Worst ever! Total incompetency!

By Tracy P.

,

New

,

Dec 20, 2018
Verified Reviewer

Most incompetent company ever. After three weeks and a clear to close, they come out the blue with "We are not ready to fund your loan," trying to say my bank statements are altered. Dummies, you verify my bank statements already. I send my personal bank statements and the loan processors alter them and try to put them on my account after the fact without my consent. It took me verifying the account and documenting it in writing that this took place for her to remove them. And to add insult to injury, they come back and lie further saying they sent these statements to the bank. When I asked why, they could not answer me, so I pay a visit to the branch manager and spoke with upper management all to find out this was also another lie. Child-like games with peoples' money is what you will receive from LendingHome. I, like you guys, will be reporting them to EVERY LEGAL AGENCY in the State of California.

Bottom Line: No, I would not recommend this to a friend

---

As an investor

By Jeremy C.

,

Florida

,

Nov 11, 2018
Verified Reviewer

Investors beware...I have been an investor for two plus years. Things have changed. Now all new investments are through their reinvestment service. I have $1+ million in investments and over 15% on non-accrual. I just had one pay-off (a settlement) and lost $5400 on a $25000 investment. I had another two weeks ago and lost $2400.

Their underwriting is sketchy at best. I am slowly moving out of LendingHome into Fund That Flip. Extremely transparent.

Bottom Line: No, I would not recommend this to a friend

---

LendingHome is very deceptive and when a loan goes south does nothing!

By Jon K.

,

Chicago, IL

,

Jul 12, 2018
Verified Reviewer

I would highly recommend not investing with LendingHome. They lack transparency and refuse to give lenders good information about loans. Patch of Land, Fund that Flip and Alpha Flow are much more transparent and honest.

Bottom Line: No, I would not recommend this to a friend

---

I don't even believe they are legitimately offering loans.

By Steve K.

,

Phoenix, AZ

,

Jun 3, 2018
Verified Reviewer

- Six-figure income.

- Credit score of 802.

- I'm in my mid-40s, so very long credit history.

- No late payments on anything, ever.

- Plenty in the bank to cover all costs.

- $2800 owed on a credit card that I pay off every month.

- The only other debt is the mortgage I'm trying to refinance, $178,000.

- Home has over $100,000 in equity.

Yet, I'm denied because "Amount owed on revolving accounts is too high."

$2,800 on $74,000 of available credit is too high? I'm convinced they are offering bottom rates to harvest personal data.

Bottom Line: No, I would not recommend this to a friend

---