LendingPoint Reviews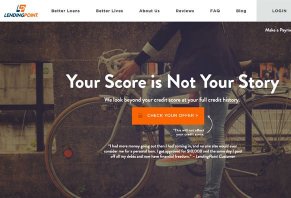 LendingPoint is an online company promising loans of up to $25,000 to consumers with fair credit scores. Applications and approval take place online and can happen in less than 24 hours.
What Is LendingPoint?
LendingPoint is a lending website that offers loans of $3,500-25,000 to consumers with fair credit.
The company was founded in 2014 in Atlanta, Ga, and experienced a healthy level of media coverage in 2015 as it began to push its fair credit loans to consumers.
The company's CSO, Juan E. Tavares, told Huffington Post in 2015 that today's credit-scoring systems make it hard for people with fair credit to get loans.
"As it relates to determining creditworthiness, traditional credit scores are based on incomplete information, and regulation has shackled traditional lenders in the way they have defined acceptable risk limits for banks," Tavares said. "Millions cannot access money at fair rates."
Tavares' argument probably struck a chord with many consumers whose credit scores prohibit them from getting the best rates.
Tavares and LendingPoint CEO Tom Burnside have capitalized on these frustrated consumers, pitching loan opportunities that banks would normally not offer.
But, you have to remember that lending companies' main goal isn't to be your financial friend: they want to make money from your loan.
So, while we think Tavares brings up a good point, we believe the best way to judge whether or not LendingPoint is right for you is to consider what they offer, what their application is like, what fees they charge and what other consumers are saying about them.
A Quick Word About the Definition of "Fair" Credit
LendingPoint's website says they consider "fair" credit to be someone with scores in the 600s. What's interesting about this definition is that it doesn't line up with what most credit scoring models and personal finance websites consider "fair."
For example, Value Penguin considers scores between 660 and 719 to be "fair:", while scores below 620 are subprime.
Credit.com considers fair credit to be between 650 and 699, while Experian says fair credit is 580-669. Experian considers scores between 670 and 739 to be "good."
We bring this up because we think LendingPoint is being generous when they call scores below 620 "fair" – most sites consider this subprime, which means you'll get hammered with the highest interest rates and worst terms.
We'll get into this a little more when we cover LendingPoint's fees.
What LendingPoint Offers
LendingPoint is a non-bank lender, which means they've scraped up investment money from multiple sources in order to fund the loans they give to consumers.
The upside to this is they have more wiggle room in who they choose to lend money to. Whereas a bank would be fearful of lending money to a consumer with a score in the low 600's, LendingPoint has the freedom to do it.
Their loans range from $3,500 to $25,000 and have repayment terms of between 12 and 24 months.
At the time of publishing, LendingPoint loans were only available to borrowers in the following states:
Alabama
California
Colorado
Delaware
Michigan
Missouri
Montana
New Jersey
North Dakota
Ohio
Oregon
South Dakota
Washington
LendingPoint says their loans can, in some situations, be approved and funded in less than 24 hours.
Pro tip: Loan payments are made twice a month and can be made via automatic payments from your checking account. Payments can be set up through your online account.
The LendingPoint Application Process
To get a loan from LendingPoint, you need to head to their website and click on the orange "Apply" button. This application process is what's known as a pre-qualification.
We wanted to know what this process was like, so we did it ourselves.
LendingPoint asked us how much we wanted to borrow and for what reason; our name, birthday, email address and phone number; our income and the last four of our social.
When we submitted this pre-qualification application, we were told they couldn't "generate a loan offer" for us and that they'd email us more details.
Had we actually received an offer for a loan, we could've chosen one of the several offers, their website says.
From there, you work with LendingPoint to submit more documentation so you can obtain the loan you chose. Remember, though, you aren't guaranteed the loan you select.
You'll only know if everything's cool when their underwriting process (verifying details) is complete and they confirm your loan amount, terms, rates and fees.
Pro tip: According to their FAQs, LendingPoint does a soft inquiry when you do the pre-qualification, which means they'll access only certain parts of your credit history. Soft inquiries aren't reported to your credit history, so you won't take a hit like you would from a reported "hard inquiry".
LendingPoint's Rates and Fees
Even though we weren't given a loan offer or offers at the end of our pre-qualification application, we did gain some valuable information.
At the bottom of our rejection page, there was a chunk of fine print that explained LendingPoint's fees and interest rates.
But before we get there, we want to give you a quick explanation of how fees and loans work.
LendingPoint's Fees
Understanding how a lender's fees work is really important to understanding your bottom line.
Yes, the interest rate they offer could be incredible, but there's a good chance they're going to charge you all sorts of fees that dampen the dazzle of that low rate.
A Quick Explanation of Loan Fees
Imagine yourself going to a steakhouse named LendingPoint and seeing a 12-oz. filet mignon for $15. Without thinking, you order the steak because the price is crazy low.
When the bill for your steak comes, you're surprised to find out you owe LendingPoint $45.
When you ask the waiter why the bill is higher than the menu price, you're told the menu price is the actual value of the hunk of meat, but that the price doesn't include the cost of:
Finding and ordering the meat from the supplier
Hiring the cook who prepared the steak
The seasoning used on the steak
The pan the steak was cooked in
The plate on which it was served
The wage of the waiter who brought it to you
The salary of the chef who designed the dish
"Consider it a LendingPoint processing fee," the waiter tells you.
This is how loans work – they quote you a low-interest rate but tack on a bunch of fees.
LendingPoint's Loan Fees
As we said a few seconds ago, there was a silver lining to our rejection: a basic list of fees and terms.
Here are those fees and terms, as listed by LendingPoint:
Origination fees: 0% - 5%
APR: 15.49% - 34.99%
These rates and fees were based on a loan of $10,000 repaid over 24 months.
LendingPoint's Origination Fee
Our fictional example of owing LendingPoint $45 for a $15 product is the perfect example of origination fees – a charge tacked on to your loan for "processing."
We called LendingPoint to figure out if you have to pay the fee up front or if they roll it into your loan balance.
The LendingPoint phone representative told us that origination fees vary from state to state and that they're rolled into the loan.
Basically, "rolling" a fee into a loan means it's added to the balance of the loan.
That fee, along with any other fees, are added to the total interest you'll pay. The resulting total of fees plus interest is then translated into an APR.
So, to use the example that LendingPoint gave us in the fine print, you'd have an origination fee of 5% on a loan of $10,000. That 5% is added to $2,233 in interest payments and other fees, bringing your total to $2,733, which translates to an APR of around 27%.
LendingPoint's APR
Now, what you have to remember is that this example uses LendingPoint's mid-range APR.
If your credit is near 600, you can expect to pay a base APR of 34.99%, and with a $500 origination fee tacked on, your true APR is around 40%, which is very high.
This illustration points out how important it is for you to know your credit scores. While an APR of 15.49% may seem great – it's right around the lowest APR you can expect from a credit card – that APR is most likely reserved for people with credit scores in the high 600s or low 700s.
Self-awareness is key here. Before you apply for a loan with LendingPoint, check your credit scores through your bank's free service or through any of your credit card accounts.
Chase, American Express, Discover and Bank of America allow you to check your scores.
If you find that you're in the low 600's, multiply the loan amount you want by 34.99% – the resulting number is how much interest you'll pay for the loan. Ask yourself if it's worth it to pay that fee in order to get the money you need.
Pro tip: The pre-qualified amounts and rates you see when you fill out your initial application can change during the full-fledged application process. Don't count on getting the exact numbers you're initially given.
What Other People Are Saying About LendingPoint
Before we read through expert and consumer reviews of LendingPoint, we checked up on their status with the Nationwide Multistate Licensing System (NLSM) to see if there were any regulatory actions taken against the company for illegal lending practices.
At the time of publishing, NMLS reported that LendingPoint had a clean record.
Consumer Reviews of LendingPoint
The majority of consumer reviews we found for LendingPoint come from the company's Better Business Bureau page, which gives the company an A rating.
At the time of our research, there are eight consumer complaints filed with the BBB. We read through those complaints and found one major issue we think you should know about.
Several customers wrote lengthy complaints about LendingPoint's customer service, noting that numerous emails and phone calls led to frustration and annoyance.
Two complaints noted that LendingPoint's phone representatives were rude and unhelpful. Here's a quick excerpt from one of those reviews:
"I called the company at another telephone number, and was put on hold - if you can call someone lying the phone down on its side in a noisy room of chatter and laughter being put on hold. While on hold, I received a call from another agent on call waiting - what a coincidence - in which she needled me, demanding of me not once, but two or three times, 'Do you want the loan or not?'"
Now, we'll admit that there isn't a lot of customer feedback out there about the company, but the complaints we read on LendingPoint's BBB page bring up a weakness of online lenders. We'll discuss that in the next section.
Our Final Thoughts on LendingPoint
LendingPoint offers a decent loan alternative to those whose credit scores aren't high enough to get a personal loan at a reasonable rate from banks or non-bank lenders like SoFi.
However, in offering loans that you wouldn't normally get from other organizations, there are strings attached. First, you can expect to pay an origination fee. Second, you can expect to pay high-interest rates if your credit scores are below 620.
One of the things that raised a red flag for us is the way that LendingPoint characterizes credit scores in the 600s as "fair". Based on our research, most credit scoring systems and credit sites classify scores below 620 as sub-prime.
So, with that in mind, we're of the opinion that LendingPoint is a sub-prime lender and a fair credit lender.
Why don't they use the word "sub-prime" in their marketing? Our guess – and it's just a guess – is that "sub-prime" has such a bad reputation in the wake of the mortgage crisis that lenders simply won't use it.
Now, the good thing about LendingPoint is that their rates are stated in their fine print and their repayment terms are 12-24 months.
These longer repayment periods cut down on your payments (twice a month) and keep your APR realistic.
Is LendingPoint Right for You?
If you're someone who doesn't mind conducting business online and doesn't really care about face-to-face interaction, LendingPoint could be a good solution because all your interactions will take place through your online account or phone calls.
However, if you want to have the freedom to go to an office and discuss your loan with a real live person, then you may want to look elsewhere for funding.
You might appreciate how easy it is to apply and set up an account through LendingPoint's website, but customer complaints indicate you might get frustrated when speaking with the company's phone representatives.
Loans Aren't the Only Option
Consumers with fair credit have the option of applying for a credit card, but the main difference between a card and a loan is that LendingPoint gives you a pre-qualification loan amount you can accept or deny without ever getting a hard credit inquiry.
A credit card, on the other hand, requires a hard inquiry and you won't know what your credit limit is until the card issuer tells you you're accepted.
Your fair credit score might get you a card like the Southwest Rapid Rewards Plus or the Quicksilver One from Capital One, but there's a good chance your credit limit won't be as high as the loan amount you could get from LendingPoint.
Using a Budget to Pay Off Debt
Another option for cutting down your debt is to take a few days to put together a solid budget that identifies your spending categories, creates spending limits in those categories and is tied to a deadline at which you want to pay off all your debt.
We've written a pair of in-depth articles about budgets that we think can help you trim your spending and create enough extra cash to pay down what you owe.
Our first article is a narrative of my own life – my wife and I had $22,000 in credit card debt and we used a budget to pay it down. There are no gimmicks and unicorns in the article; just solid advice.
We've got a second article on budgeting that helps you understand how powerful a tool a budget can be for laying out your financial future. We talk about why you need a budget and give you specific examples of how they can help you.