LendKey Reviews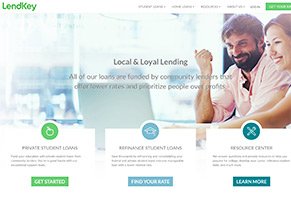 LendKey is an online company who acts as a middleman between you and credit unions and community banks who offer loans for student loan refinancing, college tuition, and home improvement.
About LendKey
LendKey is a website that works with credit unions to provide student loan refinancing, private student loans, and home improvement loans.
Their homepage features a quote that says, "All our loans are funded by community lenders that offer low rates and prioritize people over profits."
LendKey was founded in 2007 and is formally known as LendKey Technologies, Inc. The company's founder is Vince Passione, who also serves as the company's CEO.
Previous to LendKey, the company's website says, Passione was COO at DealerTrack, a major portal for auto lending, as well as an executive at Ameritrade and Citibank.
LendKey's "we're on your side" approach is a common one among lenders. SoFi, Quicken Loans and many other popular non-bank lenders want consumers to believe that they're interested in the individual and not the bottom line.
What the company offers – their rates, terms and conditions – will go a long way in legitimizing their claims of being borrower-focused.
That's the perspective we'll take as we work through what LendKey offers, what the application process is like and what customers are saying about their LendKey experience.
What Types of Loans Does LendKey Offer?
As we mentioned in the introduction, LendKey offers three types of loans: student loan refinancing, private student loans, and home improvement loans.
Student Loan Refinancing
LendKey offers students and graduates student loan refinancing, which basically means they buy your student loans, then offer you a new loan that gives you monthly lower payments.
This happens a lot with homes. Someone buys a house with a mortgage that has an interest rate of 7%. A few years later, the rates drop to 5% and they refinance at that rate to get lower monthly payments.
The one drawback for refinancing is that it's like a reset on your repayment length. So, if you're 10 years into a 30-year repayment and you refinance with a new 30-year loan, the clock restarts. LendKey's student loan refinancing comes in lengths of 5, 7, 10, 15, and 20 years.
Types of Student Loan Refinancing
According to LendKey's website, you can refinance your loan via fixed-rate loans or adjustable rate loans that can be paid back with level payments or graduated payments.
Fixed-Rate vs. Variable Rate LendKey Loans
LendKey's explanations of fixed- and variable-rate loans are pretty spot on. A loan with a fixed rate is one where the interest rate stays the same the entire length of the loan.
A variable-rate loan, on the other hand, changes every month according to LIBOR rates (an international standard for short-term loan rates).
So, if the interest rate for a fixed-rate loan is 4.5% at the time of your LendKey loan closing, you'll pay 4.5% for the life of the loan.
If you go with a variable-rate loan with LendKey, you'll start out at 4.5% your first month, but if that rate goes up or down the following month, your rate will change every quarter based on those monthly changes.
Variable Rate Loan Refinancing from LendKey
The idea behind a variable-rate loan is that if offers you a chance to bet on the economy. For example, if rates are at 10% and you think they'll go down for the next decade, you might be inclined to choose a variable-rate loan.
If rates are low and you think they won't go any lower, then a fixed-rate loan may be a good choice. However, if interest rates go up, that poses a risk to you. For the final word on this, we'll defer to LendKey's explanation:
"A variable rate student is a loan where the interest rate can adjust each month based on the current interest rates available. Right now, interest rates are near all-time historic lows, which is a benefit to borrowers," LendKey writes. "However, since interest rates are low today, they may go up in the future. That is one of the key risks with variable rate loans – your payment may rise (even substantially) in the future."
We believe this is a good explanation of the pros and cons of a LendKey variable rate loan refinance.
Private Student Loans
There was a time in the history of student loans when the government worked with private financial institutions. During the Obama administration, the federal government ended that relationship.
However, private loans still exist through lenders like LendKey.
According to LendKey's website, they offer student loans from credit unions in your area. Those loans can have interest rates as low as 3.28%, but that rate is only available to those with excellent credit and who enroll in automatic bill pay.
LendKey offers you several different ways to save on your loans, too:
1% rate reduction when you're in repayment and have paid 10 %of your loan
0.25% rate reduction when you sign up for automatic payments
They also say that their loans don't include an origination fee, which is basically a fee for processing paperwork. Think of it as the loan version of dealer fees for buying a card from a dealership.
LendKey's private student loan page also suggests getting a co-signer for your loan. In other words, they want you to add someone with great credit to your loan to increase your credibility.
The upside to this is you get the benefits of their good credit. The downside is that, if you go into default or can't make payments, they're liable for your loan. They'll be asked to pay and their credit will be affected by your late payments.
If you do get a co-signer for the loan, they can be released from the loan if you make on-time payments for a certain period of time.
Home Improvement Loans
Let's say you've bought a home and, a few years down the road, you want funding to do some renovations to your house.
You can take equity out of your home with a home-equity line of credit (HELOC), which means getting a loan amount similar to the difference in what you owe on your home vs. what it's worth.
You can also choose a home renovation loan that isn't related to your home value, so to speak, and that's what LendKey is offering.
Basically, LendKey will give you up to $40,000 to make improvements to your home. This loan comes with specific requirements, per a customer service rep we spoke with:
You have to make at least $50K per year
You have to use one of their approved contractors
The home has to be your primary residence
If there are no approved contractors, LendKey says you can choose a contractor who then can sign-up through LendKey's website to be an approved contractor.
The maximum loan amount is $50,000.
New Jersey cuGreenLoans
The cuGreenLoans loan is a state program that provides loans to homeowners in New Jersey who want to make their homes more energy-efficient. The loans come in two types: 0% for up to $10,000 or 4.99% for up to $15,000.
Since this program is run by the state, there are specific homes that qualify and a specific network of contractors from which you can choose to do the work. This is not a loan program run by LendKey.
The Application Process on LendKey
LendKey's application process works like many lending websites. You fill out a preliminary "application" that asks you how much you want to borrow and where you live, along with a rough estimate of your credit scores.
Once you do this, LendKey will provide you with loan terms (length) and rates that are based on, according to the site, your "loan amount, location and credit profile."
You then choose which combination of rate and length are best for you. After that, LendKey starts the real application. You provide more thorough information that verifies who you are, where you live, how much money you earn and what your credit scores are.
Once you've given this information, LendKey crunches the numbers on the spot and tells you if you're approved for a loan with one of their community lenders.
A Quick Word About Community Lenders
When LendKey says "community lender", they mean a credit union or a community bank. According to their site, these smaller financial institutions are able to offer better rates.
Their site lists other advantages to community lenders – low fees for ATMs and checking accounts, better return on savings accounts – but those characteristics are pretty irrelevant to your student loan refinancing or your home improvement loan.
We say "irrelevant" because there's a good chance that the only contact you have with your lender will be paying them your monthly payment. You most likely won't open a checking or savings account with them.
Pro tip: The standard disclaimers for loans apply to your LendKey loan. The rates you're quoted in the first steps of your application may not be the rates you get when you finally sign for the loan. Also, there is a chance that you may not qualify for a loan. These aren't disclaimers specific to LendKey, but to all loans from all lenders.
What Other People Are Saying About LendKey
LendKey's reviews from personal finance websites aside from HighYa are pretty strong.
Student Loan Sherpa gives the site four out of five stars, saying one of the site's strengths is that they offer low APRs. It's true – LendKey advertises rates as low as 2.43%. However, that rate is reserved for people with excellent credit scores, high income and who are willing to take a variable-rate refinance.
Magnify Money's review of LendKey is also very positive, noting that the site is in their list of top student loan refinancers.
Contributor Will Lipovsky noted, like we did, the various ways you can reduce your rates (consistent payments, automatic payments).
"LendKey runs a fantastic student loan refinancing division. The company offers many, many customizable options with very few downsides," Lipovsky wrote. "With no application fee, it's worth seeing what this student loan refinancing powerhouse can do for you."
LendKey has an A+ with the Better Business Bureau, a rating which reflects how long the company has been in business, how transparent they are with their practices and, among other things, how they handle customer complaints.
Our Final Thoughts About LendKey
While LendKey's website offers home improvement loans, based on everything we've read the company seems to be known for its student loan refinancing.
They make the process simple, as most student-loan refinancers do. They consolidate all of your loans into one big loan, then offer you a new interest rate and repayment period.
It's important to keep in mind that, even though their site says you can get interest rates below 2.5%, those rates are reserved for the cream of the crop – the borrowers who have high income and excellent credit scores.
While LendKey's website doesn't offer any details on the range of APRs you can get (APR=interest rate + fees), reviews from other sites have noted that rates can go as high as 8%.
So, before you fill out your application, we suggest you find out the APRs on all your student loans. Once you know them, you'll be far better equipped to understand if the rates that LendKey gives are competitive based on what you're already paying.
And remember, LendKey is a matchmaker – you don't get your loan from them. They simply pair you with a lender who's willing to give you a loan. In a certain sense, this is like getting a mortgage from a mortgage broker who doesn't work for a bank.
He or she takes your information and shops it around to lenders who may or may not make you an offer.
Based on all the information we've read about LendKey, we believe they're a pretty reputable company. That doesn't mean you'll have the same experience as other borrowers who've enjoyed LendKey. Keep that in mind, too.
Our advice is to check out their website, do the preliminary application (it won't hurt your credit) and see the different products they offer.
Do the same on other lending sites like SoFi and Earnest so you can get a rough idea of what rates you might be able to get.
Doing these preliminary checks won't hurt your credit scores, but those scores will drop once you fill out the sites full application and provide your social security number.