Liberty University Reviews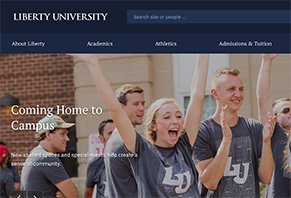 Liberty University is a regionally accredited on-campus and online university that helps students obtain the values and skills they need to remain competitive.
About Liberty University
Originally founded in 1971 by Pastor Jerry Falwell Sr. under the name Lynchburg Baptist College, Liberty University has today grown to become the nation's fifth largest university, and the world's largest Christian university. Here, according to the school, you'll "gain the values, knowledge, and skills you'll need for success in every aspect of life."
Liberty University's 7,000-acre campus is home to more than 14,500 students, where their residential programs provide access to hands-on learning and advanced academic facilities. However, more than 95,000 students (from all 50 states and 90+ countries) take Liberty University Online courses, which also offer greater flexibility. In either case, Liberty claims to equip their students with "classroom theory and practical experience, effectively preparing them to enter a competitive job market."
You're here because you're considering attending Liberty University, and you want to find out if it's the right choice for you. To help you decide, we'll cover many of the most important aspects of the college in this review, including academics, tuition and other costs, student reviews, and more.
To begin, let's find out what kind of degrees Liberty University offers.
Liberty University's Academic Programs
Liberty University's degrees are divided into residential and online programs. As you might imagine, on-campus degrees occur in face-to-face courses in a variety of formats, including traditional semester-long courses, one-week intensives, two-week intensives, and weekend intensives.
Regardless of whether you attend on campus or online, Liberty University's 16 colleges and schools and more than 500 programs of study are accredited by the Southern Association of Colleges and Schools Commission on Colleges (SACSCOC).
Undergraduate – Associate
Accounting, Aviation Maintenance Technician, Business, Criminal Justice, Early Childhood Education, Information Systems, Medical Office Assistant, Paralegal Studies, Religion, Technical Studies, and more.
Undergraduate – Bachelor's
Accounting, Artist Development, Biology, Business Administration, Christian Leadership & Church Ministries, Computer Science, Engineering, Family & Child Development, Information Systems, Journalism, and more.
Graduate Degrees & Programs
Accounting, Addiction Counseling, Business Administration, Christian Ministry, Criminal Justice, Divinity, Education, Exercise Science, Marketing, Nursing, Public Health, Religion, Teaching, and more.
Doctoral Degrees
Business Administration, Community Care & Counseling, Counselor Education & Supervision, Education, Juris Doctor, Ministry, Nursing Practice, Osteopathic Medicine, Theology & Apologetics, and Worship Studies.
Liberty University Online Degrees
Overall, Liberty University offers students a choice of 245 certificate, associate's, bachelor's, master's, and doctoral online degrees.
Although you'll complete most of your coursework online (some programs require "minimal one- or two-week on-campus intensives"), Liberty's online program is claimed to help you reach you career goals by providing instruction from industry leaders, based on real world experience, current industry practices, and a Christian worldview.
Compared to residential programs, most of Liberty University's online degree courses last eight weeks (a select few are 14 and 17 weeks), and also offer a flexible virtual classroom environment for learning when the time is right for you.
Whether you already have your program dialed in or are rolling around different ideas, what does it take to get into Liberty University? And once you do, how much will your degree cost?
Liberty University Admissions Criteria & Tuition
What it'll take to gain admission to Liberty University primarily depends on whether or not you're entering as freshman, as well as your chosen degree path.
Pro tip: If you're thinking about a campus-based Liberty education, it's important to point out that the University only has a 20% acceptance rate. However, the acceptance rate for Liberty Online students is much higher at 96% (of online colleges, this is the second highest acceptance rate, trailing only University of Phoenix).
All incoming freshmen students will also be required to "demonstrate proficiency in technology skills by passing a computer competency assessment or by completing the appropriate Information Technology course."
Whether you're attending class online or on-campus though, Liberty's tuition appears to be the same:
Part-Time Tuition
Undergraduate: $435 per credit hour
Graduate: $590 per credit hour
Doctorate: $625
Full-Time Tuition
Undergraduate: $375 per credit hour
Graduate: $540 per credit hour
Doctorate: $570
Keep in mind that all undergrads will also have to pay a $50 application fee.
As with any other secondary education institution, exactly how much you'll pay for your Liberty Degree depends on a variety of factors, such as your program, credit transfers, and more. However, Liberty does offer a whole suite of financial aid options, including scholarships, military tuition assistance, GI Bills, deferred corporate tuition assistance, payments plans, and grants and loans.
In order to apply to Liberty University, you'll need to follow their STEPS system:
Secure funding.
Submit official transcripts from prior colleges.
Enroll in your courses.
Pay.
Start your courses.
If you have questions, a Liberty University counselor can be reached at (800) 424-9595.
Considering Liberty's degree programs and costs, are students finding their education worthwhile? Let's find out what everyone's saying.
How Does Liberty University Rank Among Students?
Based on 150 student reviews on GradReports.com, Liberty University had an average rating of 3.7 stars, where 63% would recommend it to others, while 72% felt their degree improved their career. There, most current and former students seemed to appreciate the online program's flexibility and the quality of the education. On the other hand, most complaints seemed to reference lack of professor involvement and problems with payment/financial aid.
On Yelp, Liberty University had a similar rating of 3 stars, based on 45 reviews and a 4.5-star rating on Unigo. Again, many of the pros and cons seemed to follow what we found elsewhere online, including GradReports.
It's important to note that these are some of the most common compliments and complaints related to many online universities we've reviewed, and aren't unique to Liberty. Speaking of which, how does Liberty University stack up against other online universities?
See Also: Is It Still Worth It to Go to College? The Experts Say, Yes!
Is Liberty University Your Best Online Option?
If you're looking for a unique campus experience, then there's probably no place that will be exactly like Liberty University (after all, no two colleges are the same). On the other hand, if you're looking to obtain your degree mostly (or wholly) online, you've got dozens of other online university options, including popular choices like University of Phoenix (213,000 students), American Public University (110,000 students), DeVry (76,000), and many others.
Outside of the number of students enrolled—and of course, tuition—other important factors to look at are a school's graduation rate (the number who enroll and see it through to graduation) and loan default rate (the percentage who default on some federal loans).
From a financial perspective, Liberty will cost full-time students about $21K per year (whether you attend online or on-campus), while University of Phoenix and APU will cost you about $14,550 and APU $8,700 per year, respectively. After graduation, about 7.4% of Liberty's students default on some of their loans, while APU comes in at 11.9% and University of Phoenix at a sky-high 26%.
Compared to many of the other online universities we've reviewed, Liberty is distinct in that it's both a very large campus-based university, as well as an online one. So, while Liberty's graduation rate hovers around 52% (compared to Phoenix's 10% and APU's 21%), this doesn't reference just their online student population, which often has different needs than campus-based ones.
Is Liberty the Right Online University for You?
We've mentioned it in just about every one of our online university reviews so far, but it's extremely important to remember that there isn't one "right" university (online or otherwise) for everyone. Some might specialize in a degree program that interests you, while others might offer the lowest tuition; one might have a perfect online learning portal (in Liberty's case, it's known as "Blackboard"), while another could provide the ultimate in class flexibility.
In short? Only you can decide whether or not a Liberty University education would be enjoyable, further your employment prospects, and provide a solid return on your investment. But based on what you learned here, you should have what you need to make a more educated decision.
Did you attend Liberty University? Online or on-campus? Either way, tell us about your experience by writing a review below!