LifeBeam Vi Reviews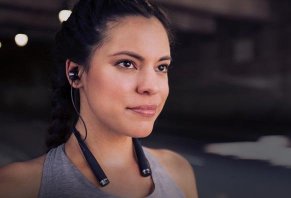 Using artificial intelligence, LifeBeam's Vi device uses bio-sensing earphones to track data like heart rate, speed, location, and time and provide customized coaching.
What Is Vi?
Dubbed the "world's first AI personal trainer," LifeBeam Vi is a pair of bio-sensing earphones that talks to you while you work out, coaches you through your runs, adapts training based on your physiology, and learns and evolves over time to help you achieve your goals.
In fact, the website claims she even knows the weather and adjusts your plans accordingly.
In addition to its artificial intelligence, Vi's aerospace-grade bio-sensors accurately measure heart rate, elevation, cadence, speed, time, and location.
The hearable device also comes with touch aware ear buds, a sweat-proof and durable design, flexible function, magnetic tips, and an all-day battery life. You can also listen to music and take phone calls at any time.
While you're working out, Vi's companion iOS and Android app will display quick, glance-friendly screens. And when you're not, you'll be able to set training plans, review your progress, and make any customizations.
If you're looking to improve your fitness goals—or even begin in the first place—Vi's AI-powered approach certainly seems intriguing. Before handing over your money, though, read what we learned during our research so you can make the most informed decision possible.
How Does the Vi Hearable Device Work?
Overall, there are three main components to the Vi system:
The Vi Device
The Vi Fitness App
Vi Cloud Storage
Let's take a closer look at each.
The Details About Vi's Earbuds
Weighing about 1.5 ounces, Vi's earbuds feature a collar made of silicone rubber that's designed to be worn around the neck. The company tells us it was specifically designed to move the least when running.
On the right side of the collar, you'll find buttons that allow you to play, pause, and skip music, answer calls, and use the voice command "Up / Down." Embedded within is an integrated microphone with wind filtering and noise cancellation capabilities.
Extending from the collar are two memory wires featuring metal made by Nitinol, which the manufacturer tells us provides a balance of durability, convenience, rigidity, and wearability, with the ability to retain the same shape over a lifetime of use. Clips make sure the cables stay in place.
Attached to these wires are two plastic earbuds. Designed in collaboration with Harman/Kardon, the company describes Vi's premium sound quality as "bass heavy," but with "superior frequency response, up to 20 kHz."
Inside the left earbud is an optical sensor that uses reflected light and a proprietary algorithm to calculate heart rate. Note: As of writing, Vi didn't allow users to hear ambient sound, although this is in development.
You could wear just one earbud, although if it's not the left, you won't be able to track heart rate or cadence.
Additional sensors inside the device include a six-axis accelerometer and gyrometer, barometer, in-ear detection sensor, automatic speech recognition, and an earbud touch sensor for voice activation.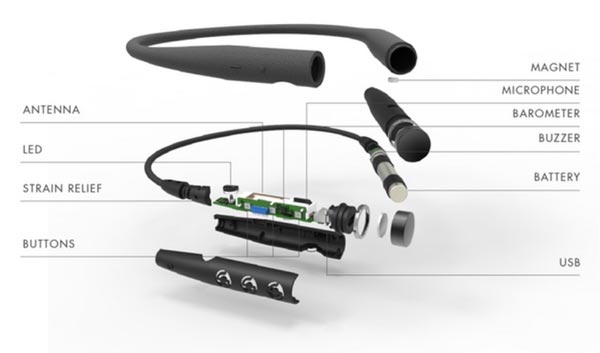 LifeBeam fit a lot of technology into a relatively small space inside Vi. Image credit: LifeBeam Inc.
When the time comes, Vi recharges via a micro-USB port in about 45 minutes.
While the device is IPX5 water and sweat resistant, it can't be submerged in water. However, it can be washed by hand with a wet cloth, lukewarm water, and light dish soap.
How Does Vi's Smartphone App & Cloud Use Your Data?
According to LifeBeam's FAQ, some of Vi's AI knowledge is based in the app, more complex algorithms and your workout database is stored in the cloud.
The information collected by Vi's sensor is sent via Bluetooth to an iOS or Android app (a smart watch version of the app is slated to release later this year), where it's transformed into insights and recommendations. This includes real-time coaching, goal-run guidance, and training plan creation.
For example, if you choose a weight loss goal, Vi will develop a training plan before, during and after workouts that helps you reach your goal. The device does this by analyzing activity patterns related to cadence, stride length, and so forth, combining them with algorithms and GPS data, and then translating them into straightforward guidance.
According to the company, they've hired trainers who continuously ensure that Vi's logic provides users with coaching just like you'd get from a personal trainer to help keep you motivated.
Vi can also interface with Apple HealthKit or Google Fit for nutrition, sleep, and other data. She can even take into consideration factors like training history, location, weather, elevation, goals, user anatomy, speed, cadence, heart rate, and heart rate variability.
If you miss a session, Vi will use this information to adapt your training schedule to help ensure you're still on track.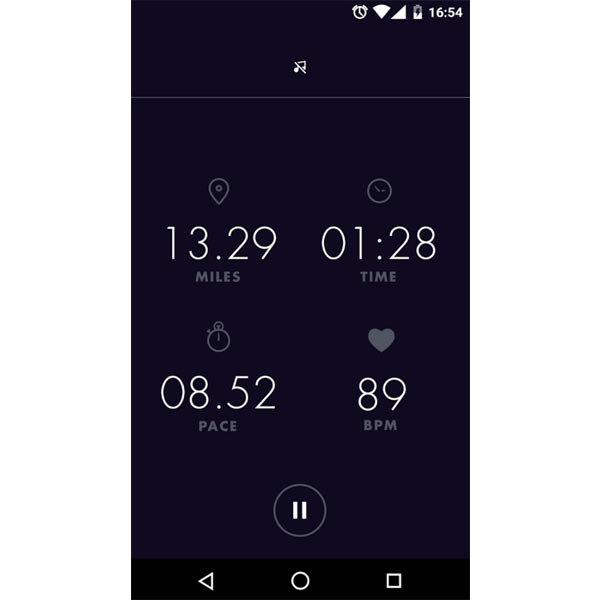 When running, a glance at Vi's main screen will quickly display key information like total miles, time, pace, and heart rate. Image credit: Apple Corporation
With its app-based customization centered on each user's needs, we're told that no two Vi's are alike. But are there any limitations? A couple.
First, while one Vi device can be shared by two people on separate occasions using different account logins, it cannot be used simultaneously.
Also, Vi's app doesn't track daily caloric intake (obviously an important part of fitness), but it will tell you how many calories you've burned in a specific workout. However, if integrated with Apple HealthKit or Google Fit, you'll be able to see your calories there.
In its current incarnation, Vi is mostly focused on running, although version one (lite) of the app will track heart rate, speed, time, and elevation on a cycling mode screen, in addition to basic Strava integration. Future updates will add personalized cycling training plans and integrate data from power and cadence sensors.
How Much Does LifeBeam Vi Cost?
Available in Matte Black, Vi is priced at $249. With your order, you'll receive a mesh carrying pouch, three silicone fin sizes (S, M, L) and five gel tip sizes (XS, S, M, L, XL), a micro-USB charging cable, and a quick-start guide.
Vi comes with free shipping (5-7 business days), a 30-day return policy (if unused and in its original packaging), and 1-year warranty.
If you need assistance, Vi's customer support department can be reached via a contact form on their site, Facebook Messenger, or email at support@getvi.com.
Are customers reporting a lot of value at this price?
What Can We Learn From Vi Reviews?
Vi found crowdfunding success via a 2016 Kickstarter campaign, where the hearable earned nearly $1.7 million on an original goal of $100K. In fact, it was the most funded fitness wearable ever on Kickstarter.
Since the first units were just shipped at the end of February 2017, we didn't find a whole lot of hands-on feedback at the time of our research. And most of what we did find only related to demos.
CNET found that Vi's rubberized design sometimes felt hard to rest comfortably. They also emphasized that Vi's voice AI is currently designed for outdoor GPS runs only, which means until it's upgraded for indoor use later this year, it can only be used outdoors.
And although it's currently only available directly from the company's website, they noted that Vi would be sold at Best Buy and Amazon online by the end of April (with retail stores by midyear).
Macworld reported that Vi was unlike any other product they'd used, with comfortable earbuds and above average Harman/Kardon sound (as expected).
The most in-depth write-up we encountered, though, was on Engadget. There, we learned that Vi requires 120 minutes of use/data before she can start making detailed recommendations.
One motivating feature they liked was that Vi would gently ping them as they approached beacons based on distance, which was completely customizable. They found it helped them perk up when their stamina began waning.
Overall, they found the experience pleasant and motivating but outlined a couple of aspects that weren't so. They found the microphone was unable to pick up voice commands when in an area with a lot of ambient sounds.
And while they liked the beautiful, minimal design of Vi's app, the music controls didn't work at all, and they experienced a lot of difficulty playing music from the library on their phone. They concluded:
"Then there's the fact that the AI that Vi boasts simply isn't that intelligent, and the system is doomed never to live up to its promises. After all, it's simply a slightly more sophisticated pattern recognition machine with pre-recorded audio prompts. You could just as easily listen to a specific coaching podcast and get a similar experience, albeit with a little more customization."
Finally, iTunes listed the Vi app on their website, but not in the actual program, while Google Play listed it as unreleased.
From a company perspective, Vi is manufactured by LifeBeam Inc., a NYC-based wearable technology company, with offices in Israel, Los Angeles, and Asia. They tell us their technology can be found in products like the 2XU Smart Hat, Lazer cycling helmets, Under Armor EarBuds, and the Samsung Simband Watch.
LifeBeam is headed by CEO Omri Yoffe, who also founded Clear Cut and OFEK.
LifeBeam Vi vs. Other Fitness Trackers
While Vi is the only device that uses artificial intelligence to track data and customize training for the user, there are several other options that track key data and then process it to deliver customized training. These include:
| Device | Price | Where Worn? | Training Type(s) | Special Features |
| --- | --- | --- | --- | --- |
| LifeBeam Vi | $249 | Neck & Ears | Running | Artificial intelligence, Customized based on your data |
| Moov Now | $59.95 | Wrist or Ankle | Running, Walking, Swimming, Boxing, Cycling, 7 Min+ | Landing impact, Form analysis, Up to 6 mo battery life |
| Jabra Sport Coach | $50 | Ears | In-ear guidance (only relates to intervals and on-the-go readouts) | Passive noise cancellation, Automatic rep counting |
| Bragi Dash | $299 | Ears | Live audio feedback for heart rate, steps, and activity duration | Integrated 4GB music player, passive noise isolation, gesture control |
| Samsung Gear Icon X | $199 | Ears | Fitness tracker, In-ear voice guide to reach the ideal zone | Only works with devices that run Android 4.4 KitKat and above, 4GB internal memory |
Which of these is right for you? Again, if artificial intelligence is your number one factor, Vi's currently the only game in town.
If the price is your main concern, the Jabra Sport Coach comes with the lowest cost, followed closely by the Moov Now (which also features the longest battery life). Samsung's model is Android-specific, while it and the Bragi Dash feature internal storage.
And if passive noise cancellation/isolation is a must-have, Jabra and Bragi might be right up your alley. Let's carry this thought over as we come to a conclusion about Vi.
Our Final Thoughts About LifeBeam Vi
Until the second version is released, it appears Vi is only able to operate outdoors using GPS. However, the website tells us it doesn't allow you to hear ambient sound, which could certainly present some safety concerns, especially if you have no choice but to run in congested areas.
As mentioned earlier, you can potentially get around this by wearing only one earbud. But it'll need to be the left ear, since this is what contains the sensors necessary to track your data and provide feedback.
Also, keep in mind that Vi wasn't designed to be a fitness tracker, so it won't be able to track data when it's not actively being used in activity mode.
Outside of these caveats, LifeBeam's Vi seems to be a groundbreaking device that doesn't currently have any competition. But as with most new technology, you'll pay a higher price to get your hands on Vi, although the company seems to stand behind it with a 30-day refund policy and a 1-year warranty.
0 out 1 people found this review helpful

No response

By Luca Rocchi

,

Australia

,

Nov 23, 2017
Verified Reviewer

I ordered a pair of earphones over a week ago and didn't receive a confirmation email. I waited a few days in case it needed to be processed, still no reply. I then wrote them two emails to see if they had received my order and still no response.

I am starting to wonder if this is a real company or a scam because they have charged my credit card, but I cannot get a response from them.

Bottom Line: No, I would not recommend this to a friend

---

Advertisement

---