LifeLock Reviews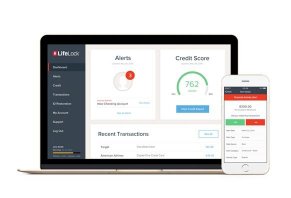 LifeLock's membership-based ID fraud monitoring services claim to detect threats to your SS number, investments, and public records for one monthly fee.
What Is LifeLock?
LifeLock is an identity theft monitoring service that promises to provide three layers of protection: Detect threats to your identity by scanning millions of transactions every second; alert you via phone, email, or text if a threat is detected, and restore your identity if you fall victim.
Depending on your membership plan, this includes monitoring your Social Security number, new account openings, financial investments (including 401(k)), black market websites, criminal and court records, and online personal privacy.
LifeLock can even provide monitoring services for members of your household under 18 years of age. Sign up only takes minutes and protection starts immediately, which, all together, is why LifeLock claims to have over four million members.
With their "We don't just alert you to identity theft, we work to fix it," tagline, LifeLock might've instilled you with confidence that you'll never have to experience ID fraud. Or, perhaps you already have, and you're wondering if LifeLock can prevent the same nightmare from happening again.
But is LifeLock's monitoring service really worth the money? Are there competing services you should consider? Can you do any of this on your own?
After performing some in-depth research, we can help you find some answers here.
What Is Identity Theft?
At its most basic, identity theft involves stealing someone's personal identifying information with the intent of obtaining money or credit.
It's also a method of stealing social security and unemployment benefits, as well as tax returns, opening utility accounts (e.g. electric, gas, etc.), and even for obtaining a job or government documents (such as a drivers license).
In fact, one of LifeLock's video customer interviews involved some who received seven tickets after an ID thief created a fake driver's license using his information.
How do these crooks obtain your personal information in the first place?
There are dozens of methods, including viruses and malware on your computer, digging through your trash (also known as dumpster diving), stealing your mail, email phishing, lifting your information from paperwork (filled out at the doctor's office, as but one example), and good old purse or wallet theft.
Considering that ID theft occurred to 15.4 million Americans last year and cost the economy more than $16 billion, it makes sense that you'd want to protect your information. How, exactly, does LifeLock promise to accomplish this?
How Does LifeLock Work & What's the Difference Between Each Membership Option?
There are three different LifeLock membership plans:
LifeLock Standard Membership & Smartphone App
All LifeLock plans feature their three-layer Privacy Monitor tool (detect, alert, restore) and include the assistance of a dedicated U.S.-based Identity Restoration Specialist to help resolve your problems if you fall victim.
This entails monitoring your social security number, new account openings or existing account takeovers, your financial investments, 10,000+ black web (or dark web) websites around the world, criminal and court records in case a thief commits a crime in your name, along with a Privacy Monitor that can help reduce public exposure of your personal information.
In the Standard program, LifeLock also offers $25K in stolen funds reimbursement coverage, lost wallet protection, address change verification, and reduced pre-approved credit card offers.
If LifeLock's system detects a potential threat from any of these sources, you'll be notified via text, phone, or email. Either way, you'll only need to press 'yes' if the activity was yours or 'no' if it wasn't. If not, the company's US-based Members Services staff is standing by to help immediately.
Pro tip: LifeLock emphasized on their website that the fastest alerts require a current email address, and that phone alerts are only made during normal business hours.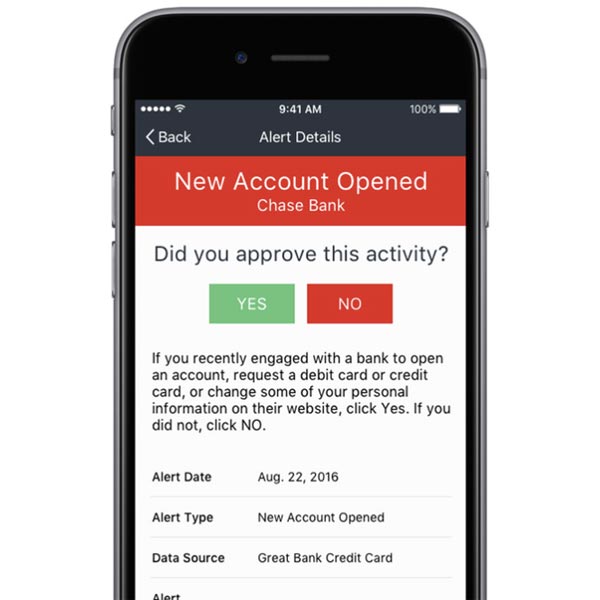 When LifeLock sends you an activity alert, you'll need to press 'yes' or 'no' to indicate whether or not it's approved. If not, an Identity Restoration Specialist will be on the case. Image credit: Apple Corporation
And of course, if your identity if compromised, you'll have the help of a dedicated U.S.-based Identity Restoration Specialist to assist you in turning the situation around.
Inside the LifeLock app, you'll also be able to access your credit score, see a log of past alerts, and add credit and debit cards for monitoring using your iPhone's camera.
LifeLock Advantage
LifeLock's Advantage membership option comes with all the features found in the Standard Plan, in addition to bank (including checking and savings accounts) and credit card activity alerts, data breach notifications, fictitious identity monitoring, and $100K total coverage for stolen funds reimbursement.
Advantage members will also obtain access to a free annual credit report, along with a VantageScore. Offered by VantageScore Solutions, LLC, this model promises to provide a credit score that can be used across all three credit bureaus, and that also delivers clear, plain-English explanations for credit score reason codes.
Important note: According to a disclaimer on the LifeLock website, "Please keep in mind third parties may use a different credit score when evaluating your creditworthiness."
In other words, while VantageScore might work as a good point of reference, experts report that you'll want to obtain your scores from all three bureaus in order to obtain the correct numbers.
LifeLock's Ultimate Plus Membership
In addition to the services provided in the Advantage program, an Ultimate Plus membership will provide alerts related to file-sharing networks and sex offender registry reports, along with online annual credit reports and score from all three bureaus, monthly credit score tracking, and priority live member support.
What Is LifeLock Junior?
If you have one of these three membership options in place, you can add the LifeLock Junior service at no extra charge, which features many of the same benefits as the adult plans. These include:
LifeLock Identity Alert System
Black Market Website Surveillance
Lost Wallet Protection
Stolen Funds Replacement
Credit File Detection
Identity Restoration Support
$1 Million Service Guarantee
File-Sharing Network Searches
Live Member Support
How Much Do LifeLock Memberships Cost?
LifeLock's three different plans are priced as follows:
Standard - $9.99/mo, or $109.89 annually
Advantage - $19.99/mo, or $219.89 annually
Ultimate Plus - $29.99/mo, or $329.89 annually
If you pay annually and terminate your membership before renewal, you'll receive a pro-rated refund; e.g. if you purchased a Standard membership and canceled six months in, you'd receive a refund of about $54.95.
In order to cancel your services, you'll need to contact customer support at 1-800-LIFELOCK (543-3562) or log in to your member portal.
Based on the number of services they provide for the price, are LifeLock's customers reporting satisfactory results?
Our Interview With LifeLock
Even with all the information provided on LifeLock's website, we were left with some important questions after reading through everything. Fortunately, we had an opportunity to interview a LifeLock representative via email, and here's what we learned:
What kind of training do Identity Restorations Specialists undergo?
The representative let us know that all LifeLock Identity Restoration Specialists undergo extensive internal training, and aren't assigned a full case load until they've been working in the position for six months (as a whole, they emphasized the team has an average tenure of six years with the company).
Are LifeLock's Identity Restorations Specialists licensed in any way?
According to the representative, each LifeLock Identity Restoration Specialist is required to obtain a certificate as a Certified Identity Theft Risk Management Specialist (CITRMS).
They told us, "The program is administered by the Institute of Consumer Financial Education and trains on the handling of personal credit and identity information, for the express purposes of guarding against and reducing the risk of credit and identity theft."
Do LifeLock's Identity Restoration Specialists determine whether or not coverage is available, or is this handled by another department (such as Legal or Claims)?
Bottom line, the representative let us know that if you become a victim of identity fraud, LifeLock will help resolve the issue.
However, they noted that more complicated cases might require the attention of a dedicated agent, who will handle the case all the way through the restoration. While they pointed us to the terms, conditions, and exclusions, no further clarification was provided.
Speaking of which, in the Terms, it mentions that "voluntary disclosure by you of any code or other security information to someone..." might not be covered. If a scammer calls and swindles someone out of this information, are they out of luck?
"Every case is unique, and we work tirelessly to resolve identity fraud on our member's behalf. Identity fraud can be complicated, and we do our best to make our members whole if it happens to them. We take the security of our service very seriously, and have protocols in place to authenticate the identity of our members when they reach out to us," the representative wrote to us.
Each investigation will be case-specific, but can you provide a brief overview of the process? On average, how long does it take to clear the customer's name?
We were told that LifeLock's process of resolving identity fraud might include paperwork, phone calls, long hold times, working with law enforcement, and even court dates. Here's a quick document the representative provided to outline the process: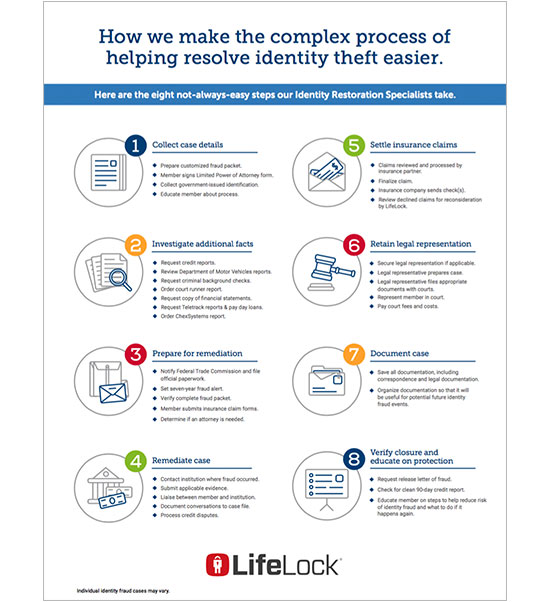 According to the LifeLock representative, here's a basic overview of their ID fraud resolution process. Image credit: LifeLock
Just keep in mind that, per LifeLock's Evidence of Coverage, remediation involves legal costs for "lawyers and other third party legal professionals, expenses paid to investigators and other third-party business providers, and reasonable and necessary expenses paid to a third-party case management service provider."
Also, you must report the incident within 90 days, and the document explicitly excludes coverage for "consequential damage or loss of any nature, including but not limited to, lost profits or revenue, loss of business, or loss in excess of the limits set forth herein."
On average, how quickly does LifeLock identify potentially fraudulent activity and report it to the customer?
As soon as LifeLock detects that a member's personally identifiable information is being used, they send notifications and alerts. According to the rep, these include "actionable alerts for new account openings and applications via text message, phone call, mobile application, or e-mail, through our LifeLock Identity Alert system.
This allows the member to confirm valid or unauthorized identity use.
However, the representative pointed out that, in order to be respectful to members, LifeLock only issues phone alerts between 9 am and 9 pm. "Phone alerts that would otherwise be sent after 9 pm are sent at 9 am the following morning," they added.
If a member confirms that the use of his or her identity is unauthorized, LifeLock can then take actions designed to help protect the member's identity and determine whether or not there has been an identity theft event.
In your opinion, who is the LifeLock service best for? Does everyone require this? How can an individual determine if they need LifeLock?
The representative outlined that personally identifiable information may now be even more accessible to cyberthieves than ever. According to Javelin Research & Strategy, nearly one in three consumers who were notified of a data breach became victims of identity fraud in 2016.
In contrast, LifeLock's "services provide convenience and peace of mind for those who don't have the time or resources to effectively monitor and resolve identity fraud on their own," regardless of whether you have good or bad personal information habits.
Compared to free credit monitoring that offers a limited scope of information, the rep informed us that LifeLock "uses proprietary identity monitoring with technology that scans hundreds of millions of transactions each second, looking for many kinds of threats."
And other options like "credit freezes can cause delays and extra work, and many states charge fees for the service," they said.
Bottom line: The representative told us that "LifeLock is a solution for busy people who want to guard against identity fraud."
What Are LifeLock Customers Saying in Their Reviews?
There were 9,500+ customer reviews on LifeLock's website at the time of our research, who had given the monitoring service a 4.5-star average rating.
There, the overwhelming majority seemed pleased with LifeLock's ability to quickly identify fraudulent activity. What few complaints there were commonly referenced long notification times (or no notification at all, in some instances).
What about elsewhere online?
On Consumer Affairs, LifeLock had more than 1,200 customer reviews and an average rating of about 3.5 stars. Most of the compliments and complaints mirrored those on the company's website, in addition to difficulty accessing accounts and credit discrepancies.
On both Google Play and iTunes, LifeLock's apps had an average rating of about 4.5 stars, with most complimenting its ease of use and quick alerts. On the other hand, several complained that it wasn't supported by their phone, as well as general bugginess.
LifeLock, Inc. based out of Tempe, AZ, has been business since 2005, although Symantec recently acquired them for $2.3 billion. They held a B+ Better Business Bureau rating, along with 62 customer reviews and 135 closed complaints, as of 3/15/17.
Most of these appeared related to customer service issues, although it's also important to point out that LifeLock entered into a $100 million FTC settlement in 2015 for allegedly making deceptive claims when promoting its identity theft protection services. The company admitted no wrongdoing in the settlement.
From a professional perspective, PC Mag reviewed LifeLock back in 2015, giving it an average rating of 3.5 stars. Overall, they liked its various monitoring services, 24-hour support, mobile alerts, and recovery support.
However, they noted that if you'd like to sign up more than one family member, LifeLock's individual plans could quickly become expensive. Nearly two years later, LifeLock's website still doesn't advertise a family plan.
Finally, in Is LifeLock Worth the Cost? Consumer Reports concluded that "we don't think the $110 to $330 annual cost is worth it."
Instead, they mentioned that an equally effective and much less expensive (even free) option is to call each of the three credit report bureaus (Experian, Equifax, and TransUnion) and place a security freeze on your account.
What about other companies competing in the same space as LifeLock?
LifeLock vs. Other ID Fraud Monitoring Services
The reality is that there are dozens of identity monitoring companies in business. Here's how a handful of the most popular stack up.
| Company | Price | Standout Features |
| --- | --- | --- |
| LifeLock | $9.99-$29.99/mo, or $109.89-$329.98 annually | Scans millions of data points, immediate alerts, $25K-$1M stolen funds reimbursement coverage, back by Symantec |
| IDShield | $9.95/mo individual, $19.95/mo family | Includes family plan (up to 2 adults and 8 children) |
| Protect My ID from Experian | $15.95/mo | All clear surveillance alert (letting you know everything's OK) |
| TrustedID from Equifax | $14.99-$27.99/mo | Triple credit bureau monitoring, lost wallet assistance |
| ID Watchdog | $14.95-$19.95/mo, or $149.95-$219 annually | Email & SMS notifications, NPI alerts |
As you can see, many identity theft monitoring companies provide similar essential features to LifeLock, including internet scanning, up to $1M in coverage, minor protection, resolution services, credit bureau monitoring, smartphone apps, and lost wallet assistance.
Given this, it largely comes down to pricing and company reputation. Of each of these options, LifeLock has been around the longest, although some other options are competitively priced.
And as mentioned above in some LifeLock reviews, perhaps the service's Achilles heel is the lack of a family program. So, if you're looking to monitor more than one adult in your household, their individual pricing platform might not be the most attractive.
The Bottom Line About LifeLock ID Fraud Monitoring
While the Consumer Reports article summarized that LifeLock's annual price might not be worthwhile, we think it's important to temper this advice with the fact that, according to many of the online reviews we read during our research, the majority of LifeLock customers seemed pleased with the value they received for their money.
With this said, the Federal Trade Commission recommends asking the following three questions for any identity monitoring service you're considering, LifeLock or otherwise:
What kinds of information do you check, and how often? For example, does the service check databases that show payday loan applications to see if someone is misusing your information to get a loan?
What personal information do you need from me and how will you use my information?
Are other services included with the identity monitoring service? Do they cost extra?
Just keep in mind that none of these services are foolproof, so they don't ensure that you'll never fall victim to identity fraud.
Also, if budget is your main focus, remember that you're entitled to one free credit report through each bureau per year through www.AnnualCreditReport.com. Professionals recommend staggering your requests every four months from one bureau to the next.
If you want to take advantage of the ultimate free option, you might consider calling each bureau and placing a security freeze on your accounts, which will block everything from going through.
This is also the most drastic option, though, so keep in mind that you might have to go through an extra verification process any time your credit is checked for a legitimate loan, taking out a cell phone contract, etc.
But if you're looking for a robust, completely hands-off preventive measure, LifeLock certainly seems like it could be a viable identity fraud monitoring solution.