LightStream Loans Reviews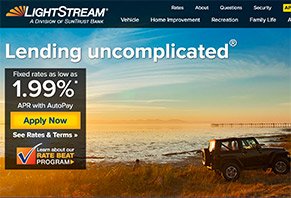 LightStream Loans provides secured and unsecured personal loans for cars, boats, recreational vehicles—and even horses—with low APRs and fast approvals.
About LightStream Loans
If you need a house, car, or student loan, you've got hundreds of options to choose from. What if you want something a little less conventional, though? Perhaps a classic car—or a trailer to put one on? What about unexpected medical or dental bills? A horse? Fertility treatments?
If you have strong credit, LightStream Loans provides loans ranging from $5K to $100K for purchases that might have required collateral in the past—or that might not have been available at all. These include:
Vehicle – New car, used car, classic car, auto refinance
Home Improvement – Kitchen & bath remodeling, landscaping, solar, swimming pool
Recreation – Boat, fractional properties (timeshares), motorcycle, RV/trailer
Family Life – Adoption, education (Pre-K through 12th grade only), fertility, medical, wedding
Almost Anything Else – Aircraft, credit card/debt consolidation, horse, dental, and more
All you have to do is apply on LightStream's website and they'll email you back during business hours. If you're approved, you'll log in to your account, electronically sign your loan agreement, provide any requested information, and choose your funding and monthly payment dates. Depending on how fast you complete this, you could have the money in your account in as little as a day.
All of which is why LightStream Loans claims to deliver "lending uncomplicated." But does that necessarily mean they're the right lender for you? Is their guarantee worth anything? You've got questions and we're here to help you find some answers.
What's So Different About Personal Loans?
While you might immediately think about predatory payday loans when first reading the term, the reality is that 'personal loans' covers a range of loan types, including home, car, credit cards, and installment loans. In other words, just about anything used for personal (non-business) reasons.
In general though, if you tell someone that you're seeking out a personal loan, it's usually understood that you're looking to fund something that might be considered an 'unconventional' risk. As such, personal loans almost always come with higher—sometimes much higher—interest rates, more fees, and steeper penalties.
The problem is that these higher-priced options were typically your only choice, short of coming up with the cash yourself. Is LightStream Loans any different?
What Rates Can You Expect with LightStream?
The 1.99% APR advertisement on the LightStream home page probably caught your eye, but keep in mind this only for an "unsecured dealer-used auto loan between $10,000 and $24,999, with a term between 24 and 36 months, for applicants with excellent credit."
Instead, what you'll pay primarily depends on what you're using the money for, along with your repayment term. Not to mention your credit score!
So, while you might get that 1.99% APR if you're applying for a moderately priced car, if you're using it for something else and you want to pay it off quickly, you might pay as much as 14.49%.
Important note: All rates quoted on the LightStream website are based on automatic payments. If you choose the invoicing option, your APR will be 0.50% higher.
For more accurate numbers based on your specific needs, be sure to check out LightStream's Rates Calculator.
What Is LightStream Loans' Rate Beat Program & Guarantee?
If another lender's rate meets certain criteria (you can read more about the specifics in their FAQ) and is lower, LightStream will beat it by 0.10%.
In addition, LightStream claims that if you're not completely satisfied after receiving your loan, all you have to do is complete a questionnaire and they'll send you $100.
What Kind of Credit Will You Need for a LightStream Personal Loan?
Those are definitely some unique perks in this corner of the lending industry, but here's one of the most important things to remember: In order to get a LightStream loan, you need to have "good credit, including sufficient income and assets to support your existing debt obligations and requested loan amount." What does that mean?
According to LightStream, they don't believe there's a single definition for 'good credit,' since someone's creditworthiness can be affected by many different situations. However, the company claims they're looking for those with several years of credit history, preferably with a variety of account types (e.g. credit cards, auto loans, mortgages).
This person will also need to have a "good payment history with few, if any, delinquencies or other problems repaying debt obligations," an ability to save, and stable (and sufficient) income.
Are There Any Other Requirements for a LightStream Loan?
Assuming you agree to their interest rate and meet their eligibility criteria, you'll have to supply LightStream with a valid Visa or MasterCard credit card for verification purposes. What? Why?
Basically, they'll only use the card to "further verify your personal identity." LightStream claims that your card information isn't stored in their system or shared, and will only be requested once you're in the funding process.
Finally, you have to use the funds for the purposes indicated in your loan application. However, it should be noted that in more than one place on the LightStream website, they certainly make it seem like it could be used for just about anything.
Are Customers Happy with Their LightStream Loan?
Wherever you look, whether it's Credit Karma, SuperMoney.com, LendingTree, or anywhere else online, it seems like LightStream (a division of SunTrust bank) has a mostly positive reputation. We found that most compliments seemed to reference ease of use (from application to funding), competitive interest rates, and solid service. In fact, we read multiple reviews that claimed it was the easiest loan they've ever experienced.
On the other hand, we found that many reviewers complained about being turned down (despite having a high credit score) and poor service.
Should You Apply for a LightStream Loan?
Based on their fast process, lower rates, no fees or prepayment penalties, and solid customer reputation, LightStream seems to be doing a lot right. Their $100 satisfaction guarantee and Rate Beat program are simply unheard of in this segment of the industry, and they seem to have some of the lowest rates around.
However, based on these interest rates, LightStream definitely seems more focused on attracting auto loans (particularly classic or non-conventional auto loans) more than anything else, not to mention the fact that there are no restrictions on vehicle year, make, model, or mileage. To qualify, though, you'll definitely need to have solid credit.
Pro tip: While LightStream doesn't reveal any specifics on their website, according to NerdWallet, you'll need a minimum 680 FICO score (ideally a 720 or above).
Ultimately, this means what's right for you depends on dozens of different factors, including your needs, personal preferences, and more. But if you're looking for a personal loan, based on their customer reputation and low rates, you might want to make LightStream Loans one of your first stops.
They stole $1500 from me.

By John R.

,

California

,

Jan 23, 2020
Verified Reviewer

I trusted them with my bank info for a $7000 loan. They somehow reversed my debits and paid checks from my Chase Bank Account. Lesson learned, never trust computers and online financial dealings/business.

Bottom Line: No, I would not recommend this to a friend

---

LightStream is a scam

By Joshua M.

,

Texas

,

Oct 12, 2019
Verified Reviewer

They approved me for an $8,000.00 loan. They needed to get into my account and dispute things to Bank of America that I didn't approve. PLEASE! Do not give these people your information. I'm currently working with Bank of America and am closing out this account, so they cannot go into my account anymore. Yes! Times get tough and people take out loans to get by, and don't get one this way. Go to your nearest Loan Store and apply that way.

Bottom Line: No, I would not recommend this to a friend

---

Advertisement

---

No hassle, great rates, but daily interest

By Jefe S.

,

South Carolina

,

May 24, 2019
Verified Reviewer

I've used LightStream three times now for home improvement stuff. It was especially useful for an unexpected repair. The interest rate was the lowest I could find and I paid them off as fast as I could. I didn't pay attention to the daily interest accrual, so I probably could've saved a couple of hundred more dollars if I'd have known that. There's a sweet spot for the money. Take too little or too much and you get worse interest rates. The sweet spot is between $10k and $15k for 5 years, I think. I don't pay attention to the length of the loan. This last time I only needed $5k, but got a better rate with $11k, so I took the $11k and immediately submitted the $6k payment. The trick is not to accept the new monthly reduction in payments they offer when paying more than the minimum.

You have to have stellar credit to get these loans, so don't bother if you have comparable revolving credit card debt or lack the cash to pay the debt off outright. When you're in that category, you probably don't pay interest to too many lenders, but LightStream gets that money by daily interest accrual.

This really is a super quick and easy way to get $10k in cash for those unexpected expenses or when you go over budget, but outside of that sweet spot, I might look elsewhere.

Bottom Line: Yes, I would recommend this to a friend

---

Personal fraudulent loan

By Randy A.

,

California

,

May 10, 2019
Verified Reviewer

I solicited a personal loan online and searched LightStream Loans credentials. It appeared legitimate until a fictitious check for $867.00 was deposited into my checking account and later found that the check was fraudulent. Now I may be liable for $867 in bank fees/charges.

Bottom Line: No, I would not recommend this to a friend

---

Advertisement

---

Sounds like a scam

By Gary K.

,

Doniphan, MO

,

Apr 17, 2019
Verified Reviewer

I get an email from LightStream saying I was approved for an $8000.00 loan. I call the number. I get someone whos name was supposedly John, by his accent his name wasn't John. I barely understand him. After several minutes I asked if I could speak with someone who spoke English. He supposedly transferred me to someone but it sounded like the same guy I was speaking to. I told him this and he said it would cost me $300 to take out a loan. No mention of that in the email. I told the guy this sounded like a scam and hung up. Before I called, I check if it was a scam and reviews all looked good and no mention of it being a scam. On the app, it said you need a Visa or MC for ID purpose. It already asked for DL#, so why do they need Visa or MC? I know sometimes scammers will use the name of a legit company and this sounded like one of them. Beware if applying for this, you may be out $300!

Bottom Line: No, I would not recommend this to a friend

---