Limu Reviews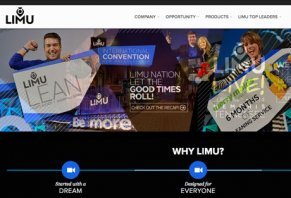 Limu is a multi-level marketing company that specializes in seaweed-based products that are claimed to improve health, boost energy, and help you lose weight.
About Limu
If you've been searching around for direct sales or multi-level marketing companies, you've probably read about Limu, which appears to be targeted toward younger, more health-conscious individuals looking to start their own business. How? By selling the company's seaweed-based beverages, which are claimed to improve health, boost energy, and to help users lose weight. Through this opportunity, the company also claims to help you achieve financial independence, and to live the life of your dreams.
Does this all sound too good to be true? Keep reading and find out if Limu really is.
Quick Facts About Limu
Limu is a direct sales company that specializes in health & fitness products. Unlike HerbaLife though, Limu's products are solely beverages that claim to be infused with a Tongan seaweed named limu moui. This "supernutrient-rich" plant contains high levels of Fucoidan, which is "a sulfated polysaccharide and complex carbohydrate" found only in limu moui. According to Limu, these nutrients naturally provide anti-inflammatory and anti-viral benefits.
If you're interested in Limu products, you can either purchase them directly from the company as a customer, or you can become a Promoter. Similar to many other direct sales companies, if you choose to join the Limu team as a Promoter, you'll earn a commission off of each sale you make, as well as from sales made by Promoters in your downline.
According to the company, they host large events every 90 days, where they give away millions of dollars to Promoters, in addition to luxurious vacations and the ability to win a completely paid-for BMW.
Limu Products
Limu Original – The company's flagship product, this beverage is claimed to contain 83% pure Tongan limu moui, and to be made without sugar, artificial sweeteners, or added flavors. Also contains extracts of mangos, papayas, apples, and pears.
Limu Energy – Limu's Blu Frog beverage is a Fucoidan-enriched energy drink that claims to help you avoid the crash of other similar drinks by using all-natural ingredients. Limu's Blu Frog 2 claims to provide 50% more energy than the original formula, while containing fewer calories and less sugar.
Limu Lean – Includes protein-based meal replacement shakes, appetite controllers, and digestive health cleanses.
Limu Pricing
No product prices are listed on the Limu website, which means that you'll need to contact an existing Promoter to gauge prices and to place an order.
In addition, there are no prices listed for becoming a Promoter, although we were able to locate a membership application elsewhere online during our research. Depending on the Promoter pack you choose, pricing can range anywhere from $135 to $999, and the more you spend, the more benefits it appears you'll receive.
What Do Other Consumers Have to Say About Limu?
Limu was founded in 2004 by Gary J. Raser, and is based out of Lake Mary, FL. The company holds an A- rating with the Better Business Bureau, with just 2 closed complaints over the past three years.
However, regarding their products, we found numerous customer reviews that complained of poor taste, failure to work, and high price. As far as the company's business opportunity, we'll explore this in greater detail below.
What's the Bottom Line About Limu?
When you clear away all the marketing hype surrounding Limu, the company is basically just another direct sales opportunity. In other words, you'll earn a commission off of each sale you make, as well as off each sale made by a Promoter in your downline. However, we uncovered some big red flags during our research that you should keep in mind before joining.
First, Limu is similar to other MLM companies like Amway and HerbaLife in that you'll need to make a purchase in order to become a Promoter. If you attend one of their marketing events, you'll likely encounter an awesome sales presentation, and will be eager to get out there and start "beating the pavement" for your first customer after it's finished.
However, as we've mentioned before, these presentations almost never give you the full scope of what it actually takes to become successful. Even though Limu claims to be a "proven path to success," the reality is that the vast majority of individuals who start their own direct sales businesses ultimately end up losing money. In fact, we found several previous Promoter reviews claiming that it's extremely difficult to gain traction and start earning real money unless you're closely connected to someone who is already a top seller. We tried to locate some documentation from Limu that would provide better insight to how many Promoters are actually earning money (and how much), although the company doesn't provide an earnings disclosure like some of the bigger, more reputable MLM companies.
On top of this, even if you do start making progress, it may be the fact your customers turn into one-time clients. This is because nearly all customer reviews we located stated that Limu beverages taste very bad, come with a very high price, and don't provide any tangible health benefits.
Finally, there is a lot of concern surrounding the company's founder. This is because Gary Raser previously owned a company named Dynamic Essentials, which manufactured a nearly identical product named Royal Tongan Limu. However, in 2003 the company ran into some major legal trouble with the FDA due to misleading claims about the product's health benefits, and was forced to shut down after being fined $2 million. A year later, Limu was founded based on a nearly identical product, but a different, carefully orchestrated marketing campaign. Since that time, it appears that Mr. Raser has utilized the services of a company like Reputation.com or Brand.com to bury negative online information. How do we know this? Because very similar, non-negative content surrounding him fills the first several pages of search engines.
Bottom line: Even if you already understand the inherent dangers of spending your hard-earned money to join an MLM company, we might recommend choosing a more reputable company with a more diversified product lineup than Limu.
Saved my life and still love it after 13+ years

By Darold T.

,

Colorado

,

Oct 1, 2019
Verified Reviewer

I was very sick, my body was turning on itself. A friend handed me a bottle of Limu and said I think this is for you! I started it and ordered a case, kept drinking 2 to 3oz twice a day, notice changes over the first four months but at four months my wife noticed some real changes, pink legs not blue, sores on feet gone, we went on a 1,000 mile car trip when before I was sick after 200 miles, then a 1,200 mile trip and back and on a plane for Alaska for a two week visit, energy 100%! Man, was that great! I told a few people and got about 30 people on board! That was 13 years ago in June! If you start this do it at least four months! Write down how you feel! Worked for me - 3oz twice a day and a Blu Frog for an extra kick. I'm 74!

Bottom Line: Yes, I would recommend this to a friend

---

Limu is my saving grace

By Richard B.

,

Ogden, UT

,

Oct 22, 2018
Verified Reviewer

Hi, my name is Richard Brooke, I was diagnosed as an HIV positive young adult back in 2016 and ulcerative colitis. I was barely hanging on to life. I was constantly having diarrhea 10-30 times daily, my colon was cramping, I wasn't sleeping through the night. Many people may say that this product isn't anything but a scam. This ended up saving my life. I no longer have diarrhea, I no longer have fatigue or cramping or any symptoms of my disease. I am able to eat all day long, I'm finally able to fulfill college, I'm able to laugh, to cry, to smile again. I'm back from the grave. Yes, this isn't a cure by any means. Though it has improved my CD4 count to normal, my virus is below the undetectable status. My infectious disease doctor has seen life in me once more. Don't go based on reviews of the product, go based on what it can do for you. Go based on the new life it can provide. I dare you to try it. Limu, in all it has taken away my fear, my depression, my anxiety. It has given me life and the hope to fight for it. Go beyond, become more. Become Limu!

Bottom Line: Yes, I would recommend this to a friend

---

Advertisement

---

Great product, honest company

I was introduced to Limu by one of my Army peers. My first reaction was: it was tasty and flavorful (I like mango a lot), very refreshing, and the energy effects are immediate. Its value as an "energy drink" is way much better than those you find at your convenience store, whether it is the $1.50 ones or the $3+ expensive ones. Limu is not a cheap drink, but it delivers what it says it does. I am a mailman, and one drink will take me the whole day.

The business part I have not worked, but a legit product makes the company legit. I have used all their products, and like them all. All the people that I have shared with have given me positive feedback. Disregard any demonizing or ignorant comments about MLM or "pyramids," people literally work as slaves in corporate and government pyramid-like scheme, oh, but God forbid that someone uses this form of organization to reward the hard workers, and not just the executives or the bureaucracy.

Bottom Line: Yes, I would recommend this to a friend

---

My experience with Limu

I started using Blue Frog 2 energy drinks in September 2016. One of my husband's co-workers introduced him to Limu's Blue Frog 2 that has 120 mg of natural caffeine per can. I am unable to use other energy drinks on the market because I get terribly agitated and nervous feeling after drinking most energy drinks and have terrible crashes that would leave me feeling even more fatigued.

I was skeptical about Limu's all natural energy drinks but decided to give them a try. I found they not only gave me the energy I needed but I experienced no negative side effects and no crash! I also found that once I added a 2 oz dose of Limu Original (or) drank 2 Blue Frogs a day (Blue Frog drinks have 2 oz of fucoidan in them), some of the other issues that I struggled with seemed to be getting better.

I had been dealing with an adrenal fatigue condition that I developed after a trauma I experienced three years prior. During that trauma, I had an injury to my back that herniated a disk. I have been in physical therapy for all of this time, and my therapists have noticed that since using the Limu products, my body is taking and holding the treatments better and I have reduced pain and inflammation.

After some intense study, I found that fucoidan and the brown seaweed plant is naturally packed full of minerals, vitamins, and amino acids, so I have discontinued taking most all of my other supplements and find I have been able to actually feel the difference between this product and other products I have been using for many years, which includes some of the best and most trusted brand names on the market. Further research found that the reason is because most other supplements have heat processing and then added fillers that actually kill the key nutrients in the product, so we do not get as much benefit from the supplements as we could if we were using a live product.

I have experienced such amazing results, and I introduced Limu Original to my mother who was suffering from diabetes and neuropathy, which caused her lower part of her legs to be a very dark purple with dry, scaly skin. After four and a half weeks on the product, the dark purple in her legs is now turning pink and normal skin tones, and the dry, scaly skin is softening. She also has not had to take pain meds for the neuropathy for a week now.

My final testimony about my experience with this product concerns our dog. She is six years old and has recently been diagnosed with lymphoma cancer. Her neck had swollen up so much that she couldn't even bark. Three weeks on Limu Original at 8 oz a day, the swollen lymph nodes have greatly decreased in size, and she is not only barking again but also runs the fence with our neighbor dogs and has gained some of her weight back. She is not on any steroids and is not doing chemo. She is part of a cancer study being done by my Veterinarian Clinic alongside the Veterinarian Cancer Research Center as they have a current study with K9 cancer patients with the use of Fucoidan alone to treat the cancer. She is not taking the higher doses that the study is using simply because of affordability, but her Vet says that we are seeing very good results at the dose we are giving her, alongside a grain-free diet and added vitamin C and a tablespoon a day of coconut oil.

We feel very hopeful that she will pull through. If it is possible to add comments to this thread in 2-3 months, I will update all on her progress.

Bottom Line: Yes, I would recommend this to a friend

---

Advertisement

---

Can't really say

By Kurt

,

San Jose, CA

,

Feb 22, 2017
Verified Reviewer

It seems most of the complaints about LIMU are in the marketing. I have no interest in selling the product; I just want to know about the benefits. The claims seem preposterous; it basically heals everything imaginable. I've been taking it for months primarily because it is supposed to be a viral inhibitor.

I'm just getting over a three-week virus, which is my usual down time when I get hit. So this last order will be my last. I can't point to any positive result from months of taking the product. It is too much money for too little effect.

Bottom Line: No, I would not recommend this to a friend

---

Just another Multi-level marketing

By Gene Carter

,

Louisiana

,

Feb 7, 2017
Verified Reviewer

Sorry to shatter dreams, but this is the same stuff repackaged in another wrapper, and 2% of the people involved will see substantial income and no more than that. It is the same ole heavy make-up wearing, busy body realtor-types, all positive and full of potential, and just needing a cause to believe in, but they themselves don't get a reward by payment but more so in just socializing with like minded people.

So if you're actually in it for financial freedom, don't waste your time. Join The Lodge or some other organization because, in reality, this is just making those at the top richer.

Bottom Line: No, I would not recommend this to a friend

---

My point is...

Mississippi

,

Dec 12, 2016
Verified Reviewer

We tried Limu. Tried to sell it but that didn't work out well, partially because we didn't push it. It does work, and is the only thing that seems to work well for my husband's high blood pressure. I would like to be able to buy it without the hype and high price. We have tried other Fucoidan products and they just don't work as well. I am running out of my stock which we use sparingly in times of particular need, like when we travel. As for recommending it to others I have and it seemed to work for them but they, like us, think it is too high priced and keep looking for other ways to go.

Bottom Line: Yes, I would recommend this to a friend

---

!00% Believe In LIMU! It Has Helped Me!

By Susan

,

Dec 12, 2016
Verified Reviewer

I will admit I was very skeptical at the beginning, and it took 6 weeks before it really kicked in, BUT, when it did, it saturated my body. The health benefits are unbelievable for me!

My headaches have all gone away (which I suffered from debilitating headaches for years) and I have much better mental clarity.

I do not take my blood pressure medicine anymore (my BP would drop unexpectedly at anytime after I experienced a life changing seizure type episode almost 2 years ago).

The doctors can't tell me the exact cause of my problems but they haven't been able to help much but stabilize my issues. Only Limu has given me some relief. This is not a "cure all" nor is it an overnight magic potion. Limu Original is the best nutritional supplement available today, in my opinion.

It costs $30 per bottle which lasts me about 10 days. For $3/day, I consider that inexpensive to truly feel better on a daily basis. Cheaper than a lot of over the counter products and even taking Advil or Aleve everyday.

My prescription headache medicines were not working well for me anymore either. I love this product and will never be without it.

Bottom Line: Yes, I would recommend this to a friend

---

Limu

New York

,

Sep 21, 2016
Verified Reviewer

This product is a good product but once you have purchased it you loose in the selling aspect because their promoters promise to help you sell but do the opposite. Once they get your money you loose. I don't recommend Limu. They're not honest people, they're con artists that use your hope of making passive income against you. I believe the product is great to use but if you want to get involved you need a lot of money to put up to really promote this item. If not, it's not for you. And I'm an honest person, a father, and a hard working family man.

Bottom Line: No, I would not recommend this to a friend

---

Not Yet…

By Chris

,

Lee's Summit, MO

,

Sep 3, 2016
Verified Reviewer

For about a month now, I've been taking LIMU. Honestly, no effect. You make no claims regarding its effectiveness or its ability to do anything, you leave that to your clients to declare. Unfortunately, I can't prescribe to Disney's First Law ("wishing will make it so"). I'm an old science professor. Where's the science to legitimize your product? The research studies? Because a dear friend bought this for me, I will finish what I have with hopes for some positive effect, but I wont hold my breath. Multilevel marketing arrangements always scare me.

Bottom Line: No, I would not recommend this to a friend

---

Great Product

By Ed Butler

,

Tulsa, OK

,

Aug 6, 2016
Verified Reviewer

I have Diabetes type 2. I have Neuropathy in my feet and it is starting in my fingers. I was introduced to Limu in January of 15. Since I have been taking 4 to 6 ounces per day, the pain in my feet is bearable. I used to want to lay with my feet up or sit in a chair with my feet up to help with the pain. I can now walk for hours without pain. Thank you Limu

Bottom Line: Yes, I would recommend this to a friend

---