Liquid Drywall Reviews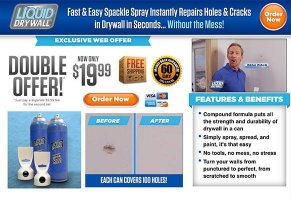 According to the manufacturer, Liquid Drywall can help make your walls smooth and perfect by simply spraying, spreading, and painting, without the mess.
About Liquid Drywall
Liquid Drywall is a fast and easy spackle spray that promises to instantly repair drywall holes and cracks in seconds, without tools, mess, stress, or hiring a repair person.
The manufacturer claims this compound formula takes all the strength and durability of drywall and puts it in a can, making the process so easy that all you have to do is spray, spread, and paint. We're told Liquid Drywall will cover anything, from simple nail holes to small and medium-sized catastrophes, leaving your walls smooth and perfect.
There's no doubt that traditional spackling methods can be time consuming and messy. But will Liquid Drywall make these repairs faster and deliver perfect-looking walls throughout your home, as claimed on the website?
In this article, we'll take a closer look at the manufacturer's claims, so you can make an informed, empowered decision before handing over your money—starting by unpacking a few key terms.
How Liquid Drywall Works
According to Diffen.com, drywall (also commonly referred to as sheetrock (a trademarked brand name), plasterboard, wallboard, gypsum board, and gyprock) "is a panel made of gypsum plaster pressed between two thick sheets of paper. It is used to make interior walls and ceilings."
Once these boards are affixed to a wall, a compound called drywall mud—which is made from a combination of gypsum, water, limestone, perlite, ethylene-vinyl acetate polymer, and attapulgite—is applied in between the drywall's cracks and crevices. Once painted and textured, this mixture is roughly the consistency of icing and creates a smooth, uniform appearance.
On the other hand, spackle is a type of putty designed to repair small holes, cracks, and defects in sheetrock, as well as some other surfaces like wood and plaster. Like drywall and mud, the main ingredient in spackle is gypsum, along with others like calcium sulfate and glue.
With a (generally) thinner consistency than mud, spackle can be applied to imperfections and sanded and painted when dry. Depending on the specific job you're looking to tackle, regular spackle is the thickest option, although lightweight and light bodied versions are also available.
In the instance of products like Liquid Drywall, compared to the tubs or tubes found with other brands, a thinner-consistency spackle is added to an aerosol can.
When the nozzle is activated, the spackle is ejected at high speed and sticks to the drywall imperfection. Then, a spreader (commonly referred to as a joint knife)—or, the built-in tip, as is the case with Liquid Drywall—is used to make sure the compound completely fills the imperfection and is flush with the wall.
Together, this is said to make the process easier, with less mess to worry about. But are there any meaningful differences between Liquid Drywall and competing brands? Let's first discuss price and the manufacturer behind the product.
How Much Does Liquid Drywall Cost?
One tube of Liquid Drywall is priced at $19.99, plus free S&H and a $1 web service fee, and comes with a bonus built-in spreader cap. During checkout, you'll be able to purchase a second tube for an additional $9.99 fee.
There wasn't any quantity information listed on the product's website, so we attempted to reach out to customer support several times during normal business hours. All of our calls immediately went to hold music, with no one answering.
As such, we can't know how much Liquid Drywall you'll get in each can, or approximately how many uses you can expect.
Nonetheless, all Liquid Drywall orders come with a 60-day money back guarantee, less S&H and any fees associated with the BOGO offer. In order to request one, you'll need to reach out to OnTel Products Corp's customer support department at 855-380-3102.
What Do We Know About the Company Behind Liquid Drywall?
OnTel Products is one of the more popular companies in the As Seen on TV industry, has been in business since 1994, and—like many other companies in this industry—is based out of Fairfield, NJ. The company has produced many hits over the years.
OnTel held a B Better Business Bureau rating, based on 27 customer reviews and more than 370 closed complaints, as of 12/4/17. Where details were available most appeared to reference high S&H charges, lower quality than expected, and less-than-stellar support experiences. In each instance, a representative responded with a solution.
Are There Other Spackling Sprays Like Liquid Drywall?
Searching online for variations of terms like "spray spackle," "liquid spackle compound," and "aerosol drywall patch/repair" returned only one meaningfully similar result to Liquid Drywall at the time of our research—Homex Aerosol Drywall Patch and repair. Which, at 8 ounces (enough to cover two 4 in. x 4 in. patches), was priced as low as $3 online.
Furthermore, we found it advertised at some local home improvement retailers for as low as $6, although if you picked it up yourself, this could help save you shipping time and associated costs. How to decide which way to go?
Before beginning your drywall repair, Lawrence Journal World's Linda Cottin (aka the Fix-It Chick) points out that you'll need to start out by making sure your walls are made of drywall, instead of something else like lath and plaster. Why? Because if this is the case, you'll need a different compound specialized for plaster.
Next, True Value Hardwarian Jim Baskin points out that you'll need to prep by smoothing out the areas directly around the blemish using a putty knife, which will gently scrape away loose paint, fragments of drywall paper, and other debris that could make your repair look less-than-stellar.
Pro tip: While we didn't test the product ourselves to provide firsthand feedback, this is perhaps where Liquid Drywall's built-in plastic spreader might not perform as well as a sharper, standalone spreader.
From there, if the hole you're trying to repair is less than one inch wide and less than ¼ inch deep, lightweight spackling like aerosol spackles could work well, although she emphasizes that anything larger (up to ¾-inch deep) might require heavier-duty vinyl-based spackle.
Bottom line: Is Liquid Drywall necessarily the best option for you?
Our Final Thoughts About Liquid Drywall
Since we weren't able to speak with a customer support representative, despite numerous attempts, we weren't able to learn more about any of the components in Liquid Drywall's formula, or how this might compare to the Homex version discussed above.
Add to this that Homex could be purchased for as little as $3 per can—or, picked up locally for a couple dollars more, but without worrying about S&H charges—and (as consumers ourselves) it might be difficult justifying Liquid Drywall's meaningfully higher price, along with its steep, nonrefundable shipping charges.
But if you feel like rolling the dice, OnTel stands behind their product with a 60-day refund policy, which should be more than enough time to decide if it's right for you.