Listia Reviews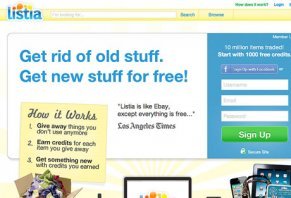 Listia is a website that allows you to trade items you no longer use by listing them in auctions and allowing other users to submit credit-based bids to become the new owner.
About Listia
With more than 1 million traders and 10 million items traded, Listia is a website that claims to help you "get rid of old stuff, and get new stuff for free."
The company claims that the average American household has $7,000 worth of unused items, which they can help turn into spendable credits.
Listia is based out of Mountain View, CA, and has been featured in TechCrunch, Los Angeles Times, Mashable, and more.
The company has an F rating with the Better Business Bureau (as of 6/24/19), with 25 closed complaints over the past three years, most of which appear to be credit-related (e.g. users didn't receive a refund for purchased credits; not all purchased credits were showing in a user's account, etc.).
Outside of the BBB however, the number one complaint we encountered dealt with users getting banned, often as the result of someone else in the system having the same IP address—not the same physical address, as alluded to in the company's FAQ section.
With this said, it appears that the company responds to most complaints in a timely manner.
How Listia Works
Listia is a website that allows you to trade items you no longer need in exchange for spendable virtual credits. Whether you're searching for antiques, video games, or anything in between, Listia appears to work in three steps:
Give away things that you no longer need.
Earn credits for each item you give away.
Use these credits to get something new.
A more detailed explanation is this: First, you'll need to take a picture of your item and write a short description. Then, you'll need to decide whether you're willing to ship it, or if the buyer needs to pick it up. Finally, you'll choose how long you'd like your listing to last.
Once your listing is live, other users will place bids using Listia credits, which will be deposited into your account once your auction has run its course.
In turn, these credits will then allow you to bid on other users' auctions, or to purchase new items from sponsored manufacturers such as Toms, Keurig, Coach, Apple, and more.
When listing an item, you'll be able to choose between several different types of auctions:
Bold Auction – Your listing will appear in bold in search results.

Featured Auction – Gives your listing special placement on the Featured Auction page, as well as a "Featured" icon next to it.

Premium Auction – In addition to receiving a "Premium Auction" icon next to your listing, you'll also appear in bold text in search results. To add to its visibility, your auction will also include "special placement on the search results and auction pages."

Sponsored Raffle – Instead of bidding on your item, other users will purchase raffle tickets, which are drawn randomly by Listia's automated system once the time is up.

Tiered Auction – A very different approach, this is where the item listed changes as bids increase.
Listia Pricing, Refund, and Shipping Policy
To begin using Listia, the service is completely free, and you'll immediately receive 1,000 credits upon signing up, and then 500 additional credits after your first item is listed.
You can also earn additional credits by performing other activities such as referring a friend, connecting through Facebook, and more.
If you find that you haven't earned enough credits from any of these usual methods, additional credits can be purchased directly from Listia.
While we were unable to confirm pricing on the company's website, we did read one very detailed review that claimed 400 credits is roughly equal to $1. However, it appears that credit purchases are based on a bartering system, which means that the exchange rate can vary.
Purchased credits can be returned within 14 days, but must be for the entire amount (e.g. no partial credits). On the other hand, there are no refunds for products purchased through the site, or for shipping-related charges.
From a shipping perspective, although Listia recommends working locally, you can choose Free, Exact, and Flat Rate options.
When listing an item, pricing can vary depending on which auction type you choose.
The Bottom Line
There are several things about the service that you should keep in mind before listing an item:
First, because Listia is based on virtual credits, we couldn't help notice the similarities between it and penny auction sites such as Quibids.
While the company claims that they do this to cut down on fraud, we read several complaints claiming that unless you purchase credits, it will take you a very long time to accumulate enough to "trade" anything of value. This means that the site may become expensive fairly quickly.
Also, while the number one complaint we encountered dealt with getting banned (see About section for details), the second most common complaints claimed that many of Listia's auctions are suspicious, or in some instances, even outright scams.
And despite Listia's contention that they don't allow excessive shipping charges, it would seem that many of these "less legitimate" auctions feature this very thing.
Finally, remember that Listia specializes in things that people may no longer need, so the likelihood that you'll find some of the latest and greatest items is fairly slim.
Buyer on Listia, filed refund, got fake Amazon code, seller we didn't send a code

By Karen R.

,

Virginia

,

Jul 5, 2018
Verified Reviewer

Seems like a cut and dry case to me. Tamuka on Listia sent me an invalid $15 Amazon code. I filed for a refund saying, "invalid Amazon code." The seller responded with "we didn't send her a code because of non-payment." Listia sent him the message "buyer paid." He never sent me a valid code, so I filed for a refund. Richard on Listia sends me a message telling me to send another support ticket with a screenshot of the invalid code on Amazon. I have tried but unfortunately, I run out of time on the support ticket telling me I took too long. I should have been refunded as soon as the seller said he didn't send me a $15 code.

Bottom Line: No, I would not recommend this to a friend

---

3 out 3 people found this review helpful

New Listia

By Earl A.

,

Mankato, MN

,

May 25, 2018
Verified Reviewer

Ever since Listia changed from credits to XNF, bids on my auctions are way down. People don't understand new currency! I bought auction for 88888 credits, and Listia removed 53 XNF. I don't understand.

Bottom Line: No, I would not recommend this to a friend

---

Advertisement

---

4 out 4 people found this review helpful

I don't like XNK

I really like Listia. I tried to sell an item but no one wanted it. I also don't understand the XNK pay, why did they change from credits? Maybe when you want to make a change you should take a poll and see what your customer's think. Many people are quitting your link. Change isn't always wanted. I don't like bidding eighter.

Bottom Line: No, I would not recommend this to a friend

---

4 out 5 people found this review helpful

Lots of inflation

By Allen

,

Charleston, SC

,

Apr 25, 2017
Verified Reviewer

Listia started out really well, but over the years they haven't been able to stop the inflation.

I joined when they first launched and loved the idea of trading items in a cashless economy where we're helping each other out. As time has gone on, there has been rampant inflation from the value of credits going from 100/$1 to 10,000/$1 to 40,000/$1 and now finally landing at a 27,500/$1, but it is fixed by Listia.

So buying/selling credits is fixed to 27,500 per $1. However, you will NOT be able to find any gift cards selling at that rate. Every gift card, including the ones sold by Listia, are around 100,000 credits per $1. It's the type of economy where there are winners and losers, and the losers are losing because they do not realize when they sell that they won't be guaranteed that their credits have the same value. A little inflation would be understandable, but 100=$1 to 27,500=$1 is a bit wild.

The site does have certain categories with a lot of selection, and if you make sure to pay attention to the credits' real value you can have some good deals here and there, but nothing like the old days.

I'll keep using it, but I've started using other sites like eBay, eCrater, SwapCaps, etc. Still hoping for a site like Yerdle (closed down) and the old Listia.

Bottom Line: No, I would not recommend this to a friend

---

Advertisement

---

1 out 3 people found this review helpful

Received great items, made some good friends and got rid of lots of stuff.

By Eileen

,

New York, NY

,

Oct 29, 2016
Verified Reviewer

The Listia the above refers to is not the one I know. Sure, there are scum puddle sellers who don't ship and list fake listings. Listia doesn't know that until someone files a complaint.

On the whole, I have had many, many good experiences. I've gotten authentic Coach bags, tablets, jewelry, gift cards, etc.

If you see a listing that sounds too good to be true, red flag it. There are shipping guidelines. If a seller gets a little greedy, pass them by.

The only problem I had with Listia is them selling/auctioning off their own goods. In doing so, they raised the price of credits exponentially. It used to be 100 credits = $1.00 Today, to get a $25.00 gift card to Amazon, it will cost you anywhere from 350,000 credits to 450,000. Supply and demand.

When I first joined, I could get a $10. Amazon gift card/code for about 7,000 credits. Ha. Those days are long gone. You can find some really great stuff and some garbage.

Caveat Emptor. It's a fun site, with many wonderful people, and some not so wonderful. Sounds like life to me.

Bottom Line: Yes, I would recommend this to a friend

---

8 out 9 people found this review helpful

Criminal activity by owners at Listia.

By Kacy Walker

,

Texas

,

Jul 9, 2015

Very unfriendly staff. Slow response to service tickets, and Owner, Tie, is rude and discriminates, threats are made to ban accounts, and the owners are dishonest. They wait until you have accumulated a huge amount of credits, then make up lies, one of the most common, that you have more than one account, ban your account, and steal all your credits. They lie to the BBB, and are not required to show "proof" of said multiple accounts to the BBB. Listia owners are thieves and need to be prosecuted for criminal behaviors, and flat out thief. Of I could give 0 stars I would.

Bottom Line: No, I would not recommend this to a friend

---

6 out 6 people found this review helpful

Listia is a scam company and steals your hard earned money and products

Listia closed our account and took 532,000+ points stating we were rude but all the rude comments were towards the members. We were a huge seller of items and new items, not used crap. Then Tae of Listia tried shutting us up with an NDA (non disclosure agreement) in order to let us back into our account to spend the points. NDAs are used by many businesses as I worked as a purchasing manager in construction but it shouldn't be used in this instance, to spend what I earned and spent thousands in shipping to earn them. Listia is garbage and I would stay away, if you want the entire conversation with Tae showing how they tried to shut us up or trap you for a law suit, contact us. They are unprofessional and a trashy site filled with scammers, cheaters, and non shippers. They are just an overall pathetic company.

Bottom Line: No, I would not recommend this to a friend

---

3 out 3 people found this review helpful

Nothing in life is "free"

Burleson, TX

,

Apr 19, 2015
Verified Reviewer

At first, I really enjoyed this site with the 3000 credits I received for signing up and the few hundred I earned for connecting through Facebook and listing my first auction. In the year since I've signed up the amount of free credits one can accumulate has dropped dramatically. During the year I've noticed some disturbing trends:

The credits needed to win many auctions is ridiculously high, up to triple the amount that was needed a year ago.
There are quite a few traders that begin their listing at 0 credits but always ask for the highest shipping fee of $5.99, do not offer combined shipping, and sell their items on other sites like eBay with free shipping. It's clear that these people are using Listia to make money through shipping and are taking advantage of the insinuation that the buyer is getting an item "for free" when in reality they are overpaying for an item available elsewhere for pennies. Many of those sellers are overseas and while the product they are offering is described correctly, this goes against the spirit of the site.
An unusual amount of transactions I've been involved with ends up with me never receiving the item and having to contact Listia for a refund. They do provide the refund quickly but it takes up to weeks before you realize you're never getting the item and in that time those credits are unable to be used to win something else.
The worst offense from this site are the incredible number of options to "earn" credits through advertisers and the incredible number of times the advertiser DID NOT give me the credits I earned. It's IMPOSSIBLE to contact the companies to dispute them and Listia offers NO HELP WHATSOEVER! On top of that, by attempting to earn credits my email is now filled with spam and no matter how many times I unsubscribe it's clear that my email is being sold on a regular basis, not by Listia but by the companies that offer credits by doing certain things like entering a contest or purchasing a product.

The bottom line is there are some interesting things available on Listia and the concept, at first, worked quite well, but at this time the problems I've mentioned above along with how expensive it's become (since purchasing credits is now the only way to really participate) have made Listia more of a scam then an actual free bartering site.

Bottom Line: No, I would not recommend this to a friend

---