Little Giant Xtreme Ladder Reviews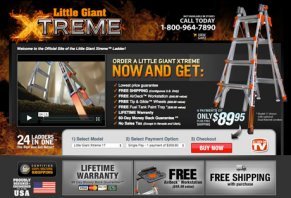 The Little Giant Xtreme Ladder is a ladder system that claims to combine 24 ladders into one and to be the most versatile ladder you'll ever purchase.
About Little Giant Xtreme Ladder
Have you seen an infomercial for the Little Giant Xtreme Ladder, which claims to combine 24 ladders into one, and to be the safest, strongest, and most versatile ladder system in the world?
If so, you're definitely wondering whether or not any of these claims are true, and whether or not the Little Giant Xtreme is worth the high price.
So let's take a closer look at these claims and find out if the Little Giant Xtreme really is the "last ladder you'll ever have to buy."
How the Little Giant Xtreme Claims to Work
Available in 3 different models (Model 17 extends to 15', Model 22 extends to 19', and Model 26 extends to 23'), the Little Giant Xtreme is a ladder system that claims to combine 24 ladders into one, including a stable, wide-flared extension ladder, a multiple-height A-frame stepladder, a 90-degree ladder, a staircase ladder, and a time-saving trestle-and-plank scaffolding system.
In addition, one of the key differentiating factors compared to other ladders is that the Little Giant Xtreme includes built-in Dual Ratchet Levelers in each leg, which are claimed to give you up to 9.5 inches of adjustment on each side and to provide a stable hold on uneven or sloping terrain.
All Little Giant Xtreme models also include non-slip rubber feet, rungs that are 50% wider for added foot support, quad lock hinges for solid adjustment capabilities and quick and easy setup, Rock Locks that give you the ability to change the ladder's height and configurations with just one click, and a safety rail that gives you something to hold on to when you're at the top of the ladder.
Additional features include adjustability in one-foot increments, a built-in comfort step that claims to make you feel just like you're standing on the ground—even though you're near the top of the ladder—and Tip & Glide wheels that allow you to move from one place to another quickly and easily.
Little Giant Xtreme Accessories
Little Giant Xtreme Ladders also come with a variety of accessories that are claimed to make many jobs easier, including an AirDeck Workstation that keeps all your tools and supplies right where you need them. The AirDeck also features a special section for screws, nuts, and bolts, and even a cup holder.
In addition, the FuelTank Paint Tray attaches directly to your ladder and can hold an entire gallon of paint, which includes a magnetic brush holder so you won't have to worry about dropping brushes when you're not using them. On top of this, the FuelTank's special plastic polymer construction means that you can just let the paint inside dry once you're finished, and then peel it off afterward.
Finally, the Little Giant Xtreme can pull apart into two different trestles, which, when combined with the removable trestle brackets, gives you the ability to turn your Little Giant Xtreme into stable and secure scaffolding, workbench, or saw stand (note: you'll need to purchase the optional plank in order to achieve this).
Little Giant Xtreme Pricing and Refund Policy
The Little Giant Xtreme 17 is priced at 4 payments of $89.95 plus free FedEx Ground shipping (will arrive fully assembled), bringing your total to $359.80. Other models are available, including the Little Giant Xtreme 22 ($399.96) and Little Giant Xtreme 26 ($459.80). Built-in Dual Ratchet Levers will cost extra for each model.
However, keep in mind that UT and NV residents will be charged sales tax
Regardless of which Little Giant Xtreme model you choose, if you opt for the single payment, your order will also include:
AirDeck Workstation
Tip and Glide Wheels
Fuel Tank Paint Tray
All Little Giant Xtreme Ladders come with a 60-day money back guarantee, less S&H charges, and a lifetime warranty against defects (normal wear and tear is not covered). In order to initiate a refund or to file a warranty claim, you'll need to contact customer service at 800-280-7163.
Keep in mind that Little Giant Xtreme Ladders are also available through a wide variety of third-party retailers, including Home Depot, QVC.com, Walmart, Sears, and many more.
What Do Other Consumers Have to Say About the Little Giant Xtreme?
Overall, it appears that Little Giant Xtreme Ladders have an overwhelmingly positive online customer reputation, with the most common compliments referencing its versatility, ease of use, and high-quality construction.
On the other hand, some of the most common complaints regarding the Little Giant Xtreme cite high price, its relative heaviness, and that your feet can begin hurting if you have to stand on the rungs for long periods of time (although this could be said about most ladders as well).
In addition, Little Giant Ladder Systems based out of Springville, UT holds an A- rating with the Better Business Bureau, and the company's customer service department appears to handle complaints quickly and effectively.
Bottom Line: Is the Little Giant Xtreme Ladder Worth It?
Based on the Little Giant Xtreme's very high reputation among online consumers, it's likely that you'll be pleased with your purchase, and that the ladder will provide you with years of reliable service.
However, there are a couple of things you should keep in mind prior to placing your order.
First, the Little Giant Xtreme has a 300lb weight capacity, so if you're nearing this weight (or tend to carry very heavy things on your ladder), this may not be the best choice.
In addition, the Little Giant Xtreme weighs about 30 pounds (or more, depending on your model), so if you're dissatisfied with the ladder and decide to return it, shipping costs could be very expensive.
In fact, some online customers have complained return shipping can be nearly $200, depending on carrier and shipping method you choose. However, the good news is that you can avoid this by purchasing your Little Giant Xtreme from a local retailer.
---
Difficult to operate outside, heavy

By Toni L.

,

Hamlin, WV

,

Apr 4, 2020
Verified Reviewer

Overall Experience:

I purchased the Little Giant Xtreme on 3/4/20. When it arrived I spent about 2 hours in the garage learning how the ladder operated, in the garage on level flooring it seemed to do ok, very heavy but I purchased the 26 so I could reach the highest part of the house. On 3/20/20 a tree fell on my house. It had been raining so the ground outside was soft, wet, and muddy. The wheels were useless, so I had to carry the ladder to where I needed it. It is heavy and the legs that fan out made it difficult to carry and maneuver. Outside on the un-level ground, it was hard to get it to un-lock to straighten it out, it was just as hard to get it folded back up. It took two of us to deal with this ladder. The selling point to me was the leveling legs, as there is no level ground around my house. The time spent fighting with this ladder was not worth any of the features. Save your money, find something else.

Bottom Line: No, I would not recommend this to a friend

---

Very heavy, hard to handle

By David B.

,

Woodbury, MN

,

Dec 14, 2018
Verified Reviewer

Overall Experience:

The ladder is very heavy and clumsy to work with. It does not extend like shown on TV. The ones shown must be worked on to make using them easy to extend. Extending the ladder is very hard and clumsy. I would not recommend this type of ladder for home use, better ones are arable at a lower price.

Bottom Line: No, I would not recommend this to a friend

---

Advertisement

---

Ladder warranty

By Mario V.

,

Detroit, MI

,

Jun 26, 2018
Verified Reviewer

Overall Experience:

I purchase one of the 17-foot Little Giant ladders a little over a year ago. After using this for the second time, the hinge lock on one side would not engage or release. I contacted Little Giant warranty department and left a message with no reply. I called again and left another message. Not only is the ladder un-usable due to the danger of collapsing when extended out but, I purchased this to be used for my daily work. I will never purchase anything from Little Giant and definitely tell anyone I know to not purchase this brand either. Needless to say, I cut the ladder up and it is now at the scrap yard. What a waste.

I try to purchase quality tools and equipment since my livelihood depends on it daily, time to look for another brand that actually stands behind their product and is proud to do it.

Bottom Line: No, I would not recommend this to a friend

---

Overall Experience:

Anyone considering ANY Little Giant ladder product, including the Extreme, you probably should be aware of some hard-learned realities. First, the "Lifetime Warranty" has so many caveats that it is a joke. I have several that had pretty normal failures, and not one was warrantied, so be warned.

Secondly, customer service only comes from their lips, not real in other words. They shut down an important job by not following through on a promised overnight shipment of parts. Follow up call to customer service took over 20 minutes and I still could not speak to anyone. Hear the echo?

Finally, if you never have an issue, great. However, there are alternatives that are rated the same and are 1/2 or 1/3 the price. Give them a look before you gamble with a Little Giant product. As a business that relies on ladders for our business, I can assure you that we will never buy another Little Giant product! The alternatives are there and rated the same. I don't know about their customer service, but it certainly can be no worse than Little Giant! You have been warned.

Bottom Line: No, I would not recommend this to a friend

---

Advertisement

---

Overall Experience:

TOO HEAVY, no way is this light enough for most women (my wife can barely lift it). It works ok but no better than any other ladder from HD or Lowes. I'm not impressed but will use it. Best feature is height adjustment levers and leveling feet.

Bottom Line: No, I would not recommend this to a friend

---

Best ladder!

By Jimmy Moore

,

California

,

Sep 1, 2017
Verified Reviewer

Overall Experience:

I am a home inspector, and I purchased my Little Giant Xtreme about five years ago. I use it practically every day, 313 home inspections in 2016 alone. I would say I have put this ladder through a lot. I highly recommend this ladder and will purchase another. That is if this one ever needs replacing.

Bottom Line: Yes, I would recommend this to a friend

---

Dangerous ladder

By George Riedl

,

Los Lunas, NM

,

Jul 4, 2017
Verified Reviewer

Overall Experience:

I had the ladder on the side of the house. I was on the ladder about 6-7 feet up when it slid off the house with me on it. I landed on the concrete sidewalk, hit my head pretty hard, scraped up my arm and fractures my foot (yep broke it). I have been in a boot for six weeks not and have a long way before it heals. My hip was pretty well bruised; black, blue, red, and purple.

I, in good faith, can't recommend this ladder to anyone. I had a metal ladder for 11 years, and this has never happened, not one fall. Therefore, I can't encourage anyone to purchase one of this ladders.

Bottom Line: No, I would not recommend this to a friend

---

Little Giant warranty sucks

Overall Experience:

I bought a Little Giant Ladder some years back and noticed recently that the rung at the top of the "A-frame" is "twisted." I have used this ladder maybe 12 times in the 20+ years I've owned it. I noticed that after having it fully extended the rung is twisted.

Here was the response the company:

"Just like other Warranties worldwide, we cannot cover wear and tear, misuse, or abuse of the ladder." What a sleazy way to get out of honoring your product."

I'll never recommend this ladder again, having been a multiple purchaser. Better off going to Harbor Freight.

Bottom Line: No, I would not recommend this to a friend

---

Little Giant Fan

By EB

,

Oklahoma

,

Nov 16, 2016
Verified Reviewer

Overall Experience:

I own three, for jobs at varying locations and because I hate to ever be without one. In my opinion, all the hype and salesmanship is justified. These are indeed lifetime assets and I've yet to damage one save for splattered paint.

They are as safe as claimed and I don't find the weight a distraction. My only problem is remembering how to use all the various setups and combination of uses. I own every attachment and am similarly happy with them. I do NOT believe it is over priced. I am completely satisfied.

Bottom Line: Yes, I would recommend this to a friend

---

Excellent!

By Sue Rarick

,

Pennsylvania

,

Oct 31, 2016
Verified Reviewer

Overall Experience:

Earlier this year, my boyfriend investigated this ladder and its reviews. He ordered and received it on time. No problems with online purchasing. After completing several home project, his review of the product is that the product is excellent and does everything it claims and is easily adjustable to work difficult jobs.

Wheels and ratchet levers are a "must have." He felt balanced and secure with hard to reach jobs. Weight is definitely heavier but that's the difference in older wooden ladders. I still have my old ones, but i don't ever use them.

Little Giant is well worth my money! I don't have my boyfriend's order number to confirm this review, but I'm legit.

Bottom Line: Yes, I would recommend this to a friend

---

Little Giant Extreme

By David A Harris

,

Pleasant Valley, New York

,

Jun 21, 2016
Verified Reviewer

Overall Experience:

As a retired electrician, general contractor and homeowner fo 40+ years, I've used a few ladders. A couple of years ago I purchased a 22 foot Little Giant Extreme. While as a step ladder it's use seems to be functional, I strongly urge anyone considering a purchase of this ladder to be used a straight ladder, to do so with Extreme Caution. This ladder, extended to 14 feet, leaning against the gable end of my garage, is flexing, in the middle, with no one standing on the ladder.

This ladder is said to be rated at 300 lbs.

About a year ago, the Extreme flexing nature of this ladder,contributed to a fall which dislocated my right shoulder.

Over 40+ years, I have used many extension ladders, and none have ever flexed while climbing or working from them.

Bottom Line: No, I would not recommend this to a friend

---