LiveWave Antenna
Claimed This company has claimed this profile, is getting alerted on any new customer reviews entering this page, and may engage in dialogue with its customers to address their matters.

Companies cannot pay money or provide goods in order to remove or alter customer reviews.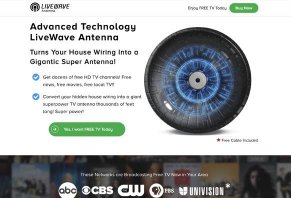 LiveWave is a unique TV antenna that claims to harness the power of your home's electrical system to create a power antenna thousands of feet long.
LiveWave Antenna Review
LiveWave Antenna is an HD television antenna that plugs directly into your wall and has the ability to transmit multiple local stations in your area.
The antenna's unique shape is what makes it quite different than competing antennas that tend to be square and feature telescoping metal receptors.
The company selling LiveWave is Swell Ecomm Enterprises, a fact that we found while skimming the terms-and-conditions fine print. The company also sells MindInsole, a series of foot care products that focus on compression therapy and dynamic shoe insoles. Both the LiveWave and MindInsole are As Seen on TV products.
If you've seen this antenna on TV or via online ads, you're probably excited about the fact that you get a uniquely shaped antenna that, according to its website, can "convert your hidden house wiring into a giant superpower TV antenna thousands of feet long. Super power!"
How the LiveWave Antenna Works
We've researched dozens of TV antennas and nearly all of them claim exactly what this one does: to bring you HD channels for free. Basically, you put the antenna in your outlet and then connect the coaxial cable that comes with your order into your TV and the antenna.
After this, search your TV's setting for the auto-scan feature, activate it and wait a few minutes while your TV uses the antenna to search and store local TV stations. Once the scan is complete, you can watch TV.
What makes LiveWave different from the typical HD antennas we've seen is that they say you can turn your home's electrical system into a giant antenna by plugging this antenna in your home.
We called around to about a dozen TV installation businesses across the country and a Best Buy in Jacksonville, FL. Some of the people with whom we spoke said they've never heard of a plug-in antenna that turns your home's wiring system into a giant antenna.
One shop owner we spoke with – an antenna installer in Central Florida – said it's possible to use your home's ground system as an antenna but that he's never seen an antenna do it. He told us you run the risk of electrical complications and that he wouldn't install it in his home.
LiveWave contradicts this claim by saying that their antenna "never interferes with your electrical power and is impossible to cause a shock hazard."
We believe that this conflicting information indicates that the jury is still about regarding the LiveWave's ability to turn your home's wiring system into an antenna.
Now, that being said, we want to point out that HD antennas are only able to provide your TV with local free channels. They cannot capture premium channels like HBO, ESPN, Bravo and other channels you'd have to pay extra for in a cable package.
Also, how well your antenna works has a lot to do with where your home is located in relation to TV towers and obstacles like trees, buildings, and walls that could impede the TV signal coming into your home.
One other factor to consider is that TV antennas are tuned to very specific frequencies that allow you to get local TV stations. One expert with whom we spoke who chose to remain anonymous said that one potential drawback of the LiveWave is that the electrical wires your antenna connects to aren't tuned for TV stations. Therefore, this method of turning your home's wiring into a giant antenna may not work as well as you hope.
LiveWave Antenna Pricing and Return Policy
At the time of writing, you had several options for buying a LiveWave antenna. Your main options are to buy one antenna at $39.95 + $8.95 S&H or to buy multiple antennas that become cheaper with free shipping as you buy more at once:
Two antennas: $73.75
Three antennas: $92.19
Four antennas: $110.63
Five antennas: $132.14
In addition to buying an antenna or antennas, you can choose to purchase a lifetime warranty for $10. The fine print says that the warranty covers your antenna if it has defects in materials or workmanship. If the antenna just stops working one day, then, in theory, you can make a warranty claim.
However, if you spill water on the antenna or break the device through an accident or negligence, it won't be covered.
"Damages due to improper care or accident may be repaired at a reasonable rate and a fee will be charged for return shipping," the fine print notes.
Basically, if you want to make a claim, you have to send the antenna back and the company processing the claim will inspect your LiveWave and determine if you're eligible for a refund or exchange.
In our opinion, purchasing the extended warranty is a bit of a gamble because you won't know if your warranty claim is approved until the company tells you it is. If they deny your claim, you lose out on the money you paid for shipping, which will most likely cost around $5.
As for returns, you have limited options. You won't get a refund because the product is sold as-is. However, you have 30 days to request an exchange or store credit in order to get a new antenna. To start the return, you'll need to email support@getlivewaveantenna.com.
How LiveWave Antenna Compares to Other TV Antennas
To give you a sense of how this antenna's pricing and features compare to popular HD antennas, we went to Amazon to find out which HD antennas got the highest ratings from consumers.
What we found is that there were several different antennas that were cheaper than LiveWave. However, none of them claimed to turn your home's electrical system into an antenna:
U MUST Have Amplified HD Digital TV Antenna: $27.95, 4.7 stars from 6,053 reviews
LotusBe Amplified HD Digital TV Antenna: $24.99, 4.4 stars from 270 reviews
Both of these antennas received excellent reviews from customers and both are significantly cheaper than the LiveWave. Also, we noticed that both of these antennas are amplified, which means you can plug them in and boost their range to more than 35 miles.
If you live in a rural area where the closest TV towers are more than 35 miles away, this can be a big benefit.
In general, we'd say that the two antennas on Amazon present better value because they're more than $10 cheaper and, unlike the LiveWave, their technology is traditional and widely understood to work well if you cut down on the obstacles between your antenna and the HD signals you're trying to capture.
There's a chance that the LiveWave could work better because of its claim to use your whole house as an antenna but we don't feel comfortable backing that claim based on what various experts told us during our research of this antenna.
The Bottom Line: Is the LiveWave Antenna a Good Choice?
This device is intriguing because of the antenna power it claims to harness simply by plugging it into a wall outlet and then connecting it to your TV.
What's missing from the product's website, though, is details about the antenna's range and further explanation as to how it harnesses your home's electrical wires to create a massive antenna.
Because vital information about how the antenna works and because its price tag is higher than competing antennas, we think that there's a certain amount of risk involved in buying the antenna. If you're comfortable with that risk, this may be a good fit.
However, if you're looking for an antenna based on widespread technology that costs less than $25, we believe there are plenty of viable options on Amazon and at Target and Walmart.
---
Waited over a month to receive this product, it doesn't work.

By Stuart Y.

,

Manchester, United Kingdom

,

Mar 17, 2020
Verified Reviewer

Overall Experience:

Waited over a month to receive this product but it doesn't work. I tried different TVs in different parts of the house and it doesn't scan any channels. I paid over £100 for a product that doesn't work. I would like a refund but the product doesn't come with a return address, how convenient that I have been scammed out of over £100 and I will be reporting this to trading standards.

Bottom Line: No, I would not recommend this to a friend

---

LiveWave Antenna scam

By Janeth B.

,

Florida

,

Mar 16, 2020
Verified Reviewer

Overall Experience:

This company, LiveWave, is a complete scam. First of all, the product does not work, you cannot get any reception, any channels. If you do, they disappear the next time you turn on your TV.

I returned the product to their warehouse location in NJ. After several months and phone calls, I made them state they did receive the product and that they refunded my money to the card charge, which is not true. They blame my bank for not processing the receiving of funds. It has been three months since I returned their product and am still waiting for my refund. Although they continue to state that the refund was already processed. I have spoken to my bank about this several times and my bank has never received any refunds from them. This is a complete scam! Their phone number is (855) 282-8073. I recently learned that they also operate from the Philippines. Do not get scammed by them. It has been 3 months since I returned their product to their location in NJ and I still did not get a refund. I hate even giving them 1 star as it is the only option here. I would rather give them a negative star for the crooks that they are.

Bottom Line: No, I would not recommend this to a friend

---

Terrible company, poor business service

By Delia W.

,

Des Moines, IA

,

Feb 19, 2020
Verified Reviewer

Overall Experience:

I ordered 3 antennas and two amps. They messed up the order in the beginning. I contacted them and said I didn't want 4 antennas. I originally ordered the first of December and it's now February 17th and nothing has come despite several calls. Customer service messed up my order twice. They still do not have the product. The supervisor named "Audrey" said when a product is ordered online that they can take your payment and not have the product. That's what makes me so angry. They said the update from the warehouse dated Feb. 4th said they were still out of stock. How can they accept payment for something they don't have and don't know when they will get it in? I would think that there is some kind of law against that. Today customer service offered me 20% off my order. But I would have to still wait an uncertain amount of time. I asked for a full refund after all this time. I don't know how they can run a business so shady like that.

Bottom Line: No, I would not recommend this to a friend

Mar 9, 2020

Hi Delia. We're sorry to hear about this feedback. We'd like to express our sincerest apologies for the inconvenience this has caused you. Please note that we take your comments and opinions seriously as they would certainly help us improve our overall services.

---

It's a rip off

By Nancy N.

,

Andover, KS

,

Jan 18, 2020
Verified Reviewer

Overall Experience:

It doesn't work any better than a regular TV antenna. It only took 6 months to get the original 2 antennas and 2 amplifiers I ordered. Ended up with 5 or 6 extra antennas which I was charged for. When attempting to find out why I never got my refund I was told it could take 8 weeks but it was already 3 months. I just gave up, lesson learned, buy local.

Bottom Line: No, I would not recommend this to a friend

Feb 8, 2020

Hi Nancy! We are sorry to hear that the antenna did not work for you. We'll definitely take this into account as your comments are important to us. For your information, the Digital HDTV Receiver uses the electrical wiring in your home to receive digital signals from broadcast towers in your area - turning your entire home or building into one large antenna. The number of channels you can receive depends on your distance, location, and environment in relation to your nearest broadcast tower. If you find the product unsatisfactory, we do have a 30-day Money Back Guarantee which entitles you to a full refund as long as the product is returned to us on its original condition within 30 days from the time of delivery. Thank you!

---

Advertisement

---

Doesn't work in the UK

By Kim F.

,

Dorset, United Kingdom

,

Dec 19, 2019
Verified Reviewer

Overall Experience:

I purchased this and tried it on all the TV's in the house and it did nothing. My friend also purchased one and could not get it to work so got in a TV engineer out who told him this would never work on any TV in the UK and was a waste of money. He is trying to return it. I contacted to return for a refund. Had a message back offering me a discount to keep. I responded and have yet to have a reply.

I would not trust this company and the product is a waste of money.

Bottom Line: No, I would not recommend this to a friend

Dec 21, 2019

Hello, Kim! We're very sorry to hear about this feedback. We are taking all of them into account. We are happy to follow up on your concern if it has not been resolved via email yet.

---

Couldn't connect

By Kenneth B.

,

Lancashire, United Kingdom

,

Dec 16, 2019
Verified Reviewer

Overall Experience:

The connectors on the cable ends aren't threaded so they couldn't be screwed onto the actual antenna or the back of my TV, so I can't say if it works for not. I have emailed the customer support to yell at them and claim a refund, and await their response.

Bottom Line: No, I would not recommend this to a friend

Dec 21, 2019

Hello, Kenneth. We're very sorry to hear about this feedback. We are taking all of them into account. We are happy to follow up on your concern if it has not been resolved via email yet.

---

This product and their customer service is deplorable, multiple conversations, no resolution, refusal to refund purchases

By Susie T.

,

Dade City, FL

,

Dec 4, 2019
Verified Reviewer

Overall Experience:

I purchased for a senior friend of mine. I had problems with it from the very beginning. They kept saying use the amplifier. I received the antenna, I never received the amplifier. I was charged for both on my credit card. After multiple contacts and another contact, I was told they had no record of me even contacting you and the warranty was 30 days and therefore I was just out of luck. So I am out over $80, my 87-year-old neighbor will not have any TV as promised because the little antenna that is supposed to make your house and antenna brought into channels after being represented that there were 260 available. Beware, it is not what it is said to be. Those folks who have good luck or either sitting right on top of a transmission area or they're getting a kickback from the people selling this product.

Bottom Line: No, I would not recommend this to a friend

Dec 21, 2019

Hello, Susie. We're very sorry to hear about this. Please know that we are taking your feedback into account. If the 30-day timeframe for return is already exceeded, we do offer discounts to at least make it up for any inconvenience it caused you. You may respond to the email previously sent so this can be further discussed and hopefully, straightened out.

---

Poor reception

By Larry C.

,

Greensboro, NC

,

Nov 22, 2019
Verified Reviewer

Overall Experience:

I would not have bought this product if I had been able to test it prior to purchase. It does not perform as advertised. When advertising a product such as this, potential customers need to be made aware that there is always the possibility of failure. Such is the case here. To my knowledge, there was no mention of this fact.

Bottom Line: No, I would not recommend this to a friend

Nov 25, 2019

Hello, Larry! We are sorry to hear about your feedback. We'll definitely take this into account as your comments are important to us. For your information, the Digital HDTV Receiver uses the electrical wiring in your home to receive digital signals from broadcast towers in your area - turning your entire home or building into one large antenna. The number of channels you can receive depends on your distance, location, and environment in relation to your nearest broadcast tower. If you find the product unsatisfactory, we do have a 30-day Money Back Guarantee which entitles you to a full refund as long as the product is returned to us on its original condition within 30 days from the time of delivery. Thank you!

---

Does not work

By Peter B.

,

Cornwall, United Kingdom

,

Nov 19, 2019
Verified Reviewer

Overall Experience:

This item is absolute rubbish. I have tried to get it to work on three television sets without success. I am pretty savvy when it comes to technology as I have most of the plugs in my household connected with smart plugs.

Bottom Line: No, I would not recommend this to a friend

Nov 25, 2019

Hello Peter. We are sorry to hear that the antenna did not meet your expectations. The Digital HDTV Receiver uses the electrical wiring in your home to receive digital signals from broadcast towers in your area - turning your entire home or building into one large antenna. The number of channels you can receive depends on your distance, location, and environment in relation to your nearest broadcast tower. If you find the product unsatisfactory, we do have a 30-day Money Back Guarantee which entitles you to a full refund as long as the product is returned to us on its original condition within 30 days from the time of delivery. Thank you!

---

LiveWave ripoff

By Robert W.

,

Coventry, England

,

Nov 13, 2019
Verified Reviewer

Overall Experience:

I ordered three for £73; one for me, one for son, one for son-in-law. All three are no good. Did not try get a refund. I cut one in half - empty. This is a 100% con, you don't even get free channels. I will just take the loss, but don't buy this.

Bottom Line: No, I would not recommend this to a friend

Nov 15, 2019

Hello, Robert. We are sorry to hear about this feedback. The Digital HDTV Receiver uses the electrical wiring in your home to receive digital signals from broadcast towers in your area - turning your entire home or building into one large antenna. The number of channels you can receive depends on your distance, location, and environment in relation to your nearest broadcast tower. If you find the product unsatisfactory, we do have a 30-day Money Back Guarantee which entitles you to a full refund as long as the product is returned to us on its original condition within 30 days from the time of delivery.

---

LiveWave Antenna

By Paul K.

,

United Kingdom

,

Nov 6, 2019
Verified Reviewer

Overall Experience:

This product is complete garbage. l bought two plus an amplifier, what a waste of money. Too good to be true, and as usual it isn't. None of the devices work, tell me how to get my money back before I take the matter further.

Bottom Line: No, I would not recommend this to a friend

Nov 8, 2019

Hello Paul. This is not the experience we want you to have with us. The Digital HDTV Receiver uses the electrical wiring in your home to receive digital signals from broadcast towers in your area - turning your entire home or building into one large antenna. The number of channels you can receive depends on your distance, location, and environment in relation to your nearest broadcast tower. If you find the product unsatisfactory, we do have a 30-day Money Back Guarantee which entitles you to a full refund as long as the product is returned to us on its original condition within 30 days from the time of delivery.

---