Lo-Bak TRAX Reviews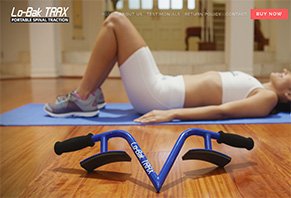 Lo-Bak TRAX is an FDA cleared traction device that claims to decompress your spine and provide relief from herniated discs, muscle spasms, and much more.
About Lo-Bak TRAX
If you're one of the estimated 70 million individuals who suffers from chronic back pain, the Lo-Bak TRAX portable spinal traction device promises to deliver "easy, comfortable, effective" relief. How?
In a nutshell, Lo-Bak TRAX acts as a type of lever that mechanically decompresses the spine and discs. And since we're told spinal compression is one of the most common causes of back pain, Lo-Bak TRAX claims to provide effective relief.
According to the company, Lo-Bak TRAX is an FDA cleared type I medical device for treating pain caused by spinal degenerative joint disease, herniated discs, muscle spasms, spinal stenosis, low back pain, and sciatica. On top of this, Lo-Bak TRAX's new design means it can also be used to stretch muscles, all in the comfort of your own home—and without waiting for a chiropractor session.
Whether it's sleeping at night, getting moving in the morning, or staying comfortable while at work, you know that chronic back pain can negatively impact every part of your day. But can a simple device like Lo-Bak TRAX really help you find some relief—and at the price of a typical copay? We'll explore all of the device's most important aspects here, so you can make a more informed decision.
How Does Lo-Bak TRAX Work?
Lo-Bak TRAX basically looks like a pair of bicycle handlebars with a deep "V" in the middle. Just to the inside and underneath of each padded grip, you'll find two curved, padded extensions.
According to the company, Lo-Bak TRAX can help you find relief in 3 easy steps:
Lie down on your back, which relieves spinal pressure and relaxes your back muscles.
Pull your feet up towards your body, keeping your soles flat on the ground. This works to flatten the curve in your lower back, which means you'll need less traction to stretch your spine.
Finally, place Lo-Bak TRAX between your legs with the pads resting on your upper quad muscle, and gently push. This decompresses the spine.
Compared to other devices, such as inversion tables, the manufacturer tells us that Lo-Bak TRAX provides "dual traction force," since your lower body is pushed towards your feet, while your upper body is pushed off the metal handles towards your head. As a result, they claim it'll deliver more effective results.
In addition, Lo-Bak TRAX can target your specific pain areas simply by changing your leg or wrist positions. You can even use it for stretching—and if you have hip or knee problems, Lo-Bak TRAX can work by propping your legs up on a couch or ottoman.
For more details, be sure to read through Lo-Bak TRAX's Instruction manual and watch their User guide video.
While this all sounds positive, are there any potential side effects from using Lo-Bak TRAX?
Possible Lo-Bak TRAX Side Effects & Contraindications
In their FAQ, the company claims it can take some time for you to figure our your ideal traction force, so you'll need to practice using it and try different postures to see what works best.
Whether it takes some time or starts working right out of the box, it's important to note that you might be sore after using Lo-Bak TRAX, especially within the first three weeks. As such, you'll want to start slow and easy.
With consistent use, however, we're told the device will stretch and relax the sensitive soft tissues surrounding and supporting your spine, potentially delivering pain relief. But is traction a common treatment for back pain? How effective is it?
What Causes Back Pain? Can Decompression/Traction Provide Relief?
As we outline in Winning the Battle Against Sciatica & Chronic Back Pain, like any other type of pain, back pain is a symptom and not an underlying condition. Instead, this pain can be caused by hundreds of different factors, although it's commonly due to degenerative disc disease, herniated discs, muscle spasms, and sciatica—all of which Lo-Bak TRAX is FDA cleared to treat.
Pro tip: Keep in mind that a class I medical device is the least regulated class by the FDA. In other words, this class of devices pose the least risk to consumers. Also, it's important to note that, while the commercial claimed the FDA has never seen anything like Lo-Bak TRAX before, an FDA clearance simply means it has been "determined to be substantially equivalent to another legally marketed device."
Whether using a device like Lo-Bak TRAX, a more traditional device such as an inversion table, or even manual adjustments at your chiropractor, traction works by stretching and straightening the spine, resulting in decreased pressure on the discs. As such, it might deliver non-surgical pain relief with few side effects.
However, like any other medical treatment, spinal traction isn't perfect, as it can make some pain worse (especially related to certain types of osteoporosis and cancer). Also, you might experience temporary muscle spasms after beginning your traction treatments.
While you'd likely pay anything to experience some relief from your back pain, will Lo-Bak TRAX's decompression cost you an arm and a leg?
How Much Does Lo-Bak TRAX Cost?
One Lo-Bak TRAX device is priced at $39.99 with free shipping.
The device comes in 2 different colors: platinum and blue.
All Lo-Bak TRAXs come with a 90-day refund policy, less S&H charges. In order to qualify, the device and all accessories and original packaging must be returned back in its normal state without damage, except for normal wear and tear. If the requirements are not meant, a refund will not be issued and everything will be sent back to you at your expense.
Your purchase will also come with a lifetime quality guarantee against breakage.
In order to process a refund or file a warranty claim, customer service can be reached at 855-656-2225.
What Are Customers Saying In Their Lo-Bak TRAX Reviews?
Since Lo-Bak TRAX was a newer product at the time of our research, there wasn't a whole lot of customer feedback.
However, we found 38 customer reviews on Amazon, where Lo-Bak TRAX had an average rating of 4.2 stars. Most compliments referenced improved pain and discomfort, without having to wait for chiropractor appointments or paying for physical therapy. Many also noted that it's built well with quality materials.
On the other hand, the most common complaints cited that Lo-Bak TRAX didn't deliver relief.
Lo-Bak TRAX also had a 4.7-star rating on QVC, based on 19 reviews. There, customers referenced many of the same compliments and complaints found on Amazon.
From a company perspective, Lo-Bak TRAX was invented and designed by Dr. Roland Berthiaume, a practicing chiropractor based out of Springfield, MA, who has over 20 years of experience in the field. Together with Thomas A. Valentine, "a Mechanical Engineer and President of one of the largest physical rehabilitation centers in Western New England," he formed NGC Industries.
Then, according to Lori Greiner (businesswoman and member of the Shark Tank cast), she was browsing her Twitter feed one day when one tweet that read, "say goodbye to low back pain" caught her eye. Because her father had recently stopped walking due to his back pain, she called up Roland and sent a Lo-Bak TRAX device to her father.
Despite his pessimism, Lori claims that after 2 weeks of using the device, her father's pain was diminished to the point where he was back to walking again. Lori even claims she uses it herself with similar results.
Admittedly, this is a great story. But does a celebrity endorsement mean you should place an order for Lo-Bak TRAX?
Is Lo-Bak TRAX the Right Solution For Your Back Pain?
Regardless of how excited you might be about Lo-Bak TRAX right now, we think it's vitally important that you speak with your physician prior to placing your order. After all, they can help you decide if it's a viable option based on your specific diagnosis.
If your doctor gives you the green light, however, we'd have a hard time thinking of a reason you shouldn't give Lo-Bak TRAX a shot at relieving your back pain. After all, it's fairly inexpensive (about the price of a standard copay), doesn't require a lot of time or know-how to use, and can be returned if you're not satisfied.
Given this, you might only be out a few bucks in S&H charges if Lo-Bak TRAX doesn't provide you with any relief. But if it does work—like it seems to have based on the mostly positive online customer reviews—it just might give you your pain-free life back.
OMG!

By Terilyn L.

,

Colorado Springs, CO

,

Nov 28, 2019
Verified Reviewer

I actually purchased the Lo-Bak TRAX at DOLLAR TREE for ONE SINGLE DOLLAR (plus tax) thinking, it's only a dollar...Now, I can see this TRAX CHANGING MY LIFE. IT...IS...AWESOME AND AMAZING. I have two jobs, one sitting all day and then, the other, standing the entire time. My back, low and high, since I was about 25, has giving me all sorts of pain and spasms. I used to have a sturdy friend of mine pick me up by the head, from a step or two above me, to get my back pain to a tolerable level; to quit spasming and hurting (worked better than a chiropractor). I haven't had that in years now, at 53. This tool is EVEN BETTER. BEST MONEY I'VE SPENT IN YEARS. THANK YOU.

Bottom Line: Yes, I would recommend this to a friend

---

Very good!

By Clay B.

,

Panama City, FL

,

Jun 11, 2019
Verified Reviewer

I have used Lo-Bak TRAX for several years now, and swear by it! I have had 2 ruptured disks in my back for 45 years, and am in my 60s now. This is the first thing that has helped me. Better than doctor prescribed stretches or chiropractor. I pack it when going out of town. It saves me from the effects of strange beds and changes of activities.

The equipment is well made, both the metal and the pads so no wear. I am thinking of buying a second one to keep beside my bed, instead of carrying it around with me.

Bottom Line: Yes, I would recommend this to a friend

---

Advertisement

---

Don't buy it

This machine is a killer. First I came down with a neck injury that I thought was just a fluke and now I have groin strain from using this thing. I tossed in the garbage as I feel this machine is the cause of both of both injuries as I never got the injury until using this machine.

I wouldn't give it one star if I could.

Be aware.

Bottom Line: No, I would not recommend this to a friend

---

So far I like it

By John Johnston

,

Overland Park, KS

,

Jan 7, 2018
Verified Reviewer

I have very bad disc degeneration, and it started about 8 years ago (I am only 60). I had to stop working because my back just could not handle working a full day. First I went to half days, then I finally got to where I had to go on disability (which I feel guilty for having to do that, but I guess that is what I have paid taxes for many years). Plus I really miss work. I loved my last job I had and was heartbroken when I had to walk away from it.

Well anyway, I have had four back surgeries and so many shots in my spine I can't even count them anymore. The pain is excruciating. It takes very strong pain pills to touch the pain. The last one I was on was Dilaudid, but it had so many side effects it about killed me. It really sucks, as I am sure you know if you are reading this, to be in constant chronic pain. I use a cart in the grocery store to get one item just so I can lay over the handle of the cart to help the pain.

So I decided to get one of these and give it a try. I have used it for about a week and have been slowly increasing the use and number of reps through the week. Well, today I had the lowest pain through the day that I have had in years. I will continue to use it and see if it was a fluke or if it is helping. I do know that when I lay down on the bed and use it a few reps and then stop, I can just lay there and until I get up, it feels like heaven. I have NO pain if I lay on the bed and not move for a while after using it. If that is the only relief I get, it is worth it. Because that time after my stretching feels SOOOOO good.

So I am hopeful that if I continue with it, things will continue to improve. One problem I have is when you start using it you might be using some muscles that have not been used like that in a long time, or ever. So I don't know the technical names for body parts, but I am sore in the mid-chest and mid sides from pushing just because those muscles on me are out of shape but the longer I use it, the stronger those muscles should get. So just watch that and maybe start a little slower then I did to build up those muscles that are not used to that movement of pushing like that.

And last, and I hope I don't get in trouble for saying this, but I ordered mine off of eBay direct from China, and it cost me $15.00 including postage. Like I say, I live on disability and watching my money is very important. It is the exact same product, but you don't get the CD, but you can go to YouTube for that. So it is well worth the $15.00 I spent on it.

Good luck with yours. It is worth it.

Bottom Line: Yes, I would recommend this to a friend

---

Advertisement

---

It works perfect for me and my condition

I compressed fractured my L¹, L² and had to have two rods put in my back. My lower back has hurt every day for four years. I've lost a lot of muscle down there and always favor. I get pinched nerves in my upper back every week or two due to my lower back.

I have been using the Lo-Bak TRAX for one week and literally I can feel the difference. My back lasts longer throughout the day, and it cracks my lower back, which scared me and felt really weird. But honestly, when I stood up I felt taller and a lot of relief. I think it will end up being a lifesaver to me because I'm 37 years old and sometimes find it hard to get up after lying down for some time and I cannot play with my 4-year-old and one-year-old for long.

If it's helping after one week, I can't wait until one year after using it. And I never have written in a forum before, especially to give credit to a product, so trust me, it does what it is supposed to do.

Bottom Line: Yes, I would recommend this to a friend

---

After only four days, my back feels better

We were doing our Christmas shopping and my back was killing me. I have had pain in lower back for over twenty years. I use to use inversion bed for relief, took shots, pain relievers, went to the chiropractor, and also worked on stretching exercises. I can't use inversion bed after double knee replacement surgery, so I was looking for other options. I saw this device at WalMart, read some reviews online and decided, "what do I have to lose?"

I have used it for the last four days and after the first day, I started feeling relief. By day four, I am walking straighter and no pain in the back. You look at this simple device and your mind can't understand how this can help your back, but it does. Well worth the money.

Bottom Line: Yes, I would recommend this to a friend

---

Help for tight muscles

I have had degenerative disc disease for 14 years and have suffered from low back pain. I have tried physical therapy, which was great, and I faithfully do my core exercises. I have also done chiropractic, trigger point injections, etc. I tried Lo-Back TRAX as I don't have tome to be going to chiropractic. This device has worked really well to increase flexibility in my lower spine, maintain alignment and allow my tired muscles to stretch and relax along with deep breathing. I would highly recommend it.

Bottom Line: Yes, I would recommend this to a friend

---

Works great

By Brian Keefe

,

Wappingers Falls, NY

,

Nov 4, 2017
Verified Reviewer

My wife bought this for herself and suggested I try it, being I've had lower back pain and was going to the chiropractor. I tried it once, and I could tell you it has worked (for me). Everybody's situation is different. I'm going to continue to use it and hopefully, the pain I have in my knee will subside as well. I will keep you posted. My wife bought the product at an As Seen On TV store.

Bottom Line: Yes, I would recommend this to a friend

---

Definitely works but one flaw

I have used it a few days, and it actually does work! I wanted to contact the developer about the design, particularly the pointed steel tubing, which is dangerous. Why not round it off? You could do some serious damage with this thing, don't leave it laying around with little kids in the house. But it works, you can feel your back relax and decompress.

Bottom Line: Yes, I would recommend this to a friend

---

I could not use the product. I sent it back but have not received a refund!

By Nancy Palmer

,

Marshall, TX

,

Oct 21, 2017
Verified Reviewer

I could not use the product. It did not help me. I was sent a mailing address label and mailed it back but have not received my refund.

If I do not get my refund what does that say about this company?

I have nothing good to report about this product because it did absolutely nothing for me. Maybe some other people that are not really elderly can use this product.

Bottom Line: No, I would not recommend this to a friend

---

Best $40 I ever spend. After 1 week usage see a great change in pain relief.

Casper, WY

,

Oct 20, 2017
Verified Reviewer

I just purchased the device less than a week ago. I have had years of low back pain and sclerosis of the spine. As a child, I had to do low back exercises in a full body corset. I saw the commercial, and it really reminded me of my exercises back then.

So since I started exercising with Lo-Bak TRAX, I have stopped taking Aleve for the pain, no more creams, heating pads at night or sprays. In as little as a week, I went from agonizing pain, walking not straight, having trouble walking to walking much better, very little pain (and it's been only a week), being more productive at work and simply put, my quality of life has improved greatly.

Thank you from the bottom of my heart for giving me my life back. I bought Lo-Bak at Walmart; the best $39.95 spent in my life.

Bottom Line: Yes, I would recommend this to a friend

---