Loanpal Reviews
Claimed This company has claimed this profile, is getting alerted on any new customer reviews entering this page, and may engage in dialogue with its customers to address their matters.

Companies cannot pay money or provide goods in order to remove or alter customer reviews.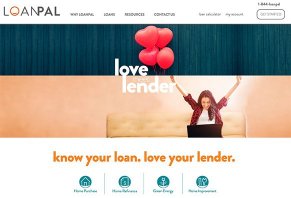 Loanpal provides for different loans specific to homeowners: mortgages, refinancing, solar and home improvement. The site touts a simple loan application process and even faster pre-qualifications.
About Loanpal
Loanpal is a lending website that provides four loans for homeowners: home purchase, home refinance, solar and home improvement home equity lines-of-credit.
The company behind Loanpal is Paramount Equity Mortgage; they're the ones who fund the loan you apply for on Loanpal. Paramount is based in Roseville, CA, and, according to the site, they've funded more than $25 billion in the past 15 years.
Loanpal's founders are Hayes Barnard (current chairman), Matt Dawson (COO) and Jason Walker (CRO). Barnard's resume is impressive; it includes positions at Oracle and SolarCity. He also started two companies, Paramount Solar and Paramount Equity Insurance, that he eventually sold.
Based on our research of the minds behind Loanpal, we believe there's enough expertise there to lend credibility to the company.
However, choosing the right lender to fund your mortgage, refinance, solar or home improvement purchase is more than just finding the company with the best founders. It's about understanding what the various loans offer, knowing what the company's guarantees and fine print say and finding out what other consumers are saying about their experiences.
In our review, we'll cover each of those areas through in-depth research.
A Quick Word About Mortgages
A mortgage is a loan that a lender gives you to buy a home. You "own" the home but the lender has the title, which is a legal document that says the house is technically theirs until you pay off your mortgage.
So, if for some reason you stop making payments, the lender can foreclose on your home – they can take it – because they've got the title.
Mortgage applications are very in-depth and will most likely be the most intrusive financial decision you'll ever make. Thankfully, sites like Loanpal make the initial steps of your application simple via their online process.
According to their site, it takes all of three minutes to get the information they need to give you a rough estimate of how much you can borrow and at which rates.
The Types of Loans that Loanpal Offers
When you head to Loanpal, you'll need to realize that they've got several options for mortgages and refinancing. As a borrower, it's important for you to know the differences.
Loanpal Mortgages
There are many different types of mortgages available because there are many different types of homes and borrowers. Here's a quick list of what you can expect form Loanpal:
Conventional: General mortgage with fixed or variable rates designed for the average person
VA loan: Mortgage for veterans with a low or no down payment
FHA loan: Loans with 3.5% down and strict requirements for condition of home
Jumbo loan: For homes that cost more than $453,100
These are the various types of loans that you could be eligible for but you won't know which one you'll get until you get a loan estimate from Loanpal, who will determine the best loan for your particular situation.
Keep in mind that you'll also be eligible for various types of interest rates. The two main categories are fixed-rate and variable-rate.
Fixed-rate loans have one interest rate you'll pay over the life of the loan. Based on your own particular financial situation and Loanpal's application process, you could get a loan ranging from 10 to 30 years.
Variable rate loans, on the other hand, start out with a fixed rate but after a certain number of years switch to a rate that rises and falls with the "prime" rate. Your Loanpal interest rate, according to the fine print, will be whatever the prime rate is plus 2.75%.
Loanpal Refinancing
Refinancing is a tool that many consumers use to lower their monthly payments by renegotiating the remaining balance on their mortgage to take place over a certain amount of time at an interest rate that's usually lower than what they're currently paying.
This option is something that's popular when mortgage rates go down and are lower than the rates borrowers received when they first obtained their mortgage.
Loanpal Solar Loans
Loanpal works with solar companies to provide funding for homeowners who want to install solar panels on their homes.
To get connected with a solar installer, you fill out a quick information form through the Loanpal website. Solar companies they partner with will contact you then work with you to come up a quote for what you need.
Once you've decided which company you'll use and accept the quote, Loanpal funds the loan.
According to their website, loans go up to $100,000 and, in some cases, don't require a down payment.
Loanpal Home Improvement Loans
These loans are what's known as home equity line-of-credit loans, or "HELOC's". These loans are typically given to people whose remaining mortgage balance is 80% or less of their home's value.
Basically, if you're eligible for a Loanpal HELOC, you'll be approved for line-of-credit, which works like a credit card.
You can use some or all of the loan's limit during what's known as the draw period. Once you withdraw money, you'll be responsible for monthly payments on the amount you borrowed. In most cases, these payments will be lower during your draw period because, in many cases, you're only paying interest.
Once the draw period ends, you'll enter repayment and your monthly payments will include principal and interest, which is usually much higher than interest-only payments.
For consumers who meet Loanpal's requirements for a HELOC, the money can be put toward home improvements that will, in theory, further increase the value of your home.
Loanpal's Guarantees
The lender offers a trio of guarantees they call the "Peace of Mind Promise", which pertain only to Loanpal's mortgages:
Better rate: $1,000 if another site offers better rates
Secure closing: $1,000 if terms and rate is different than what's quoted at closing
Lifetime rewards: Repeat customers get rate discounts and no out-of-pocket expenses for refis
We read through the fine print and found that there are some exceptions to these guarantees.
First, you only get the better-rate guarantee if you can show a loan estimate from the competing company for the same loan product given on the same day.
This one can be tricky because different loan officers may use different types of mortgages to get you approved. And, if the type of mortgage they get you is different than what Loanplus offers, it won't count.
Also, they note that you won't get the secure closing guarantee if any of the following happens after your rate and terms are set:
They find debt you didn't report
Your income changes during closing
Appraisal comes in low
You change the terms of your loan
Loanpal's Consumer Reviews
The majority of LoanPal's consumer reviews can be found on Zillow, LendingTree and the company's Better Business Bureau page.
These three sites are important because they give you the perspective of people who've dealt with the company in three different ways: through a loan aggregate site (LendingTree), a home buy/sell site and a business ratings site.
Across all three of these platforms, the business fares well with its customers. The average ratings are excellent. Many customers were grateful for the way that Loanpal worked on their behalf to get a loan and there were several recent comments that complimented the friendliness and professionalism of their loan officer.
Negative reviews focused on repeated requests for the same paperwork, and rates and terms that changed over the course of the loan application.
The positive and negative reviews we read were similar to what you'd find for most lenders.
Our Final Thoughts About Loanpal
Based on our research, we believe than Loanpal offers homeowners and future homeowners a seamless way to apply for a mortgage. They don't contain much information on their website, which can be a relief for those who are easily overwhelmed by complex language about mortgages.
However, in our opinion, that simplicity is also the site's greatest weakness. Because a mortgage or a refinance is such a huge investment, it's really important to understand what type of loan you're getting, which loans may be the best fit for you and which ones won't work.
So, our advice is that, when you get a loan estimate from Loanpal, take an hour or two to read over it and to research the type of loan you're getting. At the same time, you'll want to get loan estimates from one or two other lenders so that you can compare what you're being offered.
Note any differences as to the type of loan the lender is giving you as well as the difference in the various fees that you'll be charged.
In our opinion, Loanpal is a great site for someone who either is really familiar with mortgages and refinancing and doesn't need a lot of information, or for the person who is willing to put in the time to thoroughly understand the type of loan Loanpal is offering them.
Customer service

By Debby P.

,

Glendale, AZ

,

Mar 7, 2020
Verified Reviewer

I paid off a solar UCC almost three months ago and they have not released the lien yet. That is ridiculous to say the least. They had their money wired to them. When I called customer service they, of course, could not help and told me I had to email the release department. When I got the canned auto-response it said it would take them up to 7 days to get back to me. Now this home has a clouded title because of their lack of duty to release a lien in a timely manner.

Bottom Line: No, I would not recommend this to a friend

---

Do not refinance with Loanpal!

By Kathleen C.

,

New Jersey

,

Sep 20, 2019
Verified Reviewer

I just refinanced with this company. I wish I had stayed with my bank - this company totally screwed me. I had to pay over $13,000 and they made this change at the last minute with some BS as to why. Michael Tennant was the loan officer - I tried to cancel and he said oh no, this is the perfect loan for you. Right! Now, I have lots more debt and a little lower mortgage payment. I can't believe that there is nothing you can do once you close and you have been totally screwed.

Bottom Line: No, I would not recommend this to a friend

---

Advertisement

---

Bait and switch

By Joni H.

,

Reseda, CA

,

Sep 13, 2019
Verified Reviewer

Loanpal is easy to work with until after your loan closes. Then, they really could not care any less about you. My loan was transferred to a HORRIBLE company before I even made one payment. I called and called, trying to talk to ANYONE who could help, but to no avail. They just don't care what happens to you after they get what they want. You are lucky if they return your calls or emails, but none of that helped anyway. I begged to have my loan serviced by a reputable company, but they didn't care at all. I should have listened to the inner voice that told me to run far away from them when the entire process started.

Bottom Line: No, I would not recommend this to a friend

---

Kenny Nguyen is OUTSTANDING and TOP NOTCH

Our experience in working with Kenny was awesome. From the first call we received from him, he was thorough in explaining how we could benefit in getting great rates. From there he set out in doing just that. He kept us informed on every step of the process both by email and by telephone. We will definitely recommend Kenny to others.

Thank you, Kenny, for taking excellent care of us and for your extraordinary customer service.

Bottom Line: Yes, I would recommend this to a friend

---

Advertisement

---

Excellent customer service

By Dean L.

,

Mesa, AZ

,

Aug 20, 2019
Verified Reviewer

The advice and attention to detail from Jason Doby was first class! Would definitely refer Loanpal for refinancing. Jason walked me through every step of the way and followed up with every question I had. No big sales pressure.

Bottom Line: Yes, I would recommend this to a friend

---

Jason Doby is amazing!

By Lawrence R.

,

San Diego, CA

,

Aug 20, 2019
Verified Reviewer

Jason did a fantastic job on our refinance. I would absolutely recommend him to friends and family! The process was less than 30 days from start to finish. We were thrilled at the service he provided!

Bottom Line: Yes, I would recommend this to a friend

---

Thanks Kenny for making it easy!

By Mary R.

,

Ohio

,

Aug 20, 2019
Verified Reviewer

I want to thank Kenny Nguyen and Loanpal for showing me an option I had never considered to pay off my solar installation. Kenny walked me through every step of the process and answered every question I had, as well as some I didn't know I had. Everything except the final document signing was done online, which was incredibly convenient. This was the easiest mortgage refinance ever!

Bottom Line: Yes, I would recommend this to a friend

---

Good friendly service, Jason Dolby is the best

By Steve P.

,

Mount Gilead, OH

,

Aug 20, 2019
Verified Reviewer

Jason Dolby helped us through the whole process. Answered all our questions and guided us towards the right solutions for our family. And we have not had any issues since we completed the refinance/debts consolidating.

Bottom Line: Yes, I would recommend this to a friend

---

Great service

By Allan A.

,

California

,

Aug 20, 2019
Verified Reviewer

Jason Dolby was going thru with step by step what I needed to do in the whole process. Jason Dolby and his team made this whole process smooth and easy. I would recommend anybody to Loanpal and Jason Dolby. He also took the time to get to know me, Jason Dolby has great people skills.

Bottom Line: Yes, I would recommend this to a friend

---

Jason Doby

By Chanie G.

,

Colorado

,

Aug 20, 2019
Verified Reviewer

First, Jason Doby did a phenomenal job with my refinance loan. He was awesome at communicating. He was always professional and respectful. He touched base with me to help me load documents, to see if I had any questions. He is very friendly, communicative, honest, and respectable. I couldn't have asked for a better experience! Thank you Jason and Loanpal.

Bottom Line: Yes, I would recommend this to a friend

---

Happy customer

By Ruben J.

,

California

,

Aug 20, 2019
Verified Reviewer

Working with Loanpal was a wonderful experience. My loan officer "Jason Doby" made it very easy for me. He explained everything to me, and made it simple for me to understand. Thank you Jason.

Also thanks to Tawny Greenbaum.

Bottom Line: Yes, I would recommend this to a friend

---