loanDepot Reviews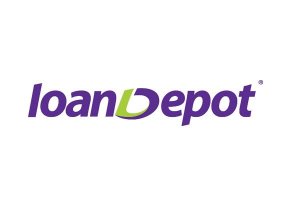 LoanDepot is an online and brick-and-mortar lender who specializes in providing mortgages and home loan refinancing. The company offers several different options for home loans and refis.
About loanDepot
loanDepot is a lending site specializing in home loans and mortgage refinancing. They offer five different types of mortgages with two different interest-rate structures.
What makes loanDepot an interesting choice for mortgages is that they've funded more than $100 billion since 2010, their site claims. Also, they have brick-and-mortar locations across the country at which you can meet with a loan officer face-to-face.
The company is based in California and was founded in 2010 by Anthony Hsieh, who has an extensive background in lending. He is a former CEO of LendingTree, HomeLoanCenter.com and LoansDirect.com, a mortgage company started in the late 90's that E*Trade bought.
loanDepot is by no means the only online lender who provides mortgages. Because of this, it's really important to be intentional about your search for the right home loan or mortgage refinance. Your search should factor in the types of loans that your lender offers as well as the level of customer service they provide.
The mortgage application process is extensive and invasive, so you want to be working with someone who responds to your calls and emails and who can provide up-to-date information. This is the aspect of buying a home that people often forget.
So, with these things in mind, our review is going to cover the types of mortgages that loanDepot offers, the reviews it gets from past customers and how loanDepot stacked up against the competition in J.D. Power's most recent mortgage originator customer satisfaction survey.
At the end of our review, we'll talk about the company's general pros and cons and who we think it's good for.
The Mortgages loanDepot Offers
As we mentioned earlier, loanDepot offers homebuyers four different types of mortgages: Jumbo, VA, FHA and conventional mortgages. These four mortgages serve four different purposes.
Jumbo
Jumbo loans, according to their site, are loans for homes that cost between $417,000 and $2 million.
VA
VA loans are loans that the Department of Veteran Affairs offers to members of the military (active, retired, reserve, National Guard) that offer helpful features such as no credit check and no down payment.
FHA
FHA loans are mortgages that come from the Federal Housing Administration. The government created these loans in order to make it easier for Americans to buy homes and, as a result, down payments are low (3.5%) and available to borrowers with credit scores as low as 580.
In some cases, mortgage experts have told us, you can get an FHA loan with a credit score of 550, provided you can make a 10% down payment instead of the standard 3.5% FHA down payment.
Conventional
The final category of mortgages are conventional loans, which aren't part of any particular government agency like the FHA or VA loans. Interest rates tend to be lower than what you'd get with an FHA or VA loan.
A Quick Word About loanDepot's "No-steering" Policy
When you work with a loanDepot loan officer, he or she is operating under the company's "no-steering" policy. Basically, their loan officers aren't allowed to push you into a mortgage program simply because it benefits him or her.
In the financial world, this is known as a fiduciary responsibility; your loan officer should help you find the mortgage that benefits you the most, not them.
The Refinancing Options loanDepot Offers
A "mortgage" is usually what people call the first mortgage they get to buy a home. In some cases, borrowers have an opportunity to lower their monthly mortgage payment by refinancing their first mortgage into what is known as a "second mortgage".
In these situations, you'd go to loanDepot and give them the details of your current mortgage as well as the value of your home and they'll decide, after a thorough application process, if you qualify for a refi. If you do, they'll pay off your previous mortgage for you and get you started on payments for your second mortgage.
loanDepot offers one main type of refinancing: HARP loans
HARP
The Home Affordable Refinance Program (HARP) is a federal program designed to help homeowners refinance their home. The program's requirements are as follows, per their HARP eligibility document:
Loan is owned or backed by Fannie Mae or Freddie Mac
You owe more on your house than it's worth, or,
The ratio of your loan balance to your home value is greater than 80%
One or fewer late payments in the past 12 months
No payments more than 30 days late in the past six months
You got the mortgage after May 31, 2009
The program's website indicates that you can save an average of $200 per month using the program. To find out if you're eligible, you can go to the HARP website and enter your information. If you are eligible, you'd then go to a HARP lender – loanDepot is one of them – and apply.
LoanDepot's Home Equity Loan
Earlier we pointed out that equity is the value of your home minus what you owe on your mortgage. So, if you owe $150,000 on your mortgage and your home is worth $250,000, then your equity is $100,000.
LoanDepot can provide you a loan equal to up to 90% of that $100,000. The idea here is that you can use that money to upgrade your home, buy a second home or do pretty much whatever you want with it.
You'll make monthly payments on the loan, with the idea being that, should you sell yourself, you'll be able to pocket the equity and balance out what you borrowed, minus interest and fees.
Consumer Reviews of loanDepot
The reviews we saw on sites like Zillow and LendingTree are superb. One of the things we read in many different reviews was that the service provided by the loanDepot loan officer was attentive and communication was prompt.
Negative comments by consumers included someone who set up a pay-from account to make payments on their loan and loanDepot, they said, never made the withdrawals and therefore hurt the borrower's credit scores.
Another bad review came from a real estate agent whose client couldn't get a home because, they said, loanDepot asked for documentation at the last second and has kept postponing the finalization of the funding.
Based on our research of loanDepot's existing reviews, we believe there's a good chance that you'll be happy with your experience. However, remember that every borrower is different and the length of closing is, in part, determined by how quickly you can provide the document sand information loanDepot asks for.
J.D. Power Rankings
Every year, consumer research company J.D. Power releases customer satisfaction surveys about all kinds of products and industries, including mortgage originators (companies who fund mortgages).
The firm's 2017 U.S. Primary Mortgage Origination Satisfaction Study ranked loanDepot #8 out of 21 national or regional lenders who don't have special requirements for membership (i.e. military service).
J.D. Power gave loanDepot an overall "Power Circle" rating of 3 out of 5, which means that the company performed about average, according to the customers with whom J.D. Power spoke in order to generate their rankings.
Of note is that the company finished ahead of the following popular banks and websites: U.S. Bank, Caliber Home Loans, Chase, Wells Fargo, Citi and PNC.
In 2016, loanDepot was #9 out of 18 companies, earning 3 Power Circles.
The Final Word: Pros and Cons of loanDepot
Based on our research of what loanDepot offers on their website and their reviews, we believe that their strength is a combination of their refinancing options, their commitment to their no-steering policy and the fact that they get sparkling reviews from customers.
We also think that their brick-and-mortar locations offer an advantage for borrowers who are leery about getting a mortgage via a completely online process and would rather sit down with a human in order to hammer out the details of their funding.
You don't have to meet with your loan officer in person if you don't want to, but the fact that loanDepot gives you that option could be a tipping point for you.
As for the company's downsides, we believe that there are better choices out there for those who value a premium customer service experience. While loanDepot didn't perform poorly in J.D. Power's customer satisfaction survey, there were companies like Guild Mortgage Company, Quicken Loans and PrimeLending, the three companies who finished first, second and third, respectively.
Is loanDepot the right company for you? We believe it could be if you value using a company who has been around for a while, has done a good deal of lending and who has a fiduciary policy meant to protect you.
We recommend getting a quote from loanDepot and several other lenders just to see which mortgage options you have. You might find that other lenders may give you more options for your mortgage or that closing costs are lower with one company than they are with another.
---
Overall Experience:

The loanDepot pre-approved and also submitted a letter of commitment to the buyers of my home to give them the home loan. I went through my process, found myself another home, moved all of my belongings out of my house and into a storage facility to which I am paying $200 a month on. We were due to close this past Friday. I was contacted on the day of closing that they would not fulfill their agreement because they discovered that the buyers had a credit card bill that they missed in there investigation of their finances. I tried contacting them and discussing the situation with them to which they were very rude and basically said I'm sorry for you and hung up on me. This has left the buyers of my home completely distraught because of their lack of professionalism and I myself and living at my son's house, paying for storage for my belongings and I will probably lose the house that I was going to purchase. Not only that, this is affecting the people I was purchasing from.

I truly don't understand how they can possibly get an A+ rating for treating people this way. It was their fault they missed it, yet the buyers of my home, myself, and the sellers of the home I was hoping to get are all and despair wondering what to do. The buyers of my home are so upset they don't even want to pursue another loan through someone else, they just want to be done with it, so now I have to put it back on the market, spend more money on storage, living with my son, all because of this. I have absolutely every plan to take legal action. I will not just lay down and be treated like this. I would like to see this Home Depot fix their mistake by sucking up the $4,000 in credit that their client had, that they missed, and giving the client the loan for their home so that we could all move on. They can afford it, it was their mistake, and we should not have to deal with this.

Bottom Line: No, I would not recommend this to a friend

---

Horrible

By Vickie F.

,

Indianapolis, IN

,

Sep 7, 2018
Verified Reviewer

Overall Experience:

Horrible, doesn't even cover the process. The loan SPECIALIST talks so fast you have to struggle to hear the important facts amid the fluff. The rate is locked for 30 days, at 28 days I was assured that the issues were on their side and the rate would remain at 4.15 while they straighten it out. Part of their offices are in Arizona and I live in Indiana. The late-night phone calls that woke me were allowed because he forgot the time differences.

At 70 days (more than double the estimate) the rate went from 4.15 to 4.99. This was an underwriting issue that had never been mentioned before the docs were ready for review and signatures. That meant I had lost the window of opportunity to talk to a different company and still get the lower rate. During the 70 days loanDepot wasted the rates increased across the board. Loan specialist Adam is a fast talking liar.

I wish I had looked elsewhere.

Bottom Line: No, I would not recommend this to a friend

---

Advertisement

---