LoanMe Reviews
Claimed This company has claimed this profile, is getting alerted on any new customer reviews entering this page, and may engage in dialogue with its customers to address their matters.

Companies cannot pay money or provide goods in order to remove or alter customer reviews.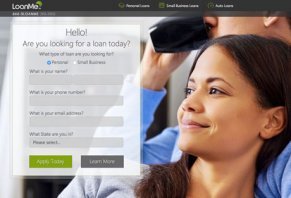 LoanMe is an online lender that claims to provide personal, small business, and auto loans that can provide you with the money you need as fast as possible.
About LoanMe
If you're a resident of Arizona, California, Missouri, New Mexico, or Utah, LoanMe is an online lender that claims to provide fast and easy personal, business, and auto loans to customers who might not otherwise qualify for financing. LoanMe customers have the ability to take out loans of up to $100K, which can be repaid in monthly installments over the course of 1, 5, and even 10 years in some instances.
With this in mind, let's take a closer look at LoanMe's specializations:
Personal Loans
According to the LoanMe website, you can apply for one of their auto loans online or over the phone, and can have the cash transferred to your bank account in as little as one business day. Once your loan is in place, the company claims to provide easy monthly payments without a prepayment penalty.
Similar to LendUp, LoanMe claims to report your on-time payments to each of the 3 credit bureaus, possibly improving your credit score.
Small Business Loans
Whether due to unexpected bills or the fact that your business can't be served by a traditional lender, LoanMe's small business loans are claimed to provide a quick, unsecured infusion of cash at a fixed interest rate with low monthly payments.
Auto Loans
According to a press release on the company's website, LoanMe also "provides loans for the individuals who would not otherwise be able to purchase an automobile," and specifically, for those who have a FICO score of 475 and above and are looking to borrow $30,000 or less.
However, the auto loans division of LoanMe appears to be pending, as there are no specific details provided about how LoanMe can help consumers obtain auto loans, other than claiming to work directly with dealerships to provide simple and efficient loans.
Why Would You Consider a LoanMe Loan?
It can be stressful to need money quickly, regardless whether it's for rent or mortgage payments, to put food on the table and feed your family, to cover unexpected hospital bills or car repairs, or anything else. And at first glance, lenders such as LoanMe might seem like a good option to get you and your family out of a tight situation. But is this actually the case? Consider the following:
Watch Your Bottom Line
As with any other personal lender, LoanMe charges very high interest rates for their loans, and in general you should try to pay them off in as little time as possible. Otherwise, you could end up paying much more than your original loan amount.
Considerations for LoanMe Auto Loans
For example, taking a look at LoanMe's Personal Rates pages for the state of CA, if you take out a $3,100 (plus a $75 fee) loan with an interest rate of 135%, your monthly payments will amount to $351.09 over the course of 47 months. You definitely don't need a calculator to figure out that your repayment total will be much, much higher than your original loan. But to put it in concrete terms, if you followed this payment schedule, you'd end up paying more than $16,500 for your $3,100 loan!
Considerations for LoanMe's Business Loans
And if you think LoanMe's rates for business loans are any lower, you might be surprised. An example scenario on LoanMe's Rates pages indicates that a $15,000 loan will come with a $1,500 origination fee, and will be assessed an interest rate of 39%. Over the course of 120 months, this borrower would pay minimum monthly payments of $498.23, bringing their grand total to almost $60K!
There Are Guidelines to be Met
Although LoanMe has broader lending guidelines than a traditional lender (and the interest rates to go along with it), such as a bank or credit union, there are still some minimum requirements you'll need to meet.
First, regardless of the loan type you're looking for, you'll need to provide a bank statement, proof of income, and must be at least 21 years of age with a valid ID, such as a driver's license.
Also, in addition to a minimum credit score, auto loan applicants are required to "have a minimum gross monthly income of $1,800 from all sources to qualify. Joint applicants must have a gross monthly combined income of $2,800, and one applicant must have $2,000 from a single source. Applicant(s) must provide current paystub with year-to-date earnings dated no more than 30 days prior to funding."
From a business loans standpoint, you'll need to be a for-profit enterprise that's been in business for at least 2 months, you'll need to have a bank account in your business' name, and you'll need to prove your income. Finally, you'll need to have a personal credit score of at least 500.
LoanMe's Online Customer Reputation
Overall, LoanMe, Inc based out of Anaheim, CA, appears to have garnered a fairly low online customer reputation since opening their doors in 2013. As with most payday lenders, the primary complaints revolve around extraordinarily high interest rates.
However, we did find one customer review claiming that LoanMe and CashCall are the same company. Possibly in support of this assertion, we found a LoanMe Franchise Dealer Questionnaire hosted on the CashCall website.
Despite their seemingly negative online reputation with customers though, LoanMe has an A- BBB rating with only 1 complaint filed, which claimed that rates and fees changed between what was quoted by the company and what was reflected on the loan paperwork when it came time for approval.
LoanMe Pricing
As we mentioned above, your LoanMe personal, auto, or business loan's APR, fees, and repayment terms will vary based on a wide number of factors, including loan amount, credit history, the state in which you live, and more.
With this said though, personal loan interest rates can vary between 34% and 204%, and fees between $75 and $950. Business loan interest rates can vary between 24% and 149%, and fees between 3% and 10% of your loan amount.
Important note: Keep in mind that, regardless of the type of loan you need, any fees are taken out after the loan has been funded. In other words, if you take out a $10K loan with a $750 fee, you'll pay interest on the full $10K, but will have actually only received a $9,250 loan. In a very real way, this means that LoanMe is taking money from you, and charging you to do it.
If you need to talk with LoanMe customer service to ask about LoanMe's fees and interest rates, they can be reached at 844-474-2886.
Should You Use LoanMe to Find Your Next Loan?
Chopping to the Point: While it's definitely positive that LoanMe attaches fixed interest rates and repayment schedules to their loans, their extraordinarily high interest rates mean that you should only use them as a last resort, and only if you can pay off your loan quickly.
Otherwise, you might find that your once-small loan has ballooned into a much great amount—one that you may never have the ability to fully pay off.
Dishonest

Don't use this company. They say your credit is okay but the underwriters say no, please. I get money from Square or PayPal, no problems. Companies like just are a joke. Of course they work for one or two sure fits, but they are definitely a no for small businesses.

Bottom Line: No, I would not recommend this to a friend

---

False emails and bad faith

By Eric B.

,

Fairfield, CA

,

Aug 29, 2019
Verified Reviewer

I have a loan with LoanMe and have never missed a payment. I got the loan as a last-minute fix for my daughter's college. The rate is high and after two years of payments without even one being late, I got a notice stating I qualify for a new rate. After talking to them on the phone, it was a scam. I was to take out a new loan for more money I didn't need for 84 months. I would pay off the old loan but still have to pay a high rate and more monthly payment. I don't recommend getting a loan from this company and I have to get out from under this company which is misleading and I feel is unfair lending practices. I have to seek a lawyer and go to BBB to make a claim and copy the email I received. I know my conversation was recorded yesterday but I doubt I can get a copy of that. I told him at least 5 times, I only want to reduce my rate so I can pay it off and I was willing to keep the payments the same. Why did they send me the false misleading email?

Bottom Line: No, I would not recommend this to a friend

Aug 30, 2019

Thank you for taking the time to post your comments, and thank you for being a valued customer. We apologize if our service levels didn't meet your expectations. We will have someone reach out to you to resolve the discrepancy and issue. Thank you.

---

Advertisement

---

LoanMe review

By Lori T.

,

Port Ludlow, WA

,

Jun 21, 2019
Verified Reviewer

Run from this company. They talk a great line and I even held up a funding company that I had success with before to try them. They pre-qualify for $150k. I request $100K and send all documentation. They come back after I stop funding a $65K deal to their offer of $8k.

Don't waste your time.

Bottom Line: No, I would not recommend this to a friend

Jul 17, 2019

Thank you for taking the time to post a review. We truly understand your disappointment in being approved for a lower loan amount. Loan approval is a decision that combines many different factors, not just one.

---

Business Loan

By Radhe B.

,

Pleasanton, CA

,

Feb 7, 2019
Verified Reviewer

Hello.

I took out a business loan for $7k for my small business company. They sucked my blood - 149% interest rate.

Fortunately, I repaid full amount in a couple of months.

The greatest mistake I have done in my life, rather than BEG in the city of San Francisco!

Bottom Line: No, I would not recommend this to a friend

Jul 17, 2019

Thank you for taking the time to post a review. Interest rates are a decision that combines many different factors, not just one.

---

Advertisement

---

Hard money lender, don't bother

Hard money loan! I took a loan for $5000.00 from this company over three years ago, had no problems getting the loan, I made all my payments on time and paid the loan off. They made money off me and they had a client for life.

On 1/9/2019, I decided to apply for another loan because of the good service and business I received in the past. This time around I was denied immediately. I asked why and they said because I had two other loans totaling $7500.00 from other companies. I said what does that matter, they said I would have to use their loan to pay off the other two loans. I said you guys are a HARD MONEY LENDER, not a bank, you can't demand I use your money to pay off other accounts and still charge me a $2500.00 origination fee. On a loan for $7600.00, minus their $2500.00 origination fee, I would get $5092.00, and they demand I use that money to pay off other accounts. Because of their high origination fee being deducted from the loan of $7600.00, the leftover amount isn't sufficient enough to cover the $7500.00 in debt they demanded I payoff. My credit's good, income is good, debt to income ratio is low, the bank account is good. And they declined the loan.

A hard money lender that demands you use their loan to pay off other accounts while charging you a $2500.00 origination fee. Is this how LoanMe treats all their past clients?

Bottom Line: No, I would not recommend this to a friend

Jul 17, 2019

Thank you for taking the time to post a review. We truly understand your disappointment in not being approved for a loan. Loan approval is a decision that combines multiple factors.

---

Payoff

By John M.

,

California

,

Jan 7, 2019
Verified Reviewer

It is bad when you want to pay off a loan from LoanMe and they say that the payoff changes from day to day. They will do anything to suck you dry and to get more money from you. I would NEVER recommend LoanMe to anyone, all they are, are a bunch of ripoffs.

Bottom Line: No, I would not recommend this to a friend

Jul 17, 2019

Thank you for taking the time to post a review. We apologize if our service did not meet your expectations. We set a high standard for ourselves and your comments will be heard to assist us in maintaining the high standard we strive to achieve with every customer.

---

LoanMe is a scam

By Mark M.

,

San Leandro, CA

,

Nov 15, 2018
Verified Reviewer

Do not borrow money from LoanMe. After applying for this loan, they gave me a 35% interest rate, which was a lie. After signing the documents to receive the loan. I thought I was in a 35% locked interest rate. So one week later I received a form from LoanMe stating the interest rate was 101.38%. After I received the paperwork inside was a payment schedule to pay $567.00 per month when nothing goes towards the principal! I would end up in 7 years paying $41,000 on a $7600 loan! You got to be kidding me.

I closed my checking account. They are "NOT" collecting $567.00 payments when nothing is applied to the loan is illegal! So they reported it to the credit bureaus. They claim they are exempt from the Usery Law in California. This may be true, but they lied to me about the interest rate to get me to sign the loan is fraud. I will fight this with an attorney. Do "NOT borrow from LoanMe. They will not get a penny back from me. If it goes to small claims, I will fight this truth and nail.

Bottom Line: No, I would not recommend this to a friend

Jul 17, 2019

Thank you for taking the time to post your review as well as your comments regarding the terms of your loan. We always encourage our customers to pay off their loans as quickly as possible to pay the least amount of interest.

---

Regardless of how desperate you are, do not borrow from them!

By Jonelle V.

,

California

,

Aug 5, 2018
Verified Reviewer

My title really says it all. If you are really needing funds, this company will loan them to you, but it comes at a HEFTY price. Keep in mind, the incredibly high interest rate (mine was 179%) is a daily rate.

Four months ago, I borrowed $2,500 and have paid the monthly payments on time to the tune of $1,200. Today, my payoff amount was $2,962. Had I have continued paying the monthly amounts, I would have paid $18,000.

This is a predatory loan company, and even the employees will subtly warn you. If I could turn back time, I would have paid the late penalty on rent, and let my utilities get shut off. Please don't do this!

Bottom Line: No, I would not recommend this to a friend

Jul 17, 2019

Thank you for taking the time to post your review regarding the terms of your loan. We always encourage our customers to pay off their loans as quickly as possible to pay the least amount of interest.

---

Thieves

After going online to pay off the entire loan due to the ridiculous interest rates, LoanMe turned around and took additional money out of my account claiming there was a principal balance remaining. How? If the balance was at 0 after I paid it off. Scam! Thieves! A $3000 loan will cost you over $10,000 after all the fees. Never ever will I recommend or use this lender again. I am looking into a lawyer.

Bottom Line: No, I would not recommend this to a friend

Jul 17, 2019

Thank you for taking the time to post a review. We apologize if our service did not meet your expectations. We set a high standard for ourselves and your comments will be heard to assist us in maintaining the high standard we strive to achieve.

---

The best lender

By Tien Mai

,

California

,

Apr 16, 2018
Verified Reviewer

It was quick and easy. The loan agent, Monty (Afred) Hervey, not only he has a sweet and charming voice, but indeed he was very patient, humorous, courteous, polite, and persistent. He made everything easy for me when I was hopeless and impatient. I have no complaints, and I would highly recommend anyone to this lender and the loan agent, Monty Hervey, in particular. Because of my credit history/score and debts, I don't blame anyone for the high interest rate, and I did not mind since I got the loan when I most need it. What goes around, comes around and God bless you, Monty, for all your efforts in helping people.

Bottom Line: Yes, I would recommend this to a friend

Jul 17, 2019

We are glad to hear that you have had such a pleasant lending experience working with LoanMe. Thanks for your business!

---

Jerk reps

By Bass Reemer

,

Los Angeles, CA

,

Oct 9, 2017
Verified Reviewer

The LoanMe reps are jerks! They talk to you dismissively and rudely. You're trying to be polite over the phone, and they just cut you off or over talk you. I will pay them off all at once and get these jackals out of my life; I don't need some idiot who can barely speak English berating me like he is superior to me just because I have a loan with them.

Bottom Line: No, I would not recommend this to a friend

Jul 17, 2019

Thank you for taking the time to post a review. We apologize if our service did not meet your expectations. Your comments will be heard to assist us in maintaining the high standard we strive to achieve with every customer.

---