Luft Qi Filterless Air Purifier Reviews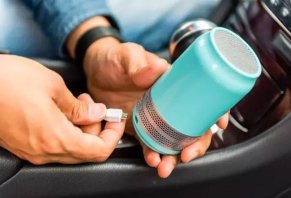 Luft Qi uses UV-A LEDs to eliminate impurities and odor from the air you breathe, without creating potentially unhealthy ozone in the process.
What Is Luft Qi Filterless Air Purifier?
The small, simple, and stylish Luft Qi Filterless Air Purifier promises to use patented nano photocatalysis technology to destroy mold, airborne bacteria, allergens, viruses, bad odors, and toxic chemical gases wherever they're found. This includes in your office cubicle, your (or your child's) sleeping environment, the car, or anywhere else you need fresh air.
Due to its nano-reactor, the air purifier doesn't use filters, is energy efficient, creates very little noise, and is about the size of a soda can. This means it also offers light weight and grab-and-go portability that you can take with you just about anywhere—just plug it into any USB outlet, and it's ready to operate.
Before you hand over your money for the Luft Qi Air Purifier, let's find out exactly what you might expect once it's in your hands.
Taking a Closer Look at Luft Qi's Photocatalytic Oxidation Technology
Writing for ExplainThatStuff, Chris Woodford reports that photocatalytic oxidation (PCO) is a process whereby light energy converts air pollutants and other particulates into harmless substances.
Specifically, this process typically utilizes ultraviolet light to energize titanium dioxide (sometimes called titania). When this occurs, its electrons are released from the surface and interact with water molecules to create hydroxyl radicals, which "then attack bigger organic (carbon-based) pollutant molecules, breaking apart their chemical bonds and turning them into harmless substances such as carbon dioxide and water."
In other words, when compared to traditional filter-based air purifiers, they point out that "instead of simply trapping pollutants (which still have to be disposed of somehow), [PCO models] completely transform the harmful chemicals and effectively destroy them."
On the other hand, they point out that this process often creates ozone as a byproduct, which is itself a toxic air pollutant. The good news is that Luft Qi promises not to produce any potentially harmful ozone during operation.
How Does the Luft Qi Filterless Air Purifier Work?
Their website indicates the Luft Qi (pronounced "chee," which means "air, breath" in Mandarin Chinese) Air Purifier measures 2.56" x 2.56" x 4.61", weighs 5.6 oz, and is constructed from ABS (Acrylonitrile Butadiene Styrene) plastic and aluminum. There's also a handmade wood version available, which we'll talk more about soon.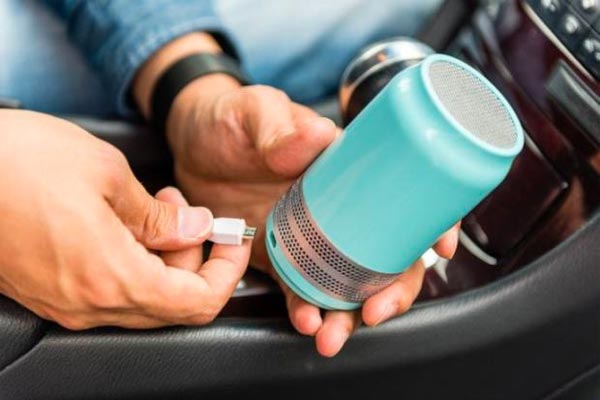 Luft Qi is powered via a USB port and is small enough to fit in your car's cup holder. Credit: Titus & Wayne
Inside, its brushless Maglev Motor Fan operates at less than 30 decibels (about as quiet as rustling leaves or whispering) and can last more than 40,000 hours. This fan pulls in the surrounding air—and the contaminants it contains—from every angle (called a '360° air intake') and then uses a built-in UV-A LED to "ensure a perfect photolysis reaction."
Compared to the UV-C LEDs found in traditional PCO air purifiers, the company advertises this proprietary process eliminates contaminants just as effectively, but without producing a measurable amount of ozone.
The Luft Qi Air Purifier is also designed to fit anywhere—even in your car's cup holders—and run all day and night, although it's important to keep in mind that it must remain plugged into a laptop, desktop, adaptor, power bank, or any USB port to operate.
During operation, it will purify about 178 square feet. Or, the immediate air surrounding you. While we're not told exactly how long this takes, according to their website, Luft Qi had been shown to destroy more than 80% of bacteria and mold in 30 minutes, while emitting nothing but harmless molecules like water.
In an SGS Certification Test, it's also been shown to remove 91% of formaldehyde, while boasting the ability to kill airborne viruses such as influenza (the flu) and enterovirus. On top of all this, we're told it only costs $5 per year in electricity to operate.
How Much Does the Luft Qi Air Purifier Cost?
The Luft Qi Air Filter is currently available on Indiegogo (listed as in production stage), with an estimated shipping date of July 2018. Perk prices are as follows:
Early Bird (x1): $99
Special (x1): $109
Handmade Wooden Version (x1): $149
You & Me (x2): $179
4-Pack (x4): $340
Distributor Pack (x10): $830
Regardless of the number you choose, the air purifier is available in Bright White w/Silver Ring, Bright White w/Maroon Ring, Bright White w/Iron Black Ring, Pink, Aqua, and Wood versions. Custom engraving (up to 15 characters) is also available for an additional $15.
While Luft Qi's Indiegogo campaign is live, you can cancel your contribution at any time. You'll also have 30 calendar days from the date you receive your air purifier to request a return or exchange by emailing hello@luftqi.com. All devices also come with a one year warranty, starting from the date of shipping.
What Do We Know About the Company Behind the Luft Qi Filterless Air Purifier?
The Luft Qi Air Purifier is manufactured by Titus & Wayne based out of Taipei, Taiwan.
The company was co-founded by CEO Titus Chang, who's listed as having 15 years of sales and marketing experience within the LED industry, as well as CTO Wayne Chien, who has experience in material science, research and development, production, and in the semiconductor industry.
Luft Qi vs. Molekule: How Can You Choose the Best Filterless UV-A Air Purifier?
Based on what we discussed earlier about photocatalytic oxidation technology, it might not come as much of a surprise that there are dozens of different filterless UV-C air purifiers in the same marketplace as Luft Qi, ranging in price from less than $100 to well over $500.
However, the only other portable, mass-marketed UV-A air purifier we encountered during our research was Molekule, which also pulls in air from all 360° surrounding the device and uses proprietary technology to eliminate completely (not just trap) particles. Here were some of their most meaningful differences:
| | Luft Qi | Molekule |
| --- | --- | --- |
| Price | $99 w/no filters needed | $799 (plus $129/yr filter subscription |
| Proprietary Technology | Nano Photocatalysis | Photo Electrochemical Oxidation (PECO) |
| Square Footage | 177 sq. ft. | 600 sq. ft. |
| Size | 2.56" x 2.56" x 4.61" | 23" H x 8.25" diameter |
| Weight | 5.6 oz | 18 lbs |
| Loudness | < 30 dB | 30 – 42 db |
| Number of speeds | 1 | 3 |
| Operation | Manual | Touchscreen display / app connectivity |
| Misc. | Portable and USB rechargeable | Also includes standard pre-filter |
Considering the fact these are the only mass-produced UV-A air purifiers currently available, choosing between the two could largely come down to your specific budget, size and technology preferences, and coverage needs.
For example, if app access is a must-have, then Molekule is the only game in town while providing more than three times the coverage. However, it also weighs more than 30 times Luft Qi, isn't portable in the same way, and is about eight times the price.
So, if portability and price are your main must-haves, it might seem like Luft Qi is the clear winner.
However, it's also important to point out that Molekule is the only available UV-A air purifier, as Luft Qi is currently undergoing crowdfunding and isn't slated to ship until July 2018. So, if you want something in your hands now, Molekule is the only device available.
» Related: The Risks of Backing a Crowdfunding Campaign and How to Minimize Them
Our Final Thoughts About the Luft Qi Filterless Air Purifier
According to TIME's Markham Heed, while many professionals are leery about the benefits of traditional ionizing air purifiers outweighing the potential disadvantages related to the ozone they produce, many agree that filter-based options can be effective for removing contaminants from very small spaces.
However, since models like Luft Qi and Molekule promise to provide ionizing functionality while only emitting harmless molecules like water, it seems they might offer the best of both worlds. And since their features seem targeted at meaningfully different demographics, the 'best' option for you might largely come down to budget, size, portability, operation, and accessibility preferences.
According to Consumer Reports, though, before committing to an air purifier purchase, you might try some simple steps like vacuuming using HEPA filtration, stop smoking indoors, minimizing the use of candles, using exhaust fans in kitchen and bath areas, and ensuring your heating and cooling equipment is cleaned regularly to help reduce indoor air irritants.
3 out 3 people found this review helpful

Lightweight, powerful, quiet

By Janice H.

,

Berkeley, CA

,

Sep 18, 2018
Verified Reviewer

I have been using the Luft Qi for a solid week. Seems to clean the air well. It was particularly helpful in the car where the residual dog smell was relatively strong. Not that I am going to stop taking the dog to other locations for his walks, but this makes the car more pleasant for others. I wanted the system for air travel. I intend to plug it into the USB port to help keep me from catching whatever is in the air. Not sure how much it will help for that purpose but it is lightweight enough to be truly portable. It helped significantly in a room where fish had been cooked for dinner. Hopefully, it lasts as long as promised!

Bottom Line: Yes, I would recommend this to a friend

---

Advertisement

---