Lugg Reviews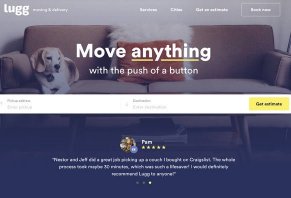 Founded in 2014 by Eric Kreutzer and Jordan Brown, Lugg is an on-demand moving company that can help you transport items wherever you need, safely and securely.
About Lugg
Whether you need to make a small move, donate stuff to charity, get rid of junk, or schedule pick up and delivery from a local store or a Craigslist ad, Lugg is an on-demand service that promises to load, haul, and deliver your items safely.
The website advertises this process works over three steps:
Using the app or website, select your pickup location and time (anywhere between 30 minutes and 30 days in advance), destination, and the size of the vehicle you need.
One to two professional, vetted movers (called 'Luggers') will load your belongings, secure them safely, and transport them to the desired location. While being transported, they're covered by a multi-million dollar insurance policy.
Your Luggers will unload your belongings exactly where you want. Then, it's time to rate their performance and leave a tip if earned.
When San Francisco-based Lugg was founded by Eric Kreutzer and Jordan Brown back in 2014, they were often advertised as an Uber or Lyft for moving things, versus people. Now that the company has had some time to settle into their business model, have they lived up to claims like these? Either way, are they necessarily the best moving app for your needs?
These are just a couple of the critical questions we'll help you answer in this article.
How Does the Lugg Moving App & Website Work?
Currently, Lugg's services are available in the Seattle, San Diego, San Francisco, Silicon Valley, Los Angeles, and Orange County metropolitan regions, with more areas coming soon.
To start, whether on their website or in their iOS and Android app, you'll simply enter a pickup address and the destination address, and then choose one of the following seven services: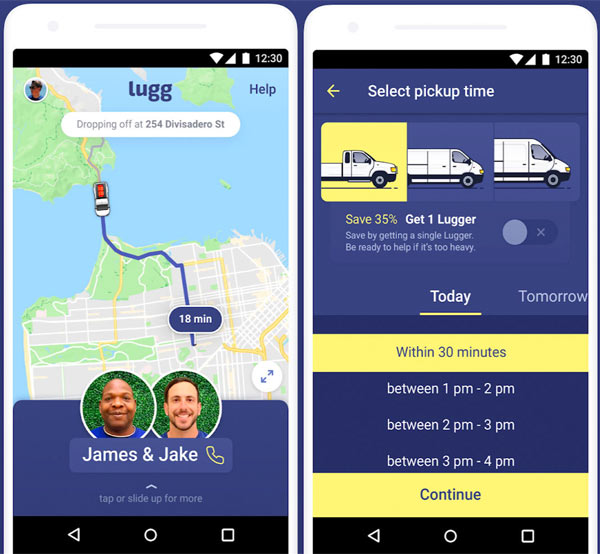 Everything is handled inside the Lugg app, including selecting a vehicle and pick up time, tracking your belongings, and rating and tipping your Luggers. Credit: Lugg, Inc.
Store Delivery
After entering your destination address in the app, setting a time, and taking a photo of your receipt, Lugg will pick up and deliver items purchased from any store (World Market, Costco, Crate & Barrel, Lowe's, The Home Depot, Best Buy, Z Gallerie, Target, Macy's, The Container Store, to name just a few) within their service area.
Then, they'll deliver the purchase directly to your door in less than an hour, which is backed by the company's multi-million dollar insurance policy while in transit. Afterward, payment is handled directly in the app, including tipping your Luggers for a job well done and leaving feedback.
Moving
Like all other Lugg orders, you'll start by setting a pickup and destination address. Next, though, you'll choose one of three vehicle sizes, depending on what you need to move:
Pickup – Perfect for a few miscellaneous items, such as a sofa.
Cargo Van – If you're moving an entire room (living room, dining room, bedroom, etc.), this might be what you'll need.
XL (Sprinter Van) – Ideal for moving a small apartment or office, or other oversized items that might be too large for a pickup or van.
Note: Compared to a traditional moving service, the Lugg website emphasizes that you'll need to disassemble larger items in advance where possible, and also ensure all your things are packed and ready to go before your Luggers arrive.
Craigslist Pick up and Delivery
Whether the ever-popular Craigslist or another service like Offerup or Letgo, Lugg will pick up your used goods and deliver them directly to your home (up to 150 miles outside their service area). Of course, this is after paying for the items using a service like Venmo or Square Cash.
All you have to do is let the seller know that Lugg will pick up the purchase on your behalf, and then sit back and relax.
Storage Moves
Whether at a traditional storage facility or your parent's garage, Lugg promises to "load, haul, and deliver anything, anywhere" in as little as an hour. This includes picking up and delivering items already in storage.
The company also boasts seamless integration with Public Storage, which allows you to reserve your unit online, and then schedule a pickup and delivery from Lugg in one easy step.
Note: As with their moving services, you'll need to disassemble larger items and pack all your belongings prior to arrival.
Donations
Two Luggers will deliver your items to any donation center of your preference, including (taken directly from their website):
Furniture – Dressers, tables, sofas, bed frames, (except waterbed frames)
Clothing – Shirts, sweaters, jeans, shoes, boots, suits, jackets, jewelry, accessories
Electronics – Personal computers, televisions, stereos, radios, VCRs, DVD players
Housewares – Dishes, glassware, silverware, pots & pans, utensils, baskets, picture frames
Toys & sports equipment – Dolls, stuffed animals, bicycles, golf clubs, tennis racquets, treadmills
Hand tools – Drills, screwdrivers, wrenches, mechanical tools, saws, shovels, workbenches
Junk Removal
Before booking a pickup and destination address or scheduling a time in the Lugg app, you'll take a quick picture of the junk you want to be removed. Then, two Luggers will arrive with a truck to haul it away to the nearest transfer station.
Examples of items they can handle for you include (from their site):
Bedding – Mattresses (including waterbed mattresses), box springs, sleeping pillows, and covers.
Damaged Items - Damaged electronics, DVDs, furniture, and tools.
Small Appliances – Small refrigerators, freezers, washers/dryers, etc.
On the other hand, they can't accept paint, chemical liquids, chemical waste, or raw materials like "soil, compost, and miscellaneous garden waste such as branches or trees."
How Much Do Lugg Movers Cost?
As you might imagine, how much you'll pay for your Luggers depends on factors like the service you need, the distance traveled, the length of time you need the service, and the size of the truck required (when applicable).
However, a graphic on their website indicated that one hour costs about the same as renting a truck for four hours, but also comes with two movers, while it suggests they're almost a third less expensive than hiring traditional movers for two hours.
With this said, based on our experience, the Lugg website and app do a great job of providing detailed estimates showing you all relevant details, including the exact price you'll pay.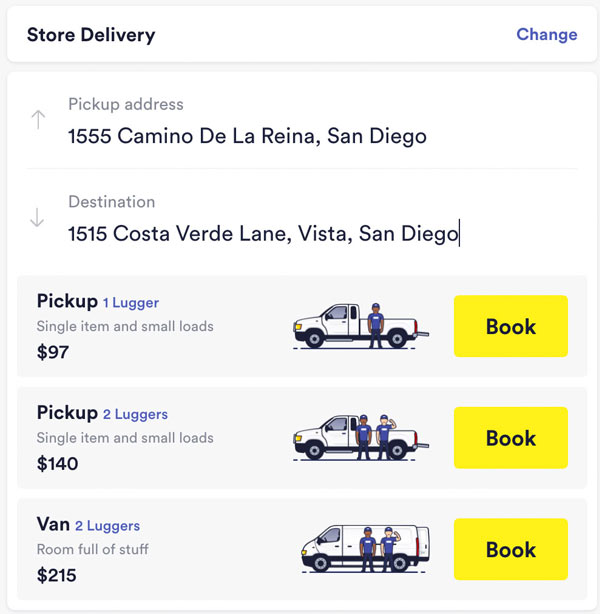 In this screenshot from the website, we can see that Lugg provides a quick and easy breakdown of what you'll pay before booking an appointment. Credit: Lugg, Inc.
Pro tip: Keep in mind that there could be additional fees associated with different services that might not be reflected in the estimate. For example, if you're hauling junk to a local dump or recycling station, they could charge fees ranging between $40 and $100+, depending on the size and weight of your load.
If you have additional questions, a representative can be reached at hello@lugg.com.
Online Customer Reviews For Lugg Moving
Among more than 5,000 combined online customer reviews between iTunes, Google Play, and Yelp, Lugg held an average rating of about 4.8 stars at the time of our research.
Common compliments related to ease of use, competitive pricing, and helpful, friendly Luggers. On the other hand, the relatively few complaints often referenced problems with the Luggers (slow, rude, chronically late, etc.), as well as bugginess with the app.
Lugg vs. Other On-Demand Moving Apps
While the exact categories are a bit fuzzy, according to a recent news release from the US Bureau of Labor and Statistics, about 16.5 million Americans are currently working under a "contingent" or "alternative work arrangement."
And a large bulk of these constitutes independent contractors for companies like Uber, Lyft, Lugg, and hundreds of other temporary employers that make up what's called the 'gig economy.'
As a result, in addition to local services, you'll find several other app-based on-demand moving companies whose services intersect with Lugg. Here were some of the top options at the time of our research:
| Company | Areas Available | Standout Features |
| --- | --- | --- |
| Lugg | Seattle, San Diego, San Francisco, Silicon Valley, Los Angeles, and Orange County metro regions | Arrival w/in 30 minutes, includes up to 2 Luggers for assistance, variety of vehicle sizes available, damage protection, Luggers available for assistance w/out vehicle as well |
| Dolly | Boston, Philadelphia, Chicago, Denver, San Diego, Portland, and Seattle metro regions | Connects you with local pickup truck, cargo van, or box truck owners; damage protection, helpers available for assistance w/out vehicle as well |
| GoShare | San Diego, Los Angeles, Jersey City, Orange County, Miami, Atlanta, San Bernardino, Phoenix, Central/South NJ, Chula Vista, and Oceanside metro regions | Delivery in less than 1 hour, pickup truck, van or box truck available; includes cargo insurance, also provides courier and pallet delivery services, can order 2 trucks at the same time |
| BuddyTruk | Los Angeles, CA; Orange County, CA; Austin, TX; San Marcos, TX | Connects you with locals who have a pickup truck, costs based solely on time and mileage, insurance protection plan provided |
| Pikkup | Los Angeles, CA | Pickup trucks only (commercial vehicles like box trucks coming soon), insured up to $1M, only available for iPhone |
This is to say nothing of websites like TaskRabbit, where you can hire individuals to help with heavy lifting and assembly, as well as sites like Unpakt that compile rates among different moving companies, based on the date, address, and inventory you input. How can you choose the best option?
Let's carry this thought over to the final section as we come to a conclusion about Lugg.
Our Bottom Line About Lugg: Pros and Cons
As we can see from the table above, one of the primary factors outlining any on-demand service is whether or not they're available in your area. Most of the app-based options are located on either coast (leaning heavily toward the West Coast), with a handful available in popular interior cities like Austin, Denver, Atlanta, and Chicago.
From there, like you would with any other business, the next step is to check out online customer feedback. If you frequently encounter the same complaints, this could be a good indication of what you'll experience after handing over your hard-earned money.
Taking all of this into consideration, Lugg has been offering on-demand moving since 2014, provides a wide variety of helpful services, and seems to come with overwhelmingly positive online customer feedback. Just keep in mind that anyone hired through one of these apps is an independent contractor and not a formal employee, which means that service quality can sometimes vary.