Lull Mattress Reviews
Claimed This company has claimed this profile, is getting alerted on any new customer reviews entering this page, and may engage in dialogue with its customers to address their matters.

Companies cannot pay money or provide goods in order to remove or alter customer reviews.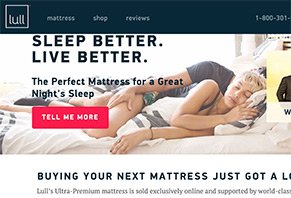 Lull Mattresses are constructed of three layers of high-quality memory foam that can help you get a better night's sleep, while saving money in the process.
About Lull Mattress
Designed and crafted in the USA and sold exclusively online, Lull Mattresses can provide "perfectly balanced comfort and support" to help you get a great night's sleep. And by cutting out retail markups and sales commissions, they can help you save up to 75%, too!
Each Lull Mattress is made of the highest-quality materials, including three memory foam layers:
The gel-infused top layer will contour to your body while promoting airflow and keeping you cool.

The middle layer, made of proprietary foam, provides the support and alignment you need.

The base layer is made of a durable material that will provide years of use without sagging.
On top of all this, Lull uses "cutting edge compression technology" to ship their mattresses in a box the size of a mini-fridge, and set up is as easy as un-boxing and allowing time for the mattress to air out.
Mattress shopping has traditionally been like the Wild West of retail. There are dozens of manufacturers and hundreds of different models, and it's often difficult to understand why one costs $500, while another costs $5,000. Add to this that you're expected to make a decision after laying on a mattress for a couple minutes, and it's a recipe for overspending and not being happy with your choice.
Can Lull Mattress help change this? Are there other options you should consider? We'll explore all the key issues here, so you can make a more informed purchase. We'll begin by taking a closer look at what makes up a Lull Mattress.
The Lull Mattress
All Lull Mattresses are manufactured and assembled in CA with the utmost attention to detail and are designed to strike a perfect balance between comfort and support, regardless of your body type or sleeping preferences. To accomplish this, each Lull Mattress features three layers of premium foam:
Cooling Gel: the top 1.5" of your Lull Mattress will feature gel-infused, viscoelastic memory foam that contours to your body and relieves pressure. This layer also features "cool flow technology" to draw heat away from the body and enhance airflow.

Premium Foam Blend: Directly underneath the cooling gel is 1.5" of a premium foam blend that supports your body, aligns your spine, and evenly distributes your weight.

Polyurethane Foam: Lull's 7" base layer uses polyurethane foam to provide strength, durability and structure. This way, you won't have to worry about sagging for years to come.
Surrounding all of this is Lull's ultra-premium cover made from polyester and rayon sourced in North and South Carolina, which is removable for spot cleaning. This way, it will provide comfort and flexibility, while remaining soft, breathable, and durable. To provide fire protection, each Lull cover features a fire barrier made from rayon cellulose fiber and fine-grained sand, which are inherently fire resistant.
All Lull Mattresses are made from CertiPUR-US® certified foams, which means they're made without ozone depleters, flame retardant chemicals and heavy metals like mercury and lead. Lull Mattresses are also ultra-low VOC (less than 0.5 parts per million) and contain no formaldehyde or phthalates.
Finally, Lull Mattresses work with traditional bed frames, flat platforms, slatted bases, box springs, and even on the floor.
How much will all these features set you back?
How Much Do Lull Mattresses Cost?
Lull Mattresses are available in the following sizes:
Twin (38" x 75" x 10"): $500
Twin XL (38" x 80" x 10"): $550
Full (54" x 75" x 10"): $700
Queen (60" x 80" x 10") $800
King (76" x 80" x 10"): $900
Cal King (72" x 84" x 10"): $900
All Lull orders come with free shipping, a 100-night trial, a 10-year warranty, and free returns. They'll even have a courier pick up your mattress if you're not satisfied.
In order to cancel your trial or file a warranty claim, you'll need to call a Lull sleep expert at 800-301-5845.
Now that we've covered all the basics, let's see how Lull Mattress stacks up against the competition.
Lull Mattress vs. the Competition
Although Lull Mattress' business model is cool, it's not necessarily unique, as other companies like Casper Mattress, Saatva, Tuft and Needle, Yogabed, Leesa, and more have recently entered the market. Up against this much competition, is there anything that necessarily distinguishes Lull Mattress?
Ultimately, most of these mattresses feature multiple layers of foam (they each call their foam different names for marketing purposes, but likely serve the same basic functions), come in only one model, use eco-friendly products, source their materials from within the U.S., and are shipped in compressed boxes. Saatva, however, breaks this trend by offering three different comfort levels.
Outside of this, there really doesn't seem to be any meaningful differences between Lull Mattress and the competition, at least on paper. We'll talk about real-world Lull experiences in the next section, but first: How do Lull's prices measure up?
Outside of Tuft and Needle, Lull mattresses appear to be less expensive than all of the competition—anywhere between $25 and $400, depending on the company and size. But are Lull's customers happy with their sleeping experience, despite the cheaper price? Let's find out.
Customer Feedback for Lull Mattresses
Sleep Sherpa gave their Lull Mattress a 9 out of 10 rating, claiming that "there's nothing terribly unique or groundbreaking about the Lull mattress," although out of the 26 mattresses they'd tested, Lull was one of their favorites.
Sleepopolis claimed Lull Mattresses come in at a 6.5 out of 10 on the firmness scale, and provide minimal motion transfer and above average edge support and bounce. Overall, they recommended Lull Mattress to those who prefer a slightly firm feel, want a cool mattress, and appreciate minimal motion transfer.
On Amazon, the queen Lull Mattress had 15 customer reviews at the time of our research and a 4.8-star average rating. Clearly, most customers were pleased and complimented its ease of setup, its balanced softness, and support, and that it provides a great night's sleep. The only complaint was that the mattress was too firm.
From a company perspective, Lull had an A+ rating with the Better Business Bureau and no closed complaints as of 2/16/16.
Is the Lull Mattress Right for You?
As we discussed above (and as the Sleep Sherpa review also noted), there doesn't seem to be much about Lull Mattress that you won't find with other online-only mattress retailers. Most of these companies use similar (or even the same) materials and the same compression boxing, feature similar try-before-you-buy trials, along with middle-of-the-road firmness and a solid warranty.
In the instance of Lull though, perhaps their most outstanding feature is price, which can be anywhere from $25 to $400+ less expensive than other companies. So, if you're looking to get the most comfort for the least amount of money possible, Lull might make a reasonable choice.
However, if you like your mattress especially soft or firm, then Lull—or most other online-only mattress retailers—might not be your best match.
Online Mattress Buying Guide: