Luma Sleep Reviews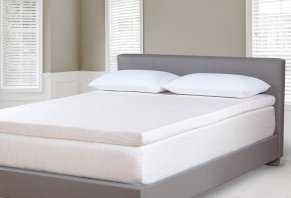 Luma Sleep manufactures a line of American-made mattresses, Slumber Systems, and accessories that feature Talalay latex to help you experience natural comfort.
What Is Luma Sleep?
Compared to many other direct-to-consumer mattress companies, Luma Sleep's Slumber Systems allow you to customize the feel of your mattress, while their use of Talalay latex promises to deliver naturally luxurious comfort.
Speaking of natural, Luma's website tells us their mattresses only contain four ingredients: latex, pocketed coils made from a blend of certified recycled American steel, Tencel fabric, and a high-density foam base.
Together, Luma tells us these ingredients make their mattresses not only comfortable and supportive but also sustainable and environmentally friendly.
Have you been looking for a premium Talalay mattress combined with traditional coil springs? What about something that's environmentally balanced and made in America? Have you found the answer with Luma Sleep, or should you keep looking?
The HighYa team has reviewed many popular bed-in-a-box companies over the years. Combined with what we learned during our research, we're here to help you make a more informed decision about Luma Sleep.
What's So Special About Talalay Latex?
Although it might sound like a brand name, the word Talalay references a manufacturing process developed by Leon, Joseph and Anselm Talalay, whereby liquid latex rubber is inserted into a vacuum-sealed mold. This mold is then frozen, injected with carbon dioxide, and heated to cure.
The result is a foam that avoids many of the chemical additives associated with the manufacture of traditional polyurethane memory foam options, while also providing a very specific feel ("light and buoyant," as described on the Luma website).
Luma tells us that this buoyant open cell structure also delivers an even balance of comfort and plushness, allows you to sleep 'on' the mattress instead of 'in' it and provides natural anti-microbial and dust mite resistance.
Allergic to latex? Luma tells us that, because their "individual mattress cores are removed from the molds by hand and conveyed to a specialized five-stage fresh water washer," this removes proteins that can lead to allergic reactions. In fact, they claim "there has not been a reported case of an allergic reaction related to U.S. made Talalay in its 50-year history."
What are the potential pros and cons?
Talalay latex has a well-earned reputation for quality, comfort, and support. However, it tends to be one of the most expensive mattress types, so it might be the case that you get what you pay for.
Where do Luma Sleep's products fall on the price spectrum? We'll get there in just a second, but let's first discuss their features.
How Do Luma Sleep's Mattresses Work?
Billed as a natural alternative to memory foam, Luma's mattresses come in three different firmness options:
Plush – A light and fluffy feel ideal for side sleepers or lighter individuals.
Medium – This might be an ideal option if you frequently change positions while you sleep.
Firm – Ideal for back sleepers, those who prefer a more substantial feel, or larger/heavier folks.
Regardless of firmness, Luma's mattresses are designed to work with just about any solid surface that can support the weight, whether box spring, foundation, platform base or even the floor.
By combining Talalay latex, Dunlop latex, and more than 1,000 individually wrapped pocket coils, Luma tells us their mattresses provide progressive support that allows you to keep your posture perfect in any sleep position.
According to Luma's FAQ, their Tencel covers and Talalay latex foam are certified per Okeo-Tex Standard 100, and their polyurethane foams are certified to Certi-PUR-US standards.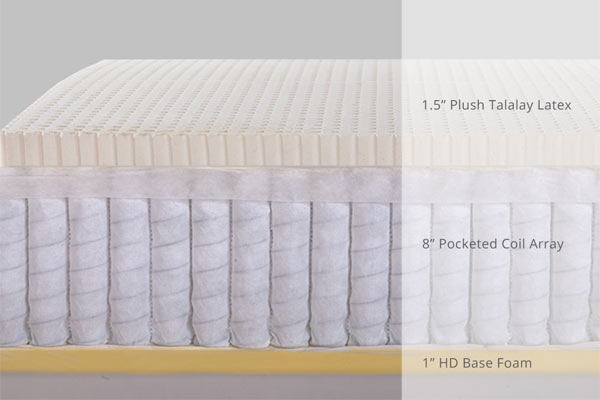 All Luma Sleep mattresses feature three layers: 1" high-density base foam, 8" individually pocketed coils, and 1.5" of Talalay latex foam, wrapped in a Tencel cover. Image credit: Luma Sleep
What's the Difference Between Luma's Mattress & Slumber Systems?
Are you clear about the differences between Luma's mattresses and their Slumber Systems? Let's briefly make sure we're all on the same page.
When it comes down to it, the biggest difference is that Luma mattresses feature a one-piece design, while their Slumber Systems implement two-piece designs. What's the point?
If your needs change at any point in the future (whether weeks or years), the Slumber System design gives you the option of adjusting your firmness. Simply contact the company, and they'll work with you to figure out whether you need something firmer or softer.
Then, they'll send you the appropriate layer for replacement. Afterward, you'll insert your old top layer into the included box and pre-paid shipping label, which will be sent to a recycling facility.
What's Included In Luma's Latex Hybrid Slumber System?
Luma Sleep's Latex Hybrid Slumber System features a total of four layers: The same 1" high-density base foam, 8" individual pocketed coils, 1.5" of Talalay latex foam, and Tencel cover in their mattresses, with the addition of a 3" interchangeable comfort layer.
The Hybrid Slumber System also includes two queen-size Talalay latex pillows.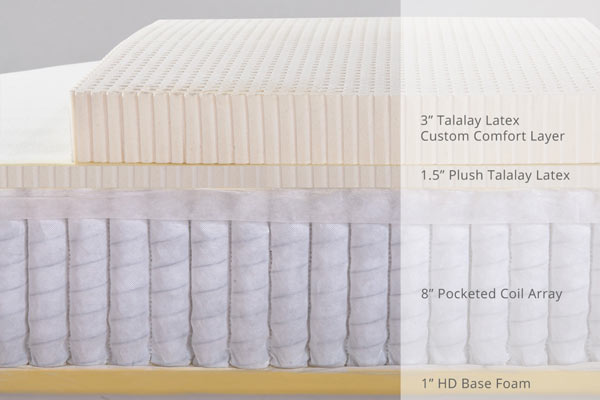 Luma's Latex Hybrid Slumber System uses the same three bottom layers as their mattresses, with an additional 3" layer of interchangeable Talalay comfort foam. Image credit: Luma Sleep
How Is Luma's All Latex Slumber System Different?
The All Latex Slumber System features a completely different three-layer design:
6" firm Dunlop latex base
2" layer of medium-firm Talalay latex
3" top layer of interchangeable Talalay comfort foam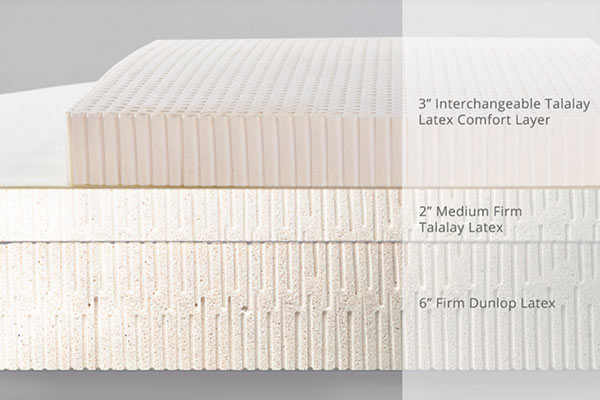 Luma's All Latex Slumber System changes things up by offering three layers of Dunlop and Talalay latex. Image credit: Luma Sleep
How Much Do Luma Sleep's Products Cost?
Luma Sleep's products are priced as follows:
Mattresses: $695 - $1,195
Latex Hybrid Slumber System: $1,195 - $1,895
All-Latex Slumber System: $1,595 - $2,595
Accessories (pillows, toppers, foundations): $60 - $495
Luma's mattresses and Slumber Systems come with free shipping within the continental U.S., while AK and HI residents will be charged an additional $100 for S&H.
While Luma's mattresses are shipped to your door in an 18" x 18" x 46" box, according to their FAQ, they could weigh up to 200 pounds. You'll probably need at least a second person to lift into place.
During checkout, you can pay a one-time fee for White Glove Delivery, which includes a two-person team who will place your Luma mattress in the room of your choice, set it up on your bed frame, and dispose of any unwanted packaging. For another $50, they'll remove and recycle your old mattress.
Note: All Latex Slumber Systems include free White Glove Delivery.
Luma Sleep's mattresses come with a 100-night trial and free returns. After giving it a month, call the company, and they'll have someone pick it up and either donate it to a local charity or have it recycled.
Luma's mattresses come with 10-years warranties, while their Sleep Systems are warrantied for 15 years.
Whether to request a different comfort layer, return a mattress, or process a warranty claim, Luma Sleep's customer support can be reached at 813-956-3765 or info@lumasleep.com.
Can We Learn Anything Interesting From Luma Sleep Customer Reviews?
Based on 36 customer reviews, Luma Sleep had an average Consumer Affairs rating of 4.9 stars at the time of our research. Frequent compliments revolved around comfort, breathability, customer support, and price.
12 Trustpilot reviewers gave Luma an average rating of 8.9 (Great), with many of the same compliments found on Consumer Affairs.
Luma Sleep was launched in 2016 by business friends Steve Russo and Jim Siragusa, both of whom have experience as "long-term mattress executives" in the industry, as well as David Barnum, who's a designer and entrepreneur.
While it's positive that Luma Sleep's products seem to come with almost wholly positive online customer feedback, the reality is that you'll often find similar sentiments for other direct-to-consumer mattress companies. How can you pick the right one?
Luma Sleep vs. the Online-Only Mattress Competition
Let's cut right to the chase: In our research and interviews with industry professionals, we've learned that buying a mattress online largely comes down to your sleeping style and preferences.
For example, side sleepers or heavier individuals might prefer a firmer comfort layer, while those with moderate to severe allergies might want to focus on naturally hypoallergenic materials. Or, if you tend to prefer especially plush or firm mattresses, this will also limit your online-only options.
How about warranty? Some online options only feature 10-year warranties, while others can span as long as 30 years.
Even directly comparing some of Luma Sleep's closest competition, we can see that you won't find anything that's exactly the same, and the differences you do choose to emphasize can make all the difference. Here are just a few examples:
If you're looking for a direct mattress that combines pocket coils and foam, Intellibed features a spring-based design, and at $399–$6,998, a much broader price point than Luma. However, they're only available in medium firmness and come with a 60-night trial.
Saatva also offers mattresses with wrapped coils and three different firmness options, but you can't change firmnesses post-purchase. At $599–$1,299, Saatva's mattresses are priced similarly, although meaningfully lower than Luma's Slumber Systems.
Zenhaven also offers Talalay-focused mattresses priced between $1,299 and $2,499, but only two firmness options.
Focused more on adjustable comfort and firmness? Novosbed can deliver three different firmnesses that can be changed after purchase, although they only feature ultra-dense memory foam (no coils). They're competitively priced and come with a longer 120-night trial.
What's Our Bottom Line About Luma Sleep?
Not to sound like a broken record, but again, the right mattress for you depends on the factors you deem most important.
But if you're looking for a competitively priced Talalay-focused mattress, delivered to your door, which features multiple (and adjustable) firmnesses and comes with mostly positive customer feedback, it seems that Luma Sleep has carved out a nice niche for themselves within the crowded direct-to-consumer mattress market.
And if you're not satisfied, you can always return it free of charge within 100 nights.
Help others make a more informed decision about Luma Sleep by sharing your review below.
More pleasure

By Don H.

,

Savannah, GA

,

Oct 29, 2018
Verified Reviewer

I have had the Luma Sleep pillows for two years. The shape always retains its original fullness. Just this week I purchased a topper for my king size bed; I relax and give in to sleep so much quicker, almost immediate. Good stuff!

Bottom Line: Yes, I would recommend this to a friend

---

Fantastic products and company

By Gretchen P.

,

San Diego, CA

,

Jul 22, 2018
Verified Reviewer

I am sold on Talalay Latex. It gives you the most restful sleep and cushions your joints. At first, I wasn't so sure that I would fall in love with it, because the feel has a slight bounce to it. However, I quickly learned to love it, and I am now a loyal fan!

Luma is a fantastic company, and it is a huge plus that their products are made in the USA. Highly recommended!

Bottom Line: Yes, I would recommend this to a friend

---

Advertisement

---