LuminAID Reviews
Claimed This company has claimed this profile, is getting alerted on any new customer reviews entering this page, and may engage in dialogue with its customers to address their matters.

Companies cannot pay money or provide goods in order to remove or alter customer reviews.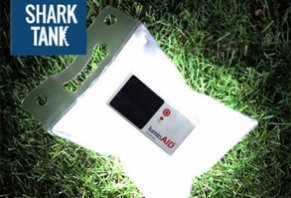 LuminAID is an inflatable, waterproof, portable, and solar rechargeable light that's claimed to provide light whenever you need, whether an emergency or camping.
About LuminAID
Developed by Anna Stork and Andrea Sreshta after their work providing aid relief to Haitian earthquake victims, LuminAID is a lightweight, portable, and rechargeable lighting product that can pack flat and provide light during times of emergency, or simply when you and your family are out camping or backpacking.
Since opening their doors just over five years ago, LuminAID claims to have worked with some of the largest relief aid organizations in the world, and to have distributed their inflatable lights to more than 50 countries. Currently, the company claims to be continuously focused on developing smart, innovative lighting and energy products for emergency aid and outdoor use.
How Does LuminAID Work?
LuminAID's unique design is centered around an inflatable air bladder made of TPU, which is a safe, sustainable material that's 100% PVC-free and phthalate-free. This material diffuses the light produces from 8, 12, or 16 LEDs (depending on model – more about this in the Pricing section), which are powered by a lithium-ion polymer battery (similar to a cell phone battery) that's rechargeable using the attached high-efficiency monocrystalline solar panel.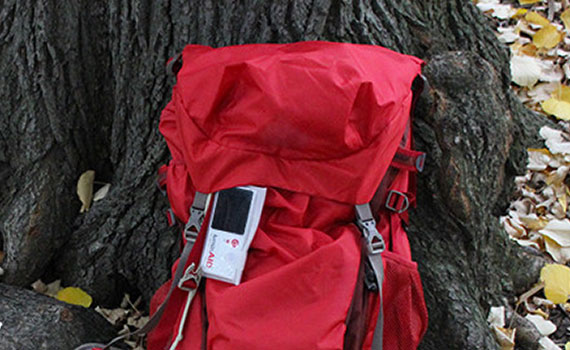 LuminAID PackLite 16
Not only is each LuminAID light designed to last multiple years and hundreds of recharge cycles, the plastic it's encased in means that it's also 100% waterproof and lightweight. In fact, the company claims that, "for approximately 8 flashlights by volume, you can pack up to 50 LuminAID solar lights."
LuminAID lights are claimed to work over 4 steps:
Make sure your LuminAID light is powered off and the red LED charge indicator is on, and then charge in direct sunlight for 7 hours. After 7 hours, your light can hold its charge for more than 4 months.
Inflate your LuminAID light by pinching the bite valve and blowing.
Press the red ON/OFF button to illuminate your light or cycle through the settings (depending on model).
LuminAID's waterproof design means that it can be used as an all-weather device.
According to the company, LuminAID brightness and run times are: Extra bright (45 lumens and 6 hours of run time); high (35 lumens and 8 hours of run time); low (20 lumens and 16 hours of run time); and flashing (20 lumens and 32 hours of run time) settings, depending on your model.
LuminAID's Shark Tank Appearance
LuminAID first made its public appearance in an Indiegogo crowdfunding campaign during 2011 that raised more than $50K on an original goal of just $10K.
More recently, Anna Stork and Andrea Sreshta appeared on season 6, episode 20 of Shark Tank and received offers from all five Sharks.
Kevin O'Leary (aka Mr. Wonderful) offered $200K for 4% royalties, on top of LuminAID's current 2% royalty deal with Columbia University, which would end once he received 400% of his money back. Daymond John offered $300K for a 20% equity in the company, while Lori Greiner offered $200K for 20% of the company.
Mark Cuban offered $200K for 15% equity, in addition to the option of providing $300K of future financing when necessary in the future, while Robert Herjavec also offered $200K for 15% equity.
In the end, LuminAID's founders ended up choosing Mark's offer because of his promise to lead them into the future and to expand their product lineup.
Customers Appear to Be Lighting Up Over LuminAID
Overall, it appears that LuminAID's lights have a very positive online reputation with customers.
In fact, among more than 300 customer reviews for the LuminAID Light V1 on Amazon (as of 3/3/15), it had an average rating of 4.5 stars, with common compliments citing its lightweight, durable, and portable design; the ability to recharge using solar light; and overall high level of quality.
However, common complaints included that the light might be too diffused to be usable in all instances; its valve design allows air to quickly escape before you have time to close it (although this may have been addressed in V2); and some units didn't hold a charge. However, it should be noted that whenever a customer was dissatisfied, the company quickly responded and offered a solution.
BicycleHobo noted that LuminAID's unique design could even be used as a pillow when backpacking (which is likely one of the largest single markets for LuminAID, outside of aid work), and might even be useful as a water carrier in the event of an emergency. Speaking of which, BackpackingLight.com members enjoyed LuminAID's portability, but worried about its relatively heavy weight.
Are There Other Lighting Options Similar to LuminAID?
Although LuminAID's specific design is fairly unique, remember to research all your options before finalizing your purchase. This is because there are similar options available from other manufacturers, including the Sunlight Lantern, the Luci EMRG, and many others. In addition, there are dozens of non-inflatable solar camp lights available that might work just as well, depending on your needs.
LuminAID Pricing & Refund Policy
LuminAID solar lights are priced as follows:
LuminAID Solar Light (V1) – Claimed to provide up to 16 hours of LED light and can be recharged in the sun: $19.95
PackLite 12 (ships April 2015) – Twists and inflates to become a portable lantern that provides up to 12 hours of LED light: $22.95
PackLite 16 (LuminAID Light V2) – A new and improved version that's claimed to contain twice the wattage with 16 double LEDs, a thicker and more durable material, and flashing settings for emergencies: $24.95
PackLite Spectra (ships April 2015) – Similar in design to the PackLite 12, but contains color-changing bulbs: $24.95
Give Light, Get Light Package – Allows you to purchase 1 LuminAID Solar Light (V1) and provide another to one of four different charitable organizations: $27.95
Additionally, LuminAID claims to offer custom printing services on orders of 120 units or more, in addition to an art pack that includes washable chalk markers that allow you to draw on your light. However, we didn't find any indication of the latter on the company's website at the time of our research.
LuminAID lights come with a 1-year warranty and a 30-day return policy. In order to file a warranty claim or request a refund, you'll need to send an email to orders@luminaid.com for a prepaid return label.
Is LuminAID Worth Your Money?
Chopping to the point: Considering LuminAID's groundbreaking design, and the company's reputation for quality products and attentive customer service, these portable lights could be a great addition to your emergency bag in the car, in your backpack on your next hiking trip, or even just a unique way to provide outdoor lighting at your next get together.
Very disappointed for the third time

By Mike W.

,

Wasilla, AK

,

Apr 30, 2019
Verified Reviewer

I bought one of LuminAIDs inflatable, solar lamps from Sportsmans Warehouse. I own and have used a competitor's inflatable solar lamps for years but wanted one with a USB port for charging in addition to solar. The lamp worked for about two months at the most and then would no longer turn on. The red charging light still lit up when it was connected to a charging source but that's it. I returned the lamp and got a replacement from Sportsmans Warehouse, it quit working in even less time. I contacted LuminAID and they were quick to respond, informed me of a possible bad batch of lights that all had a similar problem that had been corrected by the company. They sent me a new lamp and a self-addressed padded envelope to send them the faulty lamp, which I immediately did upon my receiving it. The new lamp worked for several weeks and then it also would not come on but the charging light still lit up.

Finally, I said the heck with it and the company. Unlike other reviewers here that had a bad experience with customer service, I would say I had a very good experience but I need solar lights that work. I have included a number given to me in an email from the company, I don't know if it's an order number. They also sent me a USPS Tracking number. They sent me the new lamp on 1/3/2018.

Bottom Line: No, I would not recommend this to a friend

---

Super happy with both the company and my purchase

My first LuminAid order was when their first design launched, and prior to overseas shipping (I was in New Zealand at the time). I had a bunch shipped to my cousin in the States, and she brought some over for me.

I loved the practical, lightweight design and used them camping over several years, until I only had one left and it was time for a new order. By that time they did ship internationally, but unfortunately the order never arrived, I forgot about it, and in the meantime, we moved to Australia. When I hunted up the emails regarding my order that never arrived, I realized it was from early 2015, almost three years ago

I contacted LuminAID with a query to find out if they knew what had happened to my order, but of course, by this time FedEx delivery tracking details are long gone. The company was decent enough to send me an additional order to our new address in Australia.

The box of Packlite Nova USB's arrived last week, and I love them. I was especially happy to have them last night when our electricity went off for 5 and 1/2 hours during a storm. I hadn't even pulled all the lanterns out of the box, but even with a partially charged battery, they provided light for our house the whole time the power was off. They're now sitting in the sun, recharging.

I am very happy with both the product and the company. Highly recommended.

Bottom Line: Yes, I would recommend this to a friend

---

Advertisement

---

Best light ever; bright, tough, versatile!

By Julia Bate

,

Sarajevo, Bosnia and Hercegovina

,

Sep 19, 2017
Verified Reviewer

I volunteer in a public dog shelter in Sarajevo, Bosnia, where my husband is stationed with the US government. The shelter has no electricity, and in the winter darkness comes at 4 pm. I tried strings of solar-powered Christmas lights, but the rats (yes, rats) chewed through the wires. I stumbled across LuminAID in my search for another solution.

I have been using the Packlite 16 and the Packlite Nova at the shelter now for about 6 months. They are truly amazing. Two of them light up the entire building, and keep the rats away. More than that, even after the dogs got hold of the Packlite 16, it still works! The plastic is so tough they couldn't bite through it.

I hang them outside during the day while I'm working, then turn them on when darkness falls. I've never had a problem with them running out of juice. Plus, they're small, incredibly lightweight, and they can hang anywhere! And the amount of light they put out is incredible. I'm a bit of an airhead, so I also appreciate that once I charge them, I can throw them in my trunk, forget about them for 6 months, and they will still work when I need them!

I just ordered 6 more of the Packlite Max to use at the shelter. Last month, I bought some for my mother-in-law's birthday. I'm pretty sure my in-laws thought it was the best present I'd ever gotten them. And when they lost power from Hurricane Irma (they live in Florida), they were especially glad to have them. This is really a great product from a great company.

Bottom Line: Yes, I would recommend this to a friend

---

Split in seam of air bag

I placed an order for your product on 7/6/15. It was shipped to me on 7/16/15. Order #SP6668. After receiving this product I was so excited and happy and showed it to numerous family members. I then placed it in it's original shipping package and stored it away. I would occasionally charge it every few months. In October of 2016 I happened to be in South Carolina when hurricane Matthew struck. I was staying with family members and bought out the inflatable pillow luminAid light to use if the power went out. It was at this time that I was shocked to find out one of the seams had a small leak which turned into a larger leak as I blew more air into it. I managed to contact them and they recently sent me a new one and I sent them back the damaged one. A contact number was also provided to me 312-600-8997. Thank you LuminAid.

Bottom Line: Yes, I would recommend this to a friend

---

Advertisement

---

Good light but NO customer service

By Steve

,

MIchigan

,

Jul 12, 2016
Verified Reviewer

I used LuminAID as a camp light and all was good. Now, two days later, it keeps showing the red light as if it's charging even after 2 days in the sun. I tried to contact the company twice now, with NO results, nothing.

Anyone know how to get ahold of this company?

Wondering if the "sharks" know that there is an issue with customer service.

Will NOT recommend this product without any customer service!

Bottom Line: No, I would not recommend this to a friend

Jul 14, 2016

Dear Steve,

Thank you for your review, and we're so sorry you had issues with the lights. Customer input is extremely important to us and we take all feedback into account when developing new products and improving our current products.

We also offer a 1-year warranty on all of our lights, and would be happy to help you with replacements if needed. Could you email us at orders@luminaid.com and reference this review?

Thank you,

Team LuminAID

---

Lousy customer service

By Karen Kaup

,

Ohio

,

Jun 28, 2016
Verified Reviewer

I received this for fathers day, packing 16 hissing air, so completely useless. I emailed them three times and absolutely cannot get a response. Obviously they have no customer service so I am stuck with this useless lantern that will not hold air. At $20, I think that is an expensive lesson. Do not do business with this company as once they get your money and credit card they will not respond to absolutely anything. I would rate them minus 10 Stars. I sincerely doubt they will post this review, If they even read it.

Bottom Line: No, I would not recommend this to a friend

Nov 11, 2016

Hi Karen,

I am so sorry we have delayed in responding to you. We do have a one year full warranty and are happy to help you with a replacement light. Please email us at orders@luminaid.com and someone from our customer support team will be in touch! Again, I apologize for the inconvenience and want to work to make this right.

Best,

Team LuminAID

---

Total Junk

By Alex Moore

,

Texas

,

Jul 5, 2015
Verified Reviewer

I spent over 200 dollars on 10 of these things, thinking they'd be great to set up around the campsite. The first night was awesome, color changing, beautiful lights. The second night it rained, and I left the lights out, by the end of the week, the glue had disintegrated, and the battery/solar units came off. Worthless junk, unless you plan on using them indoors.

Jul 5, 2016

Hi Alex,

Thank you for your review, and we're so sorry you had issues with the lights. We care a lot about the quality of our lights, so thank you for pointing this out. Customer input is extremely important to us and we take all feedback into account when developing new products and improving our current products.

We also offer a 1-year warranty on all of our lights, and would be happy to help you with replacements if needed. Could you email us at orders@luminaid.com and reference this review?

Thank you,

Team LuminAID

---

luminAID PackLite 12 Bad Product Design

I purchased a lumimAID PackLite 16 and 12 to use for camping. This past weekend I used them for the first time and the PackLite 12 fell completely apart! I thought that model would be great since it has an adjustable handle that could hang from the top of the tent. But I feel the construction of that model is very poorly made. I am happy with the 16 which I would recommend. Though I do not recommend the PackLite 12. I did email the company but have not received any response, thus I feel their concern for the customer is not their top priority.

Bottom Line: No, I would not recommend this to a friend

Jul 5, 2016

Hi Mary Lou,

Thank you for your review, and I'm so sorry you had issues with your lights. We take quality control very seriously and sincerely apologize this happened with one of our products. A small number of lights from that batch had an issue with the sealing. We have fixed the problem with our manufacturer to make sure it won't happen again.

Based on our records, we also sent you a replacement light, but we would be happy to discuss this more with you if you would like to email us as orders@luminaid.com.

Best,

Team LuminAID

---

Great Idea. Survival pack ready!

I was amazed at the idea the creators had to have an inexpensive lighting that can be used in disasters, and places in Third World countries that have no electricity or night light.

I have it in my back pack & plan on using it this summer while camping. Perfect light for the tent.

I will be ordering some extras for my family and outdoor buddies.

Bottom Line: Yes, I would recommend this to a friend

---

Bad Customer Service

By Ashley

,

Tokyo, Japan

,

May 10, 2015

I have contacted the company twice in a one week span. However, there has not been one response. What I do not like is there is no telephone number where they can be directly contacted. Why is this? I am not writing this as review on their product but rather on their customer service.

Bottom Line: Yes, I would recommend this to a friend

Jul 5, 2016

Hi Ashley,

Thank you for your review, and I am so sorry about the lack of communication with customer support. It looks like we did not receive your messages, which could be a problem with our spam filter, and we are very sorry about that. But if you email us directly at orders@luminaid.com, we will have a customer support representative respond ASAP.

We always want our customers to have a good experience, and we take customer support very seriously, so please do not hesitate to reach out!

Best,

Team LuminAID

---