Luminas Reviews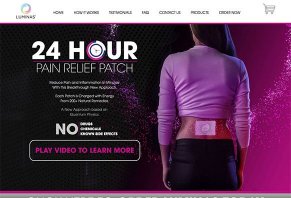 In business since 2014, Luminas manufactures a line of non-transdermal patches that use energy medicine technology to deliver electrons from 200+ beneficial substances and provide pain relief.
About Luminas
Without using drugs or chemicals of any kind, Luminas odor-free pain relief patches promise to reduce inflammation in minutes and decrease discomfort anywhere on the body for 24 hours or more.
The website advertises these patches use "a breakthrough method based on quantum physics" they call energy medicine technology. Here, the company explains that each patch is "charged with the power of more than 200 natural remedies known to reduce the most common causes of pain and inflammation."
Despite its effectiveness, Luminas International, LLC—who's based out of Irvine, CA and has been in business since 2014—claims their patches are safe for users of all ages and cause no known side effects.
According to the American Academy of Pain Medicine, more than 100 million Americans suffer from chronic pain. However, many of these individuals report their pain is poorly managed, so Luminas' patches certainly could help a lot of people if they work as advertised.
Is it necessarily the breakthrough frequently mentioned on the company's website, though? Ultimately, how can you figure out which is the best first step?
These are just a couple of the questions we'll help you quick answer here, in a step-by-step format.
Which Ingredients are Found in Luminas Pain Relief Patches?
The Luminas website emphasizes their "patches contain no active ingredients." Instead, they're "charged with electrons captured from" a proprietary formula that includes more than 200 ingredients like:
Acetyl-L-Carnitine, Amino Acids, Arnica, Astaxanthin, B-Complex, Berberis Vulgaris, Bioperine, Boluoke, Boswellia, Bromelain, Chamomile, Chinchona, Chondroitin, Clove, Colostrum, CoQ10, Cordyceps, Curcumin, Flower Essences Frankincense, Ginger, Ginseng, Glucosamine, Glutathione, Guggulu, Hops Extract, K2, Lavender, Magnesium, Motherwort, MSM, Olive Leaf, Omega-3, Peony, Proteolytic Enzymes, Polyphenols, Rosemary Extract, Telomerase Activators, Turmeric, Vinpocetine, Vitamin D, White Willow Bark
Furthermore, we're told that these patches are non-transdermal. So, even if they did contain active ingredients, your skin couldn't absorb them.
Nonetheless, Luminas indicates that once the medium and large fabric patches are applied to the skin, they can provide pain relief for up to 24 hours. This version also features a stronger, water-resistant adhesive that's designed to stay on in most conditions (bathing, showering, swimming, exercising, etc.).
The smaller white, circular patches are designed to provide relief for 24+ hours, with an easy-off adhesive that can be removed with water.
Now, you might be wondering: How can something with no ingredients (and no ability to pass through your skin, even if there were) have any mechanism of action on the body? This is what we'll explore next.
Taking a Closer Look at Luminas' Energy Medicine Technology
Luminas' Advertising Claims
Here's how Luminas explains their electron energy medicine technology, taken directly from their website:
"Our proprietary technology allows us to capture these unique electric field signatures from 100s of natural remedies used to relieve pain and inflammation. These unique signatures are then modulated onto a resonant carrier wave allowing us to transfer these unique signatures onto the patch."
After these electrons are imprinted into the patch and applied to your skin, the Luminas site explains they "work naturally with your body's own electric field to activate the innate natural healing energies that relieve pain, restore balance," and "support the body's innate, natural healing process."
The Science Behind Luminas
No one on the HighYa team is a physicist, either. But with the help of a few authoritative, publically available resources, let's quickly unpack some of these terms at a consumer level.
What Are Carrier Waves?
According to Dr. Jan Noordhof of the Tait Radio Academy, the carrier waves referenced on the Luminas website are sine waves (they steadily move up and down; think of a heartbeat monitor), but they contain no information that's useful, such as speech or data.
To include any information in a carrier wave and therefore make it useful, he explains, "another wave needs to be imposed, called an input signal," on top. "This process of imposing an input signal onto a carrier wave is called modulation. In other words, modulation … is like hiding a code inside the carrier wave."
As you might imagine, because of their information-carrying ability, carrier waves are especially useful in the telecommunications (radio, television, internet, etc.) industry, where large, powerful towers transmit them.
However, we didn't encounter any mention on sites like the Tait Radio Academy, the Indiana University Southeast School of Natural Sciences, the Federation of American Scientists, or The Ohio State University Department of Physics (to name just a few), that the physical properties of substances can be transmitted on carrier waves.
Let's carry this thought over to the next section, before moving on.
How Do Carrier Waves Relate to the Electron Profiles Found in Each Luminas Pain Patch?
The very word 'electronic' indicates that electrons are closely involved in the transmission of carrier waves. As such, it might make sense that each Luminas pain patch could— even though there's no power source—actually transfer electrons into a person's body.
Or, as their website puts it, these patches "capture the electron profile of hundreds of different compounds" and "natural remedies," after which the "body can select exactly what it wants." In this way, you can "harness the energetic signatures your body needs to perform its best."
Again, as non-physicists, here's where some of our questions come in. Why?
Because a molecule is the smallest particle of any compound that can exist independently. In other words, a molecule of starch from corn (as one random example) is the tiniest piece of matter that can exist and still be called 'starch.'
However, a molecule is made up of atoms, which themselves are made up of protons, neutrons, and electrons. But, since each molecule contains a different combination of atoms (starch versus protein, for example), they also carry a different number of electrons.
Pulling these facts together, we can see that transmitting a single electron would not be the same as transmitting an entire molecule, which is the smallest substance that can have a measurable effect on the human body.
Nonetheless, the Luminas website, commercial, and videos repeatedly emphasize that the electrons generated by their patches have been shown via digital infrared thermography to decrease skin temperature and related inflammation.
How Much Does Luminas Cost & Where Can You Buy?
Each box of Luminas' white (lightweight and long-lasting) and tan (heavy-duty but shorter acting) versions contains 24 pain relief patches; 12 medium (1.5" x 2.75") and 12 large (2.75" x 4"):
1 Box: $34.99
2 Boxes: $59.99 ($29.99 per box)
3 Boxes: $82.99 ($27.66 per box)
4 Boxes: $99.99 ($24.99 per box)
There's also:
Small Patches (40 pack): $29.99 - $95.96
Small Patches (80 pack): $39.99 - $135.96
Sleep Patches (60 ct.): $34.99 - $
We found Luminas' pain patches available on Amazon for the same prices, although all Prime members were eligible for free two-day shipping. On the other hand, company-direct orders will pay:
Standard Shipping (3-5 days): $8.95
Priority Shipping (2 days): $15.95
Overnight: $29.95
Direct orders also come with a 30-day money back guarantee, less S&H. To request one, you'll need to call (844) 244-1400 or send an email to care@luminas.com.
What Can We Learn From Online Luminas Customer Reviews?
We encountered nearly 40 customer reviews for Luminas on Amazon at the time of our research, where their pain relief patches held an average rating of about 3.8 stars.
There, common compliments referenced reduced pain and ease of use, while the relatively few complaints typically referenced no effect and high price.
Although the company has been in business since 2014, they weren't listed with the Better Business Bureau and had a limited third-party online presence, and therefore customer feedback.
Luminas vs. Heliopatch: Are There Other Drug-Free Pain Relief Patches Available?
From a high-level perspective, a quick search via online marketplaces like Google Shopping, Walmart, and Amazon will reveal dozens of pain relief patches, with a variety of mechanisms of action, from national brands like:
| | | |
| --- | --- | --- |
| Brand | Price | Active Ingredient(s) |
| Luminas | $24.99+ per 24-patch box | None |
| Salonpas | $10 for 5 patches | Menthol 3%, Methyl Salicylate 10% |
| Ultimate Lidocaine Pain Relief Patch | $20 for 5 patches | Lidocaine 4%, Menthol USP 1% |
| ThermaCare Advanced Multi-Purpose Patch | $25 for 3 patches | None; only generates heat once applied to the skin |
| nCAP Reusable Pain Patches | $26 - $182 | None; generates electrical waves using tiny capacitors |
| Bengay Pain Relieving Patch | $5+, depending on size | Menthol 5% |
This is to say nothing of other drug- and- menthol-free options, including high-tech wearables like Quell, TENS units, or full-blown electronic muscle stimulator (EMS) devices.
Zooming in, though, we encountered only one other product that advertised a similar mechanism of action as Luminas: Heliopatch ($30 for 5 patches).
Along the same lines, this patch promises to use "specially refined elemental magnesium" as a source of electrons, which it then transmits to the body. Once there, they say that free radicals (molecules missing electrons that can damage the body) pick up these free-floating electrons and are subsequently neutralized through a process dubbed 'electron donation therapy.'
Other than their meaningful price differences, how can you choose whether or not you should buy pain relief patches from Luminas, Heliopatch, or neither?
Is Luminas the Right Pain Relief Option for You?
Because chronic pain is a medical condition, the first person you should talk to is your doctor. They can ask the right questions and order the appropriate tests to formulate a science-backed treatment plan that can help you find some relief.
During your appointment, be sure to ask them about Luminas and other chemical-free pain relief patches and devices, and which one might deliver the most bang-for-your-buck, based on your specific diagnosis.
Based on the basics we learned during our research from organizations like the Federation of American Scientists and The Ohio State University Department of Physics (to name just two), though, the exact mechanism of action—and whether or not the concept is scientifically valid—with patches like Luminas seems to be a mystery.
But if you give their patches a try and find they don't provide the pain relief you're expecting, Luminas seems to stand behind them with a 30-day refund policy. Just keep in mind you'll lose your original S&H, plus whatever it will cost to send them back to the manufacturer.
Have been using the pain patches. They are absolutely helping my knee pain.

By Phyllis F.

,

Huntington Station, NY

,

Jan 25, 2020
Verified Reviewer

I had a knee replacement 3 years ago. Unfortunately, my pain has not lessened. My surgeon says that there is nothing wrong with the replacement apparatus. He claims that I have a hematoma and I should ice/heat the knee. I have done this for 2 months to no avail. With your pain patches, I have found relief.

Bottom Line: Yes, I would recommend this to a friend

---

Shoulder pain

By Joyce M.

,

Deer Park, TX

,

Nov 15, 2019
Verified Reviewer

I was told I needed a joint replacement 2 years ago. I have tried everything on the market including Lidocaine patches, Lidocaine creams. So when I ordered these patches I wasn't really thinking they would work. Because I just couldn't bring myself to have a shoulder replacement I tried them. Well, I was totally shocked when I put the first patch on within 15 minutes my pain not only was better it was gone. They worked for hours. Which is a blessing. I could lift my arm up without pain. I have given patches to everyone I know who is in pain. Which helped them also.

I am sold on these patches and will continue to purchase them. Thank you for my relief.

Bottom Line: Yes, I would recommend this to a friend

---

Advertisement

---

I have just received my third order of Luminas.

By M Eileen S.

,

Florida

,

Oct 29, 2019
Verified Reviewer

I can't believe how much pain relief I get from Luminas.

I am in my 80's and have a number of serious issues with my back.

Luminas gets me through the day without drugs. YEA.

I could hardly walk on Sunday, 10/20, but was able to move and go to a social function today, Monday, 10/21. Hopefully will be able to drive tomorrow.

Thank you for your drug-free pain relief.

Bottom Line: Yes, I would recommend this to a friend

---

Finally dependable pain relief

By Robin G.

,

Boca Raton, FL

,

Oct 29, 2019
Verified Reviewer

Luminas has been a Godsend to me. I get headaches every month and I don't need any medicine other than my Luminas patch. I place it on the back of my neck and no matter what side the headache is on, it disappears. I do not even know it is on my neck. It is comfortable to wear and stays on for as long as I need. It comes off easily when I am ready to remove it. I haven't had the opportunity to use it for other issues, but I am ready when it is necessary and can't wait to see how it works for other aches and pains. I wish there were a few more of the smaller ones, because those work perfectly on the neck. Thank you from the bottom of my heart. No more dreading every month and being in bed for two days! I can actually function with the patch on.

Bottom Line: Yes, I would recommend this to a friend

---

Advertisement

---

Best pain patches

By Kathy M.

,

Broken Arrow, OK

,

Oct 28, 2019
Verified Reviewer

After trying so many other quick-relief pain patches and not working for the long haul, the Luminus patches work for me. I really like the 1" round small patch for daily use. The large size works for lower back pain and the smaller patch works so good on shoulder pain and hip area for me as well. As time goes on I have been able to use less patches on a daily usage, so don't worry about the cost of these patches, just enjoy your daily life.

Bottom Line: Yes, I would recommend this to a friend

---

Amazing

By Debbie M.

,

Mississippi

,

Oct 26, 2019
Verified Reviewer

My 90+-year-old Mom has severe hip bursitis and sciatica pain in her left leg. The Luminas patches have dramatically relieved her pain. And, they work for 3 to 4 days before the need for a new patch. I honestly did not expect them to work, but I am thrilled and telling everyone about them! One day I slept wrong and got a nagging crick in my neck, so I decided to try one of the small patches myself. In a matter of 10 to 20 minutes, I could feel the relief! They are wonderful.

Bottom Line: Yes, I would recommend this to a friend

---

I like it

By Rosanne L.

,

Larchmont, NY

,

Oct 23, 2019
Verified Reviewer

I feel it has been helpful to me and am aware that it will heal my condition of spinal stenosis/arthritis. Nice that it is very easy to apply...no messy creams...would definitely order again.

Bottom Line: Yes, I would recommend this to a friend

---

Great

By Sheila D.

,

Stanley, VA

,

Oct 14, 2019
Verified Reviewer

I have seen relief by using the Luminas patches! They really have helped my hip pain. I strongly urge everyone who suffers with pain to try them. Thank you so much for a product that works and that did not have side effects. I love that there are no pills to have to swallow!

Bottom Line: Yes, I would recommend this to a friend

---

Pain gone in minutes

Starting in my hips then down to mid-calf. Lumina patches relieve the pain in my hips so that I'm able to go about my life. When I get a headache, I put a small patch on my temple and it is gone in minutes. Other areas used: knees, small of back and nape of neck. I won't be without them! I've recommended Luminas patches to many of my friends and family.

Bottom Line: Yes, I would recommend this to a friend

---

Luminas pain patches

By Paul H.

,

Marion, NC

,

Sep 18, 2019
Verified Reviewer

I recieved the patches on 9/10/2019, applied one to knee and pain was gone in less than 2 hours. Tried all others and this is first to give relief. I would urge anyone in pain to try these. I have had a lower back fusion and cement to stable back and was still in pain.

Bottom Line: Yes, I would recommend this to a friend

---

Aching side/back

By Judith C.

,

Virginia

,

Sep 16, 2019
Verified Reviewer

Due to suffering from Scoliosis, I was in continual pain. Other medications did not even come close to providing the relief I was looking for. I decided to give Luminas a try, and I'm glad I did. The patch gives me long-lasting pain relief right away when I need it. I recommend Luminas for my friends who have back and neck pain.

Bottom Line: Yes, I would recommend this to a friend

---