About Lumio
Created by Max Gunawan, Lumio is a one-of-a-kind light that looks like a book when closed, but opens to reveal opaque pages featuring embedded LEDs that create a modern, minimalist aesthetic. And because Lumio only weighs about a pound, it's claimed to be a portable, rechargeable option that can be used just about anywhere.
Due to its unique book-like design, Lumio is configurable in 4 different ways and can be adapted to your lighting needs as they change throughout the day:
Flat on the table for ambient lighting.
Opened 360 degrees for a greater degree of light.
Open only slightly when sitting upright for directional, passive lighting useful for reading or writing.
Combine multiple units for custom lighting solutions.
The Story Behind Lumio
Countless products throughout history were developed during the process of inventing something else, which is exactly what happened in the case of Lumio. According to Max, the light was born while he was attempting to build a modular home that could be folded flat and placed into a compact car. However, after realizing he needed too much capital to build the whole home, Max decided to scale down the project and build a folding lamp.
Previously employed as an architect, Max focused intently on not just Lumio's design, but on production as well. In fact, Max claims to have spent 4 months in a Chinese factory fine-tuning Lumio's manufacturing process in order to get costs down as low as possible.
Although Lumio was originally released in July 2013 after a successful Kickstarter crowdfunding campaign—which raised more than $570K based on an original goal of just $60K—the bookish-light hit the big time after Max appeared on season 6, episode 14 of the popular Shark Tank TV program.
Although it doesn't happen often, all 5 Sharks were blown away by Lumio's functionality, beauty, and its ability to bring smiles to their faces. Because of this, each one made unique offers, but Max ultimately partnered with Robert Herjavec, who provided $350K for a 10% stake.
The Nitty-Gritty Details About Lumio
When closed and viewed from a few feet away, Lumio is almost indistinguishable from a book. At 8.5 inches tall, 7" wide, and 1.25" thick, Lumio's front, back, and spine are covered with FSC certified dark walnut and blonde maple woods, each of which contain powerful neodymium magnets that allow it to be mounted to most metal surfaces.
As soon as you begin opening Lumio though, the 500-lumen, high-performing LEDs embedded in its Tyvec pages turn on, creating a warm ambient glow. According to the company, Lumio gives off about as much light as a standard 40-watt lightbulb, although this light will be diffused (versus direct) since its pages are opaque.
The company claims that Lumio's lithium-ion battery will last approximately 8 hours (more about this in a moment) until needing to be recharged using the included MicroUSB cable, which will take 3-4 hours to complete. If you're wondering about battery life, the manufacturer claims Lumio's will last approximately 5 years, although it cannot be replaced once this occurs. However, Lumio is claimed to still work when plugged in even after the battery has lost its ability to hold a charge. And if you permanently mount it in place (e.g. a wall), it can even be attached to a dimmer.
Considering Lumio's stylish design, small size, and ability to be transformed into multiple shapes, it is claimed to work in all areas of your home, whether as a table lamp, wall sconce, ceiling pendant, accent light, outdoor lighting, emergency light, or just about anything else you can imagine.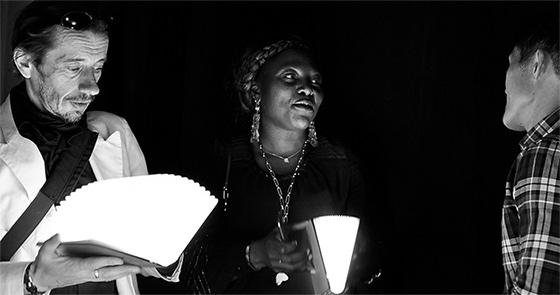 So, should you hand over a good chunk of change for Lumio? Could you spend this money on something that might illuminate your life better (pardon the terrible pun; we just couldn't resist)? Consider the following:
Who Could Benefit Most from Lumio?
Although Lumio's small size, battery-operation, and portability mean that it can be used in several different ways, each of these is fairly specific. In other words, without being attached to a constant power source, it's probably not especially useful as a go-to lighting source in your home, so it will likely be used only on an intermittent basis.
With this in mind, we could foresee it being especially useful for reading in bed or on the couch, and for providing ambient lighting at dinner parties or other types of gatherings. During the latter, you're looking to provide light (a fairly utilitarian purpose), while really wowing your guests with something they may not have seen before, and Lumio could fit the bill nicely.
In reality though, even as Max admitted during his Shark Tank appearance, one of the strongest benefits of Lumio is its portability, and its ability to provide warm light when outdoors, whether at the park or a camping trip. As such, if you host frequent gatherings at your home, enjoy spending quality relaxation time outdoors, or just appreciate cool lighting, Lumio might be right up your alley.
On the other had, as attractive as Lumio might be, if it's just going to sit on your bookshelf only to emerge when the power's out, the value might not be there quite yet.
How Functional is Lumio?
Each Lumio book light comes with a leather strap that allows it to be hung, as well as magnetic wooden pegs for mounting. And when you consider the magnets inside its covers, it seems that it really is possible to attach Lumio to just about every surface.
However, although the ability to attach Lumio to metal surfaces is pretty cool, other than your refrigerator (and perhaps your stove), how many useful metal surfaces do you really have in your home? As such, how often do you think you'll be able to use this feature?
Also, while some might consider this a minor issue, it's important to note that Lumio does not come with a wall charger, which means you'll have to attach the micro USB cable to your computer (or to your smartphone's wall adapter) to recharge.
Few Consumer Reviews for Lumio, Despite Its Popularity
Soon after its immensely successful Kickstarter campaign ended in March 2013, Lumio was featured in popular tech publications such as Gizmag, Engadget, and more. Since that time though, there has been only limited publicity for Lumio.
With that said, almost every review we read about Lumio during our research was highly favorable, with compliments for everything from its packaging and reference materials, to its clean design and beautiful glow when in use.
However, there were some relatively minor complaints. Digital Trends noted that Lumio is on the fragile side, so it might not be something you'd carry around in a bag on a full time basis. Also, the article noted that Lumio's battery didn't last more than 6 hours (despite the advertised 8) and that it won't recharge while turned on.
As with Digital Trends, Cacotopos was very pleased with the product, although they noted minor distortions on the edges of some pages, in addition to its high price.
Despite having been in business for about 2 years, the company is not listed with the Better Business Bureau.
Lumio Pricing & Refund Policy
Lumio is currently priced at $190 (note: as of 1/23/15, there was an approximately 2-month delivery timeframe due to high demand).
Priced at $100, the Mini Lumio (3.75" W x 5.5" H x .875" T) not only provides light, but can also charge your portable electronic devices when on the go. You can also order an accessory bag containing a leather hanger, a micro USB cable, and 2 wooden pegs for $25.
According to the company's website, Lumio is available at select retailers throughout North America, Europe, and Asia.
Unfortunately, there wasn't a refund policy or phone number listed on the Lumio website, and the only contact method is either via email or an online contact form.
Related: The Risks of Backing a Crowdfunded Campaign
Does Lumio Represent a Good Value?
Based on the raving reviews, and the fact that all 5 Sharks were willing to hand over large sums of money for a stake in the company, it's fair to say that Lumio definitely has a great deal of market appeal. However, with a price tag edging $200, how much value you'll get out of Lumio depends where (and how often) you'll use it.
Need light at dinner parties, outdoor at the park, or while on a camping trip? Do you love cool gadgets or lighting? Are you typically an early adopter? If so, you might find Lumio's high price worthwhile.
Or, are you just thinking about opening Lumio's box and promptly placing it on a bookshelf or coffee table, only to be used during emergencies? If so, you might want to think about more useful items to spend your money on.
---
It broke within a few months

By Madeleine G.

,

Santa Fe, NM

,

Jun 22, 2020
Verified Reviewer

Overall Experience:

I am a sucker for good designs, I must have been one of the first to buy one.

I didn't use it very much as the light it emits is too bright for the atmosphere I wanted to create. After a few weeks, the back of the book started to split and within days the whole back was open.

When I called, they told me that I could send it back and they would give me 20% to buy a new one!

Well, I learned my lesson.

Pros and Cons:

The good design ONLY
Bad quality
No customer service
They don't care

Bottom Line: No, I would not recommend this to a friend

---

Broken, unfixable USB - why has this problem not been fixed?

By Kathleen S.

,

Washington, D.C.

,

Apr 1, 2020
Verified Reviewer

Overall Experience:

I wish I'd read these reviews before I bought this product a year ago. It's beautiful, and I kept it in my bedroom just as ambient lighting, rarely even removing the USB. However, when I did (ever so gently), it broke.

The company says they will give me 50 percent off a replacement but there is only a 6-month warranty. They admitted (when I asked) this has been a problem before. I think it's a lovely product but cannot recommend it until they have built it to last more than a few months.

Bottom Line: No, I would not recommend this to a friend

---

Advertisement

---

Great product, worked excellent for two years. Need repair and they don't offer it!

By Mark H.

,

New Hampshire

,

Sep 16, 2019
Verified Reviewer

Overall Experience:

It really is a good product but two problems. First is that the charging port is extremely fragile. Inside of a micro USB charging port is a minuscule "board" that actually goes inside a micro USB plug when it is inserted. The very edge of this board with that terminals broke and bent up, so it no longer accepts the plug. And this was not roughly handled, it was probably misaligned by a millimeter the last time I plugged it in and the tiny board broke as a result, so it no longer excepts the plug. And this was not roughly handled. Second is that they don't offer repairs at all after the warranty of only six months. Getting a micro USB charging port replaced in an item like this is virtually impossible. The design is good and innovative so I definitely recommend buying...a knock-off at a fraction of the price.

Bottom Line: No, I would not recommend this to a friend

---

$125 paperweight

By Jennifer S.

,

San Francisco, CA

,

Feb 2, 2019
Verified Reviewer

Overall Experience:

I received this as a gift and was excited to use it on my next big trip a few months later. I charged it for over 10 hours. It lasted less than 5 minutes on my first attempt. I charged it again, lasted less than 5 minutes again. Finally got a hold of Lumio and they offered to send me a new charging cord. So I carried it around on my travels for the next 6 weeks, got back to town, no cord.

They finally sent the cord after repeated emails and it made no difference, the Lumio still didn't work. At that point, they told me it was over 6 months and they could do nothing to help me. Way to stand by a completely defective product.

Bottom Line: No, I would not recommend this to a friend

---

Advertisement

---

You gotta love Lumio!

By Ellen K.

,

Sarasota, FL

,

Oct 15, 2018
Verified Reviewer

Overall Experience:

I purchased three mini Lumios as well as several Classic Lumios - some for myself and others as gifts. I did encounter some of the same problems mentioned above, but Lumio did eventually stand behind their product and cheerfully replaced my Lumios that for some reason did not charge. I LOVE the product, and if you can struggle through the issues you have, in the end, this is a great light. The gentleman who handled my situation was very attentive and made such a positive impression that I am ordering additional Lumios for people on my Christmas list this year. Lumio has brightened my life. Thank you for reading this.

Bottom Line: Yes, I would recommend this to a friend

---

What a gem!

By John Harris

,

San Diego, CA

,

Mar 11, 2018
Verified Reviewer

Overall Experience:

I picked up the Lumio Mini second hand and boy was I impressed by both the functionality and such a quick charge. It did not light up when I first opened the book, but after only a 5-minute charge using the same lightning cable and charger I use for my iPhone 6, it was so full of light I was actually startled because I was expecting an overnight charge before it had sufficient power.

One review complained that the charging port was too narrow to accept a USB charging cable. Well, despite sloppy wording in the instructions ("micro USB" was used), Lumio Mini only requires a much smaller Apple lightning cable. The use of the lightning cable for charging is clearly demonstrated in the product video, as well.

Bottom Line: Yes, I would recommend this to a friend

---

Does not work and no response from Lumio

Overall Experience:

I purchased a mini Lumio from the website, thinking it looked like a cool thing for the kids. It arrived. It does not work. No indicator light comes on when charging it. We even left it overnight charging just in case it was just the indicator light that was faulty, but nothing.

I went to the Lumio's website. There is no telephone number to call. I should have checked that before purchasing it. Emailed a support ticket. It said I would have a response within 48 business hours. It has been 72 business hours and no response.

Total dud and seems like a scam. Buyers should be more aware than I was.

Bottom Line: No, I would not recommend this to a friend

---

Overall Experience:

Beautiful light, but how did the USB charging hardware get past anyone but a goat, a blind goat for that matter?

Why is the USB interface so far from the surface of the unit? Why is it covered with rubber flaps so you can't see the USB hole?

The website says that it doesn't matter if you lose the original cable because any micro USB cable will fit. I've tried seven cables and none fit because it's too narrow.

These guys must be laughing all the way to the bank. We have a very expensive, fake book.

Bottom Line: No, I would not recommend this to a friend

---

Don't waste your money on Lumio

By Sarah

,

Bay Area, CA

,

May 13, 2017
Verified Reviewer

Overall Experience:

I also received it as a gift.

Like most of the reviewers here, my Lumio broke within a short period of time, and the customer service sucked when I tried to get the problem addressed. After using it for three months, my Lumio classic wouldn't shut off in the closed position. Customer service is practically nonexistent over there. They took over a week to respond to each of my emails. So a four email exchange took over a month. Insane.

When someone finally did respond (after I had to chase them), they wrote back that this problem can happen if you push the USB in too hard when charging the device, then offered me a 20% discount to purchase a new Lumio. You mean you engineered a fragile product that breaks easily, and your solution is for me to buy ANOTHER one from you so it, too, can break? How stupid do you think I am?

The thing is, I really wanted to fix the broken Lumio because I'm adamant about keeping trash out of the landfill. I offered to pay to have it fixed, and I offered to bring it personally to their studio in San Francisco and pick it up. But they responded that there's no way to fix the problem. "Unfortunately, there is no possible fix if the light is still on when the book is closed."

So they built an expensive product that breaks easily with zero possibility of being fixed once broken which means every single one of these they sell is going to end up in a landfill? Wow. I thought LED lighting was good for the environment but turns out, Lumio is TERRIBLE for the environment.

Please don't buy this stuff! Save the planet and keep their junk out of the landfill.

Bottom Line: No, I would not recommend this to a friend

---

Lumio - defective product and bad customer service

By Jason Pastori

,

Los Angeles, CA

,

Mar 31, 2017
Verified Reviewer

Overall Experience:

The lamp was great but USB connection defective. The lamp no longer lights and is basically a $215 piece of trash. The company is not willing to replace it since it is over six months old. I would definitely not suggest it to others. Totally disappointing.

Bottom Line: No, I would not recommend this to a friend

---

Malfunctions after less than one-month's use

By Lily

,

Los Angeles, CA

,

Nov 14, 2016
Verified Reviewer

Overall Experience:

I received the Lumio as a gift. Although I charged it for 24-hours before the first use as instructed, the red indicator light never turned green.

The battery lasted only 3-4 hours with each charge. This week, after having used the lamp for less than a month, night after night the lamp shut off after less than one-hit usage despite it being charged during the day.

Just now, the Lumio quit working altogether. I tried charging it but red indicator no longer works. Nothing's works. I haven't dropped it. I am in Southern California where there is no rain, so not humidity to on which to blame the malfunction. Will never recommend Lumio to anyone.

Bottom Line: No, I would not recommend this to a friend

---