Lumity Morning & Night Supplements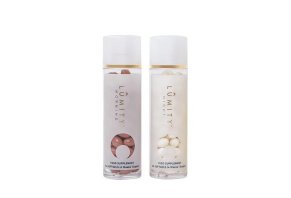 Lumity is a twice-daily supplement composed of natural ingredients to claims to combat aging at the source to keep you looking and feeling your best.
Lumity Review: A Comprehensive Overview
What Is Lumity?
Lumity is an all-natural daily supplement that claims to give you youth in a bottle.
This two-part system contains raw ingredients like essential vitamins, minerals, amino acids and fatty acids that the company claims will give you younger-looking skin, hair, and nails, more energy, better sleep, and generally improved health and wellness.
Can Lumity deliver? Let's take a closer look at those promises.
How Do You Take Lumity?
According to their website, this supplement—previously called Rejuvenine 9—comes with both a morning and evening dose of soft capsules that are purportedly formulated to combat the nine leading causes of aging (more on those soon).
Lumity's mocha-flavored morning gels are formulated with the brand's 'Vita Complex' blend that's designed to boost energy levels without relying on caffeine, increase immunity, and repair oxidative damage to skin cells to create a younger appearance.
In contrast, the vanilla-flavored night gels contain the company's 'Renew Complex,' which is formulated to replenish your body as you sleep.
Per the manufacturer's instructions, you should take three of the morning and evening capsules every day for at least three months to start seeing results.
But will you really experience the anti-aging benefits they advertise? Let's look closely at what Lumity promises to achieve.
How Does Lumity Work to Reduce the Signs of Aging?
The science section of Lumity's website states that the supplement is designed to protect your body by addressing nine main causes of aging:
Oxidative Damage: A lack of antioxidants cause free radicals to damage your DNA.

Cellular Energy Decline: Cells stop producing enough energy to power their functioning.

Cellular Debris: Older cells struggle to eliminate waste due to a shortage of energy.

Glycation: Proteins bond with sugar to reduce the body's collagen levels.

Insulin Resistance: Too much insulin makes cells resistant to it and reduces their ability to use it as fuel.

Telomere Shortening: The ends of chromosomes start to shorten, eventually dying off completely.

DNA Damage: Antioxidant rates go down, causing damaging cell mutations.

Inflammation: The body starts to attack itself and slow down the cellular repair process.

Hormone Decline: A lack of human growth hormone starts to lead to increased body fat and muscle loss.
According to the company, years of research went into identifying these nine aging processes, and Lumity was designed to provide the optimal balance of amino acids, vitamins, and minerals to prevent each one.
What Are the Lumity Supplement Ingredients?
We found this list of ingredients on the Lumity website:
Vitamin A (30% daily value), vitamin C (20%), vitamin D (150%), vitamin E (30%), iodine (15%), magnesium (15%), selenium (35%), zinc (20%), flaxseed oil (682 g morning; 900 g night), turmeric extract (10 mg), coenzyme Q10 (15 mg), acetyl-l-carnitine (100 mg), L-cysteine (180 mg morning; 135 mg night), L-arginine (180 mg), L- glutamine (180 mg), lysine (180 mg), alanine (180 mg).
Note: Each daily value estimate is assumed that you're taking six individual capsules per day (three morning pills and three evening pills).
We cross-referenced the company's claims with authoritative websites to see how well they were supported by the available clinical evidence.
Lumity's Essential Vitamins and Minerals
Altogether, Lumity's supplements contain four of the 13 essential vitamins (A, C, D, and E). According to Oregon State University, Healthline, and the Mayo Clinic, these vitamins are reported to have benefits for skin health, even when taken orally.
These benefits include better skin cell maintenance, a cleared up complexion, and a reduction in the appearance of facial scars. Vitamin E is described as especially beneficial for photoprotection, or inhibiting free radicals from damaging the skin and aging it.
Based on the clinical evidence of the previously mentioned websites, Lumity's ingredients are concentrated at similar levels to what would be found in a healthy diet.
However, they report that this dosage level doesn't seem likely to deliver the product's promised results for combating the nine causes of aging.
Similarly, coenzyme Q10 is a vitamin-like substance that is found in every cell in the body, according to WebMD, who tells us it functions as an antioxidant and promotes healthy cell growth and maintenance.
Lumity also contains minerals essential for general health, including iodine, magnesium, selenium, and zinc. Some clinical studies we encountered through our research on Google Scholar indicated that these ingredients might help promote cellular functioning, and magnesium can help maintain energy levels.
We also found on the Natural Medicines Database that amino acids (specifically L-cysteine, L-arginine, L- glutamine, lysine, and alanine) are an essential part of healthy diets because they directly control muscle, hair and nail formation.
According to a 2007 study in Biomed Research, taking a dietary supplement containing lysine and L-arginine may both reduce anxiety and promote collagen production.
However, here at HighYa, we follow the statements of top health organizations that supplements are unlikely to deliver their promised benefits for people who aren't already deficient in their ingredients.
The Energy-Producing Benefits of Lumity's Ingredients
The company also makes it clear that Lumity supplements don't contain stimulants like caffeine because they prefer to use ingredients that naturally boost the body's energy cycle.
Our research found that while caffeine can artificially stimulate the pituitary gland to produce a burst of physical and mental energy, it inevitably leads to a crash.
In contrast, Lumity claims to deliver energy directly to the cell's mitochondria in order to promote stable energy levels, thanks to its proprietary blend of nutrients and amino acids.
We found through a study on Science Direct that there is a key connection between the mitochondria's energy level and aging, but no research seems to have been conducted on whether supplementation of any of these ingredients can improve its energy.
Lastly, according to the company and the University of Maryland Medical Center, these ingredients are suspended within flaxseed oil to improve their absorption rate in your body, meaning you don't need to take the supplements with food like other brands.
Lumity Side Effects
Our research through websites like WebMD and the Mayo Clinic showed us that many of the supplement's ingredients are either present in a healthy diet or naturally occurring in the body.
However, just because something is naturally occurring is no reason to assume that it's healthy. Too much of many nutrients can be unhealthy, and some of the ingredients in Lumity have negative reported side effects when taken to excess.
For example, WebMD notes that too much lysine can cause stomach pain and diarrhea, although the site doesn't indicate at what dosage or under which circumstances.
In the same way, few people in America are actually deficient in vitamins, thanks to fortified foods.
Taking too many vitamins might actually be a bigger problem, and exceeding the safe upper limit (SUL) of daily vitamin consumption can lead to side effects like nausea, a higher risk of strokes, heart attacks, and fatigue.
From what we've seen on WebMD for supplement safety, taking the recommended amount of Lumity won't put you in this danger level unless you are especially sensitive to certain ingredients.
That being said, some users have reported unpleasant side effects on Lumity. A review left on the product website stated that it made the user's heart rate increase to the point that she had anxiety and almost fainted.
However, our research of user reviews showed that this might be a rare experience.
What Do Clinical Studies Say About Lumity?
On its website, Lumity complies with the Dietary Supplement Health and Education Act of 1994's legal regulations for supplements by stating that the product hasn't been evaluated by the FDA and that it isn't designed to treat, diagnose or prevent disease.
Nonetheless, the site self-reports the following data gathered from a 90-day, placebo-controlled, double-blind study:
84% noted improved sleep
87% noticed improvement in hair, skin, and nails
88% felt more alert
84% felt they were more generally positive
In regards to skin quality, the study participants noted significant improvements to the roughness, dryness, and dullness of their skin by an average of 18% to 40%.
Though we reached out to the company to see their raw data from this study, we haven't heard back from them at the time this article was published. If we do receive a copy, this article will be updated to reflect that change.
How Much Does Lumity Cost?
On the company website, a 28-day day supply of Lumity costs $115. This includes one bottle each of the morning and evening formulas, for a total of 168 capsules.
If you choose to subscribe to their auto-replenish plan, you'll get a savings of 15 percent, for a cost of $97.75 per month. You'll also receive free shipping, an automatic shipment every month, and eligibility for other special offers.
According to the company's subscription policy, you can cancel your enrollment at any time or skip a shipment without cost. Their return policy also lets you contact the company to initiate a return of any product within 30 days of the order for a full refund, minus the original cost of shipping.
Consumer Reviews of Lumity
At the time of publishing, there were roughly 150 reviews on the Lumity website that averaged 4.5 stars out of 5.
In these, many users commented that the supplement helped them sleep better and feel more relaxed throughout the day. Others noted that they had more energy than they'd had in years and that their skin looked noticeably younger.
Trustpilot reviews are slightly less positive, as the supplement averages 3.5 stars after more than 30 reviews. Many of these reviewers reported noticing no change in their health, energy levels, and appearance after six months or more on Lumity.
A product review on Cosmopolitan gave a positive impression of Lumity. Reviewer Amy Grier measured her collagen levels before and after taking the supplement, and noticed that her levels went up within a few weeks of daily intake.
Grier mentioned that it took a month for her to notice any changes from her Lumity routine, but that her facial spots started to disappear and her skin had more of a glow. Overall, she thought the benefits were worth the monthly cost.
What Products Are Similar to Lumity?
On its webpage, Lumity advertises itself as the only natural supplement available that addresses all nine causes of aging, making it the best choice for delaying or even reversing the aging process. Does this hold up to fact?
We chose to look specifically at this product for comparison because it is an oral supplement advertised as an anti-aging complex, with some of the same active ingredients as Lumity, including turmeric, vitamin A, and vitamin C.
According to their website, Restore Glow provides a premium blend of skin care vitamins to reduce wrinkles, provide antioxidant support and keep your body looking younger from the inside out—just like Lumity.
The supplement contains plenty of essential vitamins and turmeric, as well as several amino acids not found in Lumity. There is also evidence that the product relies on filler food additives like dimethylethanolamine.
For those that prefer their supplements to be made from all-natural ingredients due to sensitivities to synthetic additives or other reasons, this may pose a disadvantage to LFI Labs supplements over Lumity.
On Amazon, this supplement has five stars after three reviews, and retails for about $28.
Another product, ReGen Anti-Wrinkle Formula from Epicura Skin, is advertised as providing your skin with a 'natural face lift from within' through all-natural ingredients. This product contains vitamins A, C, D, and E like Lumity, and claims to renew your appearance for a younger, healthier look.
There are some key differences between this product and Lumity. We found that ReGen doesn't contain any amino acids, but it does contain gluten, which can be a problem if you're sensitive to the ingredient.
Also, ReGen isn't formulated with flaxseed oil, meaning that the manufacturer recommends taking it with food.
In this way, ReGen isn't marketed as a comprehensive healthy boosting supplement like Lumity, and it consequently promises less in the way of natural anti-aging results.
At the time of writing, ReGen had four stars out of 233 reviews on Amazon, and the product retailed for $19.99.
The Bottom Line on Lumity: Is It Worth It?
Lumity is advertised as the ideal supplement for anyone over the age of 18 that wants to maintain their youthful appearance and delay the progress of aging, and our research showed that your body requires the ingredients it contains to function well.
However, we've found that authoritative medical organizations, like the National Institutes of Health, don't recommend taking dietary supplements unless you know for certain that you are deficient in something, which is only possible to learn by making an appointment with your doctor.
For the majority of Americans, this means dietary supplements are reported to be largely unnecessary, and possibly even dangerous because over-concentrations of certain nutrients can lead to side effects for some people.
There's no getting around the fact that Lumity is at a higher price point than other supplements, as it costs more than three times as much as LFL Labs Restore Glow Anti-Wrinkle Skin Supplement, and most other supplements we encountered during our research were priced between $15 to 40 for a similar quantity.
According to the company website, this price tag comes from the company's reliance on only natural ingredients without artificial fillers or stimulants, which might be a positive selling point for anyone sensitive to them.
In the same way, some people may find $115 too much to pay for a month's worth of nutrients that they might naturally get from their diet.
If you think you are deficient in any essential vitamins or minerals, it's best to meet with your doctor to discuss the details and find out if you are a candidate for a dietary supplement.
Thanks to Lumity's return policy, you can try out this supplement with little risk besides the cost of shipping and handling.
If you're interested in supplementing your skin care strategy with dietary supplements, we recommend that you talk to your doctor to learn if a daily dietary supplement like Lumity makes sense for you.
» See Also: At-Home Treatments for Dark Circles Under Your Eye