Luuup Reviews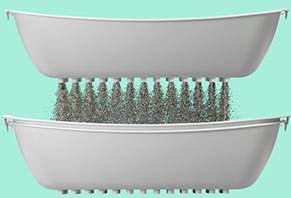 Luuup is a litter box that uses three smartly-designed sifting trays instead of a traditional plastic scoop to simplify cleaning your cat's box.
About Luuup
Do you hate cleaning your cat's litter box? Luuup attempts to make completing the daily chore a little easier, cleaner, and less wasteful with its three sifting tray system—eliminating the need for a scooper and extra plastic baggies.
Made available thanks to the wonders of crowdfunding on Indiegogo, Luuup has inspired an impressive following as the most funded pet product ever. The litter box system has already raised over $2,000,000 from 16,000+ backers, helping Luuup to reach 2357% of its original goals.
Perhaps Luuup's crowdfunding success can be partially attributed to the fact that it's not this product's first time around. Cofounder Dini Petty originally backed the idea of a multi-tray sifting litter box back in the 90's and saw some As Seen On TV success. However, buzz, and sales, eventually died down.
Dini Petty, a former self-piloting traffic reporter and Canadian daytime talk show host, has enjoyed a lifetime of celebrity throughout several career changes. After retiring from the spotlight, Petty felt the concept of a sifting litter box was worth another go.
She enlisted the help of her son, and the two went back to the drawing board to redesign this new-and-improved Luuup, implementing suggestions from shoppers who'd purchased the original.
The result, they claim, is the smartest, cleanest litter box you'll ever buy. Can that be the case?
Here's The Scoop on How Luuup Works
Luuup employs three identical sifting trays that neatly nest within each other. When you're ready to clean the litter box, you grab the top tray and give it a gentle shake to allow the unused litter to sieve through. According to the product information, only the clumps remain—eliminating the need for a separate scooper.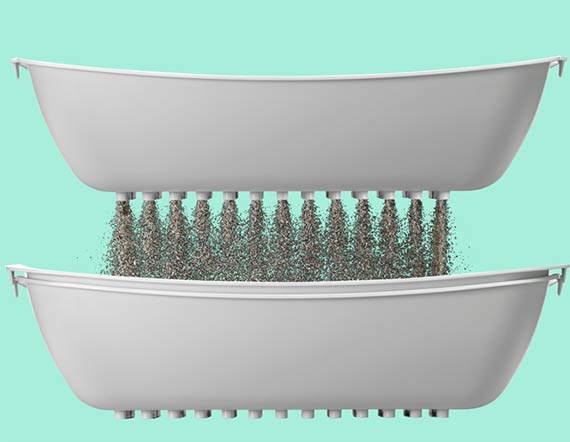 ​Image via Indiegogo.
The tray in your hand can now be emptied into the garbage or rinsed off first, if you're so inclined. The product's description mentions that, due to the curved corners of the design, litter will not clump and cling to the base of the tray—meaning that using Luuup should be as convenient as sift, dump, and stack.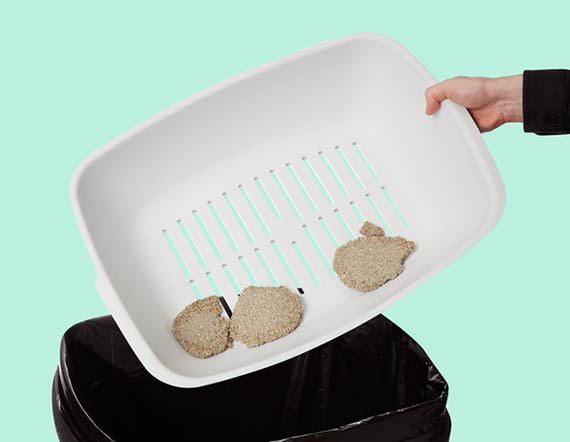 ​Image via Indiegogo.
The ability to dump litter clumps directly into the garbage also means no extra plastic baggies for kitty waste—much less struggling with the occasional fallout from an undetected hole.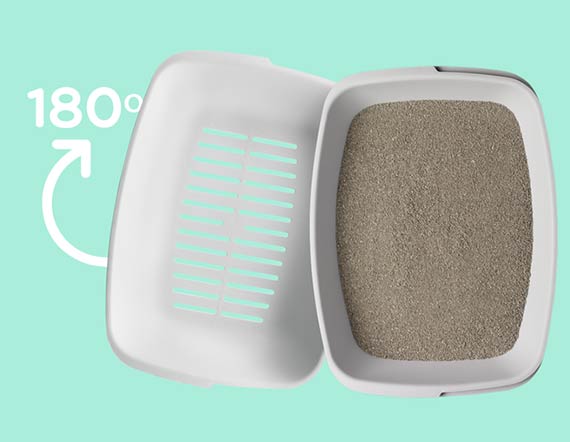 ​Image via Indiegogo.
Once you've tossed the clumps away, simply turn the tray 180 degrees and put it at the bottom of the stack.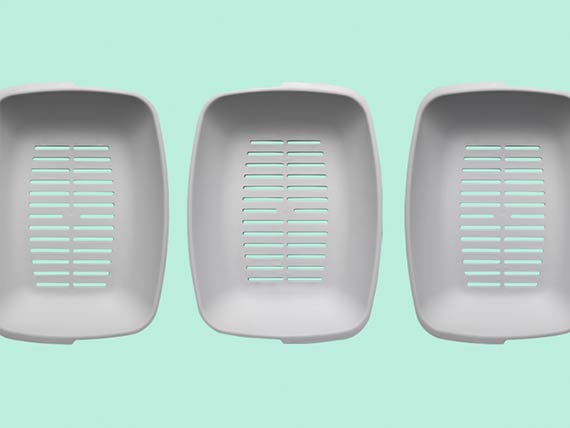 ​Image via Indiegogo.
Luuup's trays are designed as such that, when laid side by side, the identical slots will line up. To make sure you never end up with slippers full of litter, Luuup employs three tabs to indicate which direction the newest tray should be facing when nesting on the bottom.
And that nifty "looping" cycle of nesting trays is how you use Luuup—as well as inspiring the product's name.
Luuup Litter Box Details and Suggestions
One issue with the Luuup's predecessor was that it was just too small for bigger cats. This new version offers larger dimensions, measuring 15.4" in width and 20.2" in length.
To help potential shoppers better understand how Luuup helps accommodate bigger cats, the company shared the above demo video that was made by one of their beta testers. The video description explains that they weren't just testing whether or not big cats could comfortably use Luuup, but whether or not the system would remain easy to clean when minimal litter was left unsifted for several days.
Because Luuup's trays come in direct contact with waste before being cycled to the bottom of the stack, we've mentioned before that you may want to give each tray a rinse before returning it to the bottom. As with other litter boxes, you'll also want to completely replace the litter every two to three weeks, taking the opportunity to disinfect the trays when you do.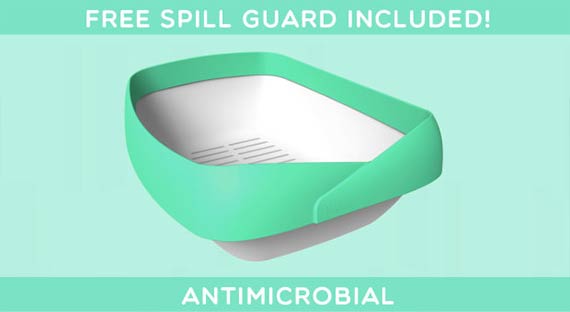 ​Image via Indiegogo.
Additionally, Luuup comes with an anti-microbial spill guard to help contain the fallout from vigorous kicking. The spill guard can also be removed to reveal a lower profile of 5.2" that makes entry easier for older cats who can't quite hop over a tall lip.
What kind of litter to use with Luuup? The product's team suggests that premium brands seem to perform best in terms of clumping power along with low dust. They also advise that users should be gentle while sifting, to prevent clump breakage.
Luuup Pricing and Refund Policies
Like many crowd-funded inventions, Luuup isn't quite ready to ship yet. The good news is that, despite having already exceeded its funding goals, you can still support Luuup through Indiegogo up until the projected shipment date. Depending on how much you choose to pledge, there are different "perks" available:
1 Luuup Litter Box: $38
2 Luuup Litter Boxes: $76
3 Luuup Litter Boxes: $114
4 Luuup Litter Boxes: $150
6 Luuup Litter Boxes: $228
Your Luuup purchase comes with an anti-microbial spill guard for each litter box system. What's not included? Each order is also subjected to shipping costs, which vary depending on your location.
However, that shipment date has just been changed from June to August of 2016. Pushing back initial shipments is fairly common with crowdfunded projects, since there can be unforeseen issues in manufacturing that come up at the last minute. That being said, the change can be frustrating to backers who have pledged funds and are looking forward to delivery by a certain date.
» Related: The Risks of Backing a Crowdfunded Campaign
What about returns? Again, funding a product has some differences from buying one outright. In this case, those who pledge money in exchange for "perks" (products) are limited to a 10 day window from the time that they make a purchase to ask for a refund—and their perks will be canceled. Since the product comes in contact with pet waste, there is not an option to return your delivered Luuup for a refund.
Does The Luuup Stack Up to Real-World Litter Box Problems?
"We love our cats, but we hate dealing with their litter boxes," says Luuup co-founder Dini Petty in the first few seconds of their explainer video.
If you're a cat owner, it's hard to disagree. Even in the best of circumstances, litter boxes need to be placed somewhere that's easily accessible for regular cleaning—but not so out in the open that you're staring at it mid-meal.
And, again, that's in the best of circumstances. If your cat has litter box quirks or weird requirements that you've come to understand only through NATO-level negotiations, your litter box setup and routine might confound the casual observer.
However, according to cat behaviorist Jackson Galaxy, many of the litter box issues you might be experiencing have more to do with placement and cleanliness than your cat's own quirks.
For example, Galaxy suggests that boxes with a lid are less comfortable for cats, as they'll feel trapped in the enclosed space. Your best case scenario? Multiple boxes scooped on a daily basis.
While the Luuup does accomplish allowing cats to not feel trapped, due to its open top, Galaxy also suggests that cats prefer litter boxes that are located in "socially significant areas"—which, again, means not pushed into the far corner of a dark room.
Some cat owners looking to follow this suggestion to improve litter box behavior might be less inclined to purchase Luuup, as the lid-less litter box does keep your pet's waste within view. If you'd like to try Luuup, but want litter to be less visible, check the video below for a solution.
What about cats that kick their litter so aggressively as to cause spray? While I haven't tried this method with Luuup, I've had success placing my cat's litter trays inside a larger plastic storage bin after cutting a hole in the front for entry, as shown above.
Are There Other Products Like Luuup?
Luuup take an inventive approach to solving litter box problems, but it's not the first of its kind. Martha Stewart Pets offers a similar sifting litter box for $29.99 (plus shipping). However, it's worth noting that Stewart's product receives some pretty poor reviews. Here's what customers are saying about it:
Urine causes litter to clump in the sifting holes.
Wet clumps fall through to the next pan while sifting.
Litter gunks up the sifting holes, meaning that the trays have to be sprayed clean every time.
Any litter that does not sift through gets on the floor and surrounding area when trying to nest trays.
Because the product is used with pet waste, it can't be returned.
Since Luuup has yet to ship out, the only review we can draw from is the video shared by their beta tester. While he didn't appear to have any of the issues customers experienced with Martha Stewart's design, we also can't confirm that these problems won't crop up.
The Bottom Line on Luuup
The Luuup appears to be an ingenious way to bypass the task of daily scooping while helping cat owners keep their furry friend's boxes fresh and clean. Does it mean that Luuup is truly the smartest, cleanest litter box that you'll ever buy? That's really a matter of personal preference.
The sifting litter tray could offer a welcome convenience to multi-cat (thus multi-box) households by relieving the need to stoop over boxes and comb through litter for tiny lumps. Additionally, Luuup's uniquely rounded corners and large slots make it appear as if some of other problems, such as clumps getting stuck in grates, might be less likely to occur.
With that in mind, if your cat regularly has poor aim or dirties the lip of his or her litter box, cleaning Luuup might end up being more trouble than it's worth.
While the jury is still out on whether Luuup is the smartest and cleanest, one thing is certain: Luuup pushed back their initial ship date. Again, this isn't uncommon, but it can still be frustrating for consumers.
Bottom line: Since Luuup is set to be released so soon, we might hold off purchasing this product until they fulfill their commitment to those who've already pledged funds.
Company is a FRAUD

By Julia C.

,

Mississauga, Ontario, Canada

,

Jun 25, 2019
Verified Reviewer

I ordered a litter box from this company over a month ago - they processed my credit card but have yet to ship the product. There is NO phone number for this company in order for us to contact them, their support email comes back with a generic response that says they are busy but working to push out orders. Looking at their social media comments - it seems as though almost everyone who has ordered products since October 2018 has been having issues. Especially with their new kitty litter subscription service - they're offering your first bag free so long as you pay for the shipping then sign you up on a monthly basis, however, you cannot go in and cancel your subscription and the original bag never arrives to you! I wish my order arrived as I think the design of this box is incredible and I'd love to try but this company is a scam who takes your money and doesn't actually ship our product OR offer you any sort of customer support. They also don't have any business listings so it's impossible to get ahold of anyone.

Bottom Line: No, I would not recommend this to a friend

---

I wanted to like Luuup, but it really really really doesn't work

By Kristin L.

,

Massachusetts

,

May 24, 2019
Verified Reviewer

I went about this with a very open mind and the best intentions. I am using the recommended litter type. The concept appeals to me, and I wanted very much to have a successful cat box experience. BUT I am having instead the experience many other users on this site are having (I wish I had found it before buying). The clumps of pee stick to the sides and to the sifting grid. They have to be pushed or scraped off, and they leave debris behind that then has to be cleaned with water and/or a cleaner (this is time consuming). Worst of all, if the clumps are stuck on the sifting grid, they leave litter jammed in the cracks, and cleaning this out is a ridiculous process that takes even more time. I have to find something narrow to jam into the cracks. It's unreal. I spend AGES cleaning the litter boxes now.

My suggestion: Avoid these for sure. They are expensive and just don't work. All those 5-star reviews on the Luuup website - I think those must be carefully selected, which makes their whole enterprise misleading and possibly fraudulent.

Bottom Line: No, I would not recommend this to a friend

---

Advertisement

---

Do not waste your money on this product!

I spent $60.00 on this litter and I am utterly disappointed. Do not waste your money on this item! If I could give the rating a zero star I would. When I bought it, I followed the instructions it came with the item to use it. Unfortunately, none of what the advertised claimed is true. After my two cats used the box, the litter became lumps and it was very hard to get it off except to use water and soap. There was nothing else I can use to clean the litter box. I even went to my local PetSmart and purchased the recommended litter for the box. Same thing, nothing helped.

Bottom Line: No, I would not recommend this to a friend

---

You'll never know

By Kathleen M.

,

Ithaca, NY

,

May 1, 2019
Verified Reviewer

Because they'll never send you your litter. They will "thank you for your understanding and patience" and claim "we are listening"- but this company does not stand by their promises.

Bottom Line: No, I would not recommend this to a friend

---

Advertisement

---

Major fail customer service and product shipping

By Francine T.

,

Tennessee

,

Apr 29, 2019
Verified Reviewer

I loved the litter box, so when they had the promo for the litter, I ordered some. They never shipped it. I emailed and asked when ti was going to ship. I got a "we are checking on it." Sometime later, no response, but I did get a bill for a subscription, which you CAN not stop online - and there isn't a contact phone number.

Bottom Line: No, I would not recommend this to a friend

---

Great concept but fails the multi cat test

By Lura W.

,

Ormond Beach, FL

,

Oct 22, 2018
Verified Reviewer

The first week I used the three sets I purchased, I thought these were amazing...then the older litter started causing problems.

As the box gets slightly dirty, the "pee balls" start sticking to the sides and it becomes a three hand process. First sift, shake and scoop/push the pee balls down so you can dump them, but the box can't be held with one hand, so you have to set it down to scoop, and the litter goes all over your floor.

Also, lumpy, wet litter gets in the sifting cracks, and now those go against your floor. The boxes started being more work because you have to clean the layer every time you dump them.

My situation...two older 18-year-old cats who are peeing large amounts and two two-year-olds who have normal pee amounts.

This box is for a one young cat user.

Bottom Line: No, I would not recommend this to a friend

---

Flawed design

By Geoff A.

,

Victoria, British Columbia, Canada

,

Sep 14, 2018
Verified Reviewer

Luuup seemed like a great idea in theory, but in execution, it fails pretty hard. If cats only pooped it would work mostly like a charm (though some sand will still make it past those supposedly sealed interlocked sifting trays, so keep a mat under it) but the Luuup's downfall is that cats pee too.

Clumped litter sticks to the walls of the Luuup, regardless of how long you've waited for them to dry out. Also, litter ends up clumping IN the sifting slots, rendering the slot useless and requiring removal. The end result is that after sifting (and using your scooper to free those caked on clumps) you will have to wipe the whole tray clean before placing on the bottom layer. The whole point of the Luuup is to decrease cleaning time, but having to wipe down a litter tray every single time is a significant increase in the spent cleaning.

Also, sometimes as you lift the top tray out, the middle tray will partially lift out too (suction, friction, I'm not sure why exactly) and that leads to a disaster of litter dumping out the bottom try onto your floor now that the "seal" has been broken.

A better and cheaper solution can be had at most pet stores. I have a sifting litter system now that is far superior. It's three trays again, but now only the middle tray is a sifting tray, and it remains sandwiched between two regular trays without sifting slots. When you're ready to sift, you lift the top tray out and dump it into the center sifting tray. You then sift out the clumps and dump them. Then you put the sifting tray into the empty top tray, then place the bottom tray filled with the reclaimed litter on top. This prevents litters from becoming cemented in the slots because the litter is already clumped before it ever reaches the sifting tray.

Bottom Line: No, I would not recommend this to a friend

---

Luuup is a terrible litter box and bad customer service

By Lidwina v.

,

Texas

,

Sep 2, 2018
Verified Reviewer

Terrible litter boxes! WAY too low and urine seeps under the box (sifting trays don't seal together). We had an awful mess on our hands. The concept is partially good, but it needs to be WAY higher and also seal together better. Even following their instructions to a T did not help. Also, I sent them an email on August 22 and it is August 25 and I have not heard back.

Littler is tracked everywhere! Terrible.

Bottom Line: No, I would not recommend this to a friend

---

Clean 3 litter boxes instead of 1

By April E.

,

Colorado

,

Jul 13, 2018
Verified Reviewer

I ordered this litter box because of all the amazing reviews I'd read on the Luuup website. It's more pricey than my current litter box and much less convenient. Because the soiled litter would stick in the grooves and on the bottom of the box, I couldn't just sift out waste and dump as advertised. It became dirty very easily, and needed cleaning often. At which point it was like cleaning three separate litter boxes instead of one.

Another difficulty was finding privacy for my kitty, whose box was in an open area. I ultimately ordered a universal cover, which worked for a while. I eventually trashed this box when urine was consistently sprayed out of the back. I ended up with a hooded box with a door for half of the price that's much easier to clean. I hope this review helps with future improvements.

Bottom Line: No, I would not recommend this to a friend

---

Awesome

By Diane C.

,

Pennsylvania

,

Jul 13, 2018
Verified Reviewer

I don't know why other people have not rated this box with a five-star rating. I bought it and have been using it for about a week now and I absolutely love it. It is the best thing. In fact, I went and bought one for my daughter to use. I have never had an easier way to clean litter, and no, I am not related to the person who designed it; I am just some person who bought my box on eBay.

Bottom Line: Yes, I would recommend this to a friend

---

Not worth the money

By Jalal R.

,

New York

,

Jun 6, 2018
Verified Reviewer

Litter sticks to the container. Hard to clean. It leaks litter. Total waste of money. The litter box is too small and too short. Hard to clean. Nice concept but very poor design and material.

Bottom Line: No, I would not recommend this to a friend

---