Luxury Lean Reviews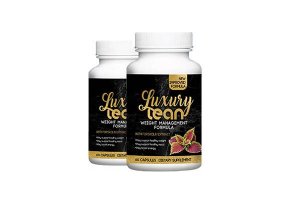 By taking two capsules per day, the blend of ingredients found in Luxury Lean is said to help flush toxins from your body, boost health, and increase energy.
About Luxury Lean
Luxury Lean is an all-natural detoxification and weight management formula that promises to help flush pounds and toxins from your body, naturally increase energy, boost metabolism, and enhance weight management. Together, the website advertises that you'll be able to facilitate healthy and effective digestion and feel lighter.
To accomplish this, we're told you'll need to take one capsule before your first meal of the day and the second capsule before dinner. From there, the supplement's ingredients will "help flush harmful food debris and toxins from the colon, leaving it clean, disinfected, and functioning properly."
This time of year, many of us are taking a good look at our health and how we can potentially improve it. But the reality is that boosting health is hard work, so many of us seek all the help we can get from outside sources.
With this in mind, can you expect real-world value from the Luxury Lean dietary supplement? Let's start by taking a closer look at the underlying issue it's supposed to address.
What Is Detoxification & Does Your Body Need It?
Detoxification is defined as "the process of removing toxic substances or qualities"—in this instance, from the body—often picked up from the foods we eat, the air we breathe, and the water we drink. Some of these often-advertised substances include lead, mercury, heavy metals, pesticides, radioactive materials, and even bacteria, viruses, and parasites.
As we outline in Detox vs. Cleanse, though, Dr. Morton Tavel, Clinical Professor Emeritus of Medicine at Indiana University School of Medicine and author of "Snake Oil is Alive & Well," tells us:
"The basic concept of detoxifying is blatantly flawed. Our natural processes, especially liver and kidney function, cleanse our bodies far better than any extrinsic activities or substances could possibly achieve."
In fact, not only are detoxes and cleanses typically not helpful, but Dr. Tavel emphasizes that they could decrease the body's ability to fight infections and inflammation, as well as lead to nutritional deficiencies and muscle loss.
How does Luxury Lean, specifically, promise to help customers detox and cleanse their body?
Taking a Closer Look at Luxury Lean's Ingredients
While no supplement facts label was listed on the product's website, the text indicated it contains only three ingredients: forskolin extract, psyllium seed husk, and aloe vera.
In order to learn more, we reached out to three different customer support representatives at the number below and were told it contains:
Garcinia Cambogia (60% hydroxycitric acid) 100mg
Calcium 50mg
Chromium 200mcg
Potassium 50mg
The HighYa team has collectively written about nearly 50 garcinia cambogia supplements over the years. And we've learned that according to their summarizations of the clinical evidence, sites like the Natural Medicines Database, WebMD, and Examine.com indicate there's insufficient clinical evidence that it can provide any real-world benefits in humans.
The same sites tell us that calcium, chromium, and potassium are essential components of our diet, but they don't indicate these can have a 'cleansing' or 'detoxifying' (or any other kind of) benefit when supplemented.
With this said (just to make sure we're covering all the bases when it comes to Luxury Lean), they also report that forskolin is another fad product with little-to-no weight loss evidence. Psyllium and aloe add bulk to stool, and can therefore potentially work as a laxative to help relieve constipation.
Could Luxury Lean's Ingredients Cause Side Effects?
WebMD and the Natural Medicines Database indicate that most users won't experience side effects from these ingredients, and for those who do, it likely won't be worse than mild, temporary digestive upset (no dosages or other specifics provided).
However, because of their laxative effects, psyllium and aloe can sometimes cause bloating, gassiness, and diarrhea (again, no specifics provided). Even Dr. Tavel emphasizes that these ingredients—if they're found in Luxury Lean at all—can lead to "frequent liquid bowel movements."
To help ensure you minimize potential side effects or medication interactions, you should always speak with your doctor before taking any dietary supplement.
How Much Does Luxury Lean Cost?
When it comes to Luxury Lean, the only way to purchase a bottle (60 capsules) is through a 14-day trial, priced only at a $4.95 S&H charge.
After the trial expires, however, you'll be charged the full price of $89.95 and also enrolled in the company's recurring shipping program. Here, you'll continue receiving a new bottle of the supplement every 30 days and charged $89.95.
Outside of the initial trial, the product's terms indicate no returns or refunds are accepted. In order to stop your trial or automatic shipments, customer support can be reached at (844) 222-7454 or care@luxurylean.com.
A Quick Note About Luxury Lean's Arbitration
Arbitration—where two parties agree to settle their issues outside of the traditional court system, through a process called binding arbitration—is extraordinarily common in today's consumer marketplace.
However, whenever they're in force, this means you'll waive your right to options like trial by jury or joining a class action lawsuit. We point this out because as soon as you place your Luxury Lean order, you'll be bound by an arbitration agreement.
Luxury Lean vs. the Competition: How Can You Choose the Right Detox Supplement?
A quick online search will reveal there are hundreds—perhaps thousands—of detoxification and cleansing supplements on the market. Give all the different formulas, how can you make the most informed decision? It's really as simple as three steps:
Step 1: Figure out if you need a detoxification supplement.
Again, not to sound like a broken record, but we learned earlier that our body does a fantastic job of getting rid of any toxins, so most medical professionals point out that supplementing our diet with outside ingredients is unnecessary—and potentially even dangerous.
Furthermore, as we outline in Do You Need to Take Vitamins or Dietary Supplements, most medical professionals report that, unless you're medically deficient in the ingredients it contains, it's unlike that most Americans will benefit from a supplement.
Step 2: Learn about the clinical evidence behind the ingredients.
We also learned that sites like Examine.com, WebMD, and the Natural Medicines Database indicate none of the ingredients contained in Luxury Lean have sufficient clinical evidence showing they can help humans detox/cleanse, lose weight, or deliver any of the other benefits promoted by the manufacturer.
And since there was a big discrepancy between the ingredients shown on the website and those reported by customer support, we can't be 100 percent sure exactly what it includes.
Step 3: Learn more about the company behind the supplement.
Since a dietary supplement is something you put in your body, you deserve to know as much about it as possible. In addition to the ingredients and dosages we just discussed, other important details include:
The company's name and location
Where the ingredients are sourced
If their ingredients/supplements are manufactured in a complaint facility and tested for quality and safety
A robust online presence, including a Better Business Bureau listing and detailed customer feedback
Let's add everything up and see where we stand with Luxury Lean.
Our Final Thoughts About Luxury Lean
The bottom line is that we didn't test the supplement ourselves to provide firsthand feedback, and we're only here to report the information—not to tell you how to spend your hard-earned money.
So, here are the facts: Based on what we learned from the Luxury Lean website and customer support, there seems to be some discrepancy regarding exactly which ingredients the product contains.
And according to medical professionals like Dr. Tavel and authoritative sites like the Natural Medicines database, there's insufficient clinical evidence that the ingredients we do know about will deliver on any of the manufacturer's claims (other than perhaps temporary water weight loss from a laxative effect).
On top of this, while customer support seemed friendly and helpful, we're told nothing about the manufacturer, their online reputation, their ingredient sourcing guidelines, or their quality control process.
Based on all of these details, we'd strongly recommend speaking with your family physician before placing an order for Luxury Lean—or any other dietary supplement, for that matter.
They work

By Kraig S.

,

Detroit, MI

,

Aug 1, 2019
Verified Reviewer

I can take just one a day after a workout and notice the difference.

I get a better bowel movement. Some additional gas. There's almost a slight feeling of lubricant in the system which must be the aloe. I'm not sure if it is "cleansing", but I'm sure it is moving product through digestion.

I hope it will actually reduce weight along with exercise.

I was charged the extra $84.95 (way too much), but they refunded that and canceled the post-trial shipment. Now I will try to buy it cheap online.

I'd give 5 stars, if I actually lose weight.

Bottom Line: Yes, I would recommend this to a friend

---

1 out 1 people found this review helpful

Watch out!

By Brandy B.

,

New Mexico

,

Nov 30, 2018
Verified Reviewer

Please be cautious with this company; they charged my card without my authorization under a different name, not under "Luxury Lean," they somehow found ALL my information and charged me over $190 in products I did not want and did not open. When I tried to return these products that I didn't order, they said I couldn't and refused to refund me. They did not send me emails through their company's email, but under "pureslim." PLEASE BE CAUTIOUS.

Bottom Line: No, I would not recommend this to a friend

---

Advertisement

---

2 out 2 people found this review helpful

They don't work and it takes two weeks to get them, and by then they have charged your account

By Melanie J.

,

Winnfield, LA

,

Oct 19, 2018
Verified Reviewer

I'm very disappointed in this product. I order Luxury Lean and the cleanse on the 9/15. I didn't receive it until the 10/4, and by then it was too late to cancel. I thought it was a 30-day trial, but it's not. It is 14 days to cancel. I was charged $89.95 on 10/1 and $86.94 on the 10/2, now I'm out $176.89 for something that doesn't work well. And also the way it is advertised is false - they say and picture celebrities and say this is what they used to lose weight, but when you go back to the site it shows a different product. I am very, very disappointed. I'm very unhappy with this, and with myself for allowing this to happen to me.

Bottom Line: No, I would not recommend this to a friend

---

1 out 1 people found this review helpful

Scam

By Valerie L.

,

Woodstown, NJ

,

Sep 7, 2018
Verified Reviewer

Fake! Free bottles waiting for you will cost $80+ a piece in addition to the shipping, which was supposed to be the only cost involved.

Jennifer, a supervisor, on 9/1 refunded half my money. Tell me how does that qualify as a free bottle waiting for you? It was not specified in the shipping email or the order confirmation. Very poor business practice.

If they were honest, information would have been included in the package. Do fall for this scam!

Bottom Line: No, I would not recommend this to a friend

---

Advertisement

---

27 out 28 people found this review helpful

Be FIRM

By Sarah W.

,

California

,

Jun 25, 2018
Verified Reviewer

My husband ordered the trial. When I saw the $89.95 charge and called, I was met with the "I'm sorry." I said I was calling The Bob on them, magically they could give me 50% refund. I said I'm calling my bank and the BBB, wow, now they will refund 75%.

Not acceptable, I'm still reporting to my bank and BBB. Full refund! Request an immediate email stating the refund back.

Bottom Line: No, I would not recommend this to a friend

---

21 out 21 people found this review helpful

Don't buy this

By Halie P.

,

Indiana

,

Jun 23, 2018
Verified Reviewer

I've been taking these pills for about a week and a half and see no results at all. This is a piece of crap and I would not recommend this to anyone. Save your money for something that will actually work.

Bottom Line: No, I would not recommend this to a friend

---

24 out 25 people found this review helpful

A complete scam

By Vera D.

,

Vancouver, WA

,

Jun 13, 2018
Verified Reviewer

Please don't fall for this scam, because I did and ended up costing me not just money but my time and nerves. I paid $4.98 for shipping then they added two other products on top and charged me over $35. I called and had a good long talk with them and they finally agreed to take the other two off.

One week later I see a charge on my account of $89.95, apparently it was in the agreement when getting the trial one, I did go through the agreement but did not see this said there, maybe it did but I missed it since it would take me an hour to read that long small letter pages.

I called again and they did not want to refund the $89.95, even after I spoke to a Supervisor, he didn't seem like he cared at all, very sad.

Please don't fall for it, don't spend that hard earned money.

Bottom Line: No, I would not recommend this to a friend

---

38 out 38 people found this review helpful

Another item added, I don't want it

I just ordered these bottles that I was only supposed to pay the $4.95 shipping for each and the apple cider pill was also added to it and I do not want it. I agree with paying the $9.90, not $35, that is just not right. I did not order it and don't want it.

Bottom Line: No, I would not recommend this to a friend

---

36 out 37 people found this review helpful

Ripe off, don't purchase

This stuff doesn't work and made me very sick. I was nauseated, had diarrhea and was sick to my stomach. When I called to cancel this morning, they told me it was too late. They said my 14th day was yesterday. The 14-day trial period starts from the day you place your order. So if your order takes four days to get to you, you now have ten days left on your trial. I was charged the full amount of $89. Don't fall for this like I did.

Bottom Line: No, I would not recommend this to a friend

---

36 out 36 people found this review helpful

Do not get mixed up with them

I was foolish to get mixed up in this scam. I have tried to get the company to cancel and they will not, and have not. The trouble is the product is mailed from different addresses, and money is taken out of my account, so I will have to change all my account numbers I'm sure before they stop sending me bottle after bottle of this no good product.

Whatever you do, DO NOT get mixed up in this scam. I have learned my lesson after costing me dollars and grief. I am going to turn them into the Attorney General and get the company shut down. I wonder how many innocent people out there that have been scammed by these scammers. Be careful out there people, this can lead to health problems, not weight loss.

Bottom Line: No, I would not recommend this to a friend

---

48 out 49 people found this review helpful

Garbage

I was unsatisfied with the product. I was using it as directed and in conjunction with an exercise program, but received no favorable results observed.

While I understood the ramifications of the order, I chose to contact the company and disenroll from any membership and future orders.

The customer service person was friendly and agreed to cancel the membership, but continuously tried to sell me on other products and prompted me to increase the dosage of the product I am unsatisfied with, appearing not to listen to what I had to say.

Not cool at all!

I will not recommend these products to anyone I know.

I am currently waiting for an email from the company with a confirmation number to ensure proper cancellation of my account and the assurance that my credit card will not be charged again.

I attempted to go on the website and was directed away from it, due to the cancellation of my account/membership.

I was hoping for satisfaction and was disappointed.

Thank you for your time.

Bottom Line: No, I would not recommend this to a friend

---