M1 Finance Reviews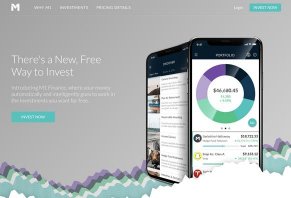 M1 Finance is a robo-advisor with mobile and desktop platforms that lets you build an investment portfolio with stocks, ETFs and risk- and time-based portfolios that M1 has made themselves.
What Is M1 Finance?
M1 Finance is a fee-free mobile and web "robo-advisor" that lets you choose your investments from ETF's, individual stocks and portfolios that M1 creates.
The mix of investments you choose is called a "pie" because your investments are shown to you as a pie chart through which you can see how your money is divided up.
Here's how they described their methodology:
"With M1, we use dynamic pie charts to help you easily visualize and manage your investments. This approach helps you focus on your total portfolio, allowing for a more comprehensive approach to investing."
M1 was founded in 2015 by Brian Barnes, a Stanford grad whose previous experiences includes stints at a consulting firm and a capital firm.
We've done research into several different robo-advisors and have found that the most important aspects of them, at least from the average person's perspective, is how they present their investing information, what types of algorithms they use to maintain their portfolios, how their fees stack up against each other and what type of learning opportunities they offer you as you learn more about investing.
Because we think these are the foundational aspects of a robo-advisor, we're going to focus our review on them.
Along the way, we'll mention a few other robo-advisors we've reviewed so you can get a sense of how M1 compares to the competition.
How Does M1 Finance Present Your Investment Information?
A good robo-advisor should, through their app or website, give you an easy-to-understand way to view your investments without having to tap or click to other pages.
As we mentioned earlier, M1 seems to indicate that their pie method meets this requirement of ease of use through pie charts.
These pie charts indicate where you've got your money invested; each slice is a different investment type, whether it's a stock, ETF or M1 suggestion.
You also have the option of choosing a pie that M1 creates; this would be more along the lines of what you'd see with your workplace's 401(k) plan or an app like Acorns. You log onto the investment company's site and tell them what your risk tolerance is and they show you various options they've created in advance.
The purpose here is to give you choices you don't have to think much about and, to be honest, most of us aren't stock experts so pre-packaged investment options are user-friendly.
What's cool about M1 is that you get to pick your own pie or use a pie they created. Their website indicates that, when crafting your own pie, you can select from more than 6,000 stocks and ETFs on the three major exchanges: NYSE, NASDAQ and BATS.
Creating Your Investment Pies
Basically, you go into your account and start a new pie by selecting M1's pies or customizing your own.
M1's pies are split up into various categories: general investing, plan for retirement, responsible investing and income earners are just a few of the selections from which you can choose. Each selection has within it varying levels of risk and investment lengths you can pick.
So, even though these various investment strategies are pre-made, you do have a certain level of customization you can do. What's nice about these M1 investment options is that you can see how they've performed over the past year without having to click through to another page.
Now, you have the option of investing 100% of your money in pre-made investments but you can also customize your pie to include your own choices – individual stocks, let's say – along with various slices from M1 pre-made investments.
We demoed the tool and found that the web version is a little confusing when you set up your first pie because you're presented with eight different options and it's kind of hard to know how to choose your own stocks.
To do that, you actually have to search for the company via a search box in the top right-hand corner of the page. We searched "Apple" and the search tool quickly found it.
We clicked on the search result and were taken to a page where we were able to see the stock's performance anywhere from the current day to five years back. The presentation was clear and easy to understand for someone who doesn't know much about stocks.
The classic caveat applies here, though. A stock's past performance doesn't guarantee future performance. So, even if a stock/ETF/M1 pick has gone up 10% this past year, that doesn't mean it's going to continue to go up in 2018.
Which Types of Algorithms Does M1 Use?
When you start looking into robo-advisors like this one, what you'll often hear is the word "algorithm," which is a fancy way of saying, "a math equation people use to do automated tasks."
For example, M1 uses algorithms for two things you'll find with other robo-advisors like Betterment: tax-loss harvesting and portfolio rebalancing.
Basically, their math equations tell your account to adjust your portfolios ever-so-slightly to make sure you're maximizing your deductions on your tax return (tax-loss harvesting) and that, as your balances go up and down, you give them (rebalancing).
Another way to think of rebalancing is like having, say, four buckets of water in your backyard. Each bucket has a specific amount of water in it: 1 gallon, 2 gallons, 3 gallons and 4 gallons. You want each bucket to always have the same amount of water in it so that all of them add up to 10 gallons.
Sometimes it rains and one bucket gets more than another and sometimes the summer heat evaporates one bucket more than the other. To keep the same amount of water in each, you have to empty a little bit from one or two buckets or, during a heat wave, you have to add water to some of them.
That's what rebalancing does; it's like a robot that makes sure each slice of your pie maintains the size (percentage) you set for it.
M1 Finance's Fees
In order to fund your M1 account, you'll have to connect a checking or savings account. You have the option of making one-time deposits or setting up recurring deposits. Keep in mind, though, that you need to deposit at least $100 to open an account.
As we mentioned earlier, M1 doesn't charge any fees for using their product. This is really what sets the investing tool apart from the competition.
For example, Wealthfront offers free accounts for balances under $10,000 but charges 0.25% for accounts with $10,000 or more. Betterment's fees are 0.25% for accounts under $100,00 and 0.45% for accounts beyond that. For these bigger accounts, they offer additional services for an extra 0.05%. Acorns charges $1 a month for accounts up to $5,000, then 0.25% for balances above that amount.
Our Final Thoughts About M1 Finance: Pros and Cons
M1's app has excellent user reviews. It gets an average of 4.7 stars from more than 500 reviews in the iTunes store and an average of 4.6 stars from more than 300 reviews in the Google Play store.
Based on our research and first-hand experience with M1 Finance, we believe that the company's strength is that their services are fee-free.
In addition to that, we like how the information on their investing page is organized. You get fairly detailed information about stocks, ETFs and M1 choices via an easy-to-understand presentation.
As far as drawbacks go, we think that M1's knowledge center is weak compared to the resources Betterment and Acorns provide.
Betterment has an extensive online collection of articles about investing and financial responsibility. Acorns publishes a magazine called "Grow" that includes advice articles, interviews and other helpful resources.
Of course, you could always use M1 for your investing and then refer to Betterment and Acorns for your learning.
Another downside is that M1 makes their buys and sells once a day in the morning. So, if your stocks slide as the day goes on, you can't sell them off until the next morning.
If you aren't completely sold on M1 Finance, take a few minutes to set up an account. You can actually choose your investment portfolio before you give M1 your personal information or connect bank accounts, which means you get a good feel for what it's all about without sacrificing anything more than a couple of minutes of your time.