Marcus by Goldman Sachs Reviews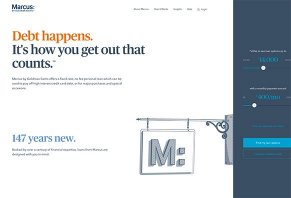 Marcus is a personal loan service offered by investment bank Goldman Sachs. Marcus offers debt consolidation, credit card consolidation and unsecured personal loans via their lending website.
About Marcus by Goldman Sachs
Marcus is a personal lending platform run by Goldman Sachs, one of the largest investment banks in the country.
According to the company's website, Goldman Sachs is "backed by over a century of financial expertise" and that "loans from Marcus are designed with you in mind."
The concept that a certain financial product is designed with the individual in mind is a pleasant thought considering that big investment banks have a reputation, based on the fallout from the banking crisis, of being unscrupulous and money driven.
So, when one of those investment banks – Goldman Sachs – turns around and offers a customer-centered product, it's a welcomed change of pace.
However, in our experience, finding a good financial product is a lot more complicated than just choosing the bank or non-bank lender who has the friendliest website.
Factors like what types of loans the lender offers, what the application process is like and what the rates and fees are make-or-break topics that must be understood. It's these very subjects that we'll cover in this Marcus review.
Over the next few minutes, we're going to cut through the Marcus marketing and give you a clear picture of what you can expect from Goldman Sachs' new private loan platform.
What Types of Loans Does Marcus Offer?
Marcus gives consumers four different types of personal loans: debt consolidation, credit card consolidation, online loans, and unsecured loans.
Marcus Debt Consolidation
Debt consolidation refers to the act of one lender buying some or all of your debts and consolidating them into one payment.
Traditionally, debt consolidation was a great way to turn four or five monthly payments to different lenders into one.
However, debt consolidation often meant that you'll be paying it back for longer than you would have if all the loans were separate.
Also, consolidation loans usually only work if your new interest rate is lower than your old one.
"A debt consolidation loan from Marcus allows you to replace debt across multiple creditors with a single, fixed-rate, no-fee personal loan," the Marcus website says. "So, if you have good credit and your existing debt has high-interest rates, a personal loan from Marcus could save you money and help you pay off your balances sooner."
Marcus Credit Card Consolidation
Credit card consolidation works the same way that debt consolidation does. If you're accepted for this type of loan, Marcus will buy out the remaining balances on your credit cards and then lump all the amounts into one loan.
You'll repay the loan with the same monthly payment every month and the interest rate on your new balance is fixed.
The upside is that if you had credit cards that were maxed out, getting those balances to zero can have a very positive effect on your credit scores – the less of your credit limit you use the better.
The downside? Marcus doesn't offer rewards programs and you could get a higher APR from Marcus than you have on your cards, especially if you had really good credit when you first signed up for those credit cards. Better credit means lower APR's (more on that later).
Marcus Online Loans and Unsecured Loans
We're grouping these two loans together because they're essentially the same thing. "Online" just refers to the fact that you do the loan application online and it's really easy.
"Unsecured" loan refers to loans for which you don't have to give any collateral. Auto loans are secured – the lender has a legal right (lien) to your car if you don't pay up. However, with Marcus loans, there is no collateral.
But, that doesn't mean bad things won't happen. If you don't pay, your account is sent to a collections agency and your credit scores will suffer mightily.
According to Marcus' website, their online/unsecured loans can be as big as $30,000 and can be obtained, of course, online.
Pro tip: Marcus loans range from 24 to 72 months and borrowers can borrow up to $30,000 in certain situations.
Are Marcus Debt Consolidation Loans Right for You?
One of the questions that comes up with debt consolidation is value: Is it worth it to go through all the trouble of a loan application?
Answering that question takes a little financial wisdom and is a really important part of your decision.
Here's one way to look at it. Let's say you had bad credit four years ago and racked up some debt on your credit cards. Because you haven't been earning much money those four years, you haven't been able to make a dent in your credit card debt.
Related: How I Used a Budget to Get Out of $22,000 of Debt
Even though you've got some high interest rates and one or two high balances, your credit scores have managed to recover from their rock-bottom level and are now pretty decent: between 720 and 730.
Getting a consolidation loan from Marcus just might make sense for one major reason: Your high credit scores will most likely get you a much lower interest rate than what you've currently got with your credit cards.
That lower interest rate means you'll most likely pay less in interest assuming it would've taken you just as long to pay off your credit cards as it would to pay off your Marcus loan.
As we mentioned earlier, the inverse is also true. So, if you had better credit scores four years ago when you racked up credit card debt and now your scores are far worse, there's a chance that the interest rates you get from Marcus could be higher than what's on your cards right now.
The Marcus Application Process
As we've mentioned earlier, applying for a loan from Marcus takes place online. With the way that loan applications are these days, the people processing your loan never actually need you to print out any documents.
Everything can be scanned and uploaded to your online account and any signatures needed are usually done through a form-signing app like DocuSign.
When you apply for a loan with Marcus, you'll provide personal information (name, address, DOB, SSN), income information, tax information as well your employment history. All of these factors help Marcus figure out how much they want to lend at which APR and for which length.
We talked with a Marcus phone representative who said she's seen applications get approved the same day but that "application times vary for every person."
She then went on to say that after you're approved and you've submitted all the necessary paperwork and signed for the loan, the money usually shows up in your checking or savings account within 1 to 4 business days.
Marcus allows you to check rates before you do the full application and you are under no obligation to accept any rates quoted to you.
Also, keep in mind that rates could change between the time you're given a rate quote to the time you actually finalize the loan and sign it.
Rates and Fees on Marcus Loans
One of the big themes on the Marcus site is that their loans don't have any fees. We read through their fine print and spoke with a phone representative to verify this is the case, and it is:
APR: 6.99-23.99% depending on your credit scores
Late fee: None
Origination fee: None
Early repayment fee: None
Marcus is very clear about their lack of fees. In a move of transparency, they actually say that they make money off the interest you pay and not fees.
We appreciate this honesty and it brings up an important part of your loan: interest.
Marcus loans employ simple interest or "daily interest." Basically, Marcus charges you interest on your principal amount (total loan without interest) every single day. How do they do this? By dividing your annual percentage rate (APR) by 365.
The number you get is your daily interest rate. That number is multiplied by your principle that day and the resulting number is added up with all the other daily interest amounts and given to you each month as an interest payment.
At the beginning of your Marcus loan, you'll be paying more interest than you will at the end because, over time, you slowly start to hack away at your principal amount.
Pro tip: Paying late on a simple interest loan means you'll rack up interest for every day you were late. So, while you may not pay a late fee, the extra interest payments can add up and extend your loan, the Marcus phone rep told us.
Our Closing Thoughts About Marcus by Goldman Sachs
Marcus is unique in the sense that it's an investment bank product that's very similar to loan products offered by peer-to-peer lenders like SoFi, Earnest, and Prosper. However, Marcus is linked to Goldman Sachs, a traditional bank.
In that sense, Marcus is bringing old banking into the new era by remaining under Charles Schwab's umbrella while adopting the online practices of non-bank lenders.
The Pros of Marcus
We like how the Marcus website is easy to use and the 6.99% low-end APR could be a huge benefit to someone with large credit card balances and high interest rates.
There's a good chance the consumer with good credit will get access to interest rates which are far lower than their current credit cards or debt accounts.
The Cons of Marcus
If you don't have good credit, then the rates you get with Marcus may not be any better than what you already have.
Also, the fact that there's no late fee means that consumers could become lazy and not care if they're several weeks late on their payment. Though there are no late fees, the accrued interest on the account could end up costing them more because of an extended loan repayment period.
Who Is Marcus Good For?
We'd say, based on our understanding of how good credit leads to better financial products, that Marcus' loans are a good fit people with good to excellent credit score, who have a plan to pay back their loan, and who are disciplined enough to follow through with that plan.
Marcus offers good lending products to consumers with good credit. The better your credit scores, the better of a chance you'll get better loan terms.
Beware of unethical practices in loan information contact

By Rae D.

,

Indianapolis, IN

,

Jul 26, 2019
Verified Reviewer

Marcus has a phone number on their literature and online that states they usually answer their phone in 30 seconds or less. I wanted to call before submitting a loan request to find out if there is an early pay off charge.

The problem is that they are advertising with a phone number that is wholly nonworking. If you have a question about any loan details before you submit your offer online, their number is not even legit. This is false advertising.

The number they give is 1-844-627-2871. There is no other contact information. This number does not even ring. You can look this up right now on their site: Marcus.com/offers.

Now, should you wish to open a savings account with Marcus, low and behold, they have a correct and working number. But if you call that number - 855-730-7283 - their automated system will first ask you if you are calling for a loan. If you say yes, it directly hangs up on you. Note, there is no transferred call, no sorry please enter a correct choice.

This is deceit. Take your business elsewhere.

Bottom Line: No, I would not recommend this to a friend

---

Most unsafe login ID

By F. G.

,

San Diego, CA

,

Mar 29, 2019
Verified Reviewer

Marcus bank just doesn't get it!

They keep insisting on using the email address as a login ID ignoring the very basic rules for security.

The email address is an easy ID to be found by hackers, the customers should be able to pick a unique user ID and have the capability of changing it in case it is compromised.

Only the cheap unsecure websites use email addresses as login IDs. I think we should expect better from a bank website.

This seems an indication that Goldman Sachs has an IT department made by incompetent people that are ignoring the basics of online security.

The canned excuse letter from Marcus Bank is that they have dual-factor authentication, that doesn't mean much, every bank has that, the problem is that they are ignoring the first basic security rule of using a unique ID instead of a public email address.

This bad practice has been going on for years since they took over the operations of the previous bank and made a lousy web site for Marcus Bank.

There were none of these security issues with the previous GE Capital online bank which had a much better website too.

Wake up Goldman Sachs or you will lose your customers.

Bottom Line: No, I would not recommend this to a friend

---

Advertisement

---

Goldman is great! Simple, straightforward.

By Alex C.

,

New York

,

Oct 21, 2018
Verified Reviewer

Whoever complains that Goldman Sachs Bank's website is complicated is probably accessing the internet using an America Online CD-ROM 1200 baud modem or a carrier pigeon.

This is NOT GSAM - if you want GSAM, pony up $50mm+ and explain why you are worthy. GS Bank has the best rates, I've had NO issues, customer service is top notch.

Bottom Line: Yes, I would recommend this to a friend

---

Worth reading

By Twila H.

,

Lexington, TN

,

Jul 10, 2018
Verified Reviewer

I applied for a loan and had the funds in my account in four days. Their website is so user-friendly and informative. I can't believe I waited so long to apply. I definitely will use their services again and highly recommend them.

Bottom Line: Yes, I would recommend this to a friend

---

Advertisement

---

Awesome!

I had several unexpected repairs to my house, so I had accumulated quite a bit of credit card debt. I had applied at my Credit Union and was turned down. My credit score is not really great, so I wasn't expecting too much. They approved me, and I had the money in my account within two days! I can breathe a sigh of relief now. I think this was absolutely the BEST experience of obtaining a loan (or any kind of credit) I've ever had! I highly recommend Marcus Goldman Sachs!

Bottom Line: Yes, I would recommend this to a friend

---

Excellent company

I applied for a $10,000 loan to consolidate credit card debt. It was easy and fast. I had a credit score of 766, and the funds were in my account the next day. I got a great interest rate of 8.99% on a 39-month loan. Highly recommended.

Bottom Line: Yes, I would recommend this to a friend

---

Advertisement

---