Massive Testo Reviews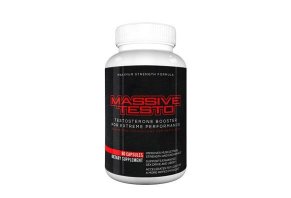 Massive Testo is a testosterone booster that also claims to be able to boost muscle growth, sexual function, and improved fat loss. We dig in to learn more about its ingredients and how it works.
About Massive Testo
Massive Testo is a testosterone-boosting dietary supplement that claims to deliver mind-blowing performance enhancement in a safe and convenient package. The makers of the product say that it can boost testosterone levels and muscle growth in the body while also increasing sex drive and maximizing your size "in every way."
They go on to state that additional benefits that can be had when using the supplement include increased sexual stamina, faster gains for muscle mass, sharper mental focus, and increased fat loss. Interestingly, they also list that for maximum results, the supplement should be taken for at least 90 days in a row.
If you're feeling a bit less in control of your body than usual, the claims made by Massive Testo are probably pretty attractive, but is it really what you can expect in practice? We'll explore this further momentarily, but before that, let's quickly take a look at what testosterone really is, and why it's so crucial for your body.
What Is Testosterone, and How Does It Affect the Body?
Testosterone is the primary male sex hormone, and as such, it is responsible for a large number of components in the body like bone density, muscle mass, overall strength, face and body hair growth, sex drive, and sperm production.
On the product's website, the makers of Massive Testo state that as men age, their natural ability to produce testosterone is decreased. According to the Mayo Clinic, testosterone levels do in fact peak during adolescence and early adulthood. As time goes on, your levels natural decline at a rate of about one percent per year after age 30 or 40.
Having low T levels can bring out a variety of potentially adverse effects in otherwise healthy males, including the following as listed by Healthline:
decreased sex drive
less energy
weight gain
feelings of depression
moodiness
low self-esteem
less body hair
thinner bones
There is a large range constituting the "normal" amount of testosterone you should have in your body, between 250 and 1100 nanograms per deciliter (ng/dL) for adult males according to the Mayo Clinic. If you fall below this threshold, then you may experience some of the symptoms listed above.
If that's the case, what can be done about it? If low T is interfering with your daily life, you could qualify for testosterone replacement therapy. This artificial testosterone is commonly given orally, through injections, and even with gel patches that can be placed on the skin.
These aren't without their potential side effects, however, with Healthline listing that oily skin, testicular shrinkage, and significantly-reduced sperm production are all possible side effects of replacement therapy. If these have you nervous, you may be wondering if taking an over-the-counter supplement would be a better option, but as it turns out, that may not be the case.
The US Preventive Services Task Force, Heart Association, the American Academy of Family Physicians, and the National Institutes of Health all agree that unless you are deficient in some of the ingredients they contain, taking dietary supplements isn't necessary.
In fact, the Cleveland Clinic states it bluntly and specifically: "There are currently no pills available in the United States that provide adequate levels of hormone replacement." Knowing this now, let's refocus up on Massive Testo, taking a closer look at the ingredients used in its formula to deliver on the results described by the manufacturer.
Massive Testo Ingredients
On the product's website, we aren't shown a list of ingredients used in the Massive Testo formula. We reached out to customer service for clarity, and they informed us that the product includes the following four ingredients:
Horny Goat Weed extract
Ginkgo biloba
Panax ginseng
Cowhage
When we inquired, we were told that they did not have access to the concentration amounts of each of these ingredients. Without this crucial information, it can be very difficult to determine just how likely you are to experience any effects when taking the supplement, whether they be good or bad.
Based on information from sources such as WebMD, the Mayo Clinic, and Examine.com, however, do any of these ingredients show promise for delivering on any of the primary claims made by Massive Testo?
Panax ginseng has shown a clinical connection to combatting erectile dysfunction symptoms, but outside of that, the sites laid out above cumulatively list that there's insufficient evidence linking any of these substances to increased free testosterone levels in the body.
Potential Massive Testo Side Effects
WebMD, Examine.com and Drugs.com list several potential side effects for the ingredients above, including the following:
Horny goat weed: dizziness, vomiting, dry mouth, thirst, and nosebleeds, spasms and severe breathing problems.
Ginkgo biloba: stomach upset, headache, dizziness, constipation, forceful heartbeat, and allergic skin reactions.
Panax ginseng: insomnia and negative, hormone-like effects with prolonged usage.
Cowhage: nausea and a sensation of abdominal bloating, vomiting, abnormal body movements, and insomnia.
No specific threshold dosages were listed for these effects, but without concentration information from the manufacturer, it wouldn't help us much here anyway. If you have doubts about any of these ingredients, especially as it pertains to interactions with any current medications, your best bet is always to visit with your doctor.
Massive Testo Pricing & Return Policy
As of this writing, Massive Testo seemed to be available exclusively from the manufacturer online. It is sold as a mandatory trial offer, meaning that you'll be prompted to pay just $4.96 for a full month's supply of the supplement up front. This will begin your 14-day trial, however, and upon its conclusion, you'll be billed for the full retail price of $96.74. You'll also be enrolled in the company's autoship program.
From here, you'll continue to be billed this amount until you call customer service to cancel at 1-877-720-2810. You can also cancel before the trial is over to avoid being charged the full retail amount, though you'll need to ship the trial supply back or pay an additional $9.95 retention fee.
The terms also list that outside of the initial trial, returns are only allowed for unopened, unused products. You'll be required to pay any shipping fees associated with getting your Massive Testo supply back to the manufacturer, as well.
Our Bottom Line on Purchasing a Testosterone Boosting-Supplement
Let's recap what we've learned about Massive Testo and other supplements similar to it. For one, we determined that dietary supplements aren't required or even needed, unless you are deficient in an ingredient they carry. We also learned that according to the Cleveland Clinic, no testosterone-boosting supplements are currently on the market that can provide adequate hormone replacement.
See Also: Do Testosterone Booster Supplements Work?
Relating back to Massive Testo specifically, we learned that out of the four ingredients included in its formula, none of them exhibited sufficient clinical evidence for testosterone production, and only one – ginseng – held any claim to improving sexual function in men suffering from erectile dysfunction.
Coupling this with the autoship program and restrictive return policy, as consumers ourselves, we feel that a better place to start may be to schedule a consultation with your doctor, and perhaps a testosterone test as well. This way, you can know exactly where you stand in comparison to the average levels reported above, as well as create a plan of action together to get you back on track.
We also recommend reading 7 Ways to Increase Your Testosterone Naturally and 10 Foods That Can Affect Your Testosterone Levels.
Horrible scam. You have been WARNED!

By David B.

,

Raleigh, NC

,

Jan 16, 2020
Verified Reviewer

After looking at the VISA statement I see this is listed as a community subscription company. That immediately meant that they would send more and bill me some ridiculous amount for this product. I called the customer service line and canceled. Canceling is difficult. Call lasted about 20 minutes. Support made every effort to upsell me and various discounts. Ultimately it cost $9.95 to cancel and keep the product.

The website I saw this on was tricky after the sale of Testo and forced me to purchase Mussel2 product at $5.95. Cost me $9.95 to cancel that as well. Everything is exactly as described in the Highya.com article. Wish I had seen this article before ordering. This is definitely a SCAM. Do not order. Remove even the one star.

Bottom Line: No, I would not recommend this to a friend

---

Testo scam

By Larry H.

,

Klamath Falls, OR

,

Dec 19, 2019
Verified Reviewer

Not sure if the product works but the process is a scam.

I ordered my 14-day trial for $4.99 on November 28th. I received the product about a week later. On December 14th they billed my credit card for $96.74. I never authorized this and I am fighting it now.

Called the company and they said I had to send the product back unopened in order to cancel and that I would be charged a restocking fee. Or I could cancel and they would charge me $70 to keep and cancel. Do not buy from these guys.

Bottom Line: No, I would not recommend this to a friend

---

Advertisement

---

41 out 42 people found this review helpful

Thieves

This company will charge your credit card without you knowing. Thieves! Nothing by thieves! I want my money back!

Bottom Line: No, I would not recommend this to a friend

---