MassMutual Reviews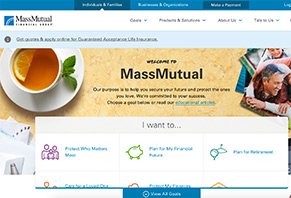 MassMutual's line of financial services, investment tools, and professional assistance claim to help you meet your financial goals and protect your nest egg.
What Is MassMutual?
In business since 1851, MassMutual promises to help you plan and protect your financial future, save for college, manage your retirement income, implement long-term care, and more. How so?
MassMutual offers a variety of investment tools and services to match your unique situation and goals, like annuities, life insurance, disability and income insurance, and wealth management and trust services.
MassMutual also teams up with employers to provide workplace benefits that can help you administer your retirement plan while providing tools like supplemental individual disability income insurance, executive-level life insurance, and more.
Even if you're not a customer, the resources and guidance available on MassMutual's website, such as articles, calculators, and videos, might help point you in the right direction.
Compared to the competition, though, is MassMutual more deserving of your time and money? Are there any factors to consider for each of their services? You have questions, and in this article, we'll help provide some answers.
Which Products & Solutions Does MassMutual Financial Group Offer?
MassMutual provides access to a variety of tools that can help you build your financial future. In this section, we'll cover each key area and quickly discuss the pros and cons.
MassMutual Annuities
Sold by insurance companies, an annuity is a bundle of investments wrapped inside an insurance policy and is sometimes referred to as a personal pension. Why?
Annuities allow you to contribute a certain amount of money (whether lump sum or over installments) to an account and grow the balance over time. Then, once you reach a specific age, you begin drawing a predetermined monthly income from the account.
Combined with traditional investment vehicles like a 401(k), annuities are one of the most popular financial tools to help you comfortably prepare for your retirement years.
Although most annuities allow you to defer taxes until you begin withdrawing money, not all are created the same. Among the available options, MassMutual offers three different types:
Fixed Deferred Annuities – This is a conservative investment that provides guaranteed fixed interest rates, principal protection to shield against market ups and downs, as well as income options (guaranteed income for life, for a specific period, or for a combination of both).
Income Annuities – As long-term investments, MassMutual's income annuities provide little-to-no liquidity, but they do provide guaranteed income, and you get to choose when you'd like to receive it.
Variable Annuities – If you have an appetite for higher-risk investments, a variable annuity provides the opportunity to choose between different asset classes and investment styles, as well as guaranteed death benefit options.
Which of these options is best for you? To get a basic handle on the situation, we'd recommend reading the Wall Street Journal's article How to Select and Shop for an Annuity.
Disability Income Insurance
MassMutual's disability income (DI) insurance can help you continue meeting your financial obligations if you become disabled, even if you already have group long-term disability income insurance in place through your employer.
You'll be able to customize your coverage through a variety of contract riders, including income protection and keeping your nest egg safe with retirement protection.
Through MassMutual's Essential Protection package, you can combine DI insurance with a life insurance policy (we'll talk more about this soon) to help you keep your income safe.
Investments
MassMutual provides clients with access to eight core investment vehicles:
Mutual Funds – As a collection of multiple funds, a mutual fund allows investors to pool their money together and invest in a variety of stocks, bonds, equities, and other securities. Mutual funds are overseen by money managers, who choose which securities are best based on the fund's overall goals.
Mutual funds are an ideal way to invest in certain securities, without the intense market analysis and understanding of economics required when going it alone. However, you'll also lose control over this portion of your portfolio.
Individual Retirement Account (IRA) – We already discussed annuities earlier, but another popular retirement tool is an IRA. Here, you'll be able to add assets like stocks, bonds, and mutual funds and keep them tax-deferred until the appropriate time.
There are several different types of IRAs, each of which comes with its own set of restrictions, usually based on income and/or employment. Common examples include traditional, Roth, and SEP.
529 Plans – Another type of tax-advantaged savings plan, a 529 plan allows you to set up a pre-paid tuition plan or savings plan to help pay for future college costs.
While 529 plans can be great for disciplined savings and for taking advantage of tax breaks, there can be some steep penalties if the money isn't used for education. Also, they may come with higher fees than other options (more soon).
Exchange-Traded Funds (ETFs) – Similar to a mutual fund, an ETF is a portfolio of securities that is overseen by a manager. Unlike mutual funds, though, ETFs are traded as a single stock, allowing investors to sell and hold as they see fit.
There are hundreds of ETFs currently traded on major exchanges, which offer liquidity, low volatility, and diversity, but can also deliver insufficient diversification and come with steep fees.
Life Insurance Policies
If you pass away unexpectedly, a life insurance policy can help ensure your loved ones are financially cared for in your absence.
MassMutual offers several popular types of life insurance polices, which can be complemented with other long-term care planning options (depending on your state of residence).
Whole Life Insurance – Also known as permanent life insurance, whole life insurance policies are guaranteed to pay out at some point.
The underlying insurer will invest your premium payments throughout the policy's term, which may accumulate a cash reserve. Once this reserve gets high enough, you may be able to save, reinvest, or pay future premiums with these earnings.
Whole life insurance is typically more expensive than term life (more in a second), you won't be able to choose the underlying investments made by the insurer, and their conservative strategy often translates into meager returns.
Guaranteed Acceptance – As you might imagine, coverage under guaranteed acceptance life insurance policies is assured for the life of the policy, without any premium increases.
On the flip side, because coverage can't be canceled, guaranteed acceptance policies tend to come with higher premiums than other options, as well as fairly low death benefits.
Term Life – Term life insurance policies are only valid for a certain period (generally 20-30 years), and they don't accumulate cash value like a whole policy. As a result, their main purpose is to provide your family with financial support should you pass away prematurely.
While term life policies are often inexpensive when you're young, they'll gradually become more expensive as you get older, and your premiums can increase during the policy term.
Universal Life – Like whole life insurance, universal life insurance is a permanent policy (intended to last throughout your life). However, universal policies can offer varying cash accumulation rates, depending on the underlying investments.
Universal life policies might be ideal if you're looking to cash out some of the policy's value while you're still alive, or if you want to provide input on where your premiums are invested.
Variable Universal Life – Variable universal life (VUL) policies also gain cash value, although you'll have the ability to invest this money in your choice of accounts, including stocks and bonds.
While VUL policies can put you in the driver's seat as far as your underlying investments, they also tend to be more expensive than other types of permanent life insurance policies.
Wealth Management & Trust Services
MassMutual's wealth management services promise to help you "accomplish a wide range of objectives" through estate consultation, trusts services, investment management services, and more.
All MassMutual's wealth management strategies are customized based on your needs, after working with you and other professional advisors.
Workplace Benefits
Here, MassMutual teams up with employers to provide workplace benefits that can help employees administer their retirement plans; provide workplace portable, level premium group whole life insurance, supplemental individual disability income insurance, executive-level life insurance, and more.
How much will you pay for each of these services?
What Are MassMutual's Rates & Fees?
As you might imagine, what you'll pay as a MassMutual client depends on the specific services and tools you choose, the amount you're investing, your financial goals, and many other key factors.
For example, mutual funds may come with a sales charge on purchases, as well as a 1.5% annual fee to cover the costs of doing business. On the other hand, ETFs are typically commission-free and come with low management fees, regardless of the provider.
Fees on 529 plans can vary, but on average, you'll pay about 0.21 percentage points more per year in fees than a similar mutual fund. You'll also need to factor in maintenance fees to cover administrative costs.
Annuities can come with some steep fees as well, and they're only as strong as the issuer's financial capacity (more about this in a second).
In order to learn more about the rates and fees you can expect, perhaps the easiest option is to enter your zip code on the MassMutual website to locate a financial professional near you.
What Are MassMutual Clients Saying In Their Reviews?
Based out of Springfield, MA, MassMutual has been in business for more than 160 years and is one of the largest life insurance companies in the U.S. They held an A+ rating with the Better Business Bureau, with no customer complaints (as of 11/28/16).
Financial ratings? MassMutual had an A++ (Superior) with A.M. Best and an Aa2 (stable outlook) with Moody's.
Despite their size, time in business, and strong financial ratings, though, there wasn't a whole lot of direct customer feedback for MassMutual at the time of our research.
19 customers provided feedback on Consumer Affairs, giving the company an average rating of 3.8 stars. There, common compliments referenced solid customer service, the number of funding options available, and ease of doing business.
On the other hand, what few complaints there were related to less-than-stellar service, along with fees and penalties.
MassMutual had a similar 3.7-star rating on CreditKarma, with many of the same compliments and concerns.
Are There Other Financial Services Companies Like MassMutual?
Whether you're looking for a robust suite of financial services or just insurance; hands-on planning from a professional or a set-it-and-forget-it investment strategy, there are hundreds—perhaps thousands—of well-known companies vying for your business.
As just a few examples, you have:
How can you possibly make sense of all these options and figure out which are right for you? Perhaps the best method is to reach out to a financial advisor or planner, who can then help you decide your best course of action.
Pro tip: Be sure to also read How to Find a Financial Advisor You Can Trust!
Bottom Line: Is MassMutual the Right Financial Services Company For You?
As a mutual company (also commonly referred to as a cooperative), MassMutual is a private entity owned by clients and policyholders. One of the distinguishing features of a mutual company is that they pay out profit to owners in the form of dividends each year.
On the up side, this means that mutual companies aren't beholden to shareholders, but it also means that raising capital—and maintaining financial strength—can be more challenging.
Comparing mutual companies like MassMutual with stock-based financial services companies, which option is right for you? Again, this is a highly personal decision, based on your current financial situation, your goals, and many other factors, and is something you'll only be able to determine by speaking with a professional.
If you're looking for a next step in the process, we might recommend reaching out to a financial advisor or planner.
Or, if you have remaining questions about MassMutual's products and services, be sure to give the support department a call first. After all, they seem to get high marks from customers!
Before you go: As a MassMutual client, what do you think of the company? Tell us all about it by writing a review below!
STAY AWAY

By Irin K.

,

Virginia

,

Dec 26, 2019
Verified Reviewer

MassMutual is the WORST company ever. STAY AWAY AT ALL COST!

I had my 401K money there for years, fully vested around $1M. I decided to take my share out and put that in an IRA account and they just wouldn't release my funds! Ended up calling a lawyer and started to file a lawsuit until they got scared and released my money. Called them many times to ask for help and nothing.

I called their customer service lines several times a week for months, was on hold for at least 45 minutes to 1.5 hours each time trying to get a supervisor on the line. Each and every time the person who answered the phone said they have no power to escalate the call and that I will have to hold more to see if anyone is available. And as a part of their sick game, while I was on hold trying not to miss the important opportunity of speaking with the supervisor, an unknown call would call me which I would obviously reject to be able to stay on hold. Come to realize that the unknown caller was in fact a supervisor "trying" to call me! On many occasions, I ended up getting super frustrated and got very upset when the reps would not let me speak to anyone who "HAS" the power and authority.

I ended up calling my lawyer and he said what MassMutual is doing is entirely illegal. I called MM and mentioned that and quickly got my distribution in the mail. I will not recommend their company to ANYONE, worst customer service, super rude people to say the least, and of course, they do everything not to release your money!

Not to mention that our money was pulled out of our selected investment choices without our permission and placed in a money market account for over six weeks. During this period, the market had huge gains, while our $1M sat there and did nearly nothing for us.

Bottom Line: No, I would not recommend this to a friend

---

Life insurance

By Elzbieta Z.

,

Tampa, FL

,

Jul 2, 2019
Verified Reviewer

I am a female who is going to be 50 years old this September.

So, recently I did apply for life insurance from MassMutual. After so many back and forward questions and checkups on my health condition, I got denied! I can't believe they denied me!

Yes, last year I did run a lot of tests ordered by my cardiologist and neurologist but just because I have migraine and chronic headaches and last year I had them a lot.

I have nothing to hide. I am fit, never have been overweight, never had any serious health problems.

Anyway, at the and all my tests run by cardiologist or neurologist came out all perfect! My physical is very good too. All results good! Is this a reason to be denied?

Did they even checked the results or just by seeing that I did all those tests and assumed that there is something wrong with me. I did all that for myself, just to be sure that I am OK.

I have been even asked why I ran mammogram or mammograms on regular basis. Because I am almost 50 and after 40 you should do so!

I am so disappointed!

I am really in pretty good health condition in my age.

Bottom Line: No, I would not recommend this to a friend

---

Advertisement

---

Unbelievable

By Amber M.

,

Washington

,

Apr 26, 2019
Verified Reviewer

Have been having a heck of a time getting my funds out of this company's coffer after separating from my employer. I have paid a fee for expedited service and we are going on 6 days now, and still no deposit to my account. The company claims funds were sent. My bank says no funds were sent. The company also claims I did not get the expedited service, when I am 100% positive I did select it and have even been charged for it. I'm really concerned about when I will ever get my money back from these crooks.

Bottom Line: No, I would not recommend this to a friend

---

Poor communication and false information

By Cecelia S.

,

Georgia

,

Mar 26, 2019
Verified Reviewer

It took over a year for MassMutual to send a check after my daddy died. When my mom died, they said the claim would be processed and mailed within 10 days. Twenty-two days later, we still don't have a check.

Bottom Line: No, I would not recommend this to a friend

---

Advertisement

---