Master and Dynamic Reviews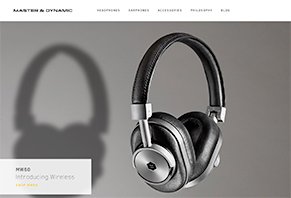 Master & Dynamic headphones provide high-quality sound & feature expert craftsmanship and attention to detail, including stainless steel construction and more.
About Master and Dynamic
Do you listen to your music passively? Or, are you passionate about audio, only interested in top-notch gear that can produce radiant, crystal clear sound? If you fall into the latter camp, Master & Dynamic Headphones might be your key to audio bliss. Why?
Master & Dynamic is a premium audio company that manufacturers high-end over-ear, on-ear, and in-ear headphones, earphones, and sound tools that meet at the "intersection of form and function." And because of their focus on quality, you'll find that each of the headphones in Master & Dynamic's lineup is tuned for a rich, warm sound, appointed with the finest materials and finishes, and complemented with functional details.
Whether you're a newly-minted audiophile in the market for your first pair of high-end headphones, or you've been collecting and testing various gear for decades, you're here to find out 1) all the details you can about Master & Dynamic Headphones, and 2) whether you should shell out the money and buy a pair. To help you make an informed decision, we'll cover most of the important aspects in this review.
To kick things off, let's take a look at Master & Dynamic's lineup, as well as what separates them from the competition.
Master & Dynamic's Headphone Models & Details
Every pair of Master & Dynamic Headphones features only the finest and most durable luxury materials that are engineered to last, such as:
Stainless steel components built for "decades of use" (according to the company, each ear cup is precision machined for 23 minutes),
Anodization that amplifies both color and strength,
A forging process that creates a sealed enclosure to maximize sound quality,
Heavy grain premium cowhide leather on the headband, along with soft lambskin on the headband interior and ear pads, and
45mm copper and neodymium drivers that enable "enhanced power" and provide a "unique sound."
On top of this, Master & Dynamic's parts are easily replaceable, while bringing out the fine details of recorded music, regardless of your genre and taste preferences.
Within their lineup, Master & Dynamic offers six different models: MW60 and MH40 over-ear headphones, MH30 on-ear headphones, and the ME05, ME03, and ME01 earphones/earbuds. On top of this, the company also offers a variety of accessories, including boom mics, stands, replacement ear pads, and cables.
Now, the million-dollar question: How much will all this quality craftsmanship cost you?
Are Master & Dynamic's Prices So High You'll Pop Your Eardrums?
Each of Master & Dynamic's headphones come in a variety of color options, and are priced between $329 and $549, while some special edition models are priced as high as $1,200. However, the company's earphones are priced lower, between $129 and $199, while accessories range between $29 and $129.
Note: Master & Dynamic's headphones are also available through Amazon, Apple, Crutchfield, and many others third-party retailers.
If purchased directly through Master & Dynamic, your headphones will come with free shipping and free returns within 30 days. If you live in New York City, you'll also be eligible for same day delivery.
Regardless of where they're purchased, all Master & Dynamic headphones and earphones come with a 2-year warranty against defects in materials or workmanship. In order to request a refund or to process a warranty claim, you'll need to call customer service at 888-814-5411.
Considering the high cost of Master & Dynamic headphones, are customers pleased? Do they think they're worth the price?
What Are Customers Saying About Master & Dynamic Headphones?
On Amazon, most of Master & Dynamic's products seemed to have between 4 and 5-star average ratings. For example, based on 54 customer reviews, the MH40 had an average rating of 4.2 stars. Common compliments cited attractive design, high quality components and construction, and warm sound, although common complaints referenced that they were uncomfortable and priced high.
Overall, we found much of the same feedback for all of Master & Dynamic's over and on-ear models.
Regarding the company's ME05 and ME03 in-ear models, both had 5-star reviews on Amazon, which typically referenced great sound, quality, and style. However, one ME03 reviewer noted that the silicone tips kept falling out of their ears, while an ME05 reviewer provided this insight if you plan on using them to work out:
"Any movement -- whether it's the cord brushing the side of your face, swinging against your clothing, or the ear tip flexing against your inner ear -- is amplified against your ear drum, essentially drowning out (to the beat of your stride) whatever you're trying to listen to. I tried clipping the cord to my shirt and using each of the various sized tips, but no improvement. For this, they lose a star."
Lastly, Master & Dynamic's ME01 model had two Amazon customer reviews at the time of our research, which noted their sleek, modern look, and that the flat cord doesn't tangle.
Elsewhere online, CNET provided an in-depth review of Master & Dynamic's MH40 headphones and gave them an overall rating of 4 stars. There, they noted the high-quality (but fairly heavy) construction and the highly detailed yet never-harsh sound, noting that it stacks up well against other audiophile headphones in a similar price range. In fact, the only drawbacks noted were that the mid-range (specifically vocals) could be a little richer and that not everyone will appreciate the fit. We'll come back around to this in the final section.
On Apple's website, Master & Dynamic's MH40 headphones received a similar average rating of 4.5 stars, with most of the same compliments and complaints found elsewhere online. (Editor's note: this product page has been removed from Apple's website.)
Given these fairly high ratings, how well do Master & Dynamic headphones stack up against the competition?
Is Master & Dynamic a Better Choice Than the Competition?
An audiophile is defined as "a person who is especially interested in high-fidelity sound reproduction." And in order to achieve this high-fidelity sound, audiophiles will often spend thousands of dollars on high-quality equipment that can reproduce sound as close as possible to the original.
To this extent, there are literally hundreds of audiophile-worthy headphones out there in all kinds of price ranges. This probably isn't news if you're a died-in-the-wool audiophile, but could be useful information if you're new to the industry. In fact, you can see just how many options you have by typing "audiophile headphones" into your favorite search engine and watching how many results pull up.
We did find one from GadgetMac that compared the MH40 against the Bowers & Wilkins P7, noting that the MH40's are heavier due to their metal construction, while the P7s "produced slightly brighter mid and high tones with noticeably deeper lows and punchier mid bass."
Headphones.specout.com also provided side-by-side comparisons (basic details only) stacking the MH40 against the Bose Quiet Comfort 25 and the Grado Prestige SR325e.
With all of this laid out, what's the bottom line about Master & Dynamic headphones? Should you go ahead and splurge on a pair?
Who Will Benefit Most From Master & Dynamic Headphones?
Any way you slice it, $129-$549 is a lot of dough to spend on a pair of earphones or headphones. However, if you're accustomed to using high-end audiophile gear or are looking to start collecting, then these prices might be viewed as reasonable, considering how much you could pay on some of the competition.
Which brings us to the main point: If you're a casual listener (while on the way to work, when working out, etc.) and haven't yet developed a well-tuned ear, you might not be able to appreciate the improved sound quality provided by Master & Dynamic's headphone; at least, not in relation to their high price. In this instance, you might be better served by a more traditional, lower-priced brand.
Also, keep in mind that regardless of the headphones you choose, they will only reproduce sound that matches your file quality. In other words, if you're not starting with a lossless, uncompressed file, then even thousands of dollars worth of equipment won't help (or, at least they might not provide a solid return on your investment).
Finally, keep in mind that—whether you consider yourself an audiophile or not—sound and fit are largely based on personal preference, and what one person finds ideal and comfortable, another might find the exact opposite. However, based on customer feedback, Master & Dynamic headphones might apply too much pressure to the top of some users' heads, making them uncomfortable.
Did you splurge on Master & Dynamic headphones? Tell us all about your experience by writing a review below!
Horrible support after authorized vendor misrepresented product abilities.

By Stephen T.

,

Dallas, TX

,

Nov 24, 2019
Verified Reviewer

Hi Jared,

Thanks for your patience as I recover from a nasty kidney infection. I am happy to jump on a call if easier tomorrow. Here is everything in a nutshell"

- I purchased a set of MH-40 headphones while passing through the Dallas love field in February of this year.

- The company Tech on The Go had high review scores and the associate seemed very knowledgeable. He along with his partner assured me these were the best noise-canceling headphones on the market. I gave them a try and loved the quality and depth. Having worked in radio live and voiceover work, they were far superior to Bose, Sinhizzer, and Sure.

- I was sold, however, I insisted on purchasing the corded model over the wireless option (better quality). I handed over my MasterCard (299+t) and was off to catch my flight to SFO.

- Within about 10 minutes after departure, I realized they were not in fact noise canceling. Thinking no worries, and at 40k feet, nothing could be done until the next day.

- Then the crazy started, first getting in contact with the company was complex. The receipt shows Hudson News rather than Tech on The Go. No one could recall our interaction and returns or exchanges we're not allowed without corporate approval from New Jersey.

- After months of effort, sending document after document, etc. No resolution was possible.

- This past week, I was passing through Dallas love field once again, and found myself near the store. I thought certainly an in-person discussion would resolve the issue. To no avail - just a number to the corporate office in East Rutherford.

- Then a few days later I find myself on a flight with a former employee of your company and was all to quick to praise your sound quality although I never experienced the N/C features and went into my story. She was a bit surprised but assured me if I reached out to Jared Harowski (later discover I wrote your name incorrectly) he would resolve this quickly.

- It may be difficult to see the serial number as requested. AFFBFHES1658.

- Of course I understand, if I was charged $299 in error and the wired noise-canceling model should have been more expensive, I am happy to pay the difference. I have all of the original parts and bag. Unfortunately, I no longer have the box.

Savor your day.

Please help.

Bottom Line: No, I would not recommend this to a friend

---

Advertisement

---