Mastercard Black Card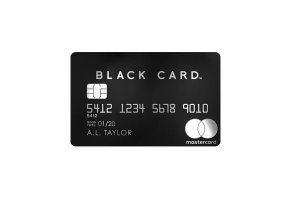 Summary
Mastercard Black Card is a luxury rewards credit card that offers a combination of rewards and travel perks. However, its benefits and high annual fee may not make owning this card worth it for frequent travelers.
Mastercard Black Card Review: Is It Worth the Annual Fee?
The Mastercard Black Card is a luxury credit card providing significant rewards boosts for airline and cash back redemptions, as well as a yearly airline credit and various travel-related perks for an annual fee of $495.
The card is part of Mastercard's trio of luxury cards, with the Titanium ($195 annual fee) being the lowest tier and the Gold Card ($995 annual fee) being the highest tier.
In this review, we'll examine the card's rewards and benefits, talk about its rates and fees and then compare it to other luxury credit cards with similar annual fees.
Rewards
Quick Facts

Pros: Yearly points are worth $700 in airfare purchases through Mastercard's travel portal for luxury card customers.

Cons: The card has no travel partners, a poor yearly airfare credit and there is no sign-up bonus.

Estimated Yearly Travel Rewards: 70,000 points for airfare, 52,500 points for cash

Sign-Up Bonus
Annual Fee
Regular APR
None
$495
14.99%
Rewards Rate: 2x boost for airfare redemptions, 1.5x boost for cash redemptions

Most rewards cards give you one or multiple rewards rates depending on what you buy with your card. The credit card company automatically calculates the rewards, then adds them to your rewards balance.
The Mastercard Black Card is a bit different in that every purchase you make earns one reward point per dollar. However, you get a 2x boost on them when you book airfare with the points and, if you choose to redeem the points for cash back, you get a 1.5x boost.
What this means is that, without a boost, 10,000 points would be worth $100. However, if you use those points to book a flight, they're worth $200. If you redeem them for cash, they're worth $150.
The catch to the 2x bonus is that you have to book your flight through myluxurycard.com, the travel booking portal designed specifically for Mastercard's luxury card owners.
Based on our calculations, we believe that the average luxury card user will spend around $35,000 a year, which equals 35,000 reward points.
If you choose to redeem those for flights through Mastercard's luxury portal, they're worth $700. If you choose to redeem them for cash, they're worth $525.
We want to point out that any time you make a late payment, you won't get any points for that billing cycle.
Travel Benefits
You also get a variety of travel-related perks that are the hallmark of most luxury travel cards:
Reimbursement for Global Entry or TSA PreCheck programs
$100 airline credit
Complimentary Priority Pass Select membership
Various purchase protections
The Global Entry and TSA PreCheck programs are government-run priority security programs through which you can get expedited security checks at the airport. The application fees are $100 and $85.
If the charge appears on your credit card statement, Mastercard will automatically add a credit equivalent to the application fee.
If you apply for both programs, you'll get credit for whichever charge appeared first on your statement. It will take between two and three weeks for the credit to appear.
According to the fine print, this credit will reset every five years.
The $100 airfare credit is another automatic credit that Mastercard will add to your statement up to $100 a year for any of the following airline-related purchases:
Tickets
Baggage fees
Upgrade fees
Some in-flight purchases
The fine print says it will take up to two weeks after the purchase for the credit to appear.
Perhaps the most appealing perk among the travel benefits listed above is the complimentary Priority Pass Select membership. This benefit gives you access to more than 1,000 airport lounges around the world.
While definitely a huge bonus for cardholders, Priority Pass Select isn't unique among luxury cards. The Chase Sapphire Reserve, Citi Prestige Card, and the U.S. Bank Altitude Reserve Visa Infinite Card offer the same membership.
The final travel-related perk is a series of purchase protections that cover everything from extended return periods to extended warranties but, in the context of travel, the two most pertinent ones are baggage delay protection and complimentary rental car insurance.
If your checked bags get delayed while in transit, then you can get a reimbursement for "the cost of replacing essential or personal business items," the card's site says.
This is a key because it means you won't be reimbursed for your luggage, just the essential items inside it.
Mastercard limits the baggage benefit to $100 per day for three days. Also, some of the items that aren't covered, according to the fine print, include:
Contact lenses and glasses
Hearing aids
Artificial teeth
Money and checks
Jewelry and watches
Electronic equipment including cameras and video recorders.
The car rental insurance is a common perk among credit cards. It allows you to waive the insurance the car rental agency offers and acts as supplemental insurance if your car insurance covers rental car accidents.
It offers primary coverage if your car rental insurance doesn't cover rental car accidents.
Rates and Fees
Interest rate for purchases and balance transfers: 14.99%
Interest rate for cash advances: 25.24%
Penalty interest rate: None
Balance transfer fee: $5 or 3%, whichever is greater
Cash advance fee: $10 or 5%, whichever is greater
Foreign transaction fee: None
Late/returned payment fee: Up to $39
Annual fee: $495
Authorized user fee: $195
The main concern you should have when looking at a credit card is the interest rates. In this case, there is one interest rate ("APR"): 14.99%. Most cards offer a range of APR's from which they calculate your particular interest rate based on your credit scores.
What's nice about the Black Card is that you know the APR you're going to get if Mastercard approves your application.
However, we think that this card can be quite expensive to own if you carry a balance.
Lastly, the card offers 15 months of 0% interest on balance transfers you make in the first 45 days of opening your account.
How the Mastercard Black Card Compares to Other Luxury Travel Cards
The disadvantage the Mastercard Black Card has compared to the other luxury travel cards is that you can't transfer your points to travel partners.
The Chase Sapphire Reserve, for example, allows you to transfer your points to 12 different travel partners including JetBlue, United, Southwest, Hyatt, Marriott, and IHG.
The other heavy drawback Mastercard Black Card has is the lack of a sign-up bonus, which really hurts its value if you plan on owning this card for two years or less.
As for the other travel perks, we think the Mastercard Black Card lags behind the other cards, especially if you're someone who does a lot of air travel and wants a card that will provide the highest level of luxury for your journeys.
The card's $100 travel credit is weak compared to alternative cards in this category.
Aside from the Priority Pass Select membership and the Global Entry/TSA PreCheck, the Black Card doesn't offer any of the airline-related perks you get with the Delta Reserve Credit Card and United MileagePlus Club: priority boarding, free expedited security check-in, and access to free bags.
When taken in the context of similar travel cards, our opinion is that the advantage the Mastercard Black Card gives you in yearly rewards doesn't outweigh its poor yearly travel credit and its lack of a sign-up bonus.
The Bottom Line
The Black Card's best features are its its low-interest rate and yearly reward points, especially when you redeem them for airline purchases through Mastercard's luxury portal.
However, the Black Card also has some weaknesses. First, it has no sign-up bonus while other cards have bonuses of between 40,000 and 60,000 points or miles. Second, its travel credit is only $100.
Based on this information, we think that the Mastercard Black Card is a great fit for someone who flies a couple of times per year and wants access to airport lounges while they fly.
The Mastercard Black Card produces enough points each year to get two free flights based on the average amount of a domestic flight ($350) and gives you entrance to Priority Pass lounges.
However, even with the ability to get two flights and access to lounges, we don't see the card offering much value to even the average traveler.
Customer Reviews
Posted on Nov 16, 2017
Not really worth it
I currently have the CSR and spend roughly $100K a year. I received this invite letter from Mastercard Black Card with an approval code in the mail. After a business trip, I opened the letter and called, and after spending over an hour on phone calls was approved for $5K. Upon this, I told them to keep their card. Not to be pretentious, but $5K would only hurt my credit as $1500.00 per month is at the 30% threshold of the credit bureau. I was under the perception that this card was for people who spend a lot per month. Sorry Black Card, you won't be getting my business unless your initial limit is higher.
Bottom Line: No, I would not recommend this to a friend
Posted on Feb 6, 2017
Executive
Summary: Paying $495 a year for a good-looking card is an absolute waste of money. The rewards suck, the concierge is a joke, and you get limited airport lounge access. People with real money will know that you have a BS black card.
Pros: It is good-looking and feeling, and you also get $100 a year back on airfare.
Cons: You only get 1% rewards (1.5% on specific items), and their concierge is not a concierge. It is more like a travel agency trying to make money on your purchase without the discount. The Lounge access you get is a joke. We have three major airports in our area, of which not a single one is in the program. Even in NYC (I believe there is only one), and you have to be flying Scandinavia Air or something like that.
Overall: I am embarrassed that I made a poor decision in getting this card.
Bottom Line: No, I would not recommend this to a friend
Posted on Dec 15, 2016
Customer service is great.
I've had this card for a couple of years now. The biggest thing I like is when calling customer service. Someone I actually understand answers the phone quickly. They're always helpful in every way. That to me is worth the high annual fee.
Bottom Line: Yes, I would recommend this to a friend
Posted on Sep 11, 2016
Not all in
I have had this card for the last three years, I use it a lot. It's a good card but benefits are not what they say.
Just last week I tried to claim what they said in the benefits - change of flight fee reimbursement. I was in Thailand, I changed the flight, airline charged me a fee to change it. When I got back to USA I filed the claim, first I got a run around, then got the claim.
Form needed so many documents from the country I changed the route in. I send them the card statement where the ticket was charged and then where the fee was charged, but they needed documentation signed by the doctors overseas. I told this claim company I can not go back overseas to get that. Anyway, long story short, I will not renew my card. I spend a lot, I have Citi card with same benefits, with same yearly fee. Don't get into their trap.
Bottom Line: No, I would not recommend this to a friend
Posted on Aug 11, 2016
MC Black Card
I received my MasterCard Black Card 5 days after I called in. I picked the Black Card because American Express Platinum is not accepted by everyone and it's a charge card, not a credit card. American Express does offer more perks but I don't lose any sleep over it. If any card is going to be accepted it will be MasterCard. That's how you earn rewards. Having a choice between paying in full or monthly is always nice and worth the extra annual fee.
Bottom Line: Yes, I would recommend this to a friend
Posted on May 19, 2016
So far so good.
Have had the Black Mastercard for about three months. Have satisfied the requirement for the 25,000 bonus points which Barclays posted right away. Customer service has been exemplary. First card I received was damaged and they sent the second FedEx overnight. Have had zero issues with this card.
The fee may be a little over the top but You know that going in. Great card. No problems what so ever.
Bottom Line: Yes, I would recommend this to a friend
Our Promise to You
In order to safeguard you and ensure helpfulness and relevance, our compliance team manually assess every customer review before it goes live.
We have a zero-tolerance policy for fake reviews, and companies cannot control or alter any reviews at any time.