Maxi-Glider 360 Reviews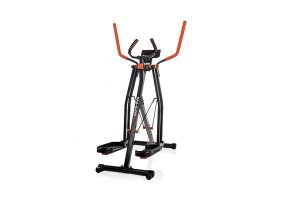 Constructed of gym-quality steel alloy and featuring 360° multi-direction technology, the Maxi-Glider 360 elliptical trainer claims to help you achieve your fitness goals.
What Is Maxi-Glider 360?
The Maxi-Glider 360 elliptical fitness machine allows you to choose from eight dynamic, low-impact exercises that—combined—could deliver the 'total body blast' you need to shape your physique, improve flexibility and mobility, and help you achieve a lean, sculpted look.
The machine does this using four adjustable resistance bands, which allow you to customize your fitness goals, while also making the device suitable for anyone, regardless of age and fitness level. Maxi-Glider 360 also utilizes 360° multi-direction technology that gives you the ability to perform a range of exercises, including glide, double and single rotate, squat, plank, side, hold, and chest-fly.
To provide long-lasting fitness, the machine is quick and easy to assemble and features gym-quality steel alloy construction. If necessary, it also folds away for easy storage.
Sticking with a fitness program almost always comes down to motivation. And although we didn't test the machine ourselves, with so many low-impact exercises available, it seems like Maxi-Glide could help you maintain this motivation and remain on track.
But, what kinds of results might you realistically expect? Will it really help you slim down, firm up, and get fit from every angle, as advertised on the website? We'll start off by discussing basic elliptical functionality.
How Do Elliptical Fitness Machines Like Maxi-Glider 360 Work?
Compared to treadmills, elliptical trainers can elevate heart rate and provide a similar cardiovascular workout. But because your feet never leave the platform, they're much easier on joints (known as 'low-impact').
This is why users often report feeling like they're running on air when using an elliptical, which is especially good for working out quads, glutes, hamstrings, and calves.
Many models also feature handles or grips that can deliver an upper and lower body workout at the same time, while also burning more calories.
Unlike many elliptical models, which feature knobs or dials to adjust resistance, Maxi-Glider 360 uses a series of four resistance bands that you'll need to set before stepping onto the machine. Its hinged arms also allow users to move their legs in a 360-degree range of motion, versus the strictly back-and-forth motion offered by traditional elliptical trainers.
Once in place, you'll adopt a running position, while maintaining a straight back, an upright head, and slightly bent knees. You can also bend more at your knees if you need to boost the workout to your derriere, upper legs, and core muscles.
Even in the standard position, because of its unique range of motion, Maxi-Glider 360's website advertises the device can simultaneously work 10 major muscle groups, including glutes, chest, triceps, biceps, core, quads, and hamstrings.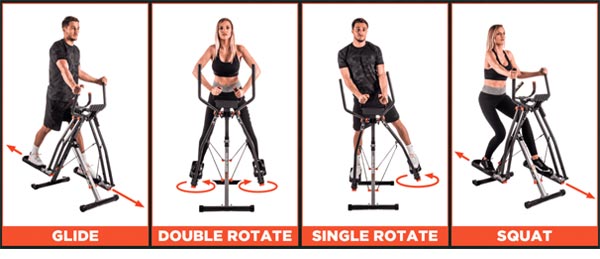 In total, the Maxi-Glider 360 elliptical trainer offers a total of eight different exercises (four shown above) that can simultaneously deliver a lower and upper body workout. Credit: Tristar Products
One potential downside to this design, though, is that anyone taller than 6' 2" might find they have to adopt an odd posture in order to use Maxi-Glider 360. There's no minimum height recommendation, although the FAQ points out that it can accommodate users that weight up to 242 pounds.
How Much Does Maxi-Glider 360 Cost?
Maxi-Glider 360 is priced at four payments of $39.99, or one payment of $159.96, plus free S&H. In addition to the elliptical trainer, the complete system includes:
Digital tracker
Heart monitor
Tablet stand
Nutrition and exercise guides
Body Cardio and Booty Blaster DVDs
All Maxi-Glider 360 orders come with a 60-day money back guarantee, less S&H.
To request a refund, Tristar Products' customer support department can be reached at 973-287-5174.
Are There Other Fitness Devices Like Maxi-Glider 360?
Although we didn't encounter anything exactly like Maxi-Glider 360 during our research, we did come across several models that appeared to be functionally similar (again, we didn't test any models firsthand).
Specifically, they each provided a greater range of motion than traditional elliptical trainers, foldability for easy storage, LCD monitors that track time, calories, and count; similar weight limits and height ranges, and steel frames. Here were some of their major differences:
| Trainer | Price | Standout Features |
| --- | --- | --- |
| Maxi-Glider 360 | $159.96 (Direct) | No minimum height |
| ProGear Dual-Action 360 | $149.99 (Academy) | 36" stride, weighs 45 lbs |
| Fitness Reality Multi-Direction Elliptical Cloud Walker X1 with Pulse Sensors | $99.99 (Walmart) | 36" stride, 90 percent assembled right out of the box, includes 2 AA batteries |
| EFITMENT Air Walker Glider Elliptical Machine with Side Sway Action | $109.85 (Amazon) | 24" range of motion, includes transportation wheels, weighs 39.5 lbs |
Given the fact that each of these models seems functionally identical, choosing the 'best' option could largely come down to what you want to pay. For example, Maxi-Glider 360 is priced 60 percent higher than the Fitness Reality model, which also comes 90 percent assembled.
We reached out to several Tristar representatives looking for additional details about Maxi-Glider 360's assembly, although each advised they only had access to the information presented on the trainer's website. Other important unanswered questions include:
What's the weight representation for each of the four fitness bands? Are additional bands available for purchase? Can customers use aftermarket bands as well?
What's the stride length (measured in inches)?
Is there a warranty available outside the standard 60-day refund policy? If so, what does it cover? Will the customer incur any costs (such as return S&H)?
What kind of batteries does the LCD monitor use? Are they included with purchases?
How does all of this stack up for Maxi-Glider 360?
Our Final Thoughts About Maxi-Glider 360
Consumer Reports indicates that standard elliptical trainers can exceed $2,000 while weighing hundreds of pounds and taking up a large amount of floor space. However, they also point out that the more money you pay, the more features you'll gain access to, as well as the burlier their construction will be.
Comparatively, at just $159.99, Maxi-Glider 360 seems like it could represent a solid option if you're just getting back into fitness and are looking to try out an inexpensive elliptical trainer before committing to a larger purchase. But, considering the lack of information available about its bands (not to mention other crucial details), we'd imagine the limited resistance they provide might not be ideal for more advanced users.
Also, while customer support couldn't provide a weight for the trainer, most of the competition fell somewhere around 40 pounds. As a result, although Tristar is a reputable company who stands behind the Maxi-Glider 360 with a 60-day refund policy, it's not exactly a risk-free transaction since shipping it back probably won't be inexpensive if you find that it doesn't meet your needs.
A final consideration is that meeting fitness goals is just as much about what you eat as how (and how much) you work out. So, while Maxi-Glider 360 might help with the exercise portion, you'll definitely want to implement a balanced nutrition plan as well.
» See Also: 18 Best Exercises for Seniors: Safe Balance, Strength, and Flexibility Routines
The nearly perfect Maxi-Glider 360

By John P.

,

Oakley, Hampshire, England

,

Jul 1, 2019
Verified Reviewer

Please,

Why oh why, did New Image not consider the market for people over six feet tall. I'm 6' 2", I know that we don't have to bend over when using this machine, but the grips are then too low for ideal push/pull positions.

Their promotion misses the most important movement using such a machine: that is the rowing effect, which exercises the muscles of the back and others, more muscles than any other exercise!

Is New Image ever going to increase the handle height by at least 6 inches? If not, do I have to buy a machine, assemble it, check out the stooping position, then disassemble before returning it?

How much are you going to charge me for a longer handle?

I hope this was useful, it's nearly the perfect machine!

Bottom Line: Yes, I would recommend this to a friend

---

Advertisement

---