MaxiRider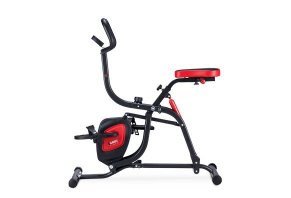 Finding a comprehensive workout you can do at home be tough but MaxiRider claims to have the solution with a hybrid stationary bike you can use to pedal and do core workouts at the same time.
MaxiRider Review: Is It Worth It?
MaxiRider is an exercise bike that incorporates a crunching motion to provide an intense workout via movements that work your legs and hip flexors.
The bike's promo video says the device provides "high-intensity cardio" whose "patented crunch and cycle motion will tone and strengthen every muscle in your body."
With so many various biking options out there ranging from the uber-expensive Peloton to something a little more affordable like the MaxiRider (more on that later), it's important to figure out exactly what each bike does and how that fits into what you need from your workouts.
In this review, we'll help you make that decision by providing your analysis of how the MaxiRider works, then cover its pricing as well as comparable products. Along the way, we'll include the input of one or two experts as to the effectiveness of these types of workouts.
How the MaxiRider Works
The promotional video posted on the MaxiRider website gives you an excellent example of how the device works, as it's kind of hard to describe.
The device looks like a stationary bike because you slide your feet onto pedals and pedal as you normally would on a stationary bike. However, you quickly notice that, in addition to the pedaling, the body of the bike flexes, such that you can do crunches simultaneously with your pedaling.
The movements are unique in that they aren't something that you'd find at your local gym. It's not an elliptical or a stair climber or a hybrid of those two, nor is it solely an exercise bike. You can, however, use it as an exercise bike and not do the crunching motion.
The bike employs a magnetic disc you can adjust to create eight different resistance levels for your workout, giving you enough variance to provide easy and hard workouts depending on what you need at the time.
In all, the product claims it can strengthen your abs and arms through the crunching motion, along with the standard leg and butt benefits of the stationary bike.
One of the other features we discovered when we called the company to get more details is that the bike has a small screen between the handlebars that will tell you the calories you've burned and the steps you've taken during your workout.
Unfortunately, the phone rep told us, you cannot customize the calorie counter to take into account your weight, height and age. The numbers it's displaying are most likely an average for people of all sizes.
Pro tip: You can adjust the MaxiRider to fit your height and arm length.
MaxiRider's Workout Claims: Are They Legitimate?
One of the things we noticed as we analyzed the MaxiRider website is that the company makes a series of claims about the effectiveness of the workout. In one spot on the site, they ask you if you'd like to get twice the results in half the time.
Based on our perusal of the site, this claim is based on the fact that you're working out your core and your arms via the crunching motion in addition to the leg workout you get with the cycling.
We couldn't find any hard research that says doing these two workouts together is guaranteed to produce twice the results – presumably, twice the calories burned as compared to a basic stationary-bike workout.
What we do know is that, according to Healthline.com, crunches focus on in your abdominal muscles in a way that sit-ups can't.
"(Crunches) work only the abdominal muscles. This intense muscle isolation makes them a popular exercise for people trying to get six-pack abs," the site notes. "This also makes them ideal for strengthening your core, which includes your lower back muscles and obliques. Doing so can improve your balance and posture."
This bit of information from Healthline corroborates what the MaxiRide claims, as they point out in multiple places as well as in their promo video that the crunches you'll do will work your core muscles.
The information about the benefits of stationary bikes is plentiful. In our own interview of doctors, we've found that, while riding a bike doesn't provide you the same level of calorie-burning as you would in the same amount of time running or walking, it's a low-impact way to get your body moving, get your heart rate up and burn some calories.
And, as an article from WebMD points out, stationary bikes are great because they give you fewer excuses for skipping a workout. Things like rain and snow won't inhibit you because you can move your bike around to avoid adverse conditions.
Pro tip: The MaxiRider weights 58.4 lbs.
MaxiRider's Cost and Return Policy
When you head to the MaxiRider site, you'll discover there's one price listed on the home page: $69.80 with free shipping.
It's crucial that you understand this price is how much it will cost you to use the bike and return it after 30 days. So, if you get the bike, assemble it and decide you don't like it after a few workouts, you can send it back and MaxiRider will refund your initial payment of $69.80.
At the time of publishing, the company was not able to confirm that return shipping is free. We were told by the phone rep that the company had yet to decide if they'd pay for return shipping.
If you decide to keep the bike, then over the next five months they'll charge you five more payments of $69.80 to bring your total payments to $418.80, which is the true cost of the MaxiRider.
How MaxiRider's Price Compares to Other Bike-Style Workout Equipment
Making a decision about the right exercise equipment for you can be as much about your budget as it can be about your brand and features preferences.
What's tough about comparing prices is that the MaxiRider is a pretty unique machine. You aren't going to find something similar at department stores.
For example, Sharper Image has a recumbent exercise bike for $249.99. This machine allows you to cycle your feet and has a pedal for your hands, giving your arms and legs a workout at the same time. This machine won't give you the same level of full-body workout that the MaxiRider will, though.
Another option would be Academy Sports' Body Champ 3-in-1 Trio Trainer for $299.99. This machine combines pedals for a stationary bike and the leg sleds and arm bars of an elliptical. However, you can't do the bike and the elliptical at the same time.
Other choices out there are stationary bikes that have moving arm bars like an elliptical, as well as a stationary sit-down bike with elliptical arm bars.
As you can see, there isn't a MaxRider equivalent at any of the big box or specialty stores. Its price is consistently higher than the two other combo stationary bikes we looked at but, again, that's due to the fact that it's made to be a bike that has a unique crunching motion.
The Final Word: Our Thoughts on the MaxiRider
One thing is certain based on our research and analysis of this product: it is unique. The fact that it combines a crunch-style ab workout along with a stationary bike workout is an interesting combination. The various bits of information we read about the effectiveness of crunches and stationary bikes indicates that both are decent forms of exercise for your core and legs.
What we could not find is a source that could talk about the benefits of doing both of those exercises together. We can only surmise based on what we read that the MaxiRider workout, when done with both the pedaling and crunches, is going to provide a level of cardio and core exercise that will burn more calories than if you did the two exercises separately.
In that sense, we believe that the MaxiRider could be a valuable workout tool. That being said, you have to decide if the equipment's price tag is within your budget. We like how the company will allow you to spread out the payments.
However, if you don't like the bike, you may have to pay a considerable amount of money to ship it back since it weighs more than 58 pounds and most likely ships in an oversized box. We did a quick check of how much it would cost to ship the bike via FedEx and got a quote of $110.24.
Because of the cost of shipping the bike back, our final suggestion is that you should be 100% certain that you're going to keep this bike before you make your first payment. The cost of return shipping is too much to try the bike for a few days and decide you don't like it.
Should the company tell us that they'll pay for shipping on returned bikes, we'll update our review to reflect the new information.
30-day return is a joke

By Estella D.

,

California

,

Jan 27, 2020
Verified Reviewer

The 30-day return is a joke. I ordered the bike, and my husband and I did not like it after all. It feels very cheap, and not sturdy. We called and they gave me an RMA# for return, however, the return is our responsibility, and we had to pay $120.00 for the return! Which is 1/2 price for the actual bike. It makes NO SENSE! On the paperwork that they send out it said they paid $29.95 for shipping! NOT THE CASE when we returned it. So I would have to say this is a scam, unless you are planning to stay with a cheap-feeling bike.

Bottom Line: No, I would not recommend this to a friend

---

Advertisement

---