Mayo Clinic Diet Reviews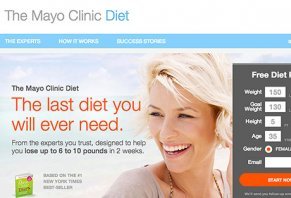 About Mayo Clinic Diet
As the official diet of Mayo Clinic, The Mayo Clinic Diet claims to help you get motivated, eat well, lose weight, and enjoy life. To accomplish this, The Mayo Clinic Diet is claimed to help you lose up to 6-10 pounds in 2 weeks through proper nutrition information and portion control, making it the last diet you'll ever need.
But even though the program claims to have been developed by experts from the Mayo Clinic, does this necessarily mean that it can provide you with the results you're looking for, and is it worth the money? Let's see what the facts have to say.
The Mayo Clinic Diet Details
Based on the NY Times #1 bestseller of the same name, The Mayo Clinic Diet claims to teach you how to eat healthy through correct foods selection and portion control, which can help you keep off excess weight for the rest of your life. When compared to other diets, The Mayo Clinic Diet claims to require no calorie counting or special foods, and to also help lower your risk for certain diseases such as diabetes, cancer, and heart disease.
With this in mind, The Mayo Clinic Diet is claimed to work over two primary phases:
Phase 1 – Claims to jump start your weight loss by helping to replace key bad habits with good ones, thereby giving you the opportunity to lose up to 6-10 pounds in 2 weeks, all in a safe and healthy manner through personalized workouts, fitness tips, walking/running guides, and more. You'll also learn good eating habits that you can continue implementing once the program ends, in addition to bad habits that may prevent you from losing weight.
Phase 2 – Once you've completed Phase 1, The Mayo Clinic Diet claims that you'll continue losing 1-2 pounds per week. Once your goal weight is met, you'll continue receiving expert guidance that can help you maintain your ideal weight.
Along with this, you'll also receive hundreds of personalized meal plans, recipes, and serving guides created by Mayo Clinic dietitians across six food groups: Fruits, vegetables, whole grains, lean proteins, unsaturated fats, and a small amount of sweets. In addition, you'll also receive a fitness plan, habit and weight trackers, and food journal, and will be able to use The Mayo Clinic Healthy Weight Pyramid to help manage your calories and balance the types of foods you eat.
The Mayo Clinic Diet Pricing & Refund Policy
The first 7 days of your Mayo Clinic Diet membership are free, and then you'll be charged $4 per week thereafter. However, keep in mind that you'll be billed quarterly (every 13 weeks), which totals $52 per quarter or $208 per year.
If you decide to cancel your membership after it has been automatically renewed, you'll be able to continue accessing The Mayo Clinic Diet website until that quarter has ended. However, it doesn't appear that you can receive any kind of pro-rated refund for a midterm cancellation.
Is The Mayo Clinic Diet Right For You?
So, with such a big, well-respected name behind it, should you spend money on The Mayo Clinic Diet? Maybe, but take the following into consideration beforehand:
The Mayo Clinic Diet Has Not Been Clinically Researched
First, keep in mind that while the basics behind The Mayo Clinic Diet appear to be sound, as noted by WebMD, "There have been no studies of the Mayo Clinic Diet itself, but much of what the diet recommends is backed up by research."
Understand What You're Getting
There isn't a whole lot of information available about The Mayo Clinic Diet on their website, and many of its details had to be located through third-party sites. Although it seems that we're not alone. In fact, one of the top complaints we read regarding The Mayo Clinic Diet is that customers didn't really understand what they would learn (whether through the website or book), but were swayed by the Mayo Clinic's reputation.
However, after purchasing, they claim to have found most of the information it contains to be very high level (e.g. not detailed), and probably something that you already know. Ultimately, it appears that this is the primary reason for The May Clinic Diet's mixed online reputation.
No Quick Fixes Here
With this in mind, the primary focus of The Mayo Clinic Diet is to help you exercise regularly and to eat healthy. You should concentrate on eating as many fruits and veggies as you can while on the Diet, in addition to consuming more lean protein.
In other words, much of what The Mayo Clinic Diet offers appears to be common knowledge, and not some groundbreaking information that will change the way you view the world. If you're going to lose weight and keep it off, you're going to have to put forth a fair amount of effort.
Make Sure You're Mentally Prepared
Whether you choose to read The Mayo Clinic Diet Book or join their website, you won't have access to coaches that can help keep you motivated or a peer group to hold you accountable, which means that you'll be on your own. Because of this, you'll want to make sure that you're excited to begin and committed to following the diet before beginning. Otherwise, you might find that you quickly derail.
The Bottom line
When it comes to The Mayo Clinic Diet, the information it contains doesn't appear to be revolutionary or groundbreaking; only that you 1) need to eat the right foods and avoid the wrong ones, 2) shouldn't eat too much, and 3) that you should exercise on a regular basis.
As such, if you're new to dieting or just need a refresher on the basics, The Mayo Clinic Diet may be for you. As always though, be sure to check with your healthcare provider beforehand.
2 out 2 people found this review helpful

Ripoff

By Dawn J.

,

Texas

,

Jun 13, 2019
Verified Reviewer

I enrolled in the program based on the name and credibility. The site does not explain what you will be getting for your money so you only know after you enroll. I had a problem logging onto their site when I first enrolled. Thereafter when I got on I did not see anything that I can't find for free. I was told there would be a jump start to lose weight in the first few weeks but still haven't seen where that is or what that entails. There is no app for this. You have to prepay for the months even though they say it's a weekly amount.

Will not refund even if you're unhappy. So no guaranteed satisfaction. Even if you're unhappy. It's a total ripoff. Don't waste your money. They don't even send daily emails with information or anything. You just go on the website log your food intake. Look up recipes. Has other information you can get for free.

Bottom Line: No, I would not recommend this to a friend

---

4 out 4 people found this review helpful

Disappointing

By Kathy K.

,

New York

,

Feb 13, 2019
Verified Reviewer

I only used this tool a handful of times. Just wasn't for me. The billing is a scam and they will not refund the quarterly $65.00 payment. I do not recommend signing up for this at all. It is expensive and again NO refund for the quarter, even if you NEVER signed in! They don't track if you ever sign in or not, they just take your money! Lots of wonderful free options like MyFitnessPal out there. Do not recommend this scam!

Bottom Line: No, I would not recommend this to a friend

---

Advertisement

---

2 out 2 people found this review helpful

Mayo Clinic Diet review

By Kay K.

,

Oshkosh, WI

,

Oct 28, 2018
Verified Reviewer

This diet was not a good fit, I realized this after the first few days. I was prepaid for three months and canceled one day before the renewal date. I was "auto-billed" anyway. After two more attempts, they managed to cancel the "plan" but refused any kind of a refund. I was assured that I would not be auto-billed again, but that remains to be seen. The diet plan itself is not particularly useful, the food journal choices are limited and entering your own recipes is very cumbersome. The recipes included in the plan are very simple...maybe appropriate for someone who has never cooked anything. Ever.

Bottom Line: No, I would not recommend this to a friend

---

4 out 4 people found this review helpful

Signed up and the next day realized it is not a good fit for me. No refund.

By Patricia S.

,

Arizona

,

Aug 24, 2018
Verified Reviewer

I signed up and reviewed the plan, and realized that you need to do meal plans. This does not work with my lifestyle of 50% travel for work. I canceled the next day but they refused to give me a refund. What a scam!

Bottom Line: No, I would not recommend this to a friend

---

Advertisement

---