MDHearingAid Reviews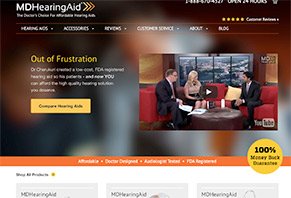 MDHearingAid claims to offer its hard-of-hearing customers a quality, low-price series of hearing aids that provide quality performance for a low price.
About MDHearingAid
MDHearingAid claims to sell quality hearing aids at an affordable price, with three different models: AIR costs $399.99 a piece at the time of our research, while the PRO costs $199.99, thbe LUX $649.99, and the CORE $799.99. Buying two of any of the models will save you $40-$50, and all hearing aids include one free year of product protection.
What a deal, right? You can buy two of each hearing aid and still pay less than you would for the average price for typical hearing aids.
We wanted to know more about this affordable product, so we did some research on who they are, what types of hearing aids they offer, and what other people are saying about their products.
A 2014 article from AARP estimated that the average hearing aid costs the consumer $4,400, about as much as a week-long vacation for four to Jamaica. Forking over that much cash can be impossible for some folks.
Gathering up this information helps us make informed observations about whether or not a product like MDHearingAid is right for you. Even though these hearing aids are cheaper than the average device, they're still going to cost you at least a few hundred dollars. We want to make sure that money is well spent!
Who Is Behind MDHearingAid and What's Their Story?
According to MDHearingAid's website, they are based out of Chicago, IL, where founder Dr. Sreekant Cherukuri, an ENT and plastic surgeon, developed an affordable hearing aid after testing numerous cheaply made devices.
A 2015 article in the Chicago Tribune highlighted Cherukuri and his new hearing aids, saying:
"Cherukuri found that some of his patients couldn't fork over thousands of dollars for the hearing aids he had available, so he made a new one. Six years later, his direct-to-consumer company MDHearingAid has 22 employees, a manufacturing facility in Detroit [now located in Southfield, MI] and three options for hearing aids that cost less than $600."
The company began production with the PRO, and then went on to launch their AIR, LUX, and CORE devices (more on those in a few minutes).
We wanted to know more about where the hearing aids were actually made, so we struck up a chat conversation with a customer service rep on the company's website. We asked them where their hearing aids were made, and they said: in the United States.
When we pressed them for more information, they said that their hearing aids are actually packaged and shipped out of Chicago, and that each hearing aid is made up of multiple components made in other locations. The final assembly takes place in the United States, they said.
When we asked them where each of those parts were made, they say they didn't know and told us their management would contact us.
On another note, the Chicago business licensing division did have information on Cherukuri: he's been licensed as a physician in the state since 2007 and he runs a plastic surgery practice in three different Indiana locations called "The Weekend Lift." While he founded MDHearingAid, a representative advised that Dr. Cherukuri is no longer with the company.
What Types of Hearing Aids Can You Buy from This Company?
MDHearingAid offers three different digital products, which provide a noticeably higher quality sound than analog: the PRO, AIR, LUX, and CORE. The PRO is the base model, offering analog sound and no noise reduction or feedback suppression; the AIR, LUX, and CORE add noise reduction and feedback suppression. They're all behind-the-ear aids, which means the sound processor (the big piece) goes behind your ear and a pliable plastic tube with an earbud goes in your ear.
How Good Are They?
We'll defer to the opinions of people who've bought the product. But before we get there, we want to take a second to talk about the difference between these budget hearing aids and brand-name, more expensive ones.
In the Chicago Tribune article we referenced earlier, reporter Meg Graham spoke with some experts in the hearing-aid industry. One of those experts, Todd Ricketts, spoke at length about the process of finding the right hearing aid.
A lot of it has to do with customizations – every person with a hearing deficiency has their own unique mix of ear shape and situational difficulties.
Going to a professional to get fitted for a pricey hearing aid is a reliable choice, Ricketts said, if only because "they'll evaluate the shape, geometry and size of ear. They'll also evaluate listening needs: Where are you having problems? What types of situations?"
When you buy an MDHearingAid product, you're skipping over the consultation part and buying what amounts to a plug-and-play style of product. Think of MDHearingAid's devices like prescription glasses you buy at a supermarket: no consultation needed. You just pick the ones you like the best and you're set. Will those glasses be a perfect fit with perfect magnification? The chances are slim.
The same principles apply to MDHearingAid and other hearing devices you buy through a website without a consultation. You have to go into the purchase knowing you aren't getting a custom solution, just a general one (this is what's known as direct-to-consumer).
But this is exactly the kind of consumer behavior that five national hearing-aid associations warned against in a recent joint statement. They acknowledged the growing direct-to-consumer market, but reiterated the importance of:
A comprehensive hearing evaluation performed by a hearing health professional
Being appropriately fitted by an individual licensed/registered in the state to dispense hearing aids
Scheduling follow-up sessions with a professional to make sure the hearing aid fits well and is being used the right way
Based on our research, we think the best-case scenario is to buy hearing aids that fit you well and will last a long time. However, we know that not everyone is in the financial position to pay $4,400.
To Dr. Cherukuri's credit, he told the Chicago Tribune that his product isn't intended to be a perfect fit, but a solid alternative to more expensive devices.
What do you do if you can't afford a hearing aid that's customized for your ears? You look for a direct-to-consumer hearing aid that has a reliable reputation.
What Are Other People Saying About MDHearingAid?
Since writing our original article, four HighYa readers provided feedback about their experiences with MDHearingAid, giving the company an average rating of about four stars.
Most compliments appeared to revolve around improved hearing (as well as traditional hearing aids, in some instances), quality components, and ultra-competitive price. The relatively few complaints related to less-than-stellar functionality and expensive replacement parts (specifically, the expendable ear tubes).
Outside of this, we didn't encounter a whole lot of additional feedback, other than screenshots of Amazon reviews on MDHearingAid's website from three and four years ago, when the PRO model was sold there.
Since we don't know what kinds of changes the devices have received over the past few years, it's hard to say if the old reviews accurately reflect the new product.
The company also had eight customer reviews and nine closed complaints on their Better Business Bureau page, as of 3/19/18. Only one complaint detail was available, which referenced having to pay return shipping for defective hearing aids. A company representative responded with a solution.
Our Conclusions: Take a Chance or Pass?
When we approach a direct-to-consumer product like MDHearingAid devices, we think it's important that the consumer asks a few questions:
Who makes them and what's their story?
What products do they sell and how well do they work?
What are other people saying about them?
Getting these answers can help you get a pretty good idea of how reliable the company is and what you can expect from their products and customer service team.
From this perspective, based on what we learned during our research, MDHearingAid seems to come with mostly positive—although fairly limited—online customer feedback, along with ultra-competitive pricing compared to traditional hearing aids.
They also provide a 45-day refund policy on all purchases (you'll have to wait at least 21 days for your brain to adjust before requesting one), which should represent more than enough time to figure out if they're right for you.
It's important to balance the positives with the fact that, according to the national hearing aid associations' statements cited earlier, you'll still want to involve a health professional in the process, including hearing evaluations, fittings, and follow-up sessions to maximize your success.
» For Further Reading: Which Hearing Aid Is the Best? A Comprehensive Buying Guide
As good as the most expensive

By Barbara H.

,

Danville, CA

,

Jan 10, 2020
Verified Reviewer

I have the Air rendition and have been really pleased. Our son has the ability to buy the best there are, $7,000, and he was the first owner of the Air pair I now have. He tells me his very expensive ones, and several renditions in between Air and the most expensive are all the same, as far as he is concerned. None are like youthful hearing, and that's a fact. He's had the kind that are personalized by computer, using the audiologist's output, and he claims they are not one bit better than the MD Air. His current pair has a smaller part that goes in the ear canal, and a more adjustable stabilizing bar, but the sound is no different from the MD Air pair he had as his first hearing aids. The most recent change for me was to the new "Comfort Tips", and I will not be trying to make them work any longer. They hurt my ears and the stabilizing bar is not pliable enough so I am constantly having to fiddle them back into my ears. Fortunately, I kept my old tubing and tips and will be going back to those now.

Bottom Line: Yes, I would recommend this to a friend

---

Four years and still great!

By Peter G.

,

Salt Spring Island, British Columbia, Canada

,

Dec 4, 2019
Verified Reviewer

Bought these after trying a $6000 pair for 90 days. MDHearingAir had much better sound. After two years, the plastic housing was cracking. Sent each back separately and for something like $80 (CDN), they replaced them. It doesn't get better than that. Hoping to try the Core version so it can be programmed and controlled by cell phone.

Bottom Line: Yes, I would recommend this to a friend

---

Advertisement

---

Disappointing

By Kerry C.

,

Minnesota

,

Sep 25, 2019
Verified Reviewer

I gave these hearing aids a try and the amount of feedback and the comfort level just wasn't good. Unfortunately, I had some tragedy in my life and missed the 45-day window to return them.

I called customer service hoping that they would be able to step up to the plate and I even talked to someone who said she was a manager. They gave a lot of reasons why a medical-grade device cannot be returned after 45 days, none of which made sense. It was just a corporate policy and they wanted my money. Even the two-year battery subscription I paid for could not be returned.

I normally find companies that sell on the internet have very good customer service. Not this one and I would never recommend this to anyone else.

Bottom Line: No, I would not recommend this to a friend

---

I truly love my hearing aid.

By Kathy W.

,

Everett, WA

,

Apr 8, 2019
Verified Reviewer

Some companies force you to buy two. Not MD. I only wanted one. Wearing two is not practical for me. I was always removing one so I could talk on the phone. And I actually lost that one. Which was from another company.

My hearing aid has lasted for several years. Plus it's affordable.

Bottom Line: Yes, I would recommend this to a friend

---

Advertisement

---

Unable to use MDHearing Aides

By Richard L.

,

Williston, VT

,

Mar 4, 2019
Verified Reviewer

I have tried to use MDHearing Aide Pro. I have struggled with the amount of feedback. I tried to make them work. I have had several units. Lost a pair, lost one, had broken one replaced. I have consulted with the company several times to no avail. The last suggestion is they can't help.

Bottom Line: No, I would not recommend this to a friend

---

Excellent

By Paul C.

,

Longs, SC

,

Mar 1, 2019
Verified Reviewer

I bought an expensive hearing aid through a top supplier for about $3,000. After sending it back three times (various things wrong with it), I decided it was time to try something else (I still have the other one - going on four years), but it cost me over $300 every time they sent it out. One year guarantee - I would recommend this

Bottom Line: Yes, I would recommend this to a friend

---

Would I order again? Probably no, knowing what I know now.

By Robert M C.

,

Deer Trail, CO

,

Jul 20, 2018
Verified Reviewer

I have both the MDHearingAid Air and the LifeEar Core. The Air, as far as battery life, goes is good but the cost of new ear inserts every two to three months can get expensive and then, there is a lot of background noise intrusion regardless the setting, or when I do adjust the setting to cut the background noise down, I find my self-using the "huh" word a lot. But, all that being said, I ordered the LifeEar Core thinking that they would be better but such is not the case, not with me anyhow. The Core goes through batteries like feces through a funnel and setting the sound to a negotiable tolerance; I can hardly hear the command ques.

Regardless of the two hearing aid differences, and although I have parked the Core model at $1,600.00's and still making payments on them, I am predominantly using the Air model because I do have a louder volume adjustment thus ignoring the echo and to include the fact that battery life is much better, five times better in fact.

For the bottom line, (Yes) or (No), I would have to answer both yes and no, so each to his/her own.

My next trip for aids will be with the Veteran's Administration.

Good luck!

Bottom Line: No, I would not recommend this to a friend

---

Poor customer service

By Jay D.

,

Minneapolis, MN

,

Jun 1, 2018
Verified Reviewer

The hearing aid looked good and worked reasonably well. However, since my hearing problem revolves around background noise, these were not working. They magnified all sounds and I still couldn't hear the person three feet away from me in a crowded restaurant. Well, 45-day free trial, right? WRONG!

You need to call for a Return Merchandise Authorization (RMA) number before returning, otherwise, they will deduct 20%. Well, on day 41, I tried calling the company. The first time, I spent 15 minutes on hold before someone answered. When I told them I was having a problem and wanted to get an RMA number for return, she said she would have to transfer me to another number. I was put on hold again for ten minutes before a recording instructed me to leave a number and I would be called back.

A couple of hours later, I called back and agreed to the recording about leaving my number and not lose my place in line. Two hours later, I called back and was on hold for 30 minutes before I gave up. Well, if they won't answer the phone or call you back, how can you get a number to return their product?

I am returning it without an RMA number. If I don't get a full refund, I will follow up with a complaint to the BBB and Minnesota Department of Commerce, Complaint Division. I know from past experience that the Minnesota Commerce Department has some teeth as they have banned companies from doing business in the State in the past.

Bottom Line: No, I would not recommend this to a friend

---

Good hearing aids

About four years ago I had worn a commercial set worth about $2000.00 for two years and had to send one back twice. After two years that one quit again. So I decided to try MD Hearing and bought the Pro model, their bottom line unit. Those units are still working, but I wanted a smaller size and would use the Pro when I was on the lake fishing. So I order the Air. When it came in, the left was not right. I called them and they said "you will get another one, we will send it out in the morning," and they did. I also sent the left one back to them.

That was two years ago and they are still working fine. I hear as good with both sets as I did with the brand named $2000.00 set. The only thing is their tubes are, I think, overpriced, but still the units are, in my opinion, a good buy for the money. So far customer service has been very good. I would buy again if something happens to these.

Bottom Line: Yes, I would recommend this to a friend

---

Hearing aids okay, replacement bits EXPENSIVE

I was initially pleased to receive my MDHearingAid devices in 2016. Actually, I still like them.

Now comes the "BUT." The tubes and domes that are expendable and must be replaced seem outrageously expensive. Batteries can be purchased very reasonably at Walmart, and battery life is pretty good. For the needed health of your ears, though, these domes and tubes are very expensive. I am constantly looking for a better source. Nomenclature and sizes vary greatly. The size that fits me best (6 mm closed) is no longer available from them.

Bottom Line: Yes, I would recommend this to a friend

---

Excellent, the MDHearingAids far exceed their price

By John MacManes

,

Machesney Park, IL

,

Sep 25, 2017
Verified Reviewer

I have worn MDHearingAids for 6 years. Initially, I had paid over $4,500 for another brand from a hearing aid dealer. The expensive aids never worked well for me, despite repeated trips to the dealer, and of course, the return time expired. The MDHearingAids were bought out of desperation, and the results were surprising to me. I could hear more clearly than with the expensive ones.

I have had two sets of hearing aids from MD, upgrading to the MD Air 3 years ago and am extremely happy with the aids which cost about 20% of the originals. Another plus, losing a hearing aid that costs $399 is easier to replace than a $2300 aid!

Bottom Line: Yes, I would recommend this to a friend

---