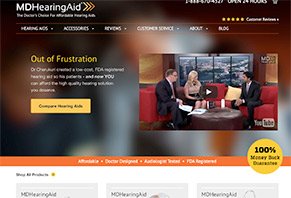 MDHearingAid claims to offer its hard-of-hearing customers a quality, low-price series of hearing aids that provide quality performance for a low price.
About MDHearingAid
Losing your hearing is frustrating enough, but forking over thousands of dollars for a hearing aid is like adding salt to the wound.
MDHearingAid claims to sell quality hearing aids at an affordable price, with three different models: AIR costs $349.99 a piece at the time of our research, while the PRO costs $199.99 and the VOLT cost $549.99. Buying two of any of the models will save you $40-$50.
What a deal, right? You can buy two of each hearing aid and still pay less than you would for the average price of the typical hearing aid.
We wanted to know more about this affordable product, so we did some research on who they are, what types of hearing aids they offer and what other people are saying about their products.
A 2014 article from Consumer Reports estimated that the average hearing aid costs the consumer $4,400, about as much as a week-long vacation for four to Jamaica. Forking over that much cash can be impossible for some folks.
Gathering up this information helps us make informed observations about whether or not a product like MDHearingAid is right for you. Even though these hearing aids are cheaper than the average device, they're still going to cost you at least a few hundred dollars. We want to make sure that money is well spent!
Who is Behind MDHearingAid and What's Their Story?
According to MDHearingAid's website, they are based out of Chicago, IL, where founder Dr. Sreekant Cherukuri, an ENT and plastic surgeon, developed an affordable hearing aid after testing numerous cheaply made devices.
A 2015 article in the Chicago Tribune highlighted Cherukuri and his new hearing aids, saying:
"Cherukuri found that some of his patients couldn't fork over thousands of dollars for the hearing aids he had available, so he made a new one. Six years later, his direct-to-consumer company MDHearingAid has 22 employees, a manufacturing facility in Detroit and three options for hearing aids that cost less than $600."
The company began production with the PRO, and then went on to launch their VOLT and AIR devices (more on those in a few minutes).
The MDHearingAid offers a Chicago address for the company, but their fulfillment center is located in Detroit. We did some quick research with Illinois and Michigan's licensing and corporations divisions just to make sure the company's locations are real business addresses.
Everyone we talked to said they had no "MDHearingAid" in their system. We ran their Chicago address in Google Maps and it checked out, but when we did the same for their Detroit address we found nothing of the sort.
We wanted to know more about where the hearing aids were actually made, so we struck up a chat conversation with a customer service rep on the company's website. We asked them where their hearing aids were made, and they said: in the United States.
When we pressed them for more information, they said that their hearing aids are actually packaged and shipped out of Chicago, and that each hearing aid is made up of multiple components made in other locations. The final assembly takes place in the United States, they said.
When we asked them where each of those parts were made, they say they didn't know and told us their management would contact us. At the time of publication, we'd yet to hear back from MDHearingAid.
Is MDHearingAid a legitimate business? Yes; the fact that they were profiled by a major Chicago newspaper is really legit. But the slippery business addresses, absence of a business or corporation license under the name MDHearingAid and the discrepancy about where their hearing aids are made and assembled makes us think that something isn't all the way right about their "Made in the U.S.A." story.
On another note, the Chicago business licensing division did have information on Cherukuri: he's been licensed as a physician in the state since 2007 and his license expires in 2017. We also found that Dr. Cherukuri runs a plastic surgery practice in three different Indiana locations called "The Weekend Lift".
So, while Cherukuri's hearing aid business is a little murky, his medical practices are pretty transparent. We called several of Cherukuri's offices to ask him about MDHearingAid, but not of our calls were returned.
What Types of Hearing Aids Can You Buy From This Company?
MDHearingAid offers three different products: the PRO, AIR and VOLT. The PRO is the base model, offering analog sound and no noise reduction or feedback suppression; the AIR and VOLT have digital sound, noise reduction and feedback suppression. It's a behind-the-ear aid, which means the sound processor (the big piece) goes behind your ear and a pliable plastic tube with an earbud goes in your ear.
As we said, the AIR and VOLT offer digital sound, which provides a noticeably higher quality than analog sound. Also, the VOLT's batteries can be recharged via a USB cable. Both the AIR and VOLT are behind-the-ear-aids, too, but they're smaller than the pro.
How Good Are They?
Trying to figure out how well these hearing aids work is tough since we didn't actually test them ourselves. So, in this situation we usually defer to the opinions of people who've bought the product. But before we get there, we want to take a second to talk about the difference between these budget hearing aids and brand-name, more expensive ones.
In the Chicago Tribune article we referenced earlier, reporter Meg Graham spoke with some experts in the hearing-aid industry. One of those experts, Todd Ricketts, spoke at length about the process of finding the right hearing aid.
A lot of it has to do with customizations – every person with a hearing deficiency has their own unique mix of ear shape and situational difficulties.
Going to a professional to get fitted for a pricey hearing aid is a reliable choice, Ricketts said, if only because "they'll evaluate the shape, geometry and size of ear. They'll also evaluate listening needs: Where are you having problems? What types of situations?"
When you buy an MDHearingAid product, you're skipping over the consultation part and buying what amounts to a plug-and-play style of product. Think of MD's hearing aids like prescription glasses you buy at a supermarket: no consultation needed. You just pick the ones you like the best and you're set. Will those glasses be a perfect fit with perfect magnification? The chances are slim.
The same principles apply to MDHearingAid and other hearing devices you buy through a website without a consultation. You have to go into the purchase knowing you aren't getting a custom solution, just a general one (this is what's known as direct-to-consumer).
But this is exactly the kind of consumer behavior that five national hearing-aid associations warned against in a recent joint statement. They acknowledged the growing direct-to-consumer market, but reiterated the importance of:
A comprehensive hearing evaluation performed by a hearing health professional
Being appropriately fitted by an individual licensed/registered in the state to dispense hearing aids
Scheduling follow-up sessions with a professional to make sure the hearing aid fits well and is being used the right way
Based on our research, we think the best-case scenario is to buy hearing aids that fit you well and will last a long time. However, we know that not everyone is in the financial position to pay $4,400 for hearing aids.
To Dr. Cherukuri's credit, he told the Chicago Tribune that his product isn't intended to be a perfect fit, but a solid alternative to more expensive devices.
What do you do if you can't afford a hearing aid that's customized for your ears? You look for a direct-to-consumer hearing aid that has a reliable reputation.
What are Other People Saying About MD Hearing Aid?
MDHearingAid's web presence is moderate...there's not a lot out there, but there are some reviews about how the product performs.
Consumer Affairs has five reviews of the company: three one-stars, a three-star and a five-star. The low scores were given by reviewers who complained about the sound quality and durability of the hearing aids, as well as the difficulties they had speaking with MDHearingAid customer service reps.
We went to Amazon to find reviews on the company's products, but were unable to find any hearing aids. We did find MDHearingAid accessories (carrying cases, batteries, etc.), but no hearing devices. However, when you go to the company's website, they have screenshots of Amazon reviews from three and four years ago.
Since we don't know what kinds of changes the devices have received over the past few years, it's hard to say if the old reviews accurately reflect the new product.
The company also has five reviews on its Better Business Bureau page. Four of those reviews are positive, while one is neutral. The positive reviews talked about how nice it was to have a hearing aid that works well at a fraction of the cost of other devices.
Our Conclusions: Take a Chance or Pass?
When we approach a direct-to-consumer product like MDHearingAid devices, we think it's important that the consumer asks a few questions:
Who makes them and what's their story?
What products do they sell and how well do they work?
What are other people saying about them?
Getting these answers can help you get a pretty good idea of how reliable the company is and what you can expect from their products and customer service team.
After thinking through our research on MDHearingAid, we'd say that you're probably better off widening your search to competing hearing aids.
It concerns us that it was difficult to find out where their hearing aids are made. It's been our experience that the harder it is to find information, the more likely it is that the company doesn't want you to know the information you're searching out.
We could be completely wrong on this hunch, but our better judgment tells us that we're probably on to something. MD's website and customer service team says their team is based in Chicago and their products are built and shipped in Detroit, but after chatting with an online rep we discovered some inconsistencies about where and how the hearing aids are made.
We're not saying that you should avoid MD at all costs, but we are saying you should keep your options open.
Consumer Reports wrote an excellent buying guide for hearing aids, so we suggest reading through their tips before heading out to buy a new device.
Good hearing aids

About four years ago I had worn a commercial set worth about $2000.00 for two years and had to send one back twice. After two years that one quit again. So I decided to try MD Hearing and bought the Pro model, their bottom line unit. Those units are still working, but I wanted a smaller size and would use the Pro when I was on the lake fishing. So I order the Air. When it came in, the left was not right. I called them and they said "you will get another one, we will send it out in the morning," and they did. I also sent the left one back to them.

That was two years ago and they are still working fine. I hear as good with both sets as I did with the brand named $2000.00 set. The only thing is their tubes are, I think, overpriced, but still the units are, in my opinion, a good buy for the money. So far customer service has been very good. I would buy again if something happens to these.

Bottom Line: Yes, I would recommend this to a friend

---

6 out 6 people found this review helpful

Hearing aids okay, replacement bits EXPENSIVE

I was initially pleased to receive my MDHearingAid devices in 2016. Actually, I still like them.

Now comes the "BUT." The tubes and domes that are expendable and must be replaced seem outrageously expensive. Batteries can be purchased very reasonably at Walmart, and battery life is pretty good. For the needed health of your ears, though, these domes and tubes are very expensive. I am constantly looking for a better source. Nomenclature and sizes vary greatly. The size that fits me best (6 mm closed) is no longer available from them.

Bottom Line: Yes, I would recommend this to a friend

---

Advertisement

---

9 out 9 people found this review helpful

Excellent, the MDHearingAids far exceed their price

By

John MacManes

,

Machesney Park, IL

,

Sep 25, 2017
Verified Reviewer

I have worn MDHearingAids for 6 years. Initially, I had paid over $4,500 for another brand from a hearing aid dealer. The expensive aids never worked well for me, despite repeated trips to the dealer, and of course, the return time expired. The MDHearingAids were bought out of desperation, and the results were surprising to me. I could hear more clearly than with the expensive ones.

I have had two sets of hearing aids from MD, upgrading to the MD Air 3 years ago and am extremely happy with the aids which cost about 20% of the originals. Another plus, losing a hearing aid that costs $399 is easier to replace than a $2300 aid!

Bottom Line: Yes, I would recommend this to a friend

---

8 out 10 people found this review helpful

Big disappointment

By

Ralph Gray

,

New York City

,

Sep 15, 2017
Verified Reviewer

I have a "lux" model, and it's more garbage than lux. Why?

1. Poor fit in ears. (I phoned. The agent said to return the aids and they may be able to do something.)

2. There is a system of four different operating systems, which is the main reason I bought this. One of those four supposedly reduces the noise of surrounding sounds. Supposedly for each of the four systems, a voice comes on announcing which system I just picked. Well, the only sound was a faint tonal one, no speech that I could detect. The agent said they'd install a ring system (1-4 rings depending on which I picked. Fine with me).

3. No indication of which is for left and which for right ear except on the sleeve each is wrapped in. But once the aids are outside the sleeves I can't tell which is left or right. (The agent said to look on the tubing. I looked and looked. Nada. She said they'll check it.)

There were a few other, minor things. The agent said she'd have an email with a return label sent me. That was around noon today. It is now 6 pm. No email. I suspect this outfit is not honest. The sales agent and the customer support lady were friendly and most pleasant. I guess that's the window dressing.

Bottom Line: No, I would not recommend this to a friend

---

Advertisement

---