Mdrive Reviews
Claimed This company has claimed this profile, is getting alerted on any new customer reviews entering this page, and may engage in dialogue with its customers to address their matters.

Companies cannot pay money or provide goods in order to remove or alter customer reviews.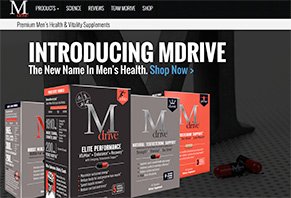 With a lineup of six different products, Mdrive's supplements claim to help boost testosterone naturally, leading to improved energy, sex drive, and endurance.
What is Mdrive?
Formulated by a team of chemists, scientists, and food technologists, the Mdrive line of supplements promises to naturally increase strength, stamina, and overall vitality, without steroids of any kind.
The entire line is clinically tested, with safe and effective ingredients (none are on the WADA banned list) that claim to help you achieve your health goals and even improve your quality of life.
From a marketing perspective, this all sounds great. But you already know Mdrive's marketing angle—you're here to find out if there's any truth to the company's claims.
In this article, we'll discuss what we learned about Mdrive's supplements based on research and experience. Then, we'll leave the decision up to you about whether or not it's worth the money.
First up? Let's take a look at their supplements, the ingredients they contain, and clinical evidence that supports—or doesn't support—their claims.
Which Supplements Does Mdrive Offer? Are They Effective?
There are six different formulations in the Mdrive lineup. Are there meaningful differences between each one? Let's take an in-depth look:
Mdrive Prime
While Mdrive Prime contains many of the same ingredients as the Classic and Elite formulas, the company added DHEA for overall testosterone support.
With this support, Mdrive claims Prime will increase energy, stamina, and sex drive, help maintain lean muscle mass, and reduce stress and cortisol levels. Simply take two capsules in the morning with food:
According to authoritative sources like WebMD, there is some clinical evidence that vitamin D supplementation may help women maintain their weight, although this was only the case for those who were vitamin D deficient. Obviously, this isn't Mdrive's target market.
Also, 30-450mg of DHEA daily may have some anti-aging benefits and may help treat some aspects of depression.
Chromax is a proprietary chromium formulation manufactured by Nutrition 21 that promises to deliver a stable chemical structure and superior absorption. While the company claims it's "supported with over 50 human clinical studies," none of these are listed on their website.
Interestingly, cordyceps is a fungus that lives on a specific species of caterpillar in mountainous areas of China, which is grown in a lab for supplementation purposes.
Interesting or not, though, authoritative websites indicate there's insufficient evidence showing that any of Prime's ingredients can boost testosterone (whether as a precursor or otherwise), reduce stress, or increase energy in otherwise healthy individuals.
Mdrive Classic
Similar to Prime, Mdrive's Classic formula promises to deliver a blend of 17 clinically tested ingredients that can support healthy testosterone, as well as boost energy, strength, stamina, and vitality.
And when taken alongside a healthy diet and exercise regimen, Mdrive claims Classic can help increase strength, lean muscles mass, and drive. Take two capsules in the morning or 1 capsule in the morning and 1 in the afternoon, with food:
WebMD lists tongkat ali (also known as eurycoma longifolia) as possibly effective for improving the quality and concentration of sperm in infertile men, but not for boosting testosterone or libido.
Phytopin is a branded ingredient from Purextract that promises to promote prostate wellness and reduce blood cholesterol, although the manufacturer doesn't provide any clinical evidence to support these claims.
American ginseng may help lower blood sugar in diabetics and prevent respiratory tract infections, especially during cold and flu season.
Other than this, authoritative websites indicate insufficient clinical evidence supporting any of Mdrive's Classic claims.
Mdrive Elite
Billed as the "ultimate sports performance supplement," Mdrive claims their Elite formulation can help you boost stamina, strength, endurance, lean muscle mass, V02 max, and even physical performance. Just take three capsules in the morning with food.
As with their other formulas, Mdrive tells us this is accomplished by supporting natural testosterone levels and delivering adaptogens for respiratory health and endurance:
Vitamin D3 400IU
Vitamin B6 10mg
Vitamin B12 120mcg
Zinc (as L-OptiZinc) 15mg
Selenium (as Selenium SeLECT) 100mcg
Chromium (as Chromax) 200mcg
In general, zinc can be effective for a lot of things, especially if you're deficient. Even you're not, it may help reduce muscle cramps in those with cirrhosis, as well as treat weak bones and address prostate swelling.
The specific form of zinc found in Mdrive's Elite formula is L-OptiZinc, an InterHealth proprietary ingredient that combines it with l-methionine for better absorption and retention. No clinical references are provided by the manufacturer.
Another proprietary ingredient is Selenium SeLECT, which is manufactured by the Sabinsa Corporation. The company claims it delivers better absorption, although WebMD indicates there isn't enough clinical evidence supporting Mdrive's claims.
This same sentiment holds true for the remainder of Elite's ingredients.
Mdrive Boost & Burn
Mdrive tells us that the ingredients found in Boost & Burn have been shown to increase thermogenesis, stimulate metabolic rate, and support fat burning. It can even provide sustained energy, strength, sex drive, and stamina.
Developed over the course of eight years, Mdrive claims that Boost & Burn will help you feel younger and stronger for the long-term, without hormones, steroids, or synthetic botanicals.
Again, much of this is accomplished by boosting testosterone levels after taking two capsules in the morning or 1 capsule in the morning and 1 in the afternoon, with food:
Vitamin D3 400IU
Vitamin B6 10mg
Vitamin B12 120mcg
Zinc (L-OptiZinc) 15mg
Chromium (Chromax) 200mcg
Boron 3mg
Men's Booster Blend 965mg: KSM-66 Ashwagandha Extract, Cordyceps Extract, American Ginseng Extract, Tongkat Ali, Maca Extract, Maitake Extract, Piperine
Men's Burner Blend 300mg: Green Tea Extract, Caffeine (75mg), Bitter Orange Extract, Ginger Extract
Of all the ingredients in all of Mdrive's formulations, the green tea found in Boost & Burn might be the most promising. Why?
Authoritative websites indicate the chemicals it contains may help reduce high cholesterol, unclog arteries, boost blood pressure in those with low blood pressure, treat some aspects of osteoporosis, and even help prevent Parkinson's disease.
The natural caffeine content in green tea, as well as the 75mg of added caffeine, may also temporarily boost concentration, provide a feeling of increased energy, and reduce appetite in some instances.
Despite this, we didn't encounter any evidence that it can deliver on any of Mdrive's other claims.
Mdrive Joint
Mdrive's Joint formula may help alleviate temporary excessive inflammation and pain due to strenuous exercise or over-exertion, using a blend of highly pure, concentrated, and specifically standardized extracts.
When taking one capsule daily on an empty stomach, Mdrive claims Joint's ingredients will help support cartilage and joint function:
When injected under the skin or applied to the skin as an ointment, collagen may help reduce acne and treat hemorrhoids, osteoarthritis, psoriasis, and rheumatoid arthritis. It may even help speed up wound healing.
Obviously, this Joint formula is a supplement and not an ointment, so authoritative websites indicate there's little evidence that collagen can improve joint health in any meaningful way.
Sodium hyaluronate (more commonly known as hyaluronic acid) is similar to collagen in that it can provide several benefits when applied topically or injected into skin or joints. This same doesn't seem to be true for oral versions.
However, taking 100-250mg of boswellia serrata (Indian frankincense) daily may help improve mobility in people with osteoarthritic joints. 500mg of turmeric daily may help accomplish the same, as well as address pain.
Mdrive ATP Energy
The last supplement in the Mdrive lineup is ATP Energy, which claims to help your body maximize oxygen utilization and energy production throughout the day.
Taking 1-2 capsules daily when your energy level is at its lowest or just before any exercise, ATP energy may help deliver long-lasting endurance, too:
Vitamin B6 40mg
Vitamin B12 500mcg
Adenosine 5'-Triphosphate Disodium 200mg
Active Energy Blend 720mg: Cordyceps Extract, Panax Ginseng Extract, Guarana Extract, Caffeine (100mg), Maca Extract
Adenosine is an interesting chemical since it's found in all human cells.
However, authoritative websites tell us there's insufficient clinical evidence that it—or any of ATP Energy's other ingredients—can reliably deliver on the manufacturer's claims.
Will the Ingredients In Mdrive's Supplements Cause Any Side Effects?
Some of Mdrive's supplements contain milk (used in the extraction process), so you'll want to avoid if you have a dairy allergy.
In some instances, DHEA can cause acne, hair loss, and high blood pressure, and damiana can lead to convulsions and symptoms of rabies poisoning after taking more than 200mg (it's unknown exactly how much Elite contains).
If you're especially sensitive to stimulants, the caffeine content in some of Mdrive's supplements may lead to temporary nervousness and insomnia, and WebMD recommends that routine zinc supplementation should only be conducted under the advice of a healthcare professional.
Perhaps most alarming for all of Mdrive's supplements, WebMD has this to say about bitter orange:
"… bitter orange is possibly unsafe when taken as a supplement for a medical purpose such as weight loss. Bitter orange, particularly when taken with stimulants such as caffeine or caffeine-containing herbs, increases the risk for high blood pressure, fainting, heart attack, stroke, and other severe side effects."
The long-term safety of ashwagandha is not known.
How Much Do Mdrive Supplements Cost?
Mdrive's formulas are priced as follows:
Prime
1 Bottle: $29.99
Buy 2, Get 1 Free: $59.97
Classic
1 Bottle (60 capsules): $44.99
Buy 2, Get 1 Free: $89.97
Elite
1 Bottle (90 capsules): $59.99
Buy 2, Get 1 Free: $119.97
Boost & Burn
1 Bottle (75 capsules): $49.99
Buy 2, Get 1 Free: $99.99
Joint Health
1 Bottle (30 capsules): $39.99
ATP Energy
1 Bottle (60 capsules): $39.99
You can also purchase a Trifecta Sports Package (Elite, ATP, and Joint) for $99.99.
Regardless of which option(s) you choose, all orders within the continental US come with free shipping and a 60-day guarantee, less S&H.
Each of Mdrive's supplements is available through a monthly auto delivery program, which will send you a fresh supply at regular intervals and charge your credit card accordingly.
If you choose, many of Mdrive's supplements can be found at local retailers like Walgreens, GNC, Vitamin Shoppe, and Sprouts Farmers Market.
Need to talk to Mdrive customer service? They can be reached at 888-300-9181.
At these prices, are customers getting their money's worth?
What Can We Learn From Mdrive Reviews?
On their website, Mdrive's supplements had 5-star average ratings, with most compliments referencing youthful vigor and increased energy.
Based on four customer reviews, Mdrive Classic had an average 8.3 rating on Bodybuilding.com, who made many of the same claims. One even stated that it was the best testosterone booster they'd ever taken.
Although it seems to have been written in 2013 and some of the formulations have changed slightly, Supplement-Geek took a close look at the ingredients found in Mdrive's supplements and concluded, "Mdrive itself doesn't seem to have any published peer reviewed proof that it raises testosterone. All I saw were testimonials and the research I listed above on some of its ingredients."
As a whole, Mdrive's supplements were named as one of the 10 of the Worst Food and Supplement Scams of 2016 by the Center For Science In the Public Interest, who writes:
"This dietary supplement was advertised in high-end magazines this year as a testosterone booster for men. A one-month supply sells for roughly $40. Containing a concentrated extract of the herb ashwagandha, it promised to "enhance vitality & sexual function." But in the only two studies, men who took the extract did not have any higher testosterone levels than men assigned to take a placebo. Unfortunately, most supplement companies that make false advertising claims get away with it."
From a company perspective, Mdrive supplements are manufactured by DreamBrands, headed by Gary Kehoe and based out of Phoenix, AZ, who claims to have launched more than 75 products over the last 20 years. These include other health-related supplements for men and women.
Despite the scathing words from the Center For Science In the Public Interest, DreamBrands held an A+ Better Business Bureau rating at the time of our research with no closed complaints (as of 1/5/17).
How Much Value Will Mdrive's Supplements Provide?
Will Mdrive's supplements work? Since the HighYa team isn't staffed by medical experts, we can't make that call.
However, we can rely on authoritative websites like WebMD and Examine.com, who tell us that there's insufficient clinical evidence that any of Mdrive's formulations will boost testosterone or deliver on many of the company's other claims.
Based on the lack of clinical evidence alone, it seems like you might get more value (which is what we're all about!) by speaking with your doctor about low testosterone or any other problems you might be experiencing.
Even for some of the heavy-hitting ingredients, like the boswellia serrata found in Mdrive's Joint formula and the green tea in Boost & Burn, you can find standalone third-party supplements for pennies per dose.
Continued Reading: Do Testosterone Boosters Really Work?!