MedCline Reviews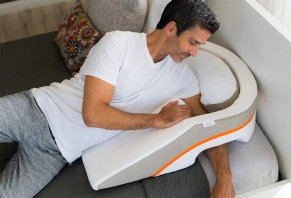 Using a unique arm hole, insert pillow, and the ability to accommodate left or right side sleepers, MedCline's wedge pillows are clinically supported to help reduce nighttime acid reflux.
About MedCline
Advertised as the most effective, natural treatment option available for nighttime acid reflux, MedCline's patented bed wedges promise to create an ideal incline and side-sleeping position that can help you find relief.
But compared to traditional wedges or elevating the head of your bed, the website reports their patented design is clinically proven to be significantly more effective, while allowing you to sleep comfortably on your side and avoid slipping down during the night.
Based on the clinical studies and glowing customer reviews listed on their website, it certainly appears that MedCline's wedges have helped many people find relief from nighttime acid reflux.
But will you experience the same once you have it in your home? Even then, are there competing options that might deliver more value for the money?
Take a few minutes to find out what we learned during our research so that you can come to your own conclusions about important questions like these.
What Is GERD/Acid Reflux?
Acid reflux is caused when stomach acid makes its way past the lower esophageal sphincter (LES) and into the esophagus, where it causes symptoms like burning and chest pain, cumulatively referred to as heartburn.
If this occurs more than twice per week, WebMD reports "you have acid reflux disease, also known as gastroesophageal reflux disease (GERD)," which is thought to affect about 20 percent of the U.S. population. Additional symptoms associated with this diagnosis include regurgitation, bloating, burping, nausea, wheezing, and dry cough.
There are several known causes and risk factors associated with the development of GERD, including a hiatal hernia, obesity, certain foods and beverages (citrus, tomato, garlic, alcohol, coffee, tea, etc.), smoking cigarettes, and pregnancy (as mentioned on the MedCline website), to name just a handful.
Like most secondary conditions, your doctor will prescribe a treatment plan aimed at addressing the underlying cause of your GERD, such as eating smaller meals, raising the head of your bed four to five inches, avoiding tight clothing, losing weight, stopping smoking, and changing medications.
There are also OTC and prescription medications available, and if nothing else works and your GERD is negatively impacting your life, your doctor might even recommend surgical options.
Comparatively, let's take a look at how MedCline's products aim to address chronic acid reflux.
How Do MedCline's Products Work?
Advanced Positioning Wedge
A patented, 30-inch wide triangular wedge the company claims will incline your entire torso and create side sleeping position for maximum relief from heartburn, regurgitation, coughing, choking, nausea, and other symptoms. Simply place your own pillow on top and relax.
Compared to other wedges, MedCline's design features a symmetrical arm pocket that prevents you from sliding down during the night and maximizes effectiveness, while also taking the pressure off your arm and shoulder. It allows you to position your arm as desired as well, whether out straight or tucked underneath your pillow.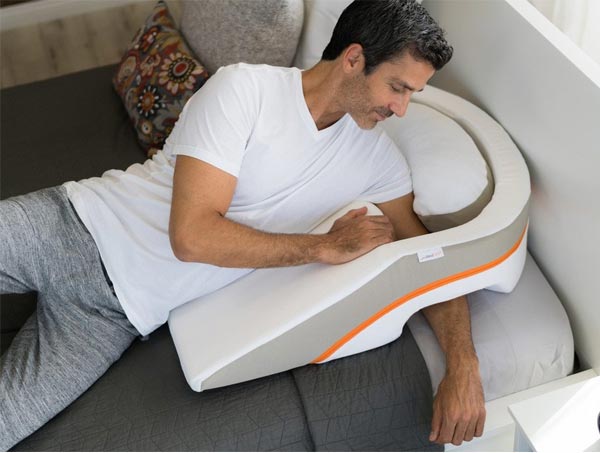 MedCline's Advanced Positioning Wedge features a patented symmetrical arm pocket and small insert pillow that elevates your head and torso while allowing you to sleep on either side. Credit: Amenity Health, Inc.
Inside the pocket is a small insert pillow filled with shredded memory foam that can be adjusted to match your comfort preferences.
Instead of a singular piece of foam, the wedge is made from four types of medical-grade foam (a blend of shredded memory foam, supportive perimeter foam, high-resilience support foam, and central cushioning foam), which are "strategically placed for maximum support and product longevity."
And while they point out that laying on the left side is typically best for acid reflux, their wedge can be used on either the left or right.
When the time comes, the Advanced Positioning Wedge's plush velour cover can be removed and machine washed.
LP Shoulder Relief Wedge
MedCline's Shoulder Relief Wedge features the same four-layer, medical-grade foam construction, symmetrical arm pocket with an adjustable pillow, and washable case as the Positioning Wedge, but a longer 45-inch length, a slightly narrower 28-inch width, and a six-inch height that results in a more gradual 5-8 degree angle.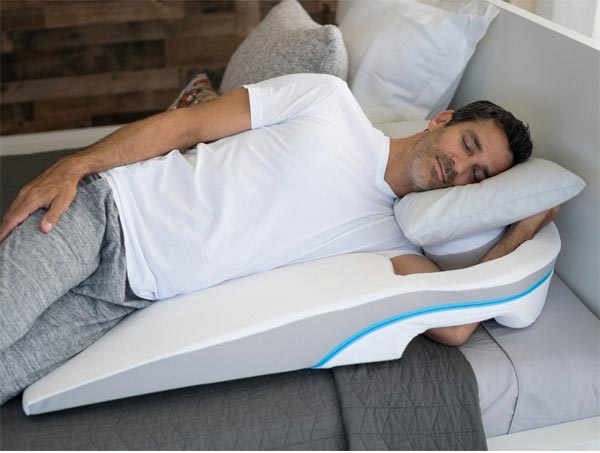 Made from the same medical-grade foam, and featuring the same patented pocket that takes pressure off your arm and allows you to sleep on either side, MedCline's LP Should Relief Wedge is longer and narrower than the standard version, with a more gradual incline. Credit: Amenity Health, Inc.
This way, it's marketed as an ideal solution for "those feeling the lingering effects of an old sports injury, to those suffering with arthritis in the shoulder."
Therapeutic Body Pillow & Reflux Relief System
MedCline's Therapeutic Body Pillow is a full-length, J-shaped, wrap-around pillow filled with a blend of adjustable shredded memory foam that's designed to align your neck, hips, and body for neutral joint positioning and deliver improved side-sleeping support and comfort.
This could help relieve discomfort caused by a variety of conditions, including "snoring, sleep apnea, sciatica, fibromyalgia, lower back pain, and pregnancy aches and pains."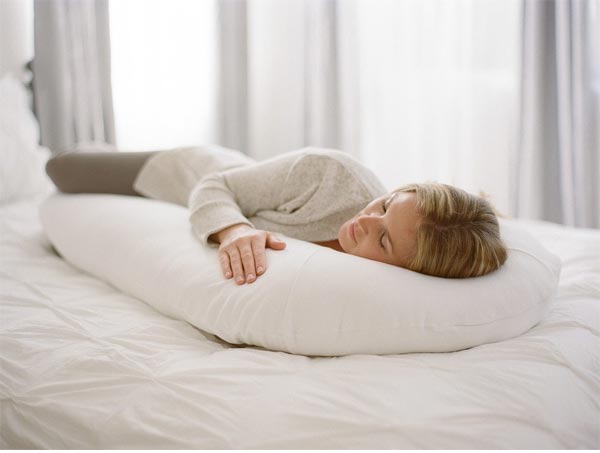 MedCline's Therapeutic Body Pillow features a J-shaped design and is available in three sizes to help you find side-sleeping comfort. Credit: Amenity Health, Inc.
Compared to other body pillows, MedCline tells us their Therapeutic version features a patented seamless inner curvature to prevent digging into your neck, and a breathable design to help keep you cool all throughout the night.
As with their wedges, the Body Pillow can be used with the long part of the 'J' behind or in front of you, allowing you to sleep on either side, depending on your comfort preferences.
By adding a Therapeutic Body Pillow to either of MedCline's wedges, this creates one of their dual component Reflux Relief Systems, which they claim will allow for maximum comfort and side-sleeping support.
Are MedCline's Products Clinically Proven to Relieve Acid Reflux?
The Results section of the MedCline website lists five clinical studies related to their Positioning Wedge, all of which were completed during 2015:
A 27-patient trial conducted by the Cleveland Clinic Foundation's Department of Gastroenterology, which found the wedge "significantly decreased nocturnal GERD symptoms and improved GERD health-related quality of life."

Another Cleveland Clinic Foundation study involving 23 patients, which found the wedge significantly improved "self-reported symptoms of typical nocturnal reflux symptoms as well as symptoms specific to LPR [Laryngopharyngeal Reflux]."

A University of South Carolina study that found the wedge "dramatically reduced recumbent esophageal acid exposure" when "lying left side down." However, they noted the "right side down position [gave] the worst results, even with the aid of the sleep device."

A study involving 17 pregnant women experiencing nocturnal heartburn and regurgitation. After two weeks, the wedge was reported to have "significantly reduced nocturnal GERD symptoms, morning impact of nocturnal GERD, concern about nocturnal GERD, and significantly improved overall sleep quality."

A University of Southern California study that found the wedge significantly reduced post-esophagectomy nocturnal regurgitation and aspiration symptoms," while also "minimizing problems sliding down during the night and allowing for better sleep quality."
Cumulatively, the MedCline website tells us that 98 percent of patients reported an overall improvement in sleep quality, 93 percent noted a reduction in nighttime heartburn, and 89 percent reported a reduction in regurgitation and gagging at night, with 87 percent less acid exposure measured in the esophagus compared to a bed wedge.
How Much Do MedCline's Products Cost?
MedCline's products are priced as follows:
Advanced Positioning Wedge: $219
LP Shoulder Relief Solution: $219 ($278 w/Body Pillow)
Reflux Relief System (S: 4' 8" – 5' 10"; M: 5' 5" – 5' 10"; L: 5' 11" +): $278
Therapeutic Body Pillow (S, M, L): Currently sold out
Extra Cover for Therapeutic Body Pillow: $35
Extra Cover for Advanced Positioning Wedge: $45
While these aren't covered by public or private health insurance, you can pay using your health savings account (HSA) or flexible spending account (FSA), or pay in equal installments over the course of nine months.
All MedCline products come with a 100-night guarantee, less S&H and a 10 percent disposal fee. You can request one by calling 858-605-1747, sending an email to support@MedCline.com, or chatting with a sleep specialist via their website.
What Can We Learn From MedCline Online Customer Reviews?
On the MedCline website, we found more than 270 combined customer reviews for their wedges and body pillow, who had given them an overall rating of about five stars. Most compliments referenced reduced reflux and GERD symptoms, improved sleep, and ease of use.
Among 220+ combined reviews on Amazon (no longer sold there), their products had an average rating of about four stars, with many of the same compliments. Complaints, when present, often referenced no results and discomfort.
From a company perspective, MedCline products are manufactured by Amenity Health, Inc., who are based out of San Diego, CA and has been in business since 2011. They held an A+ rating with the Better Business Bureau, based on one closed complaint, as of 2/14/18.
This referenced difficulty obtaining a refund, and the company resolved the situation to the customer's satisfaction.
MedCline was founded by Carl Melcher, M.D., a physician and radiology specialist who's been practicing for more than 50 years. According to a 2013 press release, "Dr. Melcher struggled with GERD for decades, which led him on a mission to develop a sleep positioning device that would comfortably provide nighttime reflux relief."
MedCline vs. Other Foam Wedge Pillows for GERD & Acid Reflux
A brief online search revealed some of MedCline's most popular competitors include:
| Brand | Price | Size |
| --- | --- | --- |
| MedCline | $219 - $278 | 30" w x 40' l x 7" h |
| MedSlant | $85 - $120 | 28" w x 32" l x 7" h |
| Reflux Guard | $169 - $329 | Twin, Double, Queen, King & CA King sizes |
| MediWedge | $160 - $360 | Complete mattresses available in 4" and 6" versions |
In addition to these, browsing marketplaces like Amazon and Google Shopping, we found dozens more generic options that ranged anywhere between 25" and 32" long, 24" and bed-width, and 7" to 14" high, priced between $30 and $150. Some of these were designed to sit on top of the bedding, while others went underneath the sheets, or even between the mattress and the box spring.
In other words, there are options available to fit just about every comfort preference and need. How can you possibly choose?
Because acid reflux and GERD are medical conditions, the first person you should seek advice from is your primary care physician. After getting to the root of your issue, they can recommend products that will address your specific diagnosis.
In general, though, if they advise proceeding with a wedge pillow, Healthline suggests elevating your body from the waist up to achieve maximum results, so you'll want to choose a product that provides sufficient length. But they emphasize that "Just using additional ordinary pillows isn't effective"—in fact, it can often make acid reflux symptoms worse.
Our Final Thoughts About MedCline
Medical conditions and sleep are highly individual topics, so what works for one person might not work at all for another, which is why's it's so important to talk with your doctor about what's causing your acid reflux, and what you can do as a result to help you sleep better.
With this caveat in mind, MedCline's versions certainly seem unique with their arm holes, insert pillows, their ability to accommodate left or right side sleepers, along with their clinical support—despite their meaningfully higher prices. The company also stands behind their products with a 100-night trial, which should be more than enough time to decide if they work for you.
Just keep in mind that you'll have to pay for return shipping, as well as a 10 percent disposal fee, if you decide that they're not the right options for you.
1 out 2 people found this review helpful

Best purchase in 20 years.

By Sharyn D.

,

Rhode Island

,

Aug 5, 2018
Verified Reviewer

I cannot believe how much the MedCline has helped me. But mostly I want to thank the staff for helping me find the right size for me. It took awhile, but now I have exactly what I want. Another thing is the attitude of the staff, never sound weary or upset to help you on your journey to find the size that is perfect. By nature, I don't write many reviews, but the service and help made me sit right down and write this.

Thank you, MedCline, you are doing a great job with a wonderful product.

Bottom Line: Yes, I would recommend this to a friend

---

Advertisement

---