Medterra CBD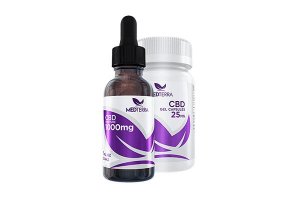 Based out of Irvine, California, MedTerra CBD supplements contain just two ingredients: cannabidiol isolate suspended in healthy MCT oil, both of which focus on maximizing your health.
Medterra CBD Review: Hype or Legit?
MedTerra CBD tincture and capsule formulations contain high-quality, 99% pure hemp isolate, which they say maximizes cannabidiol concentration, filters out unnatural substances, and brings the THC concentration down to zero percent. From there, each batch is third-party tested and guaranteed contaminant-free.
Even before this CO2 extraction occurs, their hemp is organically grown "under the strict guidelines of the Kentucky Department of Agriculture Industrial Hemp Pilot Program," thereby allowing them to sell in all 50 states (and internationally) legally.
When considering any new dietary supplement, these are all critical factors to look for. But, what kinds of health benefits might you realistically expect from MedTerra's non-GMO CBD products? And how can you decide whether or not it's the right option?
We'll answer all of your questions here, starting with their supplements and the ingredients they contain.
Zooming In On MedTerra's CBD Supplements & Ingredients
Both of MedTerra's CBD formulations contain the same 99% pure, THC-free CBD isolate suspended in MCT oil. The only differences relate to their delivery methods, along with the amount of CBD they contain in each dose.
MedTerra posts the most recent batch test results on their website, which outlines factors like cannabinoid profile (more soon) and potency, including max THC and CBD; heavy metal analysis, microbiological contaminants, terpenes profile, and an analysis of volatile organic compounds (VOCs).
MedOil CBD Tincture
MedTerra tells us the tasteless, odorless CBD Tincture is their most popular product, which is taken sublingually (under the tongue) day or night.
Each 1 fl oz (30 ml) bottle contains 30 recommended servings, although it includes a special dropper cap that helps determine smaller serving sizes (.25, .5, .75, and 1ml), depending on your needs. It's also available in three different strengths:
500mg: 16mg of CBD per 1ml serving
1000mg: 33mg of CBD per 1ml serving
3000mg: 100mg of CBD per 1ml serving
CBD Gel Capsules
Comparatively, MedTerra's Gel Capsules contain the same tasteless, odorless CBD isolate/ MCT oil formulation as their Tincture. In this instance, though, it's encapsulated for quick and easy consumption when you're on the go, whether day or night.
Each 30-count bottle is available in two different strengths:
25mg CBD per capsule, for a total of 750mg CBD per bottle.
50mg CBD per capsule, for a total of 1500mg CBD per bottle.
Let's find out what you'll pay for each of MedTerra's CBD formulations and various strengths.
How Much Does MedTerra CBD Cost?
MedTerra prices their CBD supplements as follows:
MedOil CBD Tincture
500mg: $44.95
1000mg: $79.95
3000mg: $149.95
CBD Gel Capsules
25mg: $59.95
50mg: $94.95
All US orders over $125 include free standard shipping, which can vary between 4 and 7 days, depending on your location. Otherwise, they quoted between $2.93 and $17.86 S&H for option ranging from USPS First Class to FedEx Standard Overnight at the time of our research.
MedTerra supports their supplements with a 30-day satisfaction guarantee, which you can request by calling 800-971-1288 or emailing support@medterracbd.com.
At these prices, how much bang-for-your-buck might you achieve with MedTerra CBD—or any other cannabidiol supplement, for that matter?
Clinical Support For the Effectiveness of CBD Supplementation
Let's quickly take this step-by-step:
Cannabidiol (CBD) Basics
Cannabidiol (CBD) is an abundant phytochemical—a biologically active compound found in plants—that's unique to cannabis. Cannabidiol is part of a much larger system inside our body, known as the endocannabinoid system (ECS), which helps regulate our appetite, digestion, and immune function, to name just a few roles.
Despite its close relationship to tetrahydrocannabinol (THC)—the component responsible for getting users 'high,' though, CBD is non-psychoactive. In fact, CBD can actually reduce, or eliminate, THC's intoxicating effects in some instances.
Furthermore, the CBD used in supplements like MedTerra is derived from industrially grown hemp plants that contain almost zero THC by default.
Conditions That CBD Might Help Address
Based on our past research and interviews with professionals, we've learned that anecdotal evidence and select scientific studies indicate different types of CBD supplementation—everything from tinctures to topical salves—may help deliver a variety of health benefits.
These include reducing general anxiety, decreasing the body's response to pain, eliminating caffeine jitters, and even making your dog more comfortable. To this list, Harvard Health adds, "help with both falling asleep and staying asleep" for those who have insomnia.
Furthermore, Healthline indicates that the MCT oil in which MedTerra CSB is suspended could deliver additional health benefits; everything from weight loss and brain energy support to reduced risk factors related to heart disease.
When it comes to the overall benefits of CBD supplementation, though, it's important to maintain realistic expectations. Writing for WebMD, Dennis Thompson points out, "experts say the evidence is scant for most of these touted benefits."
In fact, "only one purported use for cannabidiol, to treat epilepsy, has significant scientific evidence supporting it," he says.
Potential Side Effects Related to MedTerra CBD Supplements
According to our interview with Dr. Jean Talleyrand, founder and Chief Medical Officer of MediCann in Oakland, California, and co-founder and Chief Medical Officer of The Clinical Endocannabinoid System Consortium in San Diego, California, side effects related to CBD supplementation are often negligible, whether related to MedTerra or a third-party company.
However, some of the most common reported by consumers overall include headache, dizziness, and drowsiness.
To this list, the Mayo Clinic adds dry mouth, diarrhea, reduced appetite, and fatigue." They also emphasize that "CBD can also interact with other medications you're taking, such as blood thinners," which is why customers ideally "need to be under the care of a health care provider who understands CBD."
Is there anything else you should look for when buying a cannabidiol supplement?
Choosing the Best CBD Dietary Supplement For Your Needs
Formulation & Third-Party Testing: The Mayo Clinic article goes on to explain that in addition to side effects, a recent study of "84 CBD products bought online showed that more than a quarter contained less CBD than labeled. In addition, THC was found in 18 products."
Why such a discrepancy? Interviewed for the WebMD article above, Marcel Bonn-Miller, an adjunct assistant professor of psychology in psychiatry at the University of Pennsylvania School of Medicine, explains that this is because of its status as a dietary supplement:
"CBD is being produced without any regulation, resulting in products that vary widely in quality."
"It really is the Wild West. Joe Bob who starts up a CBD company could say whatever the hell he wants on a label and sell it to people."
Related: History of Dietary Supplements: When Did They Start & How Are They Regulated
With this in mind, our interviews with industry experts reveal that one of the most important things you can look at when buying a CBD supplement is evidence of third-party testing that shows its strength and purity. Fortunately, this is something MedTerra displays on many areas of their website.
MedTerra CBD Competition
From there, your choice could largely come down to each product's price per dose, as well as the amount of CBD contained in each one. After all, there are hundreds of formulas competing with MedTerra CBD, including options also suspended in healthy oils, sourced from organic industrial hemp, and made from non-GMO, all-natural ingredients.
Here's a quick table comparing some of these top competitors on Amazon as of this writing:
| | | | |
| --- | --- | --- | --- |
| Formula | Price | Cost Per Dose | CBD Concentrations Per Serving |
| MedTerra CBD | Tincture: $44.95 - $149.95 Capsules: $59.95 - $94.95 | Tincture: $1.50 - $5 Capsules: $2 - $3.17 | Tincture: 500 mg, 1,000 mg, 3,000 mg Capsules: 25 mg, 50 mg |
| House of Healing Hemp Oil Drops | $52 | $1.73 | 1,000 mg |
| Serenity Hemp Oil | $88 | $2.93 | 1,000 mg |
| MixRx Hemp Oil Capsules | $38 (2-Pack) | $0.16 | 25 mg |
| Osyris Nutrition Lab Hemp Oil Capsules | $25 | $0.42 | 25 mg |
| Healford Hemp Oil Capsules | $25.50 | $0.85 | 25 mg |
Coming to a Conclusion About MedTerra CBD
As we can see from the table above, MedTerra's CBD Tincture seems priced within the same general range as several of their top competitors, while also offering a greater variety of concentrations (500, 1,000, and 3,000 mg).
On the other hand, their capsule price per dose comes in quite a bit higher than other popular options—in some examples above, nearly 2,000% more.
Again, though, it's important to balance this by pointing out MedTerra offers 50 mg capsules, whereas most of the competition tops out at 25 mg, which could make a big difference, depending on your dosing needs.
They also freely display their most recent batch testing results online, which is something we found is relatively rare when investigating other CBD supplements.
Bottom line: In addition to their greater variety of formulations, most customers on the MedTerra website reported positive experiences at the time of our research.
And if you find that their premium price doesn't deliver the benefits you need (remember to maintain realistic expectations!), they seem to stand behind their supplements with a 30-day satisfaction guarantee.
No results

By Neesie S.

,

Florida

,

Oct 28, 2019
Verified Reviewer

We bought the CBD Tincture 1,000 mg and the CBD Roll-On. The only positive was the oil had no weird taste. The negative is that neither my husband nor myself noticed any difference. He took it 3 nights in a row to help with seep and it had no effect. I took it to relax my anxiety and after 4 days and waiting for 2-3 hours it had no effect. When I contacted them I just received a "template" type of answer, all generically written. Will not order from them again.

Bottom Line: No, I would not recommend this to a friend

---

Advertisement

---