MegaFood One Daily Reviews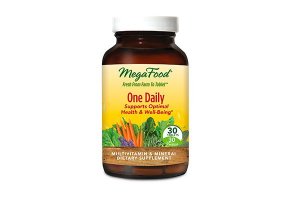 According to MegaFood, the unique blend of non-GMO vitamins and minerals found in their One Daily supplement can help maximize your health and lifestyle.
About MegaFood One Daily
MegaFood One Daily is a multivitamin that features a nourishing blend of two-dozen ingredients, which the company advertises will help support optimal health and wellbeing, while boosting your already well-balanced lifestyle.
They say these include vitamins, minerals, and real, whole foods like orange, carrot, and rice, which are sourced from trusted farm partners. MegaFood then uses a "unique process to deliver guaranteed potency and the benefit of health-promoting compounds present in the whole food itself."
All ingredients are non-GMO, glyphosphate residue free, gluten-free, dairy and soy-free, and vegetarian. MegaFood explain you just have to take one tablet per day at any time, with or without food.
When it comes to the One Daily multivitamin supplement, everything boils down to two main questions: Can you expect its ingredients to work, and will it deliver better results for the money than the competition?
Let's get right to the heart of the matter by taking a look at its formulation.
Which Ingredients Will You Find in MegaFood One Daily?
According to the supplement facts label listed on the MegaFood website, One Daily contains the following ingredients:
Vitamin A 375 mcg
Vitamin C 60 mg
Vitamin D3 10 mcg
Vitamin E 10 mg
Vitamin K (K1) 65 mcg
Thiamin (B1) 5 mg
Riboflavin 5 mg
Niacin 20 mg
Vitamin B6 6 mg
Folate 400 mcg
Vitamin B12 15 mcg
Biotin 30 mcg
Pantothenic Acid 10 mg
Iron 4.5 mg
Iodine 75 mcg
Zinc 6 mg
Selenium 25 mcg
Copper 0.1 mg
Manganese 1.2 mg
Molybdenum 20 mcg
Boron 500 mcg
Fruit Phenolic Blend 10 mg – Organic Whole Orange, Organic Cranberry, Organic Blueberry
Based on what we learned from the clinical evidence summarizations provided by sites like WebMD, Examine.com, and the Natural Medicines Database, nearly all of these vitamins and minerals are essential for optimal human health.
Vitamin A plays roles in vision and reproduction, iron is required to produce red blood cells, copper promotes immune function and iron absorption, vitamin E acts as an antioxidant to protect cells, and vitamin B12 keeps the body's nerves and blood cells healthy, as just a handful of examples.
However, these same sites indicate that the supplementation of these ingredients isn't likely to provide meaningful benefits for otherwise healthy people. Keep this pointer in mind, as we'll return to it shortly.
Are There Any Potential Side Effects When it Comes to MegaFood One Daily?
According to WebMD, Examine.com, and the Natural Medicines Database, when taken in appropriate dosages, the most common side effects reported for One Daily's ingredients include:
Nausea – Vitamin C, pyridoxine, iodine, zinc
Stomach discomfort – Vitamin C, pyridoxine, iron, iodine
Vomiting – Vitamin C, pyridoxine, iron, zinc
Headache – Vitamin C, pyridoxine, iodine
Diarrhea – Iron, iodine, riboflavin, zinc
Metallic taste – Iodine, zinc
Outside of these (no additional specifics provided), vitamin C might also cause heartburn, riboflavin can cause the urine to turn a yellow-orange color, and niacin can result in flushing.
Pro tip: According to WebMD, "Starting with small doses of niacin and taking 325 mg of aspirin before each dose will help reduce the flushing reaction. Usually, this reaction goes away as the body gets used to the medication."
In some people, pyridoxine (B6) might cause loss of appetite, tingling, and sleepiness, while iodine can cause a runny nose. Taking lower doses of selenium (less than 400 mcg) long-term isn't recommended, since it could increase the risk of developing diabetes.
Finally, WebMD emphasizes, "routine zinc supplementation is not recommended without the advice of a healthcare professional." In some people, it might also cause kidney and stomach damage.
Speaking of which, it's always a must that you speak with your healthcare professional before taking a new supplement or multivitamin, who can help you avoid potential side effects and medication interactions based on your specific diagnosis.
Related: Common Supplement & Multivitamin Side Effects
How Much Does MegaFood One Daily Cost & Where Can You Buy?
If ordered directly from MegaFood, customers will pay the following for One Day (including free, two-business-day shipping):
30 Capsules: $26.42 ($0.88 per dose)
60 Capsules: $45.14 ($0.75 per dose)
90 Capsules: $57.38 ($0.64 per dose)
180 Capsules: $97.70 ($0.54 per dose)
We also found One Daily sold via popular online retailers like The Vitamin Shoppe, Amazon, VitaCost, iHerb.com, and Natural Healthy Concepts, to name just a few. In many of these instances, prices were meaningfully lower than if purchased from MegaFood.
All direct orders come with a 30-day refund policy, less S&H, which you can request by calling 800-848-2542 or sending a message via the contact form on their site. Third-party refund policies may vary.
Are Customers Saying Good Things in Their MegaFood One Daily Reviews?
Between the MegaFood website, as well as the third-party retailers mentioned earlier, we encountered well over 200 combined customer reviews for the One Daily supplement, who had given it an overall average rating of about 4.5 stars.
In most instances, compliments cited its whole-food ingredients, ease of use, and no side effects (specifically, no gastrointestinal upset). On the other hand, common complaints revolved around no noticeable results, high price, and temporary side effects like upset stomach and nausea.
Pro tip: According to one Amazon reviewer:
"The label and marketing lead you to believe that all the vitamins are extracted from food, including yeast.

What they actually do is mix synthetic vitamins into a slurry and culture yeast on it and harvest the whole and call it a "whole food" vitamin."
Their issue, as a result, is that the One Daily multi-vitamin isn't necessarily as 'whole' as MegaFood's advertising might lead customers to believe.
Seeking clarification on the matter, we reached out to the company's support department. According to the representative we spoke with, while they confirmed that the reviewer's description is mostly accurate, they added some nuance to the discussion.
First, they confirmed that One Daily does, in fact, contain nutritional yeast (the species S. cerevisiae, specifically). They also verified that vitamins are combined with this yeast and pressed into a tablet, bottled, and then shipped to consumers.
However, they clarified that these vitamins are non-GMO isolates. This is different, they told us, than synthetic vitamin versions, which are bound by other components like citrate, malate, and so forth. They also stated that the yeast is deactivated, which better allows the body to process it.
Can consumers expect this whole food (compared to synthetic) approach to make a meaningful difference in the benefits achieved, though? Let's carry this question over to the next section.
MegaFood One Daily vs. Other Whole Foods Multivitamins
Type variations of phrases like 'whole foods multivitamins' or 'food-based vitamin supplements' into search engines like Google, and you'll quickly learn that there are a lot of products competing with One Daily.
Popular results on sites like Google Shopping and Amazon.com at the time of our research included:
MegaFood One Daily ($97.70, 180 capsules)
Nature's Plus Source of Life Multi-Vitamin & Mineral Supplement ($62, 180 count)
Dr. Mercola Whole Food Multivitamin Plus Vital Minerals ($48, 240 tablets)
Garden of Life MyKind Organics Multivitamin ($59, 120 tablets)
New Chapter Multi, One Daily ($17, 24 tablets)
NATURELO Whole Food Multivitamin ($43, 120 capsules)
Dr. Tobias Multivitamin ($23, 90 tablets)
Given that this handful of high-ranking results vary in price between $0.54 (One Daily) and $1.60 (Dr. Mercola Whole Food Multivitamin) per dose—a difference of more than 300%, how can you decide which option is most likely to deliver the highest level of value for the money?
First, it's important to understand that according to organizations like the National Institutes of Health and the American Cancer Association (among others), when it comes to taking a multivitamin, otherwise healthy individuals likely won't receive a lot of value for their money. In other words, the most significant benefits will come to those who are deficient in some of the ingredients their multivitamin contains.
Second, the best person to put you on the path toward figuring out if you're deficient in an essential vitamin or mineral is your primary care physician. And, based on what they learn from questioning and testing, they can recommend a science-backed treatment option, whether or not this involves a multi-vitamin like One Daily.
And if they do recommend pursuing a multivitamin, after years of researching hundreds of dietary supplements, we'd recommend only doing business with companies who:
Price their products competitively, including reasonable S&H charges
Support their claims with double-blind, placebo-controlled clinical evidence
Back them with at least 30-day refund policies and no restocking fees
All of which MegaFood seems to deliver with One Daily. Does this necessarily mean that you should go ahead and place an order, though?
The Bottom Line
According to Healthline, while "synthetic nutrients are almost chemically identical to those found in food":
"The production process of synthetic nutrients is very different to the way plants and animals create them. So despite having a similar structure, your body may react differently to synthetic nutrients.

Additionally, it's unclear how well synthetic nutrients are absorbed and used in the body. Some may be more easily absorbed, not others."

In short, vitamin C (as but one random example) ingested from oranges might be more beneficial to the human body than the synthetic version (i.e., ascorbic acid) created in a laboratory. Based on the current scientific understanding, though, this is far from a foregone conclusion.
This major point aside, MegaFood's One Daily multivitamin comes with the lowest per-dose cost among popular competitors listed in the previous section, even with its whole foods (versus synthetic) formulation.
Does either of these factors necessarily mean that it will deliver meaningfully better results than other whole foods competitors? Based on what Healthline outlines, this doesn't seem to be the case.
But, to make a maximally informed decision, it's essential that you talk with your doctor before making any financial commitment, who can also help you avoid potential side effects and medication interactions.
If you decide to give One Daily a try, MegaFood seems to stand behind all of their supplements with a 30-day satisfaction guarantee. Just keep in mind that you're responsible for return shipping charges if it doesn't meet your needs or preferences.