Mellow Sous-Vide Cooker Reviews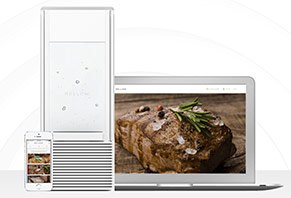 The Mellow sous-vide cooker can help you prepare 5-star meals using self-sealing food-safe bags, apps, and artificial intelligence, without even being home!
About Mellow Sous-Vide Cooker
Dubbed the "smart sous-vide machine," Mellow is a countertop kitchen device that uses "artificial intelligence" to cook your food perfectly. And you don't even need to be home!
We'll talk more about sous-vide in a second, but you can think of Mellow Smart Cooker kind of like a traditional slow cooker, which works by slowly heating your food to a desired temperature, and then maintaining this heat for hours. As a result, your food ends up more tender and flavorful.
Instead of putting your food directly into a pot like slow cookers though, Mellow works over 3 steps:
Season your food, place it into a food-safe bag, and zip seal it.
Place the bag into Mellow's water tank. The device will immediately sense the weight change and will send you a notification. There, you'll be able to tell Mellow what you're cooking, when you want it ready, how you'd like it cooked. If you're running late, you can even let Mellow know using the app, and it'll make sure it's prefect when you get home!
Serve immediately after removing from bag. Or, you can quickly sear your food in a pan or using a torch for a perfect finish.
As a result, your meats will be juicier and more tender, veggies will keep all their nutrients, and eggs will be perfectly cooked. Which is why the company claims that Mellow can help you cook "effortlessly great food."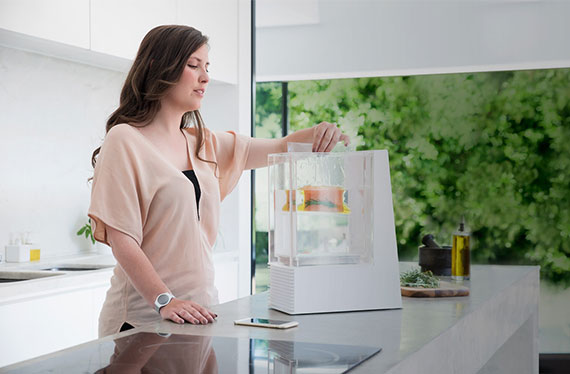 Mellow Smart Cooker. Image: Mellow
As a foodie, there's no doubt that you enjoy tasteful, artfully prepared cuisine. But this doesn't mean that you want to throw value out the window, either.
In other words, you'd love a device that helps you cook in a new way, but only if it's something that will get regular use—even moreso if it's expensive.
So, does the Mellow Sous-Vide Cooker provide this value, or will it just leave a bad taste in your mouth? Let's start by taking a look a what sous-vide is.
What is Sous-Vide? Will it Help You Cook Better Food?
Although the process was first described in 1799, sous-vide cooking didn't reemerge until the 1960s when it was explored as a food preservation method. And it wasn't until the last few years that this form of cooking entered most amateur chef's awareness, as more and more manufacturers began producing their own machines (more in a moment).
In French, sous-vide means "under vacuum." Why?
Because food is first placed in a vacuum sealed bag, and then placed in a chilled water "bath." Then, the water temperature is slowly raised to 130-140 degrees Fahrenheit and maintained for up to 96 hours (that's 4 days!). What does all of this accomplish?
If you're looking to cook better food, many things. This includes:
Precise temperature control, usually within a degree or two. Meats have no dry edges or rare centers, and can be cooked to perfection.
Results are easily repeatable. Add the same ingredients, cook for the same amount of time at the same temperature, and you'll get the same delicious results every time.
Juicer and more tender results. Because none of the juices escape and are implemented over the course of several hours, your food is braised and infused with as much flavor as possible.
But sous-vide isn't ideal in all situations, as it's generally frowned upon for some types of fish and game. And while you can boil or poach eggs, you certainly won't be able to scramble them.
But perhaps more importantly, as this Guardian article stated:
"Your lump of protein/handful of carrots/half-dozen eggs sit, arms folded, in their sterile bag and their sterile bath for anything up to 72-hours (15-minute meals this ain't) until all sorts of miraculous things happen to them and they're just perfect. No touching, smelling, tasting, listening, looking, or engaging with the food is required. Science has got your back. Sous vide has taken all the guesswork out of cooking. It has also sucked out its soul."
So, if you're passionate about the sights, sounds, and smells associated with traditional cooking, sous-vide devices like Mellow might not be your go-to.
Now that you know more about sous-vide cooking, let's learn about some of the ways Mellow claims to separate itself from the competition.
Mellow vs. Other Sous-Vide Cookers
Type the phrase "sous-vide cooker" or "sous-vide machine" into any search engine, and you'll quickly find that there are several options out there. Compared to these models, Mellow claims to differentiate itself by:
Using special food-safe bags that don't require a vacuum sealer (self-sealing)
Featuring 30-second setup, an in-app assistant chef (specify what you're cooking, when you want it done, and how you'd like it made), and built-in refrigeration (chills the water so your food won't spoil while you're away, as safely as in your refrigerator)
This chef also learns your taste over time. As the company puts it: "Mellow gives and asks you for feedback constantly. For example, after each meal it'll ask you how you liked the food so next time you cook, Mellow can suggest changes."
App connectivity also allows you to control Mellow from anywhere (and almost any device) with an internet connection.
Using a built-in scale weighs your food automatically
Featuring a large tank that can cook up to 6 adult portions at a time. The double walled tank is also energy efficient and is easily removable to change out the water.
Effortlessly helping you make meals by slow cooking your food to the perfect temperature, perfect texture, and perfect taste. You can even use manual mode to cook your own recipes!
But, if you compare most of this to the competition, the true difference with Mellow Cooker is that it makes the process easier. In other words, there isn't much from the list above that you won't find with other sous-vide cookers, with the exception of Mellow's app (and all the features this provides).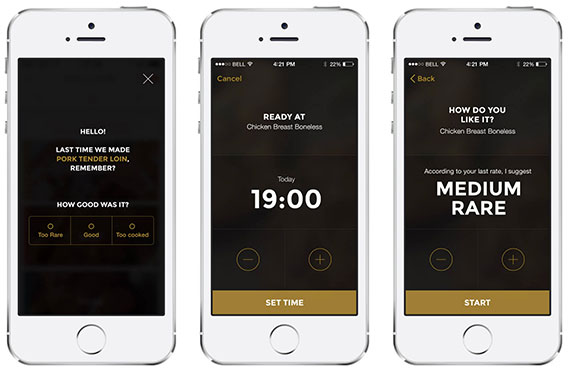 Mellow's iOS app. Image: Mellow.
Given all these features, what is everyone saying about Mellow?
Are Chefs Around the World Loving Mellow?
We'll talk more about the details in the next section, but at the time of our research, Mellow wasn't scheduled to be released until Spring 2016. As such, there weren't any hands-on feedback we could pass along.
However, CNET and TechCrunch reviewed Mellow as far back as April and May 2014, respectively. The TechCrunch article didn't mention a release date, although CNET simply noted sometime in 2015. We did find one other article on TheSweetHome.com that zoned in on Summer 2015.
What's the point of saying all this? Many other pre-ordered tech products we've reviewed here at HighYa have been met with steep delay.
And it appears that Mellow has already met at least a couple delays (according to the Guardian article we referenced above, Mellow pre-orders have been taken as far back at January 2015), so you might want to pencil the Spring 2016 date in your calendar instead of inking it in.
But even if there aren't any additional delays, this means that it's taken Mellow about 2 years to make it to market since first being promoted!
Pre-order (and delays) aside, how much will the Mellow Sous-Vide Machine cost?
Mellow Sous-Vide's Price
You can currently pre-order Mellow Smart Cooker for $399, which is set to ship Spring 2016. After release, Mellow's price will increase to $599.
According to the company, Mellow will sell special self-sealing bags, although no prices were listed on their website. However, you can use food-safe bags from any other manufacturer.
Until Mellow ships, you can cancel your pre-order without cost. After it ships, it appears that no refunds are available.
Mellow will also come with a 1-year warranty for parts and service.
Ok, time to bring everything home.
Will Mellow Change Home Cooking Forever?
In one of Mellow's videos, co-founder ZÉ claims that until now, sous-vide devices have been primarily designed for restaurants. And the 3 main things that sets the Mellow Cooker apart from the competition are:
It's smart (i.e. it can connect to your smartphone or computer),
It can keep food at refrigerator temperatures, and
It's effortless to use.
Well, as we learned a couple sections above, there are several other in-home sous-vide models currently available, many of which are about the same price (or lower) than Mellow. So we know this "restaurant only" claim might not necessarily be accurate.
Many of these others models also feature smartphone connectivity, while all feature the same "effortless" use as any other sous-vide device. Ultimately, where does this leave us when it comes to Mellow? Will it really change home cooking forever?
Sure, we'll grant that Mellow (like any other sous-vide machine) might change how you cook your food (bag-and-go, don't have to be home, will be perfect when you arrive, etc.). But will Mellow's final results be all that different from another model from one of the company's competitors?
When looked at from this angle, the answer might not be so clear. But in our opinion, Mellow might make the process easier (and more fun, especially if you're a tech-oriented home chef), but might not necessarily provide any tastier results.
Bottom line: There's no question that Mellow could be more pleasing to use (and to look at, depending on your style preferences) than nearly every other sous-vide machine on the market. But only you can decide whether this warrants spending twice as much as some of the competition—many of which include the same features (such as app connectivity) as Mellow.
So, if you're a passionate foodie and tend to be an early adopter for tech-related projects, Mellow might be right up your alley. Otherwise, you might want to hold out until Mellow's been released—and more feedback rolls in—to make a decision.
Speaking of which, did you purchase Mellow? Tell us about your results by writing a review below!
Good but not perfect

By Duane B.

,

Modesto, CA

,

May 13, 2019
Verified Reviewer

I enjoy the tastes and crispness of veggies when properly prepared. Not so much the web maintenance or dependability. Have numerous times had difficulty accessing the program via the internet. Have had to contact Mellow support. Not much feedback from them to alleviate the problem.

Bottom Line: No, I would not recommend this to a friend

---

Advertisement

---