MethylPro Reviews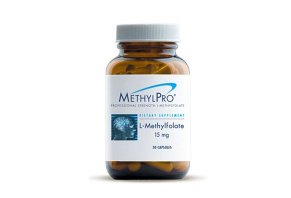 Metabolic Maintenance's lineup of eight MethylPro supplements contains highly bioavailable l-methylfolate, which they claim will optimize your mood and overall health.
What Is MethylPro?
The MethylPro line of L-methylfolate supplements promises to deliver varying strengths of pure, active ingredients that the body needs for optimal health.
Specifically, in response to the "roughly 50% of Americans [who] have genetic variations that make it difficult for their bodies to convert folic acid or folate," the Metabolic Maintenance website explains their professional strength formulas help support a range of indications linked to folate deficiencies. And all of this without preservatives, binders, fillers, or added excipients.
Does the MethylPro dietary supplement represent a science-based solution, as advertised by the manufacturer? Even so, is their version of folate necessarily better than other—often meaningfully less expensive—sources?
We'll explore critical foundational questions like these, starting with the science.
The Science Behind MethylPro: Folate
Healthline explains that folate (or folic acid) is an essential water-soluble B vitamin that helps your body make and repair DNA, as well as produce red blood cells. If you don't get enough, we're told common side effects include fatigue, grey hair, mouth sores, tongue swelling, weakness, and irritability.
To help avoid a deficiency, the National Institutes of Health's Office of Dietary Supplements (ODS) reports men and women age 14 and older should consume about 400 mcg of folate per day, which is concentrated in foods like legumes, asparagus, eggs, leafy greens, beets, and citrus fruits, to name just a few.
And in most instances, sites like the Centers for Disease Control and the NIH indicate that folate deficiency isn't a widespread problem (less than 1% of the US population experiences it, according to the CDC's Second Nutrition Report), since many modern foods are fortified with the vitamin.
Given all of these details, we think the central question boils down to: Are MethylPro's folate supplements more effective than a standard multivitamin or food-based folic acid sources?
Taking a Closer Look at MethylPro's Products & Ingredients
In total, there are three different supplements in the MethylPro line, across three different formulas.
Instead of standard folate, each contains methylfolate, which the manufacturer advises is more 'bioavailable,' since this is the same form used by the body. And browsing sites like PubMed, we encountered a handful of articles and studies indicating this is often the case.
What else will you find in these supplements, though?
MethylPro L-Methylfolate (Standalone Formula)
This formula promises to help support positive emotional wellbeing by aiding in the production of mood balancing neurotransmitters. The L-Methylfolate 10 mg version contains:
Folate 16.7 mg DFE (10 mg folate from 13.7 mg L-5-Methylfolate, calcium salt)
Glycine 260 mg
Comparatively, the L-Methylfolate 10 mg (from Quatrefolic) formula replaces the calcium salt with glucosamine salt, which Metabolic Maintenance claims "has higher solubility, stability, and bioavailability than any other form of folate."
Finally, the Methylfolate 15 mg version contains: Folate 25 mg DFE (15 mg folate from 20.5 mg L-5-Methylfolate, calcium salt), along with 250 mg of glycine.
MethylPro B-Complex + L-Methylfolate
This version promises to "support positive mood and nourish overall energy" by assisting in the detoxification processes, as well as contributing to energy producing processes in each cell's mitochondria.
B-Complex +5 mg L-Methylfolate claims to eliminate the need for additional B-vitamin supplements by providing a full spectrum of highly available B vitamins that can help support healthy mood, along with cardiovascular and nerve function. Ingredients include:
Vitamin C 15 mg
Thiamine 25 mg
Riboflavin 25 mg
Niacin 150 mg NE
Vitamin B6 55 mg
Folate 8.3 mg DFE (5 mg folate from 9.3 mg L-5-Methylfolate, glucosamine salt)
Vitamin B12 1,000 mcg
Biotin 400 mcg
Pantothenic Acid 150 mg
Choline 50 mg
Inositol 50 mg
PABA 50 mg
On the other hand, B-Complex +10 mg L-Methylfolate contains 16.7 mg of DFE folate (10 mg folate from 18.5 mg L-5-Methylfolate, glucosamine salt), while the +15 mg version contains 25 mg of DFE folate (15 mg folate from 27.8 mg L-5-Methylfolate, glucosamine salt).
MethylPro L-Methylfolate + Cofactors
Includes vitamins B6 and B12 to help L-methylfolate do its job, as well as magnesium to help the body break down neurotransmitters like dopamine and epinephrine. This formula also includes the cofactor magnesium to cumulatively help balance "the processes of neurotransmitter formation and breakdown" and support mood.
L-Methylfolate 10 mg + Cofactors contains:
Vitamin B6 15 mg
Folate 16.7 mg DFE (10 mg folate from 18.5 mg L-5-Methylfolate, glucosamine salt)
Vitamin B12 1,000 mcg
Magnesium 125 mg
The only difference is that L-Methylfolate 15 mg + Cofactors contains 25 mg of folate (15 mg folate from 27.8 mg L-5-Methylfolate, glucosamine salt).
Could the Ingredients in MethylPro Supplements Cause Side Effects?
When taken in dosages less than 1,000 mg (1 g) per day, whether as folate, folic acid, or L-Methylfolate, WebMD reports that the ingredient typically causes very few side effects, and allergic reactions are rare.
In these instances (no dosages or other specifics provided), side effects can include a rash, itching or swelling, dizziness, and trouble breathing, which could require immediate medical attention.
Just keep in mind that, at up to 16.7 mg (16,700 mg), some of MethylPro's formulations contain more than 16X the upper recommended daily intake of folate. As a result, WebMD explains these dosages might lead to "abdominal cramps, diarrhea, rash, sleep disorders, irritability, confusion, nausea, stomach upset, behavior changes, skin reactions, seizures, gas, excitability, and other side effects."
The most common side effects associated with the remaining ingredients found in MethylPro's formulations (again, no specifics provided) are nausea and digestive upset.
To help you avoid potential side effects and medication interactions, make sure that you have a detailed conversation before placing an order for any supplement, MethylPro or otherwise.
How Much Do MethylPro's Dietary Supplements Cost & Where Can You Buy?
If purchased directly from Metabolic Maintenance, 30-capsule bottles of MethylPro's formulations are priced as follows:
L-Methylfolate 10 mg: $21
L-Methylfolate 15 mg: $30
L-Methylfolate 10 mg (from Quatrefolic): $36
B-Complex +5 mg L-Methylfolate: $31.50
B-Complex +10 mg L-Methylfolate: $40.40
B-Complex +15 mg L-Methylfolate: $49.50
L-Methylfolate 10 mg + Cofactors: $40.50
L-Methylfolate 15 mg + Cofactors: $46.50
All orders over $50 come with free shipping. Regardless of the total, MethylPro supplements also come with a 35-day refund policy on direct orders, which begins from the date of purchase.
Keep in mind, however, that returned products must be unopened and are subject to a 15% restocking fee. You can reach customer support at 888-242-5327.
We also found MethylPro's different formulations sold on Amazon at the time of our research, often for meaningfully less than directly through the company, although free Prime shipping wasn't available for most options.
Are Customers Reporting Good Results in Their MethylPro Reviews?
MethylPro's different formulations had more than 100 customer reviews on Amazon at the time of our research, which had given them an average rating of about 4.2 stars.
Compliments often revolved around claims that it worked (improved mood, increased mental acuity, etc.) as well as 15 mg doses of the prescription medication Deplin—just at a much lower price. On the other hand, complaints frequently cited no results.
When it comes to generic l-methylfolate branded under different names (Deplin among them), more than 100 patients gave the ingredient a similar four-star average rating on Drugs.com, citing many of the same compliments.
MethylPro vs. Third-Party L-Methylfolate Supplements
After performing a search that takes mere seconds, it's easy to see that there are dozens of l-methylfolate (frequently abbreviated 5-MTHF) supplements competing with the MethylPro lineup, with common top brands including MD Life, One Elevated, Doctors Scientifica Organica (DSO), Klaire Labs ProThera, Life Extension, and ProHealth, to name just a few.
Doses ranged between 400 and 1,000 mcg, with prices running the spectrum from less than $10 to somewhere near $50. In most instances, l-methylfolate was the sole ingredient delivered.
Given all of these details, choosing between MethylPro and a competing supplement could boil down to three core factors:
Whether or not you want extra ingredients
What dosage you need
The price you're willing to pay
Let's look at everything through this lens as we wrap up.
Coming to a Conclusion About MethylPro Supplements
The importance of folic acid in our lives is undeniable. We simply can't live at all without consuming it regularly, and we can't live well without getting enough of it in our diet.
But, the MethylPro website doesn't provide any clinical support for their claim that "roughly 50% of Americans have genetic variations that make it difficult for their bodies to convert folic acid or folate."
In fact, according to the CDC's Second Nutrition Report referenced at the beginning, less than 1% of the US population is deficient in folic acid, which doesn't seem to match up with Metabolic Maintenance's advertising angle.
It's important to balance this by noting that the Natural Medicines Database's entry for '5-MTHF (L-Methylfolate) by Metabolic Maintenance' (subscription required for full access) indicates it is effective for folate deficiency; likely effective for conditions like end-stage renal disease (ESRD) and neural tube defects, and possibly effective for:
Age-related macular degeneration (AMD)
Depression
Hypertension
Phenytoin-induced gingival hyperplasia
Pregnancy-related gingivitis
Stroke
Vitiligo
Of course, you'll need to have a detailed discussion (and perhaps undergo some testing) with your doctor to determine if you suffer from any of these conditions, and whether or not l-methylfolate supplementation will deliver value based on your specific diagnosis.
In addition, it seems like the vast majority of online customers have reported excellent results after using MethylPro's products, despite its higher price than several other popular l-methylfolate-based supplements. As such, this could indicate you'll experience much of the same after handing over your hard-earned money.
If you don't, though, remember that refunds on direct purchases are only available if the product is unopened. Even then, you'll have to pay for return shipping, and you could lose 15% in restocking fees in the process.