Metromile Auto Insurance Reviews
Claimed This company has claimed this profile, is getting alerted on any new customer reviews entering this page, and may engage in dialogue with its customers to address their matters.

Companies cannot pay money or provide goods in order to remove or alter customer reviews.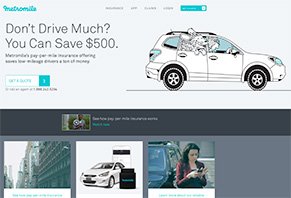 Metromile Auto Insurance uses an OBD-II dongle and a pay-per-mile premium approach to help those who drive less than 10,000 miles a year save $500 or more on their insurance.
About Metromile Auto Insurance
If you don't use your water or electricity at home, you don't pay for it, right? With their pay-per-mile insurance, Metromile Auto Insurance uses this same concept to help customers who drive less than 10,000 miles per year save $500+.
In addition to allowing urban dwellers to simplify the car-owning experience—and even helping "make car ownership a possibility where it wasn't before"—Metromile insurance policies provide the same level of coverage that you're used to with other carriers. You'll just pay less.
Metromile also promises customers access to a 24/7 claims team, along with an OBD-II dongle (more next) that can decode your check engine light, manage how much you drive, and even remember where you parked your car.
If you live in the city and drive relatively little, you should have lower rates than someone who commutes 60 miles a day, right? But is Metromile really as "revolutionary" as they'd like you to think? Even if they are, does this mean they're your best option?
Let's start answering your questions by looking at the "engine" that powers Metromile insurance.
Metromile Pulse OBD-II Dongle & Smartphone App
The Metromile Pulse is a small wireless device that plugs into your car's diagnostic port (the same one used by your mechanic to diagnose problems with your car), without the need for tools or any other hassle.
According to Metromile, any information shared through your OBD-II port will be collected by the company, including the health of your vehicle (things like a check engine light). It can also track your miles driven, your location using GPS (this can be turned off at any time), and its onboard accelerometer and gyroscope can measure changes in velocity and angle (useful in the event of an accident).
Finally, Pulse's data can be accessed through Metromile's app or through their online dashboard, where you can see routes that cost the least to drive, track and compare your gas mileage over time, monitor your car's health, and even receive street sweeping alerts (currently available in Chicago, San Francisco, San Diego, and Los Angeles).
If you receive any alerts, the Pulse can help you decode the problem.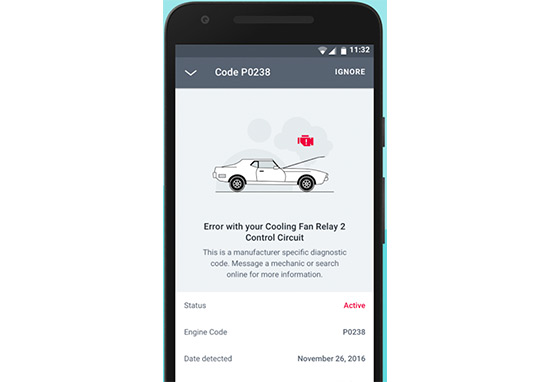 The Pulse app can help you identify potential problems, decode engine codes, and quickly explain the situation in down-to-earth language. Image credit: Google
Given Metromile's focus on technology—not to mention the fact that they specialize in insuring low-mileage drivers—how much can you expect to pay?
How Much Does Metromile Auto Insurance Coverage Cost?
We'll talk about how Metromile establishes their rates in just a second, but in a nutshell, all their premiums are based on a monthly base rate, plus "a few cents" per mile. Here's a quick example:
Let's say you have a base rate of $35 per month, plus $0.05 per mile. If you drove 5,000 miles per year, you'd pay a total of $670 in total, or about $55 per month.
$35 base rate X 12 = $420
5,000 miles X $0.05 per mile = $250
$420 + $250 = $670 per year
Pro tip: For a more personalized approach, be sure to use the savings estimator when you get a quote at Metromile.com, or call an agent directly.
However much you pay, your bill will consist of the current month's base rate, plus your mileage charges for the previous month. If you don't drive any miles during a month, you'll only be charged the base rate.
You can earn multi-vehicle and mature driver (55+) discounts on your Metromile policy. Metromile provides paperless document delivery and automatic billing and there are no fees for termination your policy.
Are Metromile's Rates Really Based On Mileage?
If you go on a road trip, you won't be charged for any miles you drive over 250 miles per day (150 miles in NJ). You also won't be charged when driving a rental vehicle. What happens if you regularly drive more than you normally do ?
According to Metromile's FAQ, you'll be assessed your standard per-mile charge, but "you will never be penalized or have your rate increase purely because of an increase in annual miles. You are allowed to drive as much as you'd like …"
With average annual auto rates just north of $900, we can see from the numbers above that Metromile might be a drastically less expensive option compared to traditional insurance. However, if we were to triple the annual mileage in our example to 15K, this would result in a new annual premium of $1,170—far higher than the national average.
So, while Metromile's eligibility (again, more soon) might not be based on mileage, their insurance is for low-mileage drivers and rates probably won't be very competitive once you break the 10,000-mile mark.
What Coverages Does Metromile Auto Insurance Offer?
Metromile Auto Insurance offers four different levels of liability protection, along with "full" coverage:
Pro tip: Remember that if your car is leased or financed, the bank might require higher coverage than you'd otherwise choose, which can increase your premium.
The reason you want coverage on your vehicle is so that it'll be covered in the event of an accident. But what can you expect from the Metromile claims process?
Metromile Insurance Claims
Once you file a claim for a covered vehicle, you'll be assigned a dedicated Metromile claims professional who will ensure your claim gets filed quickly and fairly.
The Metromile claims team will also help you locate local repair facilities and keep you updated on the work as it progresses. If you require glass coverage, Metromile can make everything easy and convenient, regardless of which window needs replacement.
Customers can also file a claim online through the dashboard, or through the Metromile App. Along with this fully digital process, Metromile recently launched AVA, their new AI Claims Assistant. AVA accurately verifies claims in seconds and quickly resolves them by collecting damage photos and helps you get your payment issued as soon as possible.
What Are Metromile's Eligibility Requirements?
Most vehicles with an OBD-II port are eligible, and this port became standard in 1996. To check to see if your vehicle qualifies, stop by their website.
Metromile is currently only available in California, Illinois, New Jersey, Oregon, Pennsylvania, Virginia, and Washington. You'll also need to own or lease a permanent vehicle (Metromile doesn't offer named non-owner policies). If you don't reside in one of these states, you can sign up for Metromile's wait list, where you'll be notified when they come to your state.
Whether or not you qualify for a Metromile policy (and how much you'll pay once you do) largely comes down to factors used by other insurance carriers; namely, your age, the type of vehicle you drive, the history (accidents and citations) of you and any other drivers in your household, credit history and length of prior insurance, depending on state.
Despite what you might assume based on the data that's transmitted from the Pulse, Metromile specifically states that "per-mile insurance doesn't consider other driving factors such as how fast you drive, how suddenly you turn, or how hard you brake, just how many miles you drive."
Has Metromile Received Positive Online Reviews?
Whether you're reading about them through top-ranked consumer-focused sites like NerdWallet, Better Business Bureau, Compare.com, and many more, the consensus seems to be that if you infrequently drive (less than 10K per year), you could potentially save a decent chunk of change with Metromile.
On the flip side, many seemed to agree that if you don't (at least) meet this basic guideline, you could potentially spend much more than a traditional auto policy.
Here on HighYa, 43 Metromile customers provided their feedback at the time of our research, giving the insurance agent an average rating of 2.2 stars. Common compliments revolved around significant savings (one reviewer claimed to have saved 50%) and solid claims experiences. Most complaints appeared to reference high premiums and confusing/frustrating claims experiences. In most instances, Metromile responded to these complaints directly.
Metromile's iOS app had an average rating of 3.5 stars during our research, while their Android app came in slightly higher at 3.8 stars. Clearly, most users were pleased with the apps' performance, although some complained that the designers sacrificed functionality for a more streamlined experience.
Should You Buy a Metromile Insurance Policy?
Based on what we've learned here, Metromile is a leader in the pay per mile car insurance, and it seems like a good idea to obtain a Metromile quote if you drive less than 10K miles per year, due to the company's unique pay-per-mile model.
Regardless, remember that most insurance companies utilize highly complex variable rating systems to determine policy premiums. Just like any other carrier, what you pay could be much higher or lower than your neighbor, depending on thousands of different factors.
See Also: How to Decide If Usage-Based Car Insurance Is Right for You
Also, if you're only looking for some of the cool features of the Metromile Pulse without the insurance—like the ability to track mileage and gas usage, provide maintenance alerts, —you have options like Hum by Verizon, Vinli, Automatic, and more. If you're on the hunt for something bare bones that only provides diagnostics, you can probably find a dongle at your local auto parts store for $30 or less.
Did you take Metromile up on their pay-per-mile auto insurance? Tell us all about your experience by writing a review below!
---
Worst claim experience, poor roadside.

By Debajyoti

,

Simi Valley, CA

,

Jun 13, 2016
Verified Reviewer

Even one star is too much for Metromile.

I needed roadside service. I called the roadside number but I was told to please call the claim department. At that moment it was very unlikely and I felt like would not be getting any help at all.

Then I called claim department. Claim department took the details (kept me on hold many times), but told me it will take two hours for roadside service to get to me. It took around two hours just to request the roadside assistance. And an additional two hours for roadside to come. This was an experience I shall remember.

I am totally unsatisfied. It has been almost two months that I am waiting for my car to be repaired. The inspector/adjuster gave four appointments to body shop, just to check additional repair request, but they never turned up.

Am I going to get my car repaired? What a big mistake that I bought Metromile. Guys don't take a chance.

Bottom Line: No, I would not recommend this to a friend

Mar 7, 2017

Hi Debajyoti,

We're really sorry to hear about your experience. Previously, Metromile had been partnering with a separate company (National General Insurance Group) to underwrite our policies. In working with an external partner to underwrite our policies and resolve claims, we recognized the experience could feel disconnected and it was not the best-in-class experience that we expect for our customers. Because of that, we have launched a new claims service, which is underwritten by us, Metromile Insurance. Our new system includes an automated claims submission process online and on our app as well as dedicated assistance from our claims team who have more than 200 years of insurance experience. Qualified claims can be resolved within hours. Again, we're so sorry that your experience was so negative.

---

It's a little cheaper but I won't be with them for long.

By Laura James

,

Napa, CA

,

Jul 21, 2016
Verified Reviewer

This company does offer some people lower cost car insurance. I got it because I live and work in the same building and don't drive a lot. However, they have made a lot of mistakes and they have a poor website experience and that is the only experience the customer has access to. What is wrong here?

First they sent the OPD dongle to the wrong address causing consternation because it was to be installed on a deadline.

Then they kept sending me texts and email to move my car for street cleaning but I wasn't parked on the street I was parked under it in my garage. No fix for that so I had to abandon email notifications.

Then I wanted to get on the website to view my charges. Password doesn't work. Password reset link is broken. They say I can use a different browser. What tech company in 2016 has trouble coding a website to work on all the major browsers? Lazy advice from a tech company if you ask me.

All I can say is I don't trust them much now and I don't like them. I will keep them for now until I can find something better. They may be the only per mile insurance company now but more will follow. The ones who do it right will get my future business.

For now all I can do is post my honest review of the company in hopes that they step up.

Bottom line: If you don't have to, don't choose Metromile.

Bottom Line: No, I would not recommend this to a friend

---

Advertisement

---

Disgusted by the claims process

By Mary Dorsey

,

San Diego, CA

,

May 11, 2017
Verified Reviewer

I have been a customer of Metromile for two years, and I was very happy with customer service, the Metromile app, the prices, and I even referred several people to them.

However, now that I have been involved in an accident and I'm experiencing the claims service, I'm absolutely appalled. The lack of empathy and customer service is one thing, but being told by an adjuster that you cannot have a rental car to get to work (when that was covered) and that the claim might not even be paid is a disgusting treatment of a person. This was my first conversation with the Adjuster (Kara Bonnet), by the way.

I do not feel this company is protecting my best interest and I will not renew with them when the claim is finished. Furthermore, I will never refer anyone to them again. This is not how you treat a valued customer, especially when your company is so new and has a lot to prove to a rather skeptical public.

Bottom Line: No, I would not recommend this to a friend

May 11, 2017

Hi Mary, I'm very sorry to hear about your claims experience. This is not the type of thing we want our customers to go through, which is one of the reasons why we are bringing claims in-house. I can see that the third party is currently handling your claim we were partnering with, but it looks like you are set to upgrade to the Metromile underwriter next week. This means that any future claims will be handled in-house by our claims team. For additional assistance with your claim, please give us a call at 888.595.5485.

---

Insurance claim

May 17, 2016
Verified Reviewer

So I open up a claim for hail damage over a week ago. My adjuster has been sent my estimate and pictures of all of the dents in my car and every time I call she says that the estimate is still in review and hasn't heard anything back from the appraiser. This sucks because MetroMile is getting my money for insurance yet they know nothing and they keep telling me to call my adjuster from national general. If I'm paying MetroMile I expect them to get some results instead of sending me to the national general lady.

The last time I checked, MetroMile is on my statement and not national general. It should not take this long to get things done. I'm just going to switch to Statefarm because their customers get their checks in the mail in less than a week. I don't recommend this company to anyone. The cost is great but when you put in a claim, that's when the problem comes in. The savings are not worth the hassle. I rather pay more and get better service.

Bottom Line: No, I would not recommend this to a friend

Nov 16, 2016

Hi Charleicia, I'm so sorry for the poor experience you had with your claim. Previously, Metromile had been partnering with a separate company (National General Insurance Group) to underwrite our policies. This means that they were financially responsible for claims, and also in charge of the whole process. Since customer satisfaction is of utmost importance to us, we are now underwriting our personal policies so that we can oversee the entire claims experience from purchase to resolving any claims. We are committed to providing our policyholders and other customers who may present a claim with safety, security, and peace of mind. If you'd like to discuss this further, please give us a call at 888.958.5973.

---

Advertisement

---

Metromile claims are terrible. Do not use this service.

By Li Pi

,

Palo Alto, California

,

Feb 26, 2016
Verified Reviewer

You'll probably save money with MetroMile if you never file a claim. If you do file a claim - be prepared to fight for it.

My BMW 535xi got damaged by water in a recent rainstorm and MetroMile is trying their hardest not to pay out. It's been in the shop for 11 days already. I've been told by the claims adjuster that they aren't sure it isn't just normal wear and tear, despite the back part of the car being completely flooded.

Instead of seeking information themselves, they've forced me to continuously follow up with the mechanic and submit documentation. I've attached photos of what the car looks like and am about the file a complaint with the insurance commissioner. I am not sure how the below looks like normal wear and tear.

Photos:

Bottom Line: No, I would not recommend this to a friend

---

Fraudulent business practices

Defective devices sent three times. Finally, a device worked. I regretted signing up after reading the bad reviews regarding claims, endless emails regarding the shipment of multiple devices I received, and the defective devices. I canceled the policy and returned the three devices I had in my possession that they promised to collect weeks prior.

30 days after I canceled and finalized payment and returned the three devices, I get yet another email with threats of charging me $100.00 for one device not yet received and as of now, 4/7/17, my devices are considered late! I had to cancel my credit card linked to them and open a fraud case. I have to call them at 6 am and get a nasty headache in order to deal with them again

I thought I was done with this company. Absolute horrific customer service and follow through, with irresponsible and utter incompetence for the hardworking consumer who must take action and document every email and phone call just in case they screw me over!

Bottom Line: No, I would not recommend this to a friend

---

Updated review

Update

By Sal

,

California

,

Jul 23, 2018
Verified Reviewer

They denied my claim after making me wait over 90 days with NO answer, just more and more requests with BS questions in the hope I would give up. The person I was working with is no longer working with them, and now the new person is refusing to answer my questions but says I am not answering his after doing so. They are full of games! Be careful! Now I will seek a legal way of dealing with Metromile.

Bottom Line: No, I would not recommend this to a friend

Previous review
May 8, 2018

Don't do it! They will not cover your loss, they are dishonest!

They are awful people to deal with. I was fooled and didn't read the reviews before buying in. Now four months later they are still thinking if they will or will not cover my car that was stolen and recovered. They have my car in there storage, and they keep running me around. They will use your words against you and run you around with questions that have nothing to do with your claim.

They will do ANYTHING so they don't have to cover your loss!

May 16, 2018

Hi Sal, we appreciate you leaving a review. We take pride in handling all claims, efficiently and fairly. We definitely want to get things back on track. Please give our claims department a call at 888-457-430, so that we can properly address your experience. Thank you for the feedback.

(

read more

read less

...)

---

Terrible customer service

By Janet

,

Portland, OR

,

Apr 30, 2016
Verified Reviewer

The customer service is friendly, but terrible once you actually get into an accident. They are slow to respond to questions. The insurance adjusters are unprofessional and don't call you back. They have a customer service person who contacts you to make sure you get what you need, then they can't actually help you. They decided that my hit and run claim was a fraud even though I have witnesses and proof that my car was parked all day with the metronome. They just didn't want to pay out. They treat me like a criminal and I've fired them.

Bottom Line: No, I would not recommend this to a friend

May 4, 2016

Hi Janet, I'm really sorry to hear about your claims experience. We strive to provide the best support to our customers throughout the life of their policy, especially in the unfortunate event of a claim. I'm really disappointed to find out that this wasn't the case for you. I've shared your feedback with our claims team, and if you'd like to discuss your concerns further, give us a call at 888.958.5973.

---

MetroMile cuts prices so they can cut corners

By Thomas

,

California

,

Dec 15, 2015
Verified Reviewer

The insurance company acts like it's a work friendly, ride-share, and technologically friendly insurance, as well as revolutionary.

That's not true.

I had problems with this company from the start, but I stayed with them anyway. Once I finally did have an accident, and the other driver was found at fault, I thought that my insurance company, on my behalf, would find a way for the other insurance company to pay for my car to get fixed.

Well, MetroMile said since I was on my way to work during my drive, that I wasn't covered by MetroMile, but whether I was covered or not, if I'm not at fault, then the other insurance company for the at fault driver should pay for my damages. MetroMile, left me with a totaled car, and changed my policy the very next day, as well as charged me. I'm so confused and now I have a messed up car, and an insurance company that I'm paying just because of the law that states I need insurance, but not because the insurance company is reliable.

Bottom line, the insurance company isn't reliable, and the State Farm insurance agent told me that MetroMile might not have the best coverage, and because I was a struggling college student, and thought it was a cheaper option, I went with MetroMile. However, I've learned that MetroMile cuts prices so they can cut corners.

Bottom Line: Yes, I would recommend this to a friend

---

Driver BEWARE!

By Mark Gordon

,

Los Angeles, CA

,

Oct 27, 2017
Verified Reviewer

As a thank you for being a good driver, Metromile is raising my rates from $40.61 to $64.79 (monthly base rate) plus 5.9¢ to 9.9¢ per mile.

Since signing up for the service, they have consistently raised my rates but never this much. Don't be fooled by their ads that promise low rates.

This company is the master of the bait and switch.

Bottom Line: No, I would not recommend this to a friend

Nov 7, 2017

Hi Mark, we appreciate you taking the time to send a review. It's definitely not our intention to make you feel this way. We always send you an email a month prior to your policy renewing to review what your renewal rates will be. Your rates can vary upon renewal which is every six months, this means they can decrease, increase, or remain the same.

A majority of our customers are still able to see savings, even if their rates do increase. But we do understand that the math may not always work out for everyone for a given time in their life. We can see that you have called in recently and we want to further address your specific concerns about your renewal rates, a member of our customer experience team will follow up with you soon.

---

Defective devices, two hour holds and all the charges

Illinois

,

Oct 18, 2017
Verified Reviewer

I purchased an insurance plan for two vehicles. They use a device they call a "pulse" that plugs into your car to record miles actually driven, then they charge you a certain agreed upon cent amount per mile. My estimated plan would've cost me nearly half my plan with Esurance. All great!

The problem is, I received a defective device and Metromile was going to charge me 150 miles per day on the vehicle the device was assigned to. They were able to determine it was defective and quickly shipped me a new one, along with a return label to ship back the bad one. I plug the new device in, return the old one and done by 10/07! Super easy.

Then, then I get an email at 4:30 pm CST Friday 10/12 saying my new pulse has not been installed (it has) and I will be charged 150 miles a day. This is the new one they just sent me and lo and behold, defective! Oh, and their customer service is closed from 6 pm PT Friday until Monday. Funny. So there's no way to get in touch with them. Their online form clearly says a 5-7 day reply time, all weekend, while I'm being charged for 150 miles a day due to yet another defective device.

As of right now, Monday at 4:56 pm CST, I have been on hold for TWO HOURS AND SIXTEEN MINUTES and still counting.

Bottom Line: No, I would not recommend this to a friend

Oct 23, 2017

Hi LeAnna, thank you for your feedback and leaving a review. We are sorry for any frustration caused by the device and sincerely apologize for any excessive hold times you experienced throughout this ordeal. At this time, our customer experience team is only available, Monday - Friday from 6 AM to 6 PM PT. We are happy to assist and accommodate our customers with the device on a case by case basis. Rest assured, if customers submit an online inquiry a member of our team will follow up addressing your concerns within 6 to 7 business days.

Since we are pay-per-mile insurance we do require to receive a continuous signal from your device. Without a signal from the device, we have no way of knowing if your vehicle is being driven or parked. Per your policy contract, you can be charged 150 miles/day if we don't receive a signal from your device until we receive a signal again. We can see that you received assistance on 10/16/17 and to accommodate you, we reversed the 150 miles/day charges you received. A member of our customer experience team will be checking on your device to see if the device doesn't send a signal again and we will follow-up with you about next steps. We want to provide the best experience for all our customers and have passed along your experience to our team.

---