Metromile Auto Insurance Reviews
Claimed This company has claimed this profile, is getting alerted on any new customer reviews entering this page, and may engage in dialogue with its customers to address their matters.

Companies cannot pay money or provide goods in order to remove or alter customer reviews.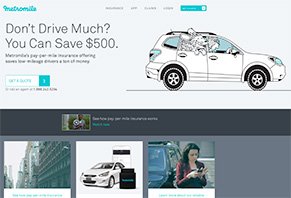 Metromile Auto Insurance uses an OBD-II dongle and a pay-per-mile premium approach to help those who drive less than 10,000 miles a year save $500 or more on their insurance.
---
Charging miles while device doesn't work

By Norbert N.

,

Eugene, OR

,

May 17, 2019
Verified Reviewer

I got this so I could afford to insure both my vehicles. The device for my truck was recognized within 2 days from a less than 5-mile drive. My other vehicles device has never been recognized though I've driven it and reset it several times and about 40 miles on it. They are now charging me 150 miles per day on it though I've repeatedly told them the device is not working. One person said that if it didn't work that in a few days they would send me another device. The company doesn't seem to be aware of that statement and continues to charge me. I emailed them again today and said I need a new unit or I will seek legal counsel and I want the charges removed. My best friend is an administrative judge so I will contact him, the insurance commission and the Better Business Bureau.

Bottom Line: No, I would not recommend this to a friend

---

Horrible customer service...stay away

By Arno P.

,

California

,

Apr 25, 2019
Verified Reviewer

I've never experienced so much inconvenience with any insurance company. They provide the more horrible customer service ever. It has been several weeks that I try to return their pulse device to them and over time they tell me that the kit has been sent to me. They don't provide the address so I can send the device intentionally so they can charge $100. Stay away.

Bottom Line: No, I would not recommend this to a friend

---

Advertisement

---

Great concept but...

By Tom S.

,

New Jersey

,

Apr 25, 2019
Verified Reviewer

Great concept but "Pulse" reader stops reading if you don't use or move your car after a week or so and they start charging you like you drove 150 miles a day - DAY AFTER DAY, until you call them or get to the vehicle to drive it around the block. That can add up to a lot of money.

I have called them numerous times on the same "bug" in the cellular "Pulse" device and they admit you have to drive the car once a week. So if you go away on business for 3-4 weeks at a time, like I do, it doesn't work.

I would LOVE to talk to the people that run the company or developed the technology - it's no good.

Bottom Line: No, I would not recommend this to a friend

---

Terrible - stay away

By Jen B.

,

San Francisco, CA

,

Mar 15, 2019
Verified Reviewer

Metromile used to have good customer service. It is now completely awful. My device lost its signal due to a dead battery (which has happened multiple times as the device totally drains your battery), I tried to email twice, no response. I called three times and after 30+ minutes on the phone each time, I gave up and just canceled my policy. If I cannot even get a response to a simple question or address overcharges due to signal loss, I worry if I ever actually have an accident as they are impossible to get in touch with. I've never experienced anything like this with an insurance company - stay far away.

Bottom Line: No, I would not recommend this to a friend

---

Advertisement

---

They slowly will make you pay more

By Eddie T.

,

Mar 10, 2019
Verified Reviewer

Ever since starting with them (less than 2 years), my premiums increased 40%! Their reasons were because their costs increased, therefore, we should cover it. What? Now I pay more than what I paid Allstate for the same exact policy and I had unlimited miles. Mind you, this car only is driven 10 miles on weekdays on average and 0 miles on the weekend. It's a car that is 13 years old. This made sense with Metromile's pitch that you save because you drive less. Oh, but when they realize how much less, they slowly increase it just enough so that you're just below what they think the bigger insurance companies would charge and screw you if you drive a lot. I now pay more than my brand new car that my wife drives 30 miles a day for the exact same coverage through Allstate!

Metromile, you make ZERO sense in your premiums hikes. Therefore, you have been canceled as of today and will ensure the people I recommended look further into their bills and drop you like a bad habit.

Bottom Line: No, I would not recommend this to a friend

---

Metromile, worst insurance ever with cheap customer service.

By Akash D.

,

California

,

Feb 26, 2019
Verified Reviewer

Worst insurance ever with cheap customer service.

I called and canceled my policy yesterday, but I did not get any notification to confirm that. I have to call again to confirm...what a crappy system. Their call lines takes 35-45 minutes to connect, that's pathetic. I started in July with a $40 base, got increased to $48 in six months and it increased to $116 when I added wife to policy. Per mile rate is also increased every 3-4 months. I started with 5 cents per mile, then increased to 7 cents, and now it was 19 cents. Their trap is to offer a low price in the beginning and then, increase the prices every 2-3 months.

I switched to Geico and am paying an equal amount after adding my wife and driving more miles every day. Metromile sucks.

Bottom Line: No, I would not recommend this to a friend

---

Pulse device drained my battery four times! Horrible absentee policy!

By Brent J.

,

Sherman Oaks, CA

,

Feb 25, 2019
Verified Reviewer

The pulse device that they tell you to put on your car never received a signal. It drained my battery four times and cost me $400-$500 per month for the 150-mile minimum charge when no signal is received. HIGHLY UNSATISFIED with the experience! This was described as a "PERFECT" absentee policy. It has been a nightmare!

Bottom Line: No, I would not recommend this to a friend

---

Device drained battery

By Chris A.

,

California

,

Feb 22, 2019
Verified Reviewer

I asked Metromile if the tracking device was going to drain the battery power and they ensured me that would never be the case. Guess what? When I came out to start the car the battery was dead! The car is a new hybrid and is not frequently driven (wasn't that the main reason why I chose Metromile insurance?). And to call them for service took an hour to rectify. You pay for what you get. But the most important thing to learn: don't plug that device into a hybrid if I were you!

Bottom Line: No, I would not recommend this to a friend

---

Once was great but now has horrible customer service and has overcharged me for a year.

By Ryan W.

,

California

,

Feb 18, 2019
Verified Reviewer

I had a legal name change and have contacted customer care SIX times. I've waited 30+ minutes and only once was my call answered. The gentleman was not friendly at all and accidentally deleted my data twice after spending many minutes providing all of my information. Additionally, we found out that even though both my partner and myself had spoken to Metromile when we moved to our new address A YEAR AGO, our new address was never saved and we've been paying $9/month more than we should have been, which is over $100 extra than we should have been. The customer service agent refused to put in a request for my overpayments for the last year. He then tried to make me feel sorry for him by saying he has been working overtime and is actually in the sales department and Metromile has expanded so much that they cannot keep up with the customer service. Extremely poor business practices.

Bottom Line: No, I would not recommend this to a friend

---

Metromile - new customer overcharged twice - first month $288!

By Sandro F.

,

Chicago, IL

,

Feb 2, 2019
Verified Reviewer

My first month was $288! On any other insurance company, I would pay less than $100 a month. That happened just because they overcharged me for not installing the device because I was overseas when the device arrived in my place. I emailed them while I was overseas and that still didn't stop the additional fees. They were never reasonable and never valued me as a new customer trying to install the device when I could not. I was told they could pause the policy as I was out of the country. They never refunded these extra charges, and of course, I never trusted them again to remain a customer.

Bottom Line: No, I would not recommend this to a friend

---

Raised rates and fraudulent billing

By Ian M.

,

San Diego, CA

,

Jan 19, 2019
Verified Reviewer

I'd read the reviews, so when they raised my rates after a few months, I expected it.

I did not expect them to charge me for miles in an exclusion area - Mexico. Even though their coverage is invalid, they billed me for those trips. Charging someone for a product or service you are not providing is fraud, and I have reported them to the BBB.

Bottom Line: No, I would not recommend this to a friend

Jan 23, 2019

Thank you for your feedback. We see that your complaint has been addressed on the BBB website. We appreciate you reviewing your experience.

---